US Stock Market , or house of Cards Inferno? 🔥🔥🔥⛽⛽⛽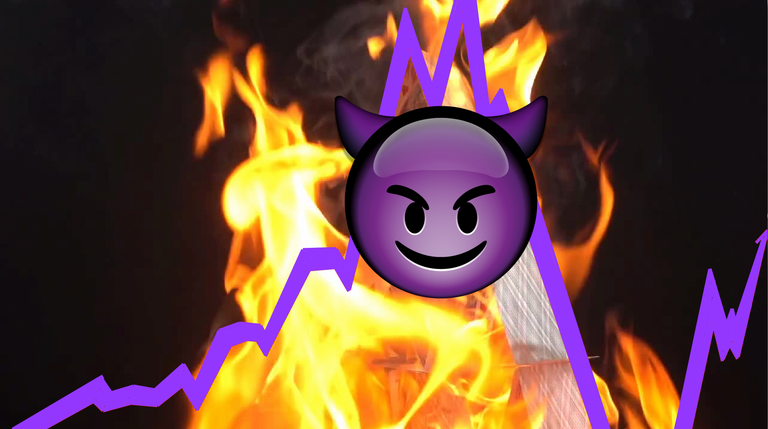 Stonks are on Fire, that's for sure - Image by @coininstant! ⛽⛽⛽
Stocks appear to be trading on the edge!
When it comes to stocks, lately all I hear about is how strong they are, how they only go up, stocks to the moon! This has been true, if you look at the chart we're at all time highs, & on the surface it appears great, however there is something more insidious that the media isn't talking about. This problem that I see as now is as clear as day, it's the extraordinarily high margin level of the Security Brokers & Dealers!! See Chart Below, Margin Traders are at all time highs too. Oooooof!
Everyone's margined to the gills!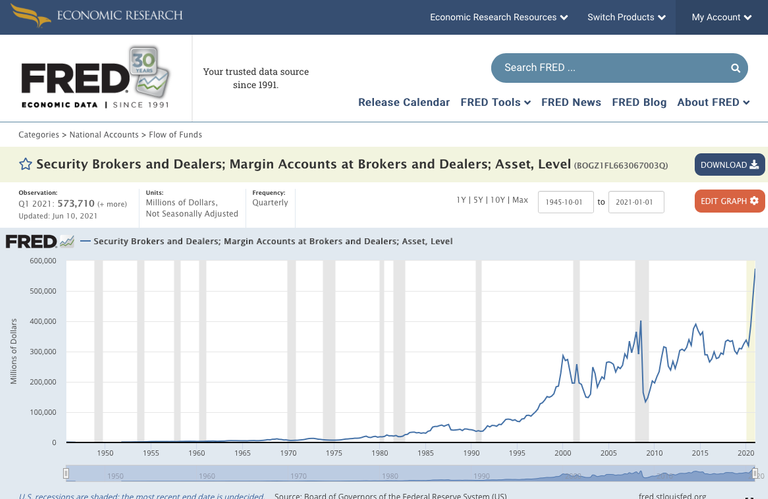 Stock Buyer Beware: Chart Source: St. Louis Federal Reserve
This level of margin raises a very big red flag!
The chart above does not look too healthy for the market as a whole. Every time in the past after margin levels even spiked like this, we came tumbling down, and way down. 1986, 2000, 2008, were all followed by deflation. The only logical thing to happen next will be a mass liquidation event like never before seen. If you thought March 2020 was bad, then wait till you see this!!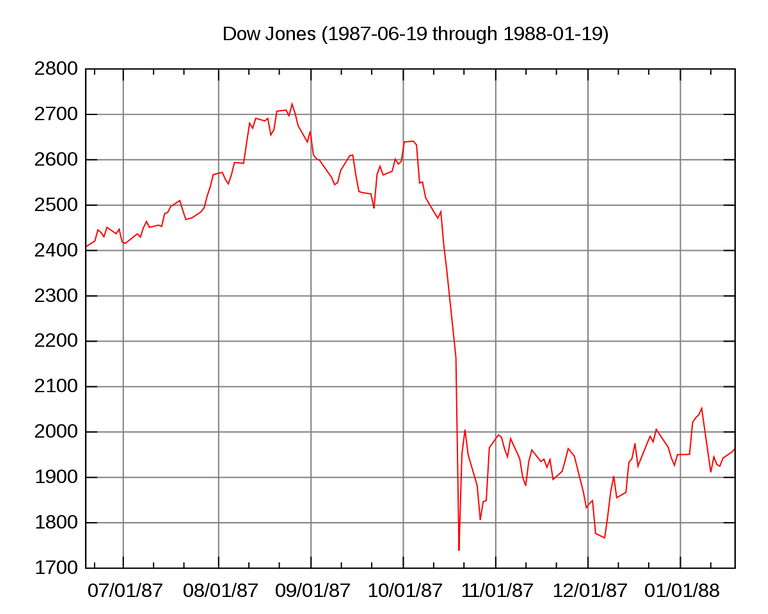 Image Source: (Above) 1987 Black Monday!!
All it takes is one card in the house to fall, and the whole financial system may come tumbling down!
We're on the event horizon of one of the greatest liquidity margin calls of all time, it's history in the making!! Shame on these traders now for acting so irresponsible, they're acting like greedy pigs, buying up all the assets, increasing prices with borrowed money, and it may be time for their history lesson really soon! As Jim Cramer says "Bulls Make Money, bears make money, and Pigs get slaughtered", I love bacon!!
I'm not sure why the fed is permitting all this margin to go down either? To me, it looks like a giant trap set up to liquidate all their assets, just like how huckexchanges do with Cryptocurrency futures traders every few months. BTC went to 60K, everyone said 100k, then it crashed. Stocks are rising now, everyone says "Stonks only go up!", but what is sure to follow is another crash, the biggest one in history IMHO, and soon!!
Once interest rates rise, or the Delta variant +, or another black swan, or the great reset happens, all these traders on margin are going to be toast! If things don't change, eventually we're going to see the reckoning, and it's gonna trickle down into every facet of the economy, it might even reck bitcoin again!!
The day when the house of cards tumbles, history is going to repeat, and it ain't gonna be pretty. So take my advice now, if you are part of the margin herd, get out and get out now! Also don't forget to take profits on your stocks before it's too late. Margin holders are the weakest link, this market certainly is not built on diamond hands like the meme WSB traders will have you think. The next collapse is most likely going to stem from the Meme Stock Bubble collapse as a matter of fact! lol, you've been warned! Time is money, money is time, and the stock market is a ticking time bomb, running hot on borrowed time, and gas fumes. I don't see how much longer this market can be sustainable.
I'm not the only one worried about the future stock market's deflation.
"The Bond Market Knows All" - Alessio Rastani
There is a famous financial guru named Allessio Rastani which I follow on YouTube from time to time, and he just posted a video that is concerning. Allessio sees the writing on the wall, in his latest video, which I linked below, he explains how deflation may be coming soon, most likely in Q2 2022 and beyond! Some signs that we're seeing now are the big players in the market, the smartest money, are already hedging their bets and buying up safety in the Bond Market for the future. Markets are forward looking, these huge Bond investors are investing now looking years ahead. They are betting on rising bond prices, which is deflationary!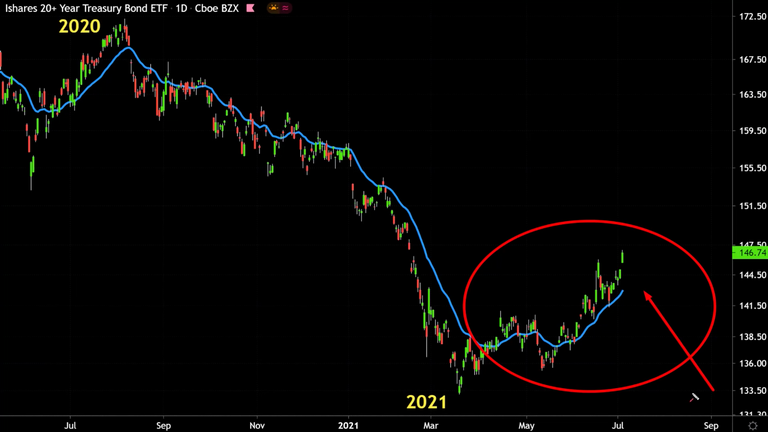 "The Bond Market Knows All" -- Alessio Rastani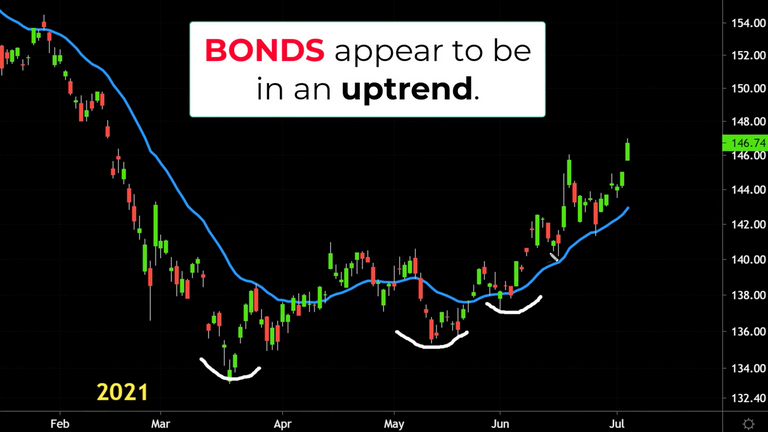 The Smart money doesn't buy big spikes, they buy dips, and it already looks like the Bond market put in a bullish reversal pattern (above)!
Deflation - Not what everyone is expecting!
The video above is just a warning, it says not to worry now because we're still safe in inflation, maybe for a couple more years, however eventually deflation will rear it's ugly head again. Markets move in inflation / deflation swings, that's just the way it works, and the bond market can predict these swings way in advance. Allessio compers the economy to a boiling pot of water, when we had Covid-19, it was like putting a lid on the economy, causing deflation. There always unknown factors that can arise in the future, recessions, and depressions, so it's best to be prepared and think about the future before it's too late.
I personally don't look forward to seeing this next deflationary move, however I am ready, already, will you be?? So the time is now to start pairing the margin, cooling the economy with controlled burns, hopefully the fed will act now, rather than later, because later might be too late and the whole system might go poof, up in smoke, poof, like a house of cards in a raging inferno! 🔥🔥🔥⛽⛽⛽
---
---