Is it time to start saving up for single penny HIVE? 😱😱😱

I'm a realist, with everything that's going on with the markets these days, a seemingly neverending war, runaway inflation, a recession looming next year, a possible depression in the making for the following year, the FTX collapse into crypto contagion, centralized exchanges all falling like dominos at an unprecedented level, why wouldn't HIVE simply fall back another measly 27 cents to the lows we've just seen during the pandemic?
With all this uncertainty in the world seemingly increasing at an accelerating rate, it creates the black swan-bear vortex for a one-time HIVE flash sale event of epic proportions.
I made this post to simply entertain the possibility, to prepare Hiveans of the idea in the hopes that bringing this idea to light will deactivate the reality... but just in case 8 cent HIVE does come to an exchange near you, maybe we can be ready!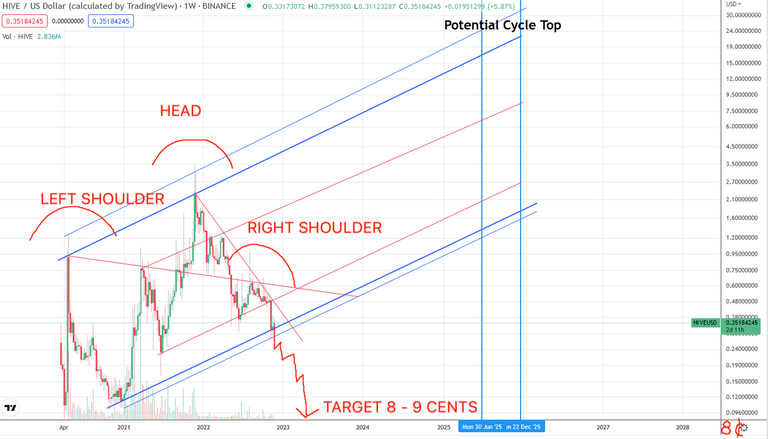 Honestly, this chart (above) does not look bullish at all. It is a very bearish head and shoulder pattern, with a slumped right shoulder. Slumped right shoulders are the most bearish because they resemble a zombie pattern. According to this chart, the price of HIVE should be going all the way back to where we came from during the 2020 lows, back to the 8-9 cent level!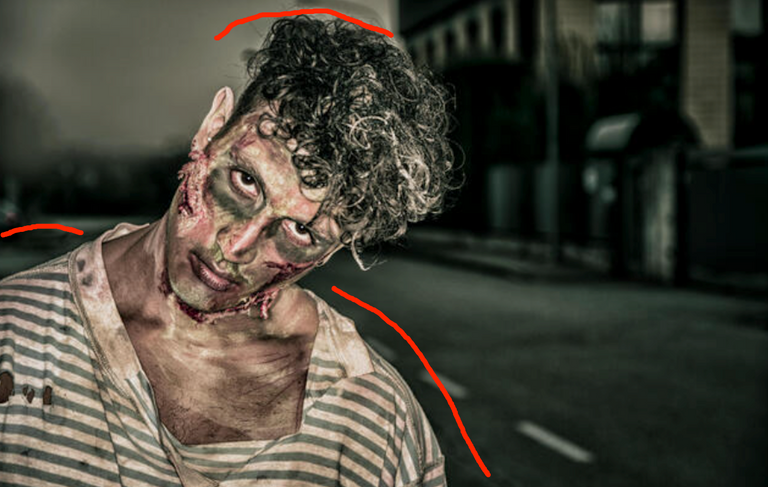 Yes, this is a gloomy and doomy prediction, but there's nothing wrong with being prepared for the worst because if you're prepared you can turn a bad situation into something good. If you don't have a lot of HIVE now, then if you save up and the price hits 8 cents for a short time, maybe 2-3 days, then you can get a bunch more by dollar cost averaging on the dip.
At this point, what are another 27 cents?
In the big scope of things, another 27 cents (drop) almost looks normal!
I don't like this picture either, but it is the truth, there seems to be a greater chance of us seeing 8 cents again than us seeing a dollar at this point. Especially if there is a recession next year, and a possible depression following that, why would the price go up sooner than later?
Hopefully, all these dire pictures and predictions turn out wrong, but if it doesn't I'll be adding more hive way down there at 8 cents. Don't get me wrong, I'm not predicting any of this to happen, just merely presenting the possibility for arguments sake.
Will the #BlackSwanBear attack HIVE's HONEY next?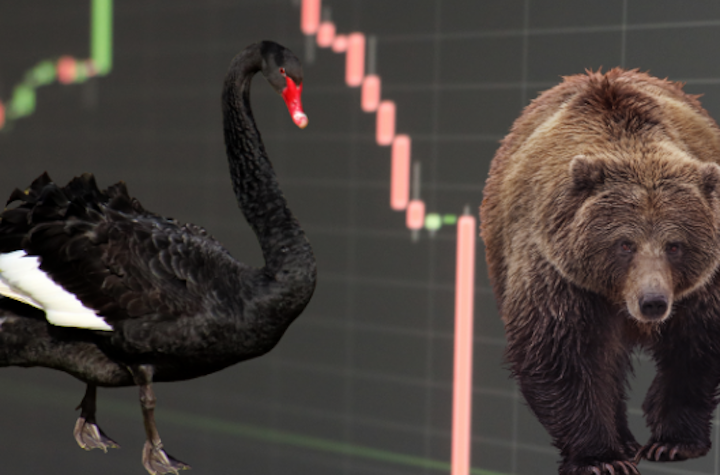 Image source:cryptomode.com
Even if we do see the mythical 8-cent HIVE sale unicorn price again, that doesn't mean it's over for HIVE, quite to the contrary because I do think a price catalyst like that could trigger the beginning of the next pump after the dust settles after the bear market ends, and after the next BTC halving event concludes.
What about STEEM?
Well if HIVE hits the 8 cent level, I wold expect STEEM to be trading around 3 cents! The price of STEEM seems to always be drooping even further down the ladder than HIVE, so under this ultra bear scenerio, prospects wouldn't be good for "Old STEEM" either!
Any good news?
I do expect HIVE to be all the way back up to an ATH of at least $4.20 by the end of 2026, at which point I will be powering down a little and selling some so I can get even more on the next bear market which would probably rear its ugly head again in the years after 2026 and throughout 2029, for the hundred year anniversary of the great depression.
So that's the big market picture for HIVE, the stock market, and crypto in general throughout the rest of the decade. It's not very exciting, with a small bullish window of profit-taking opportunity opening again right past the midpoint of this decade. So if you missed the last bull run, just be patient because we have at least one more coming this decade, & one last shot to make that million dollars by buying a bunch of cheap HIVE in the fallout of today's crises to stock up for the next bull run.
If anyone out there has reasons why you think this post is preposterous, and why HIVE will never hit 8 cents during this bear market, then please leave your comments below, I'm sure everyone will be relieved to hear the bull case antidote to this situation.
---
---