🤓 Introducing SMART COIN, The world's first self-feeding high yielding APR farm!! 🚀 🚀 🚀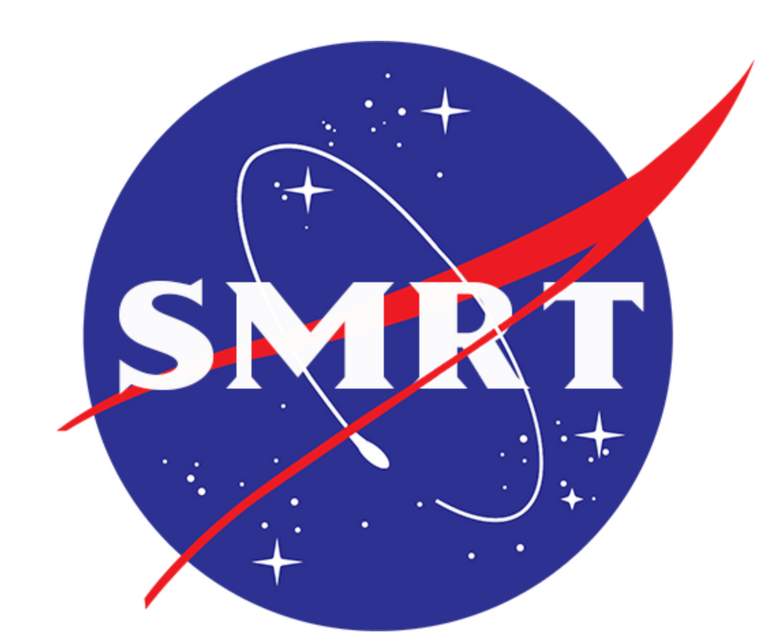 I was browsing around on TraderJoexyz, and just found a new gem added to their exchange! 💎💎💎
Whenever I see these notifications about new listings from traderjoexyzs.com, I do my research into the brand new coins. This time I found a diamond in the rough, Smart Coin (SMRT), and the price seems just right for the taking. This new "Smart Coin" has quite a few interesting and unique new features going for it, keep reading below to find out why this new coin is going to be on of the smartest thing you do if you buy now and HODL for the long run.
Smart Coin is brand new, it only launched about four days ago, so it's wildly volatile.
Currently the coin is down about 80%. I've been watching this coin since yesterday, today I saw it hit 10 cents, so I decided to pull the trigger and buy some. What really grabbed my attention was the SMARTCOIN FARM website... (Screenshot Below:)
https://smartcoin.farm/#/
Want Yield? Get SMRT! 🤓🤓🤓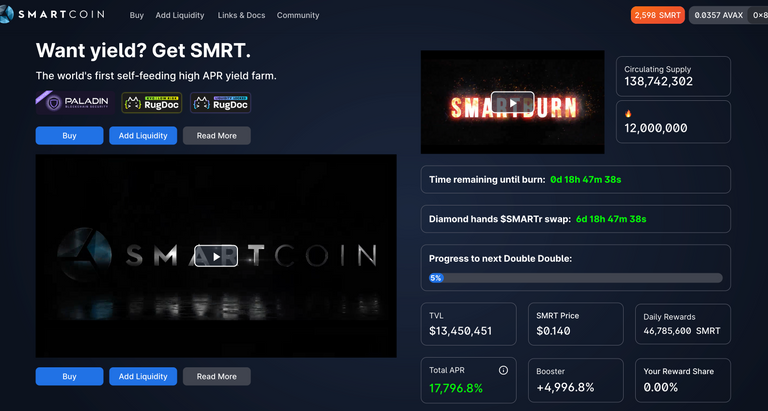 I love this fishy layout, lots of APY, it even has a Booster??? WOW ⏰ to start SMRT farming!
Low Emissions, total supply only 1 Billion coins!
These days coins have Trillions, and Even Quadrillions of coins, One Billion is considered low supply!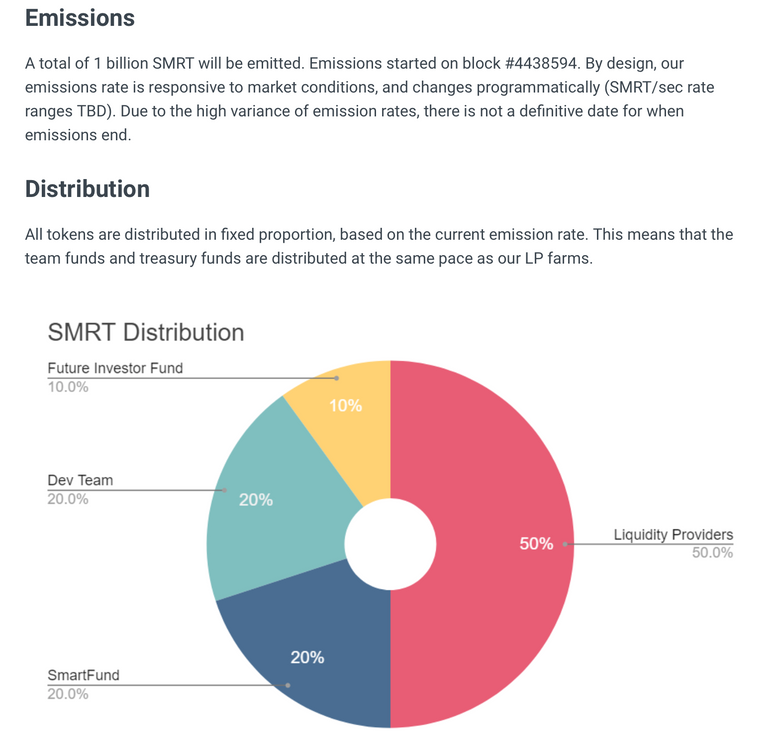 The Price is right for SMRT! 🪠🪠🪠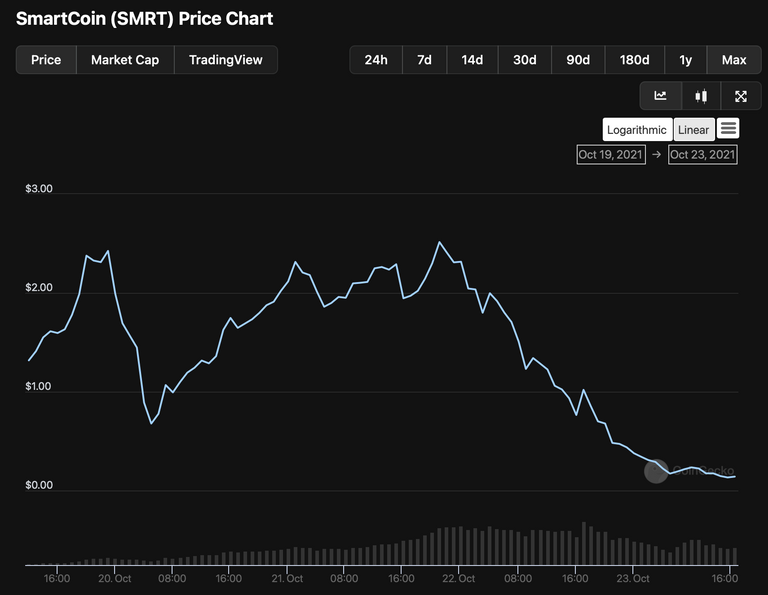 You never want to buy a brand new coin right on launch, you want to wait for the dip, and it looks like SMRT is having a doozie of a dip right now! As you can see, initially this coin was holding up above 2 dollars until it plunged. Luckily I just found out about it after the dip, so I missed that whole FOMO ordeal! 😂 I don't know if it will stop dipping here, but it's getting pretty darn low already, so I decided to take the plunge and pull the trigger and put a few hundred bucks! I like to dive in on really big dips, and SMRT seems like a really good deal to me at this level. Once I start staking and using the farms, it should make up for any more weakness in the price if there is some more. I can always DCA, dollar cost average if it does go down a few more pennies!
What I really like about SMRT is it has the "SmartFund!"
70% of all "emissions" are direct to community. 50% of total SMRT emitted is allocated to liquidity provider rewards, and 20% goes the SmartFund treasury. This Treasury is like the Federal Reserve of the SMRT Ecosystem. This means that the SmartFund is used for economic stimulus programs; community reinvestment through high APR% events to incentivize onboarding and user engagement.
SmartCoin has doubly good incentives to reward farmers:
The first incentive is SMRT's Double-Double Mechanism.When TVL in the platform doubles, so does the APR!! (See Chart Below)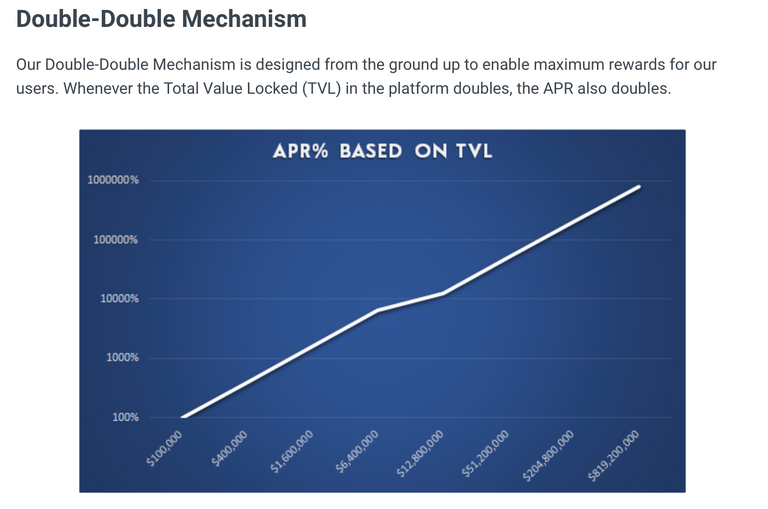 The Second incentive to reward farmers for Holding is Bollinger Band Booster, which aims to corrects the price after overselling.
Source: smartcoin-tokenomics.gitbook.io/smartcoin-tokenomics/smartcoin/tokenomics/...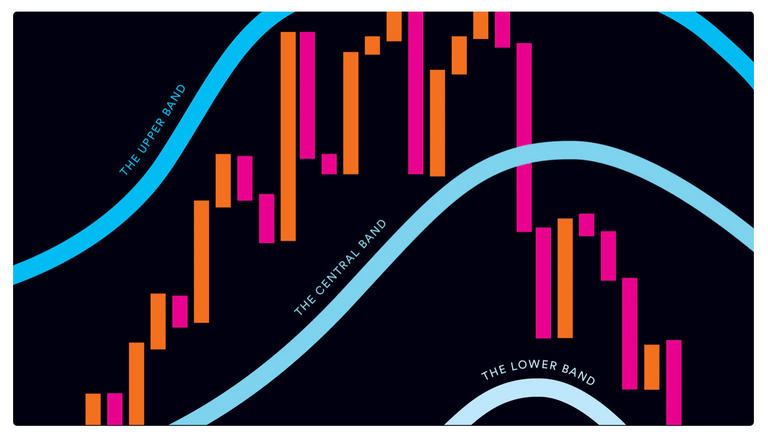 When the price falls below the lower Bollinger band, our Bollinger Band Booster goes into effect, boosting the APR% via our SmartFund. This increases investor yield, de-incentivizes bank runs and generates more buying pressure for SMRT.I would think that the Bollinger Band Booster should be about to activate now, we'll just have to see how good this Bollinger Band Booster works!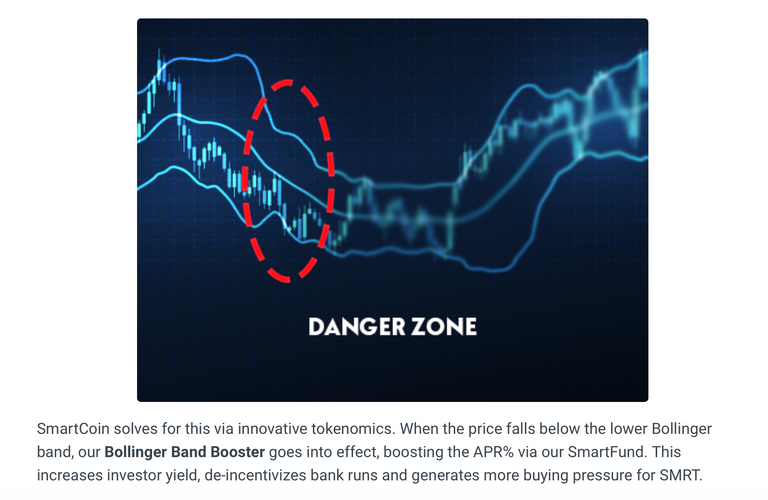 Overall SMRT looks like a very safe investment decision!
Smart coin has been audited by Paladin, as well as RugDoc, both have been found the SmartCoin platform to be a perfectly safe defi platform. Everything is in the open with Smart Coin, including their source code, check out their GHit Hub repo here: https://github.com/0xsmartcoin/contracts. All their SmartCoin contracts run on the Avalanche platform, and the team has the very best of security in mind for it's users. 🔒 SMRT's "MasterChef contract" is derived from TraderJoe's base contract, instead of a fork/copy/paste, they use class inheritance, so that SmartCoin is functionally identical to TraderJoe's.
SMRT Coin Security - Original Image by @coininstant!
Deployer Private Key Security!
Finally The SmartCoin token is owned by a deployed contract called MasterChefSmartCoinV2, which in turn is owned by a deployer key that's sharded across multiple offline secure locations. This is some serious security precautions this platform has undergone, which helps me rest easy when investing my hard earned money into SmartCoin! After doing my due diligence on this coin, it has become apparent that SmartCoin is the wave of the future, and the "smart coin choice" for a wise defi-platform investment for the future.
---
---