I ❤️ Earning 800% on my GUMMY BULLS! - To the Moooon 🐮🌙🚀
How to earn 800% + Farming GUMMY Bulls on BSC!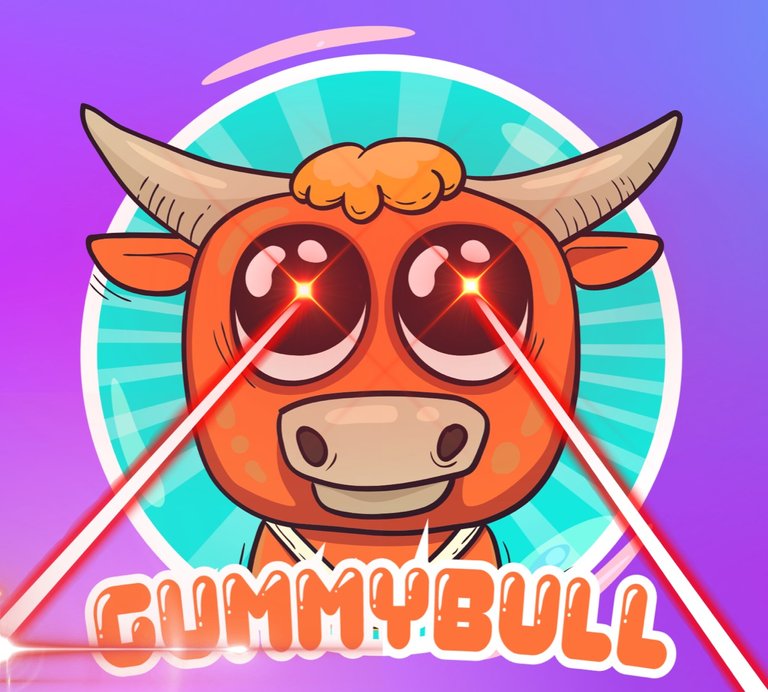 I just found an exciting new way to Yield-Farm these GUMMY BULL TOKENS with a high APR of 800%! This is assuming you are already familiar with Metamask, and BSC, the Binance Smart Chain Network. If you're not familiar with how to do this, then please refer to this article to familiarize yourself with the setup. https://academy.binance.com/en/articles/connecting-metamask-to-binance-smart-chain.
The sweet little GUMMY BULL DE-FI APP where you can earn a whopping 800% can be found at this link below: https://www.app.gummybull.io!
Gummybull.io is entirely powered by BSC, and there is a really simple process to farming your GUMMY BULL TOKENS today! In this post I will lay out the process process below, and it's as easy as 1...2....3!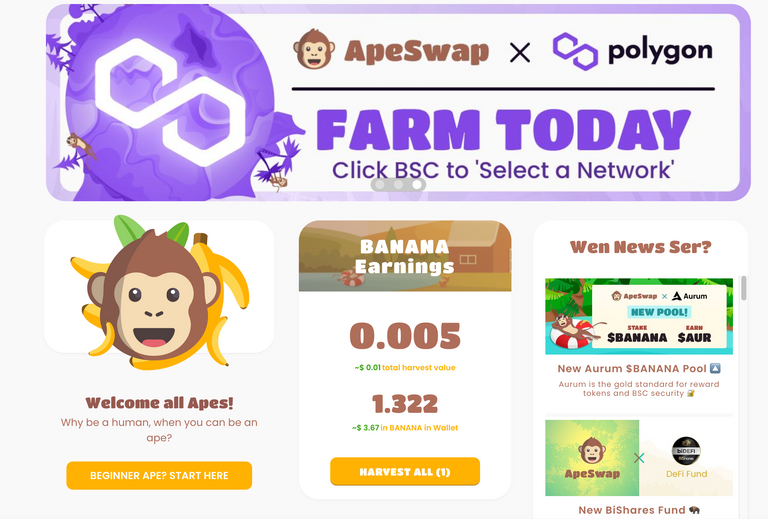 1. Step One - Go Buy Your GUMMY BULL TOKENS!
The First step is to purchase your GUMMY tokens over on Apeswap.Finance!
GUMMY tokens aren't available to SWAP or Add Liquidity on Gummybull.io, however they are still needed to be staked and farmed. You must first purchase GUMMY BULL TOKENS on Gummybull's partner swap site ApeSwap.Finance.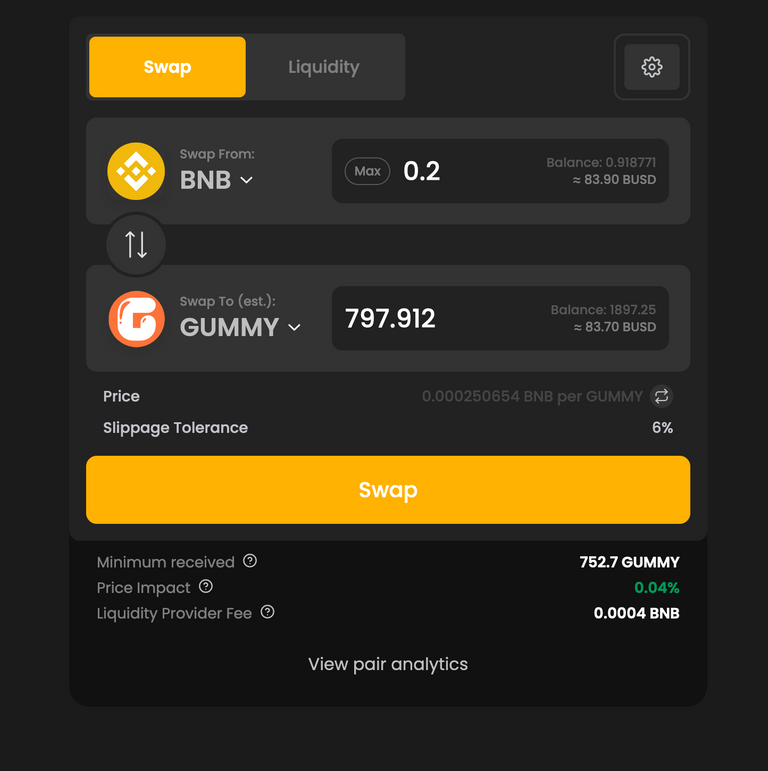 2. Step two - Add GUMMY to the BNB Liquidity Pool Pair on Apeswap.Finance!
Once you have purchased some GUMMY tokens, make sure to save an equal amount of BNB Smart Chain tokens for adding your GUMMY to the liquidity pool in order to farm them on Gummyball.io. Always leave some BNB for gas to make the final transactions too.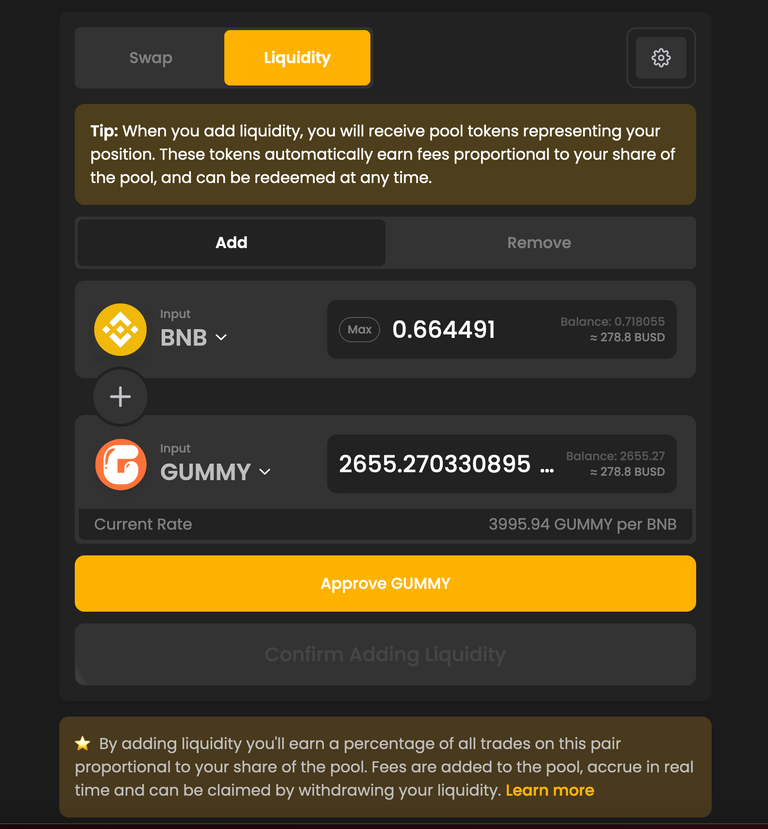 3. Step three, FARM Your Liquidity Pool (LP) Tokens on Gummybull.io!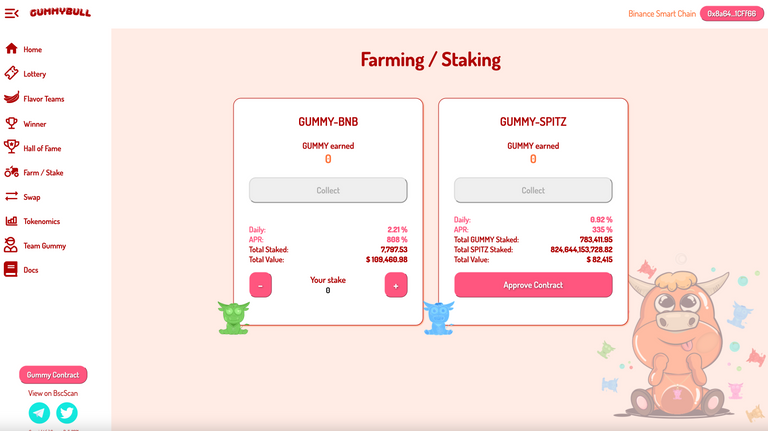 Head back to Gummybull.io and click on the farming tab to farm the LP tokens you received from ApeSwap! This final step is really important, otherwise you cannot earn the 800% farming your GUMMY tokens! Now that you have the LO tokens from Apeswap, all you have to do is click the + (PLUS) sign to stake them and finally start earning free GUMMY BULL tokens! Here are the screenshots below which show the steps I took.
Approve the contract, and Click the (+) and press confirm!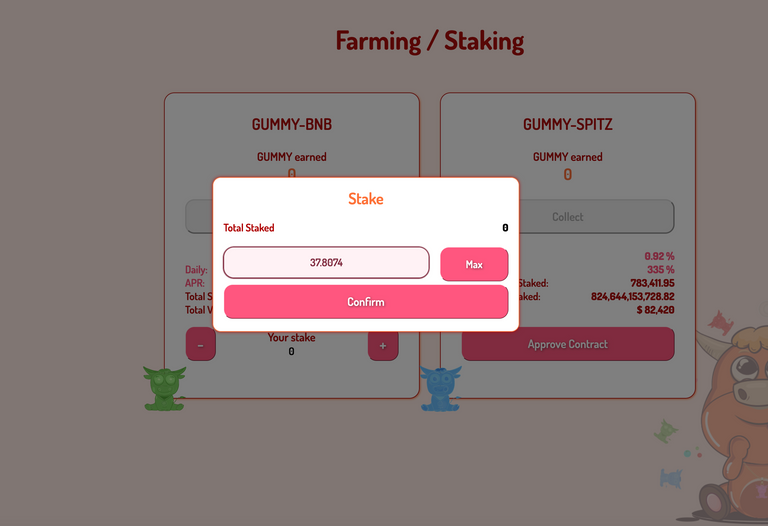 I've only been farming for half an hour while I writing this post, and have already earned nearly 4.20 GUMMY! WOW!~
When refreshing the page it seems like I'm earning .01 GUMMY a second!!!!! Not bad for just getting started.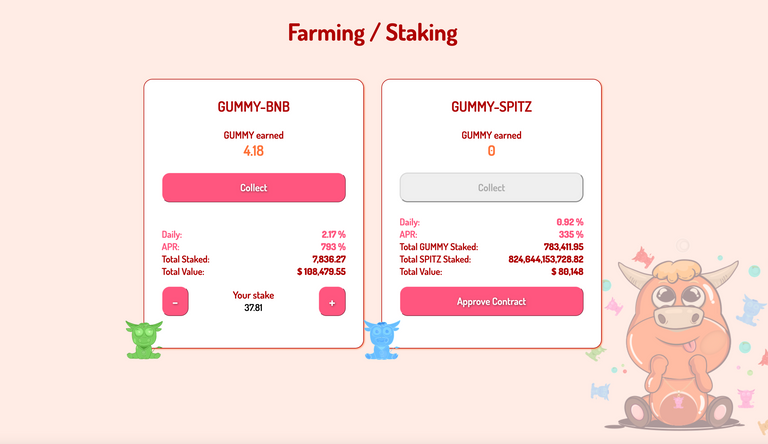 Overall I really enjoy staking and farming LP tokens to earn HUGE APRs on various Defi sites.
I just posted this example today because it shows the decentralized nature between the wallet and how multiple DEFI-FARMS can can interact. This little swap adventure has a few steps, so I think that must be the barrier to entry keeping the APR higher for now. I suggest that everyone should swap into some GUMMY tokens on the dip, and start earning passive income of 800% for years to come while you HODL! GUMMY BULL Tokens to the moon! 🐮🌙🚀
GUMMY BULL TOKENS on a nice dip!
Time to buy GUMMIES!!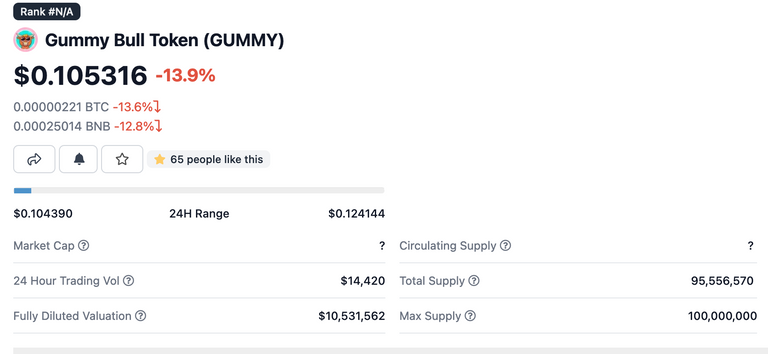 If you really want to get technical, wait a little bit longer for GUMMY BULLS to drop and bounce off support!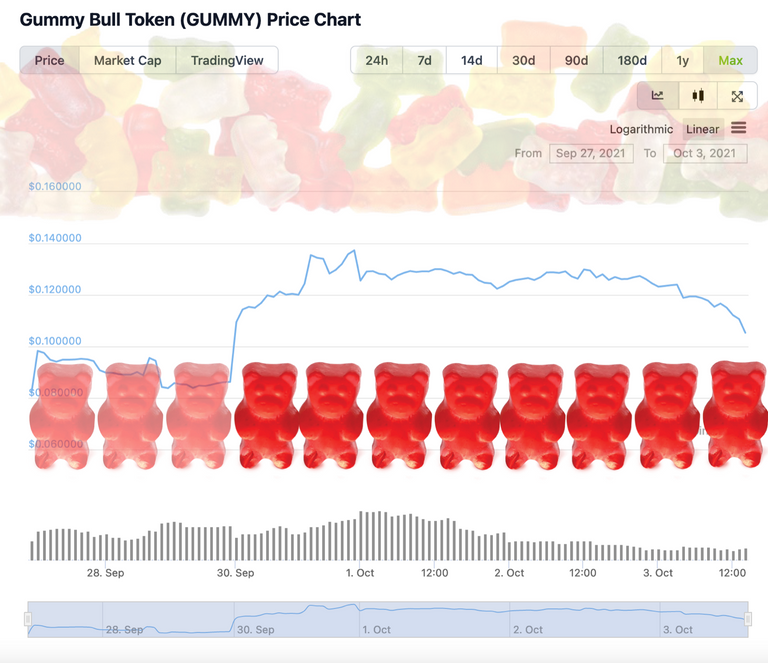 Looking at the chart above, looks like I may have jumped the gun buying GUMMY BULL tokens tonight before I looked at the chart. Now after analyzing the chart I can see that it's almost certain GUMMY BULL TOKENS are about to hit support around the 9 cent range, and hopefully bounce. I've been watching GUMMY for a little while waiting for this sale, since I'm in for the long run, I just decided to start buying early and begin earning the 800% APR NOW!, If Gummies do make the final drop and bounce at 9 cents, then I will DCA and buy even more GUMMY BULL Tokens to farm!!
---
---