HELIOS Token BURN-TO-VOTE UI is NOW LIVE!! 🔥🔥🔥

Hello HIVEANS... & HELIOS fans,
We are pleased to announce that the latest BURN-TO-VOTE! feature in our arsenal of @helios.voter curation projects is now live! HIVEANS' may now burn HELIOS more simply than ever on our very own secure UI - to earn mentor-based curation votes at https://helios.surf/ 🔥
---

---
Burn Essentials - Words to the Wise!
Any user deemed unethical in accordance to HIVE community standards will be automatically disqualified from our services, therefore no account on Spaminator's Blacklist will be eligible to receive curation through our program. If you are on the Blacklist and attempt to use our services you will be automatically refunded.
Rules:
You should not be on the Spaminator's Blacklist.
The post should not be older than 18 hours from its' creation time.
The minimum amount of HELIOS tokens to burn: 20
---
How BURN-TO-VOTE Works?
(our site works with Hive Keychain, so there is no login, we never ask you for your keys!)


---
Add your Hive account name & click the "Load" button to check your HELIOS liquidity.
note: you can click on your balance to auto-populate that amount into the input box to the right for burning. (below)

---
Step 2: Enter the Hive Post URL (Only Posts, no comment URLs, doesn't have to be your own post) to share an upvote.

You can see the US Dollar value of tokens that you wish to burn for a vote.

Once everything's filled in click the "Burn" button to summon the Hive Keychain extension.
Step 3: Click Confirm on Hive Keychain to send HELIOS to @helios.burn for processing!


Once you sign the transaction with the keychain if everything worked you should see a message that says Successfully Sent to Burn!

You can always double-check to verify the details of your transfer to @helios.burn on the hive side-chain.


https://he.dtools.dev/@helios.burn
Are Votes Guaranteed?
NO…nothing in this life is guaranteed, so we can't guarantee a vote for your burn, however we can guarantee a refund if your post is not accepted. As discussed in the rules above, we monitor all outgoing votes in accordance with Hive community standards & guidelines, meaning no spam or questionable posts will ever be accepted, as well as blacklisted users. Moreover, the burn-to-vote mechanism works in the First-in, First-out queue method. Therefore, if your post reaches 24 hours from its' creation time before the voter hits your spot in line, you will not receive an upvote & will receive a refund instead.
When are Tokens Burned To @NULL?
The moment your post receives an upvote, your HELIOS tokens will be sent to @null & any extra tokens we received (the change) will be refunded back to your wallet.
If you find an error, please contact us @HELIOS-VOTER Discord Channel or send a discord message to coininstant#9760.
🔥🔥🔥🔥🔥🔥🔥🔥🔥🔥🔥🔥🔥🔥🔥🔥🔥🔥🔥🔥🔥🔥🔥🔥🔥🔥🔥
& Always Remember.... Let the HELIOS FORCE be with you!
HOLD HELIOS & earn 15% HODLER Rewards!
BURN HELIOS & earn 30% ROI on your posts!
---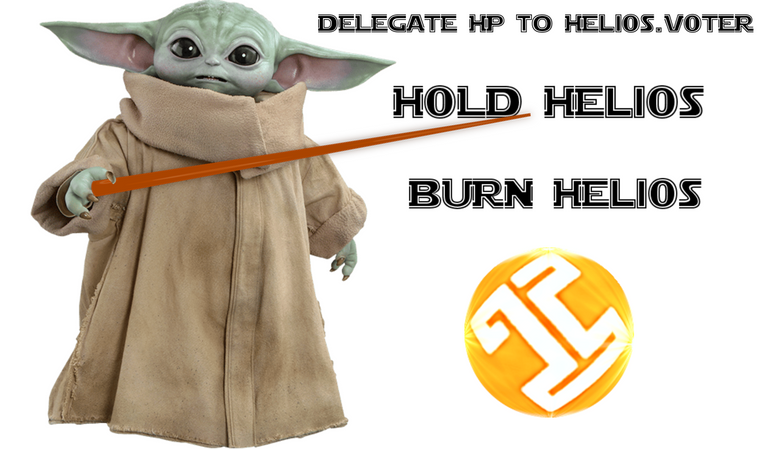 ---
---