From Alien Shiba Inu, to DogelonMars… What will Crypto think of next? 👽👽👽

The latest coin addition on CoinMarketCap to catch my eye is Alien Shiba Inu! 👽👽👽👽👽👽👽👽👽👽👽👽👽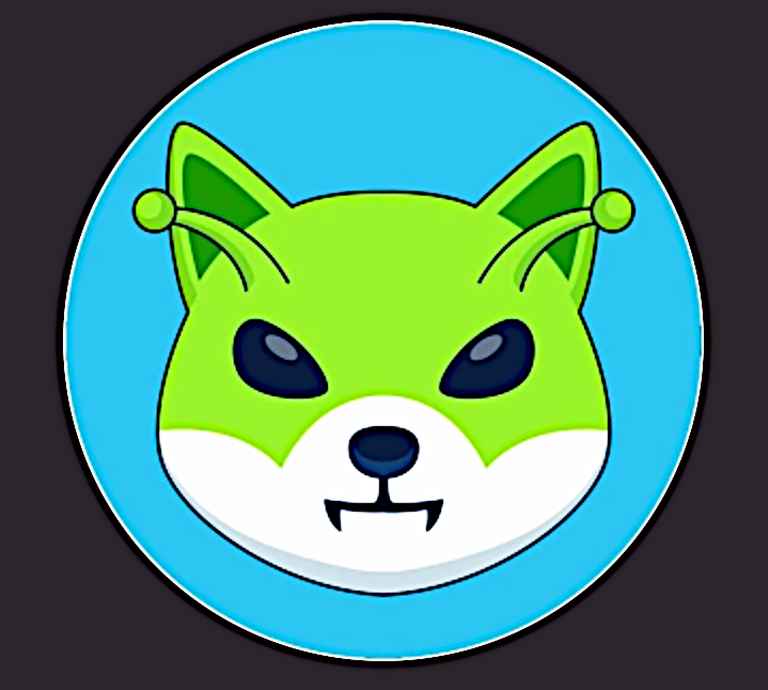 Image Source: https://alienshibainu.com!
I didn't notice AlienShibaInu (ASHIB) for their huge project, or giant ecosystem like SHIBA has with ShibaSwap, what mainly caught my eye was ASHIB's bright green colored Logo with Alien Shib design, I like it!
I have no idea if this project is legit, or is really going to take off like a rocket or not, however any coin that gets my attention, and gets listed on CoinMarketCap is surely going to get a lot of views, and is worth giving a closer look. With that in mind I figured the best way to look at it was right here in the open on HIVE, and maybe, if I'm lucky, I'll even get some valuable feedback about Alien Shiba. I decided to make a post about Alien Shiba tonight, since ASHIB seems to be on a nice dip, and you know what we like to do around here, BUY the DIP!

You want to wait for the bounce before buying, never try to catch a falling knife coin!🔪🔪🔪
To be honest this project doesn't have much...
Aside from their nice graphics, & cool gif on Twitter, there's nothing to really sink your teeth into just yet!!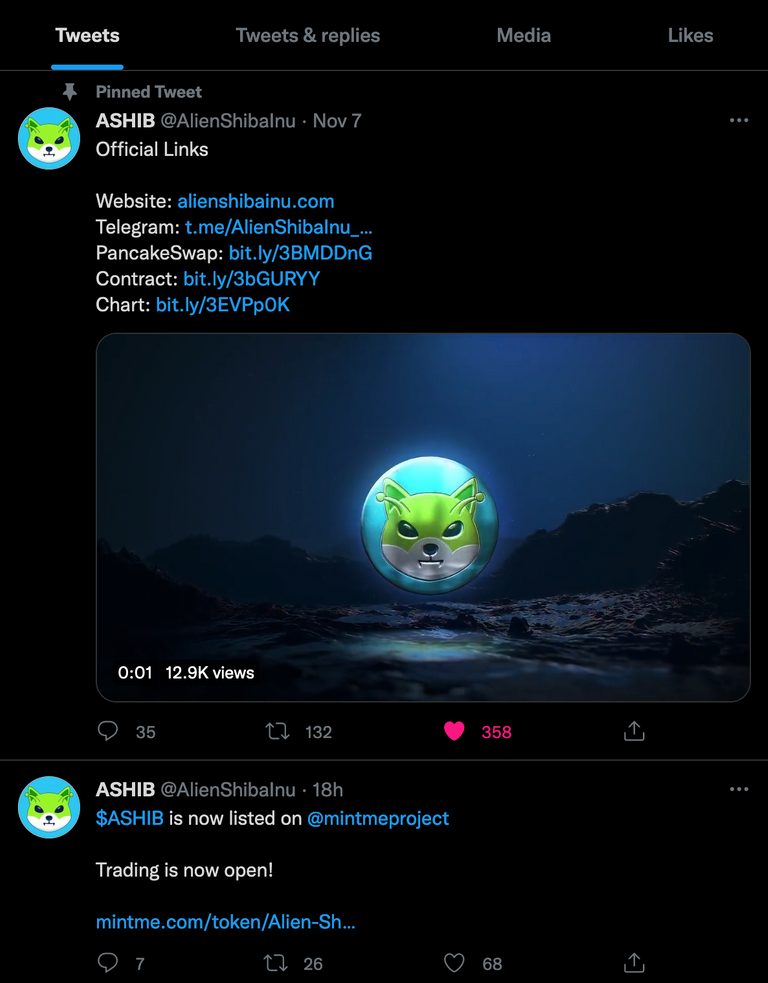 https://twitter.com/AlienShibaInu
These Alien NFTs do look pretty interesting... WoW!!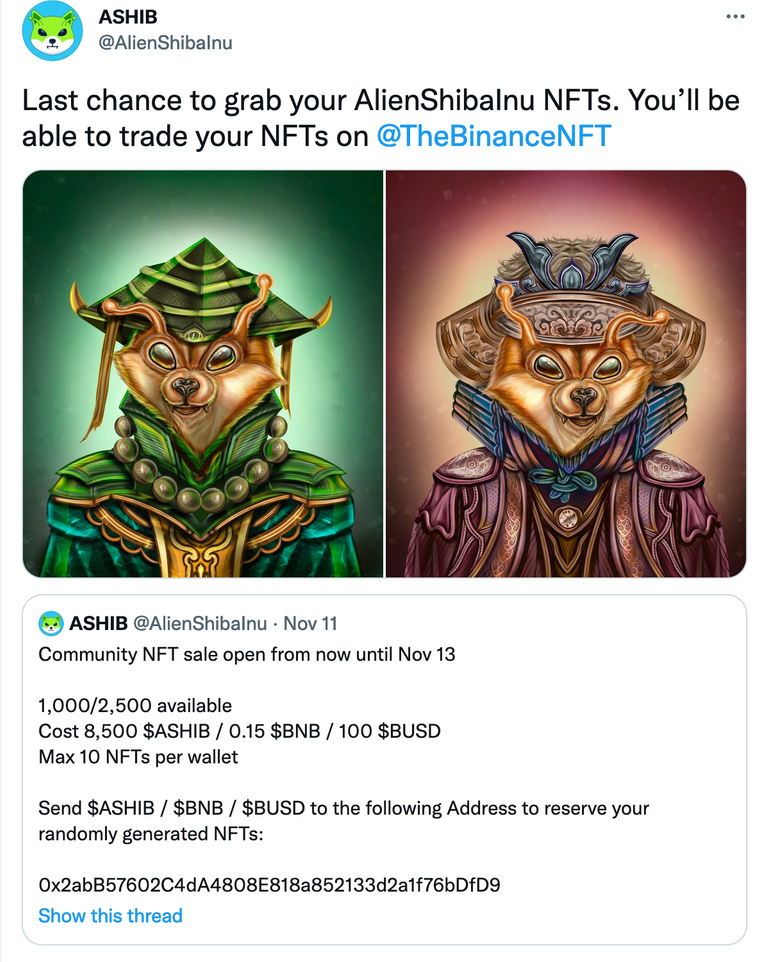 Latest NFT Tweet (Above)!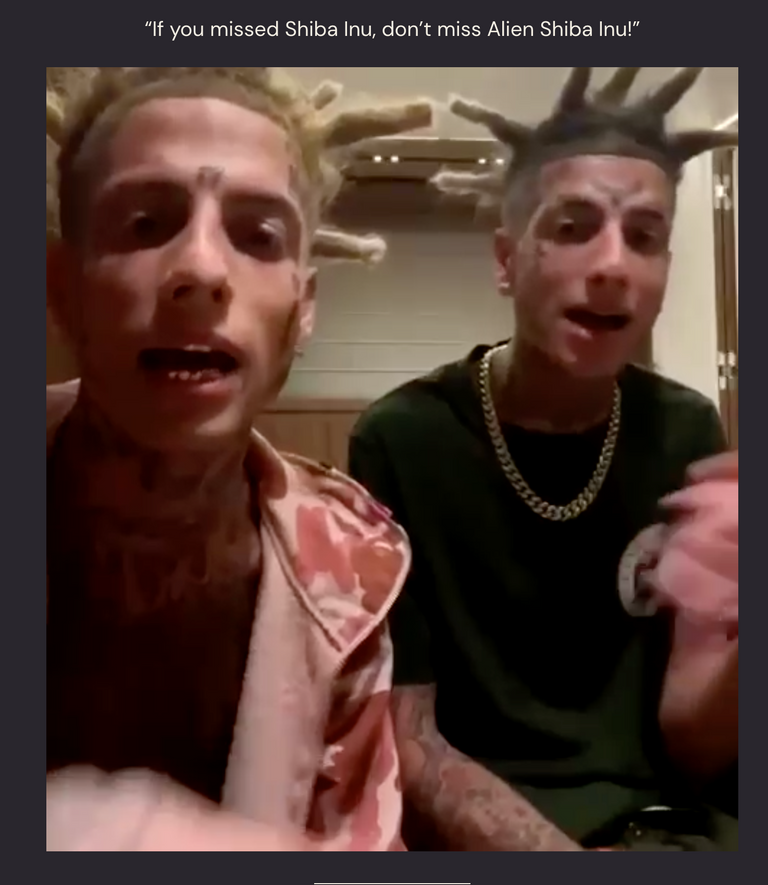 Source: Check out the Alien Boys Jingle about A L I E N S H I B A I N U!
I guess all these reasons are why the market isn't taking too kindly to ASHIB at the moment!
At this point I would not invest a lot into this new Alien Shiba Meme Coin that promises so much but still delivers very little. "Out of this World" gains still might be possible, so it might be ok for a small investment.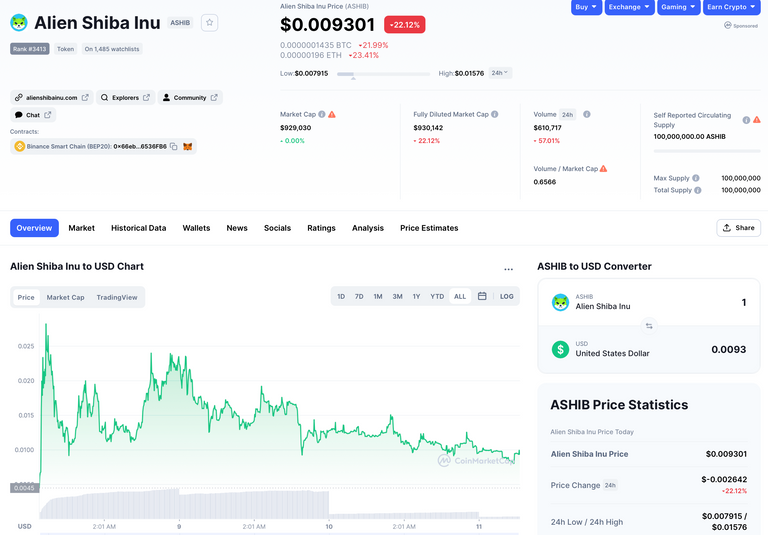 https://coinmarketcap.com/currencies/alien-shiba-inu/
Supposedly ASHIB has a somewhat small self reported circulating supply, and 100,000,000 Max Supply too, which is one plus, if we can believe them??
So what are they promising??
If it delivers what they are promising, the ASHIB crew will create an NFT character collection for Pay to Earn Gaming, which is the hottest sector right now. If a pay to earn game really comes out, this coins is defiantly going to the moon, but that's a big "IF". Also the ASHIB "MoonMap" says that a decentralized exchange (DEX), as well as a merchandise marketplace called AlienShibaInuCrew, will also be in the pipeline. All this is quite exciting stuff, and if some, or all of this "MoonMap" materializes, then this will be a game changer for the Alien Meme Coins, and space wars. However for now all these promises are just that, a static webpage and should be taken but with high skepticism and caution. Be careful because this is still the Wild West of investing right now!
As for this being the next Shiba version of DOGELON MARS, fingers 🤞 crossed, & only time will tell! 🪐🪐🪐🪐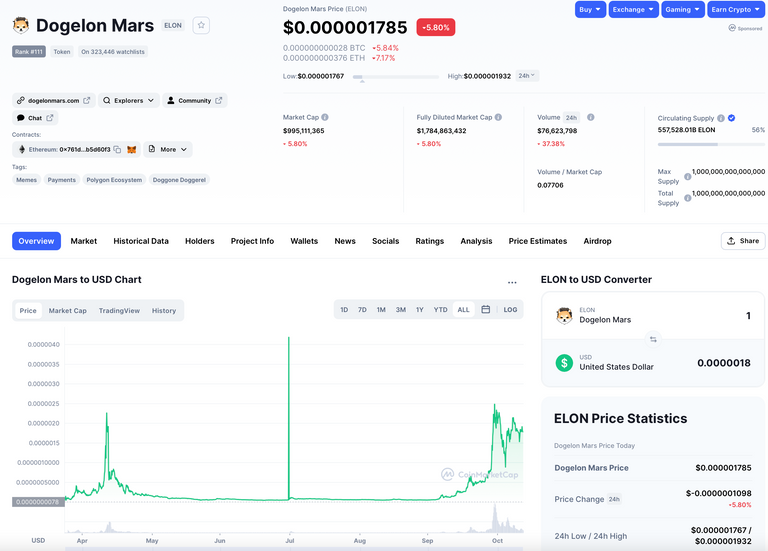 DOGELON MARS is doing pretty well, for an Alien Meme Coin with no working project announced!
After dong my due diligence, I'm still interested in both of these meme coins.
I think this whole new category of Alien meme Coins is about to take off into orbit. Despite their lack of substantial development, and credibility, if a meme coin is what you want, then look now further. Anyone can purchase this coin on poocoin.app, it's trading at the link below: https://poocoin.app/tokens/0x66eb97542e35fb514ab378253386792ea6536fb6
Remember never invest more than you are willing to lose, and on this coin it looks highly likely that could be the end case! So if you do invest anything on this one, please remember - don't go full "Alien Ape" on it!
Doge did it, it is a meme coin based on nothing, just like this one, that's just how all good meme coins start out!
The stupidest meme coins sometimes end up making the stupidest money, so if DOGE can do it, then so can DOGELON MARS, and heck yeah, especially Alien Shiba Inu can, why not?
This type of coin belongs to the riskiest frontier of the memecoins, and where there is huge huge risk, their might just possibly be huge huge rewards to gain too. So if all the stars align, and that is a huge IF, then Alien Shiba Inu will become a hit. Besides Alien Shiba Inu is the perfect match for DOGELON MARS, the Doge Killer needs to track into space, so the Meme space wars can continue. With all that said, be sure to keep these two coins DOGELON MARS & Alien Shiba Inu on your radar, and if we happen to see any developments with this coin, I.e like a big exchange listing, or the NFT website launches, then possibly think about backing up the truck and investing. You always want to have a little skin in the game just in case something unexpected happens when you find a truly unique meme coin like this. "Alien Meme Coins" who knows maybe Alien Shiba Inu will launch us all into outer space, and in the future and beyond!!🚀🚀🚀
---
---