Elon Musk buys Twitter, maybe he'll buy some HIVE next too?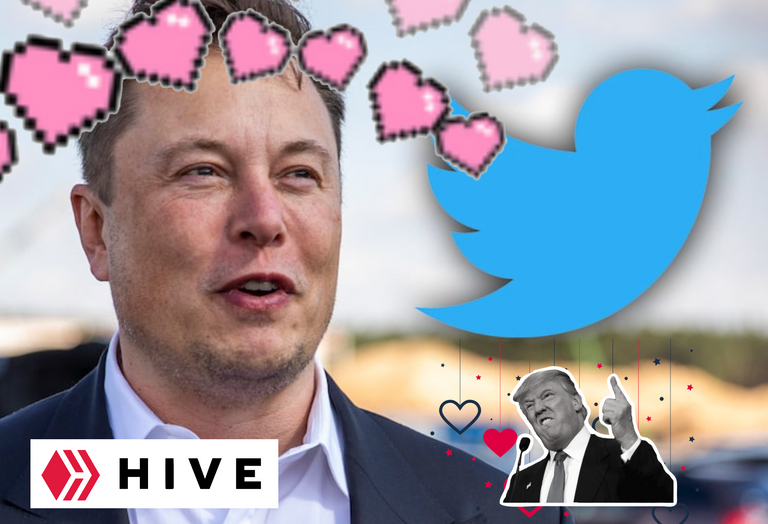 So when will Elon Musk bring back the Donald to Tweet?
From the sound of Elon, Twitter will have no option but to let Donald Trump get back to his right to free Tweets... & ASAP! Every minute that goes by without Donald Trump Tweeting is an assault on Twitter's potential at becoming #1 truther platform in the world. Elon said so himself, more elegantly in far less words with the single quote below:
"I invested in Twitter as I believe in its potential to be the platform for free speech around the globe,"
- Elon Musk
If Elon doesn't open the door to "The Donald", I expect a huge statement as early as tomorrow about this, and re-instate Trump's ability to tweet immediately, he may be putting the entire company in jeopardy! By not following his own wise words, Elon himself could "re-open" the company to future lawsuits, since the new owner himself has already provided some pretty clear guidance on the matter. If Elon doesn't stand by his words and give Mr. Trump free speech, it's quite possible this one little deed could derail the entire plan Elon is trying to achieve, if indeed he is telling the truth himself. I'm sure Donald Trump is licking his lips right now and preparing some pretty hefty tweets for his "Main Event!", Elon definitely wouldn't want to alienate "The Donald" on his first week as owner of Twitter or even one of his other companied like Tesla may find itself in the crosshairs 🎯!
Owning Twitter sounds more like a nightmare to me, & might just become a really big quagmire for Elon Musk if he doesn't have a really good plan to execute. Unfortunately, no matter what Elon does with Twitter now, there's always going to be repercussions from one side or another. I'm surprised that Elon bought Twitter, considering the impossibility it will be to enable free speech, while controlling it at the same time. There is no such thing as free speech on the internet anymore, and the closest platform that has yet to come close to free speech is HIVE. That's why I say Elon should invest in HIVE too, HIVE is such a better alternative than Twitter, Facebook, Instagram, and even Steemit, combined!
Speech shouldn't be controlled by any centralized authority, the only thing that should mind free speech is the blockchain.

Looks like HIVE could grow up to become a Twitter sized stock one day with or without Elon Musk!
Honestly, if Elon Musk truly believes in global free speech platforms, he should think about throwing out a few tweets @HIVE...
Not only would it would be the right thing to do, but Elon would have the world to gain if he could lead Twitter down the footsteps of HIVE by working with us to become the global free speech platform of Twitter's potential.
I know Elon Musk can't buy HIVE, no one single entity can own all of HIVE, but that's exctly what makes it so great, and powerful. If there were a single platform that had the best chance at global dominance in the free speech arena, that platform wouldn't be the centralized Twitter, but the decentralized platform called HIVE!
Someone like Elon Musk could own a huge stake in HIVE, as well as Twitter, and even help to shape both platforms into one of the best social media platform the world's ever seen. So that's my hope, buying twitter is part of his master plan at owning stock in all the important social media platforms, a way for him to open up Twitter to a real social media blockchain, (like HIVE) and eventually the whole world will give recognition to HIVE, for showing Twitter the way to solving their censorship problems.
---
---