This is "STEVE" our Halloween guest :D Or how to have a SCRAP HALLOWEEN PARTY
Aloha Folks...
I know Halloween isnt a big thing in Germany, but i love it ... so i do every Year a kind of special thing here in my lil Village....
Some Years ago i had to bring old cloth to the BOX at the store and i it was right before Halloween... and one of my Bags dropped down instead of getting into the BOX... i took this as a sign... and thought ... what am i able to do with this old stuff and i got an idea...
This is how "STEVE" got born....
This Entry guest for my guests on my Halloween parties, is fully made out of recycling materials....
The Chest is a Bag full of old Cloth which i vacuumed and kinda fixed on a old post which my neighbor wanted to cut in pieces and i asked if i can have it ...
The head is a glowing Pumpkin which my parent gave me years ago... but the Head got dirty and dusty over the years and we mostly didnt used em anymore in our normal Decorations... so TADA... i had a head for the Sculpture :D
The Top is a left over of an old friend of me , he forgot his jacket once at me... and impregnate it every year so it will be alive whenever he isnt anymore ! so HE is still part of my Parties....
The trousers are old ones and the Legs got filled with cutted paper which had normally get to the Recycling which i pushed into Plastic again and sure i vacuumed it so it will survive the time ...
the Gloves being old one from my daughter... she came up with it when i started to build "STEVE" said hey DAD... take this ones i really dont like PINK :D muhahahhaa and hey whats more scary as pink gloves on a Entry Guest :D muahahaha
I Pushed the Post into an old umbrellastand which is made out of concrete and i fixed it as good as i was able to....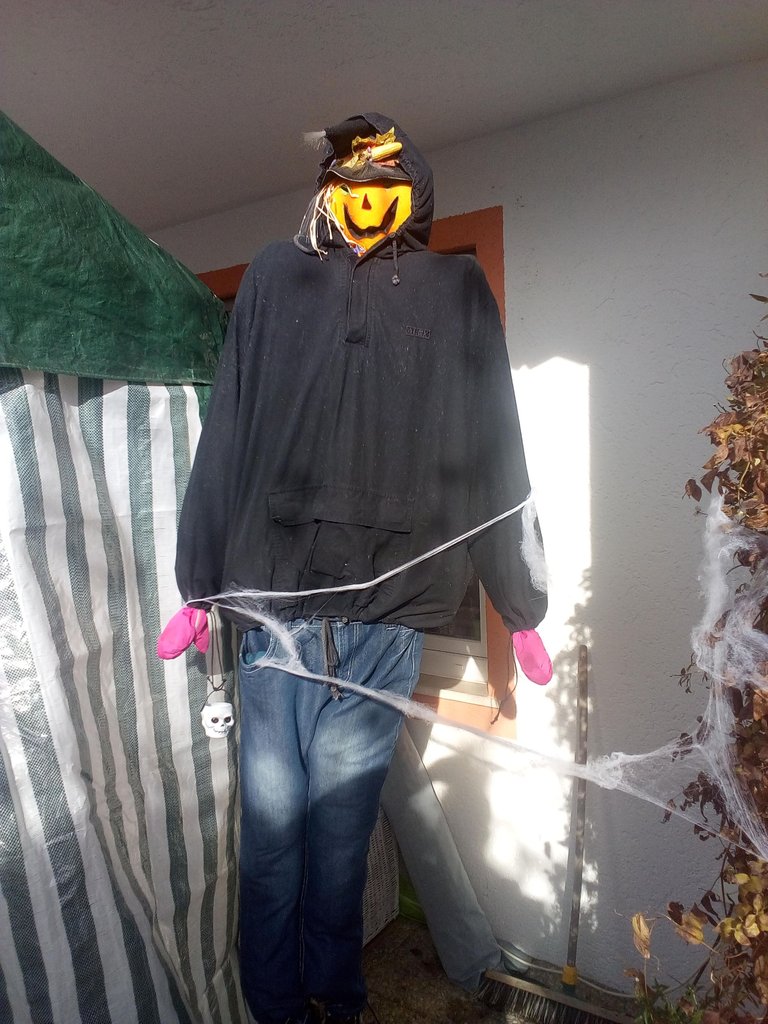 So now to the Story i wanted to tell :D hahah
Why im doin something diffrent....
As you can see there is a like Partytent behind STEVE ...
I do every year a big Campfire in my garden, and serve for the Mommies , Daddies and kids some crazy stuff ... If the Kids coming around and shout "TRICK OR TREAT" they are able to get some sweets ... often they are really sour muahahahahhaha im a bad guy :D
For the Daddies i have some Beer around , or like often the Mommies do like more is my Mulled Cider from the Mini Grill... Or some hot Pumpkin soup to warm up after a long evening getting around the Village...
I had before the lasthouse of the Village, after i moved im closee to it... but i still do this Parties... often they stay at the end here... getting warm on the Campfire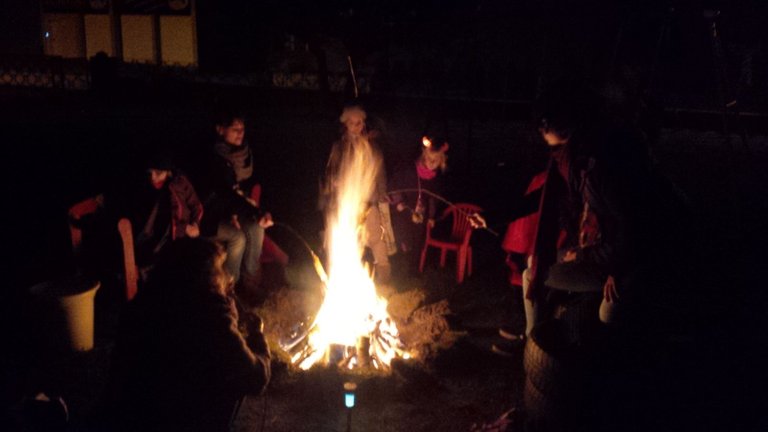 In this Pic you can see how the kids are doin their self some STICKYBREAD... maybe you know that if not feel free to ask about it :D
Some selfmade SPOOKY COOKIES cant miss on a event like that ... Or am i wrong :D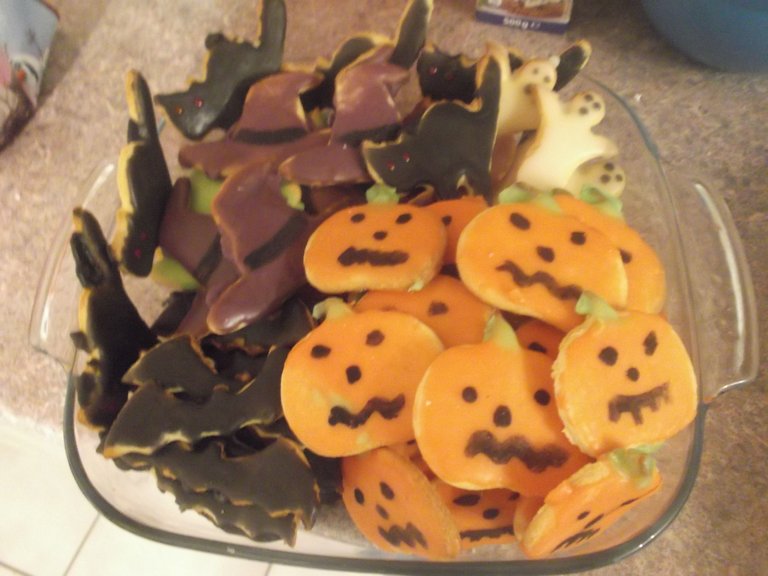 You can do Spooky Decoration out of a lot of re- / Upcycled materials ... See an old can with some old Bandages orf an old First Aid kit... Some wool and Sticky eyes.. Bam another deco is born...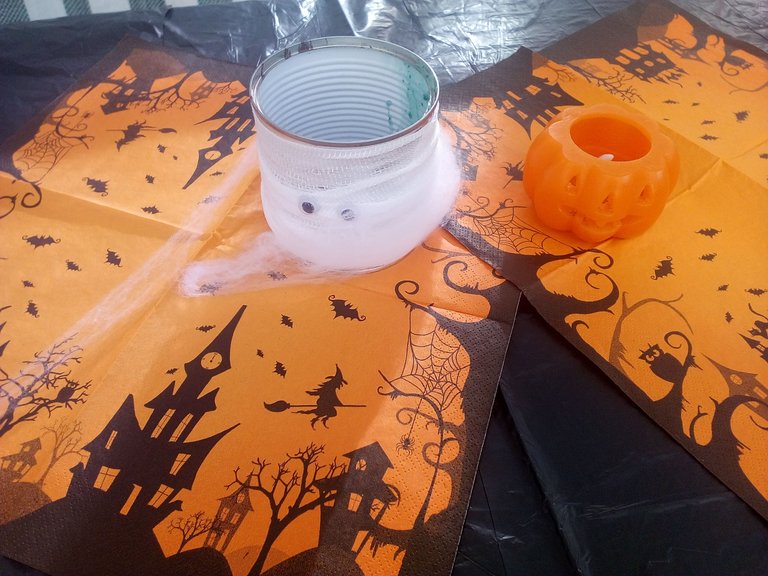 If you been into Carving then you could do something like this... An old Chair which wasnt loved anymore... an old bag on it some wool and BAM another Spooky element is implemented ...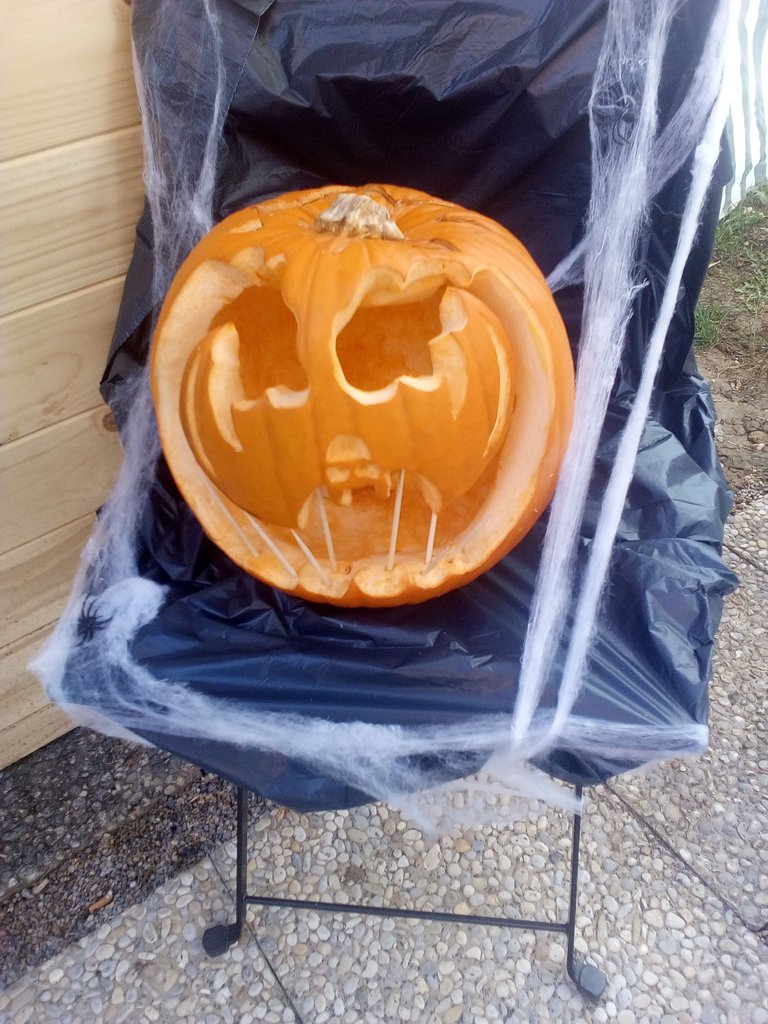 For sure you need also some Drinks and sweets for the Guests :D
The Ghosts are made out of Toiletpaperrolls and plaster cast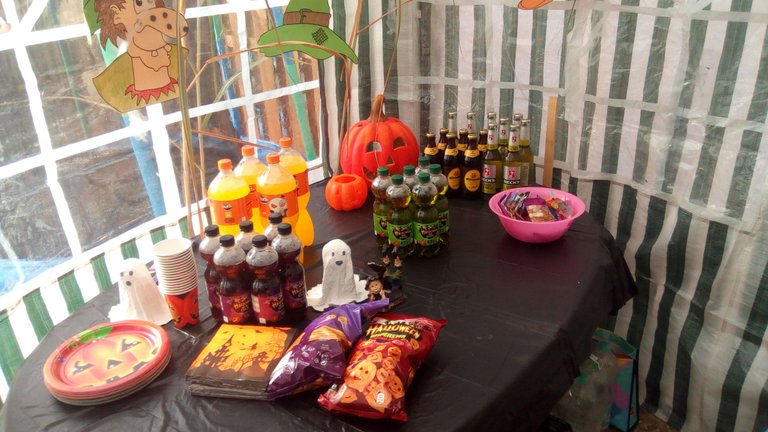 the old Sticks a Ballon and a tablecloth together and you have a perfect Ghost :)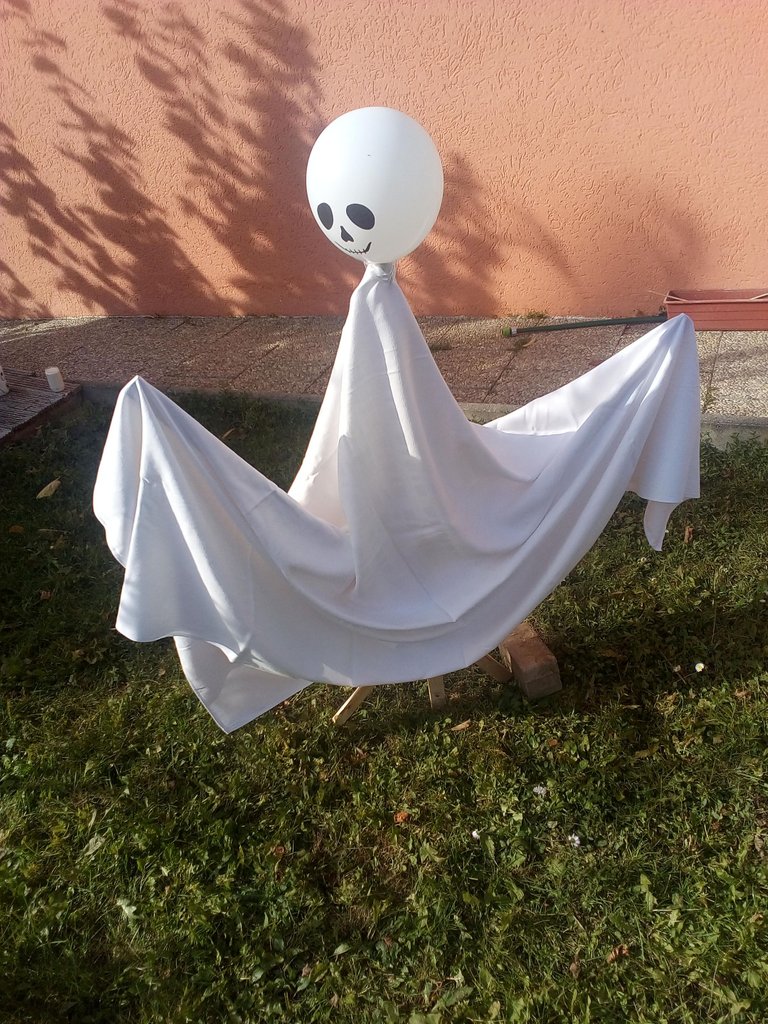 Here another thing ....
just an leftover of a cutted tree, an old candle holder and woodenplates and you have a spooky invite to your place...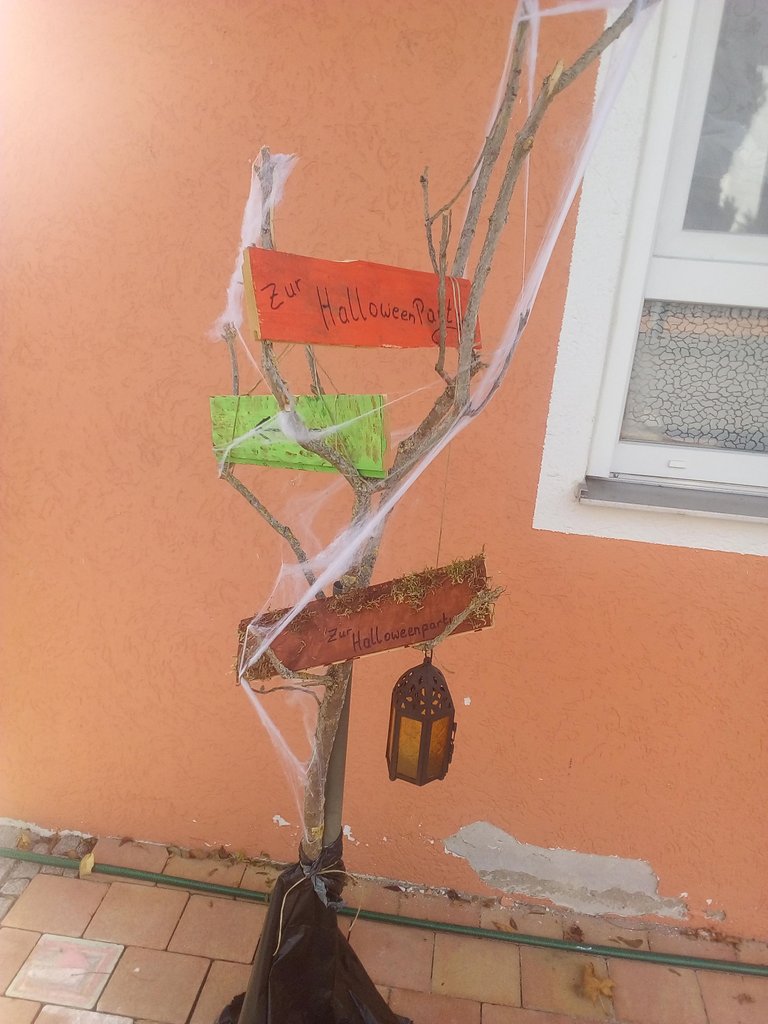 I hope you enjoyed my lil Halloween journey , im really excited about your Feedback and maybe you tell me about your HALLOWEEN over there... but this is my Story of my SCRAP HALLOWEEN :)
---
---