You'll Never Believe What I Saw at Nsit Ibom | My weekend Adventure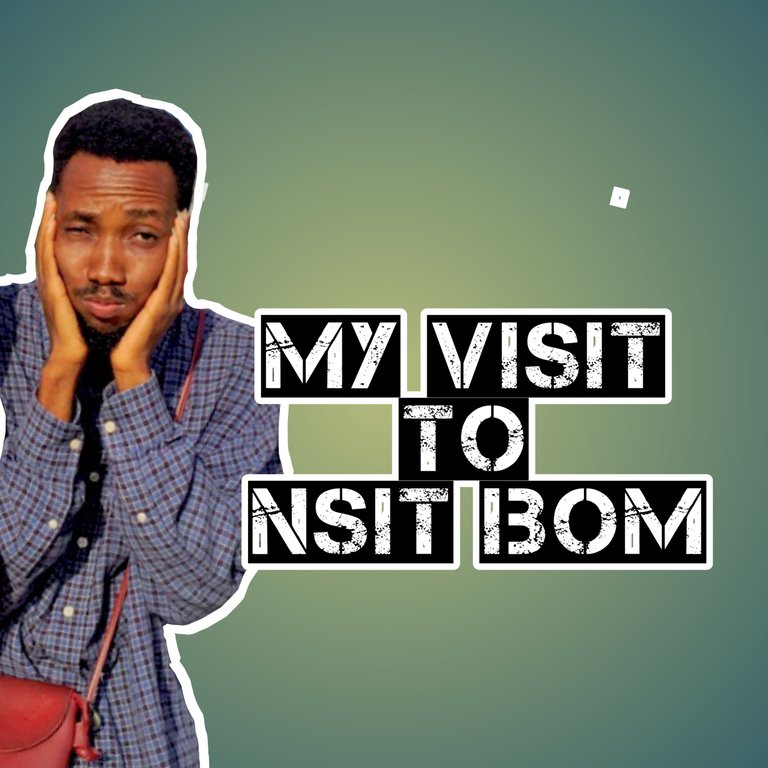 I always like a good adventure and hardly shy away from embarking on one. That's why I was a little bit excited when my close pal invited me to grace her grandmother's burial ceremony which was happening at her home town Nsit Ibom Local government area in uyo, Akwa Ibom State, Nigeria.
When I say close pal, I mean it. We've been friends for close to 3years now (doesn't seem like a lot but it's enough time to know someone). Of course a good friendship comes with lots of arguments and disagreements, lol, when we're together you'll even think that we're day one enemies but I'm guessing it's our way of expressing our heartfelt love for each other.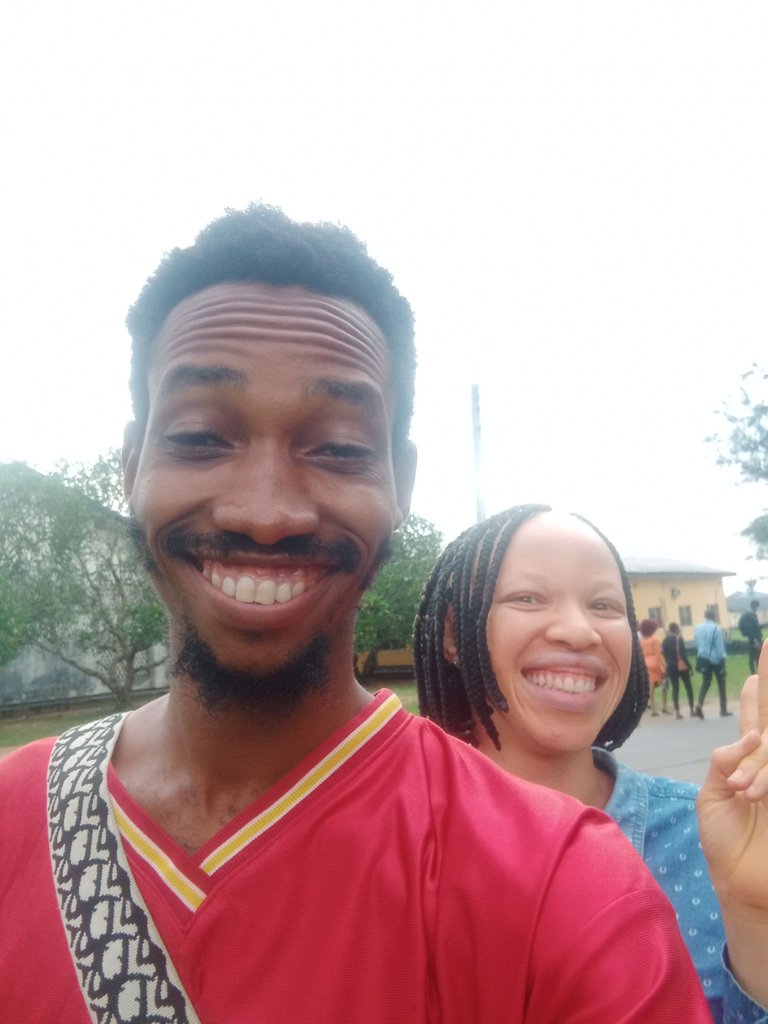 My pal Cj Styles
Sigh, I'm going to be deviating if I continue ploughing this path. I'm sure you're eager to hear about my adventure, so I'll pretty much recount it slowly. I'll advice you get a cup of coffee Incase you start to fall asleep because it might get boring. Haha, look at you I'm kidding, I'm sure you were about to hit the back button and leave as fast as you can. But hey, don't go yet, wait a few more minutes.
---
So the d-day was yesterday, I didn't expect it to come by so fast and at that I was a little less prepared. I woke up at around 7:30 with a strong yawn (I don't know what a strong yawn is, I think I heard it somewhere), then I went on to put on my data to explore my Hive newsfeed as is always my routine. I'd just been half an hour into my doings when I got a call from my pal.
Yeah, as always she thought I was still fast asleep, snoring. To her greatest surprise I was wide awake and then she filled me in on how the whole journey was going to be like. But then she mentioned that she was already on her way because being the grand daughter of the deceased, she had to be there on time. "You'll have to come with my boyfriend 😊", was the last thing she said before ending the call.
Truthfully, I was already discouraged because I thought I'll be going with my favorite pal instead of her boyfriend who was actually my close friend too (they both got to know each other through me, I really am a good influence on others). Without actually telling her my disinterest, I just left it to chance.
As chance would have it, it was a Saturday and a day for sanitation as is our custom over here. Before I knew what was happening, I was given a brush and a bucket filled with detergent to start scrubbing the floor, sheesh! it just wasn't an easy task. I started all right and had scrubbed the floor halfway when I actually thought to myself: "scrubbing floors and an adventure, which is better?". My mind chose adventure so I informed the others that I had somewhere to be, "remember that burial I told y'all about, it's today! and I'm already late", I said as I left them with the brush and went on to take my bath.
I did that pretty fast and before 12, I was out of the house and off to her boyfriend's house. In less than 30mins I was there. We exchanged pleasantries and I laughed after knowing that he didn't even know the way there, we'll just have to rely on some directions she gave us on paper with words we couldn't pronounce. Haha, it's going to be a great journey...
---
Wait, are you still following?, The journey is just about to start sef. So stay...I'm stretching both hands towards you in a stay kind of motion, or whatever let's move on.
---
At around 12:30 we were around the bus stop known as plaza, it's at the center of Uyo and it acts as a meeting point from different places. From there we took a small work to another bus stop around Aka Road where the Qua Iboe church is. It was already so sunny, and it felt like the sun was out to get me, no joy at all.
Then we boarded a bus going to Obot Edem junction. Even I couldn't really pronounce the name well so don't try too hard to pronounce it. I could hear her boyfriend say he'd hardly been to this part of town and smiled a little. It's great to experience new things once in a while. Then after like 30-40 mins we arrived successfully.
There were no more buses to take us to the next place so we had to settle for bikes. They were a few around, so we walked up to to them and read out the next address. To our disdain, everyone kept nodding their heads that they weren't going towards that direction, some even acted like they didn't even understand the address being read to them.
We were already getting frustrated because we'd been there under the sun for almost 20mins. We decided to call my pal and tell her of our current predicament. She laughed a little and asked us to give the phone to the next bike man we approach for her to talk to him directly. We did exactly as we were told and to our greatest surprise the bike man agreed to go!
I don't know how women manage to always be well persuasive and have their way, it's still a mystery to me, hehe. We climbed on and the bike man zoomed away, he'd only been riding for a while when we understand why the others dreaded this route.
The road was in a very bad state, very bad that's why cars and even buses hardly used the route. The bike man kept maneuvering along the rough terrain and I must say it was rather uncomfortable, and my pals boyfriend kept uttering his discomfort. The road was a really long one, if you can call that a road and it really took like forever to get anywhere.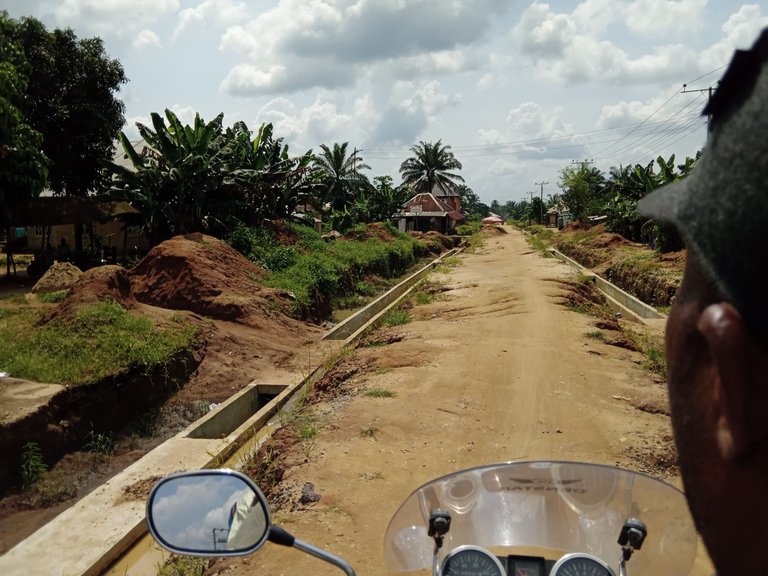 The road was pretty bad
We were still on our way when the bike man stopped. I asked if we were already at the place but he just ignored me. Next thing I noticed was that we'd stopped Close to an old man's house who was selling something in small bottles. Then I heard the bike man converse with the old man that he needed fuel, can you imagine!. The old man was selling petrol in little bottles and they were buying it at cheap rates. I just laughed in my mind and my pals boyfriend whispered to me "imagine how well a good filling station would thrive around here". I saw where he was going and nodded in agreement.
Back to our journey we were after the little petrol was filled in the bike. We finally found ourselves in an area that had a fairly good road. That helped us go a little faster as the bike man started to speed up. I was already getting tired because the sun was dealing massively with me. For someone who loves adventure it was already becoming too much for me, haha.
We finally got to a place that has a lot of trees and bushes and they were hardly anyone around. "What if he's going to sell us or use our head for ritual" was the next words my pal boyfriend said and we both laughed at the thought. It was certainly suspicious but there was certainly no way he was going to use our heads, hehe. We certainly wouldn't watch that happen.
There was a change from the bushy environment to one that was kind of open with houses by the side and a lot of people around. So I just had the feeling we were a little close to our destination. By now we had passed Ibesikpo and surely very close to Nsit Ibom. Just like I thought, we started to see signs reading the address Nsit Ibom and I noticed something, there were funny looking headstones in front of houses and inscriptions on them. I couldn't take pictures because we were going at a fast pace but my eyes were easily drawn to them.
The Ravine
Finally, we reached a very steep path, the path was just beside a very deep ravine. It looked like it started like normal erosion and grew to a very big magnitude. It was scary knowing we had to pass through that ravine to finally reach our destination. The bike didn't seem to be worried that if he made a wrong move we'll all fall inside the ravine and die or better still fall and never find out way back. He just went through the path as casually as casual itself, lol. When we got around the bend, we reached our destination successfully.
We were welcomed by my pal who was beautifully dressed and a couple of other eyes who weren't to used to seeing such faces. I was actually a little shy at first but then I summoned enough courage and walked alongside my friends all the way to the seats reserved for us. We'd been a little late though because the burial was almost at it's end.
They sang songs and said some prayers for the deceased family members. Then there was some display from church members. The deceased was aged 87 when she died so it was actually a course for celebration rather than mourning. So the atmosphere wasn't really a moody kind, it was highly spirited. Before long the ceremony ended and the corpse was taken to be buried.
Our host went on to work and started to fill up our stomachs with delicacies. Ómo I ate till I was even tired, then we were given a bottle of hot by my pals father who was in high spirit knowing his mother was going to rest in a good place. We talked, and talked for a while and when it was around 5:00pm we were ready to take our leave.
We waited to get a bike to take us back to that bus stop but didn't even see any. So we had to walk a rather long distance to a point where bike men always gathered. We were already tired and sweaty when we finally got there. It still took a while to get a bike that'll take us back to Obot Edem junction. That added to the whole frustration and before we knew it the cloud was already getting dark.
Gladly we boarded the bike and started our journey back, we were praying silently for it not to rain. We hardly even made it halfway when it started to rain very heavily. It wasn't a joke, the rain was out to get us, lol. Before long, I was already soaked, water was dripping from all part of my body. The bike man at to stop at a shade because it was becoming to hard to navigate the route.
The shade wasn't be best of shades but we couldn't complain because it was helpful. We stayed at that point for more than one hour for the rain to atleast subside. The bike man immediately started the bike and we immediately boarded after the rain subsided. In less that 30mins we arrived at the junction. We were all silent because it was so cold.
Without wasting much time, we entered a bus and went all the way to the plaza. By now it was already 7:30pm, we were cold, tired and frustrated. Immediately I got home, I just took off my wet clothes, had a warm bath and looked for something to eat.
---
What a journey, I'll think twice before embarking on such a journey, or not, lol. I'm sure I'll run at the thought of another adventure, haha.
I just had to share my experience with you all, hope you enjoyed travelling with me. All pictures were taken by me and the first image was edited using Pixellab.
Thanks for reading through this post ❤️
---
---