The Secrets Of the Hive Community | #Pob-wotw S3

Secrets of the Hive
Faith woke up to find Mark still asleep by her side, they had both had a lot of fun last night with the Hivers ( a community called the Hive which they were now part of ), and it all felt so surreal now that she thought of it.
They bacame part of the Hive Community few months after moving into Lekki, although they had been so reluctant to join them at first, they ended up being drawn to the level of support that was shared amongst each member.
Her friend Amina had been the one who dealt the final convincing blow when she showed them how this small Community of well invested business men and women had helped her frail and crumbling business get back on it's feet. Together they supported each other, the big whales who earned a lot more, helped the little fishes with little tokens that'll encourage them stand on their own feet.
There really was no room for frailty and discord in this Community as every one loved the other and they all worked hand in hand to achieve their goals. Faith was still a little skeptical because it actually felt so unreal, she had never seen such happen anywhere in her country before but Mark had been all hyped and enthusiastic about it so she had to share in his joy.
Last night had been an unforgettable one, it had been a well organized get together by the community owner. There had been a lot of esteemed Hiveans in attendance, they even got to meet great minds like the Korean based Jack Mineopoly and Queen Sam Smithson the great writer. It had really been a glorious celebration, it felt like they were in heaven on earth. The whole hall glowed with gold colors and the users were uniformly dressed, beautiful chandeliers hung on the ceiling and every one was well dressed like royalty.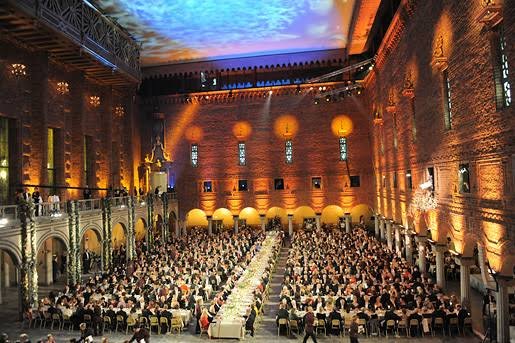 The golden Hall
Well into the event something caught her attention. Faith noticed the maliciously looking woman popularly known as Nkechi eyeing her husband. She could see the flirty demonic smile curl up on her lips while she danced seductively along his line of vision. She wore a red revealing gown that showed off her breasts , short enough that her beautiful laps was clearly seen like the billboard along Lekki toll gate.
When she raised the issue with Mark he just laughed and told her she was seeing things. That statement got her angry but she had to let it go because she didn't want any discord between them that night. Mood already spoiled, she just sat there drinking the red looking stuff they shared at the event, it didn't taste like anything she had ever tasted before but it had this addictive taste to it so she kept on drinking.
She couldn't really recall what happened after that and the whole thing was still very fuzzy in her mind, she could remember a little of dancing heartily on the dance floor with her husband and she certainly didn't even know how they both even made it home. Last thing she could remember was taking a last sip off a glass containing that red substance before passing out.
Her head was aching so badly right now, and she needed a pain killer really badly. She could still hear the peaceful breathing of Mark as he was still covered up on the bed and a smiled curled up around her lips. After looking at him for a while, she walked towards the kitchen, she felt a little frail, and it seemed as if her legs couldn't carry her. It must be from all the drinking and excessive dancing.
She walked into the kitchen, opened the fridge and took out a bottle of really chilled water, took a lengthy drink from it and let out a sigh. She noticed something red on the back of her hand as she dropped the bottle on the kitchen table. Wait, it wasn't just on her hand, it was all over her dress!!
She froze and her blood immediately went dry, what was this strange red substance that had covered her up. Her heart began to beat faster as fear engulfed her. She ran straight to the mirror along the hallway to get a good look at herself, what she saw was horrific!!. Clearly
someone was playing games with her, this wasn't a funny prank. All the skin on her face had been scraped off like an artist artwork, revealing all the bones on her face. Felt like something from a horror movie, she looked like a living dead but what baffled her was why she she was still alive and couldn't feel any pain.
She ran screaming into the room where her husband was lying and immediately removed the covers from his body. If what she saw earlier was horrific, this was way worse. Her husband's body lay there, his chest and his ribs had been scraped open and she could see the insides of his body revealing his heart beating slowly, there was blood all over the bed.
Nausea enveloped her and she couldn't even let out a scream, she was hopeless, afraid and wished she was dead. It felt like the ground was going to open up and swallow her. Tears fill her her eyes as she....
Honey, wake up! It's time to go jogging, you're the one who's always talking about how much we've added in just few months.
He leaned over and kissed her on the cheek, she opened her eyes to see the most handsome face she'd ever know. At that moment she realized that it had only been a dream.
Thank you for reading this piece, I hope you didn't see horrific images in your head, 😂.
---
Posted via proofofbrain.io
---
---