My Hive Story | There's gladness in my heart ❤️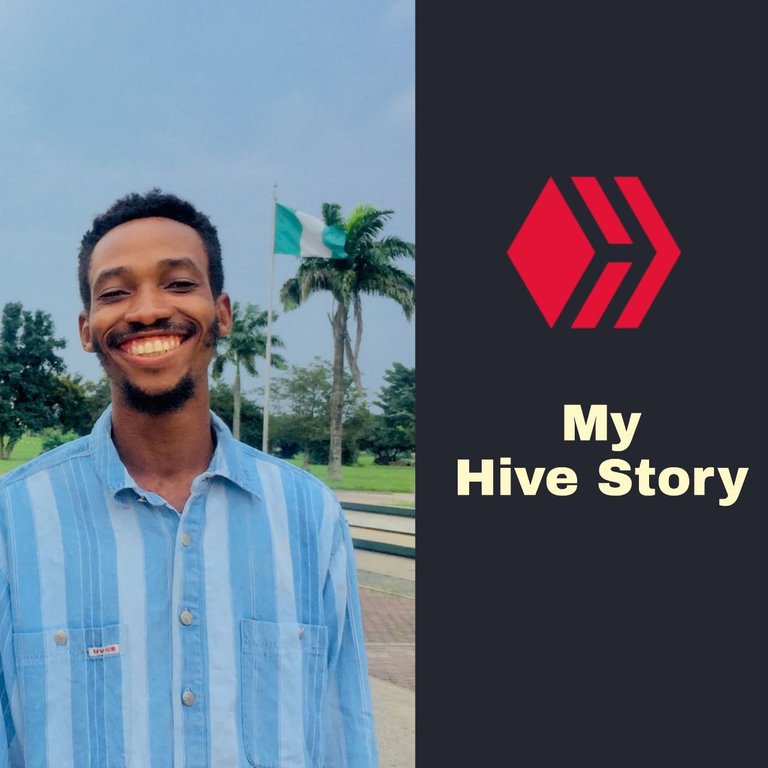 It's beautiful to hear people talk about their Hive journey. I was expecting to read more inspirational stuffs but then, not every thing has to be inspirational hehe. I read a lot but I still wasn't moved to write about my story until I heard @khaleesii talk about how she deleted her keys because she didn't think there was any future here on Hive.
I'm sure a lot of people could relate to that even if they won't admit it. I'm sure they were moments when you thought, fuck it, I can't do this anymore and you were ready to give up. They were other times when it felt like your growth was stagnant, you kept getting no attention and less and less votes. Yes, shit like that happens and it's tiring.
Whatever your own case was, I'm glad I got to read @readthisplease, @vikbuddy stories, really inspiring stuff. I also have to give credit to those who made it possible for me to be writing this now, I'm talking about @whatsup and @snook. Of course I can't wait to answer those 10 questions from @acesontop about my own journey on Hive. So here goes something.
---
### How Long Have You Been on Hive? ###
I've been here for close to six months now, joined around July but started to be really consistent around September I think. It actually feels like yesterday, time really flies. I can't believe I've been here for almost half a year.
What was your background in cryto currency when you first came to the blockchain?
When I first joined Hive I was in no way familiar with cryptocurrency. I had no idea what a blockchain or what words like DeFi meant or , Fomo or Hodling and so on. I was a real novice, and I didn't even believe in all this online stuffs. I thought it was a waste if time and full of scam. So yeah, with that kind of thought there was no way I could have been familiar with the world of cryptocurrency, sad right?
What was your background in writing when you first came to the blockchain?
Hehe, you really don't want to know. When I tell people that I'm a writer now, they'll laugh really hard at me because they just can't believe it. I wasn't bad at constructing sentences together or putting words together. They don't just see me, especially because I'm a dancer, putting creative words together or publishing something nice.
Before the Blockchain I didn't have any writing experiences, I just had books that I had penned down my feelings thoughts. It wasn't something anyone would read and feel amazed. So I was basically a novice in writing when I joined Hive.
How many people did you know when you first came to the Blockchain?
I knew only one soul upon joining Hive and that was basically all I needed to be able to thrive on Hive. She was already well rooted here, she was consistent and a lot of people already knew here name. @edystringz was my first mentor and friend here on Hive. She helped me a lot, did a lot more than a thousand other real life friends would do.
She was big on encouragement, gave me tips, dos and don'ts, helped me with data whenever I ran out, referred me to the best of the best. She was also quick to point out my mistakes and gave me lessons on how to correct them.
How did you meet people when you first came to the Blockchain?
Meeting people wasn't too much work for me. I started off engaging really well with other Authors (thanks to @edystringz) and I must say it was quite easy. All I just needed to do was drop meaningful comments, so they'll also drop meaningful replies and then we're off to a good conversation.
The proof of brain community was also phenomenal in helping me project myself. Contests like the Pob-wotw by @calumam, also gave me a chance to read other people's thoughts, then it also gave me a lot of visibility.
It was there I met some of my closest friends on Hive.
Who did you look up to when you first came to the Blockchain?
I actually looked up to a lot of people in different areas. At first , like I said before @edystringz was my mentor. I wanted to be a lot like her in terms of how well she could make others connect with her and really want to be friends. Her posts were relatable and educative, the girl would make it in terms of tutoring.
Then I met Authors like @mineopoly and I was immediately drawn to him. I don't know how he does it but this guy always knows the perfect words to say and he was always great on encouraging others, so I immediately wanted to be like him.
A friend like @samsmith1971 caught my attention quite easily too. Her posts were very well written an her comments were super. I started off with engagement so I was immediately drawn to people who could engage really well. She was always drawn towards helping Newbies and I loved that.
If I don't mention @dreemsteam then this story isn't complete. This woman didn't just inspire me but she also made me strive to become a better spirit. She wasn't just the normal Author I saw on Hive. Her heart is big and she enjoys touching other people. Very consistent and hardworking in everything she does and she wears a beautiful smile while doing them. I admired her so much, I still do and I hope one day that some of her greatness would rub off me.
How would you describe your first three months on the Blockchain?
It was challenging at first because for someone who wasn't used to the whole Blockchain Technology I had to bring my mind down to learn. Then after a few days it went from challenging to fun, I'm the kind of person who enjoys exploring new things and the Hive isn't just any place, it's a big space with lots of places to explore.
The second for me didn't go so well, because then I started to lose interest. I started to post less, comment less and spent less time on Hive. I don't know what really happened but then I'm glad I didn't lose hope entirely or gave up.
By September, something sparked up my interest again and I decided to take it slowly, one step at a time. I guess that's one of the bst decision I've ever taken in my life because it eventually paid off.
Has being a part of the Blockchain changed you any way for good?
I know Hive has changed me for the best. It has brought out a lot of potential I didn't know I had. I never could have thought I'll have a blog and be blogging on a regular. If someone had told me I'll just laugh hard. Apart from improving myself as a Writer, it has also taught me how to be push myself forward, it has given me a drive.
Hive has helped me improve my psychology, my thoughts as a human being. It amazing, I spend hours reading other people's experiences and thoughts and also learning from them. Hive has helped me appreciate myself more, believe in myself and also my abilities. It also thought me how to relate and connect with other people building a very strong bond no matter the distance.
Finally, it has opened me to the Crypto world. Yes, I'm slowly getting there, I now have my own NFT and have learnt a bunch of other related stuffs. It has also introduced me to bring financially self reliant and less dependent on others. Sometimes even if I don't sell my Hive, I still find ways to get data and cater for my other needs, I don't even know how it happens.
what's your favorite memory from your time on the Blockchain?
I've had a lot of beautiful memories. One of which was being able to connect with @samsmith1971. I don't know how it happened but I guess I fell in love with her and had to make her feel same, hehe.
Then another was when I placed fourth for the first and last time in the #pob-wotw contest. It really helped boost my confidence because it had almost felt impossible. Seeing my name on that list alongside the winners really made me proud. I felt the same way when I also won the #Dcc tag contest for the first time with my first ever entry. It was shocking and amazing at the same time.
Another big moment was when the greedy Yellow bird himself @mineopoly followed me. It was great to see his comments on my posts, really felt so good, he actually did motivate me to be a lot more personal in my blogging experience. Then I also got a shockingfollow from @trostparadox, I didn't expect it, never dreamt of it but then it happened and I really felt good.
Recently, I saw a Comment from @dreemsteam that I'll be getting her 100% upvote everyday for the remainder of the month. Wow, it came as a shock and I must say the love has been really massive and I appreciate it so much.
If you could advise a new person signing up to Hive, what would it be?
It's actually normal to be afraid and confused at first. This space can be really time consuming and tiring sometimes. They'll also be times when the length of your upvotes would be so discouraging that you'll feel really bad. I just have to be as honest as I can be, it'll feel like you're wasting your time and there's nothing really tangible to show for your hardwork, but then your wrong.
It is worth it, being on this is worth more than the amount of time we spend aimlessly on other social media platforms. Don't be afraid, you can do this, the ones who are already succeeding started off exactly like you, there's really no magic to it. Don't let others successes get to you in a negative way, let it inspire you instead. Take it a step at a time, there's really no magic. Say to yourself If he or she can do it, so can I
Always try to be good on engagement, talk other people and listen to them, create bonds that'll never be broken no matter what and get yourself a mentor. You can do this on your own, they're a lot more people who've been through what you're going through now, reach out to them, learn from them, let them help guide you to become a better person.
Most importantly don't come with the intention of making money. Come with the view of having fun, don't push yourself too much, the money would come in the end. Be particular about setting goals and work towards them, join contests, join communities and try to be as consistent as you can be..you got this!
---
I hope I didn't bore you out with my own journey. It's not the best but it's actually an amazing one and everyday I'm thankful for directing me here.
What are you waiting for?
I'll love to read about your own experiences and journey on Hive, do well to share!!
---
The image was edited using PicsArt
---
Thanks for reading this post ❤️❤️
---
---