MY BEST MOMENTS IN HIVE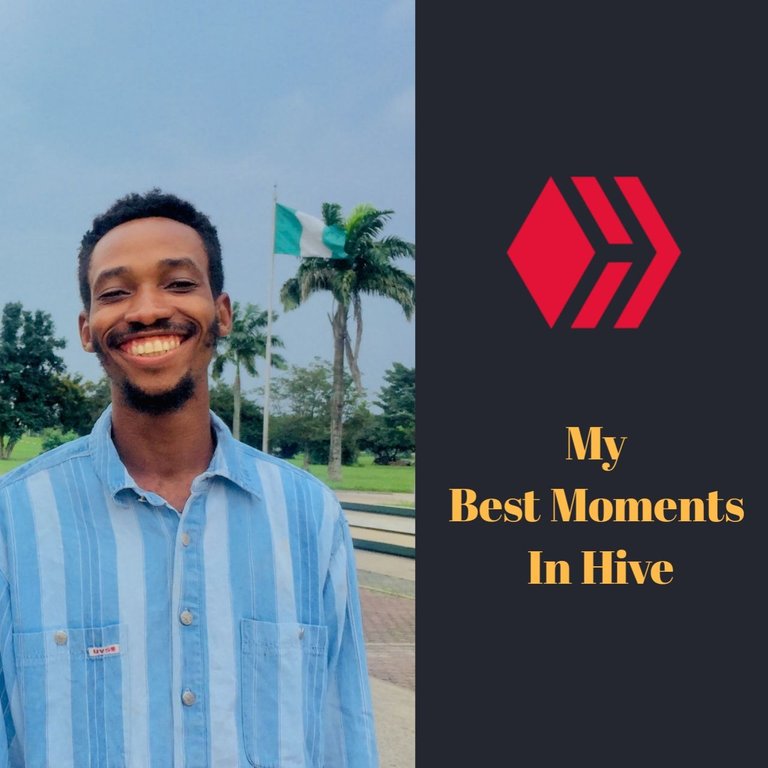 This one chinco is smiling today, one girl is busy lying to him o, 😆
Well, I've gotten a lot of these comments lately when I'm glued to my phone with a big smile on my face. What they don't know is Hive isn't actually lying to me, but she's actually giving me joy in a number of ways.
In what ways you might ask, ok see, just wait till the end you'll understand what I'm saying.
Before I go any further I'll like to give respect to whom respect is due by saying Goodmorning judges, Goodmorning my co-debators and my fellow au.....em..sorry I got a little carried there, haha.
I'll like to say a very big thank you to (since almost everyone is saying big thank yous nowadays) the one and only @appreciator and also @rutablockchain for being the brains behind this wonderful initiative. Thanks to them I've been given an opportunity to share some of my good moments here with you, and I must also appreciate my OGa at the top @ijohnsen for the tag, it's a great privilege.
This is a wonderful way to re-live beautiful moments we've had here on hive and to also show a certain level of appreciation for our journey so far. It could be seen as a Thanksgiving in my point of view, because surely there's a lot to be thankful for.
THE SUPPORT
My first most memorable moment on hive was when I received a delegation from @dreemsteem. I didn't know know if my tutor @edysyringz had advocated for the delegation in any way but it was a thing of joy for me. I had only been days on hive trying to find my feet when I received it and truthfully it was really encouraging.
I had never been in such a space before talk more of receiving such amounts of support anywhere, it was overwhelming. That delegation really helped me navigate freely on hive, I got to be able to vote on posts and also start engagement straight way. Since then also, they've been a number of other support from @samsmith1971 who's easily been a friend, a mother and also a sister to me.
Her support has been really helpful to me, got me exposed to a number of things and she was always ready to explain a lot more things to me.
I really must say thank you.
THE JOY
I hadn't really been a fan of this making online thing and I used to see majority of them as a scam or a complete waste of time. So when I started hive I was eager to find out if it was truely legit and if it'll pay at the end.
I'd been at it for weeks, posting and engaging vigorously. I had also been faced with a lot of financial issues that had been weighing me down. Then one day I got my first payout, it happened like magic. For real, I had to confirm my account balance to be sure it wasn't a fake, haha.
But then it was real and that money had really gone a long way in taking care of some of my needs. It really was a thing of joy and encouragement to see that all my hardwork wasn't in vain.
HARDWORK PAYS
That payout really inspired me to do more, I got to relate with a number of other people, post and continued engaging as much as I could. I started to get warm replies, upvotes from authors like @selfhelp4trolls who I admire a lot and then (I'll not use like magic again, 😂) it happened, I was shocked to see that @mineopoly actually follow me!
Felt so unreal, because I hadn't even anticipated it one bit. I just went with the flow and tried as much as possible to connect with people I was drawn to. But then the hardwork eventually payed off. It really felt so good to see how supportive He'd been, His replies were always life changing, always giving me tips of how to better improve my stay here on hive. I really must say thank you.
WINNING
Another memorable moment for me was when I won my first ever entry into the #dcc tag contest, I had just come out from a tiring state psychologically and really tried to channel all that positive energy into writing something. I didn't think it was going to do to well especially since the likes of the great @merit.ahama inspired me to join the contest.
It really felt good, I know it isn't much of an achievement but it was sort of a booster for me. Then I think there was this week I placed either 4th or 5th I can't really recall in the #pob-wotw contest. That's my favorite contest here on Hive because it's filled with a lot of amazing writers from different parts of the world, with different experiences. It's one of the contests I'm looking forward to winning if the likes of @mineopoly, @samsmith1971, all go on a vacation, haha.
It has been an avenue for growth for me, being able to read people's stories, their views and understanding of various words is really something that has helped me improve in a number of ways. I want to continue to appreciate @scholaris.pob and @nonsowrites for their efforts in ensuring that the initiative still remains active and alive. God bless your hardwork.
There's been a lot more memorable moments but I'll just share this few with you all. I'm inviting @vikbuddy, @funshee and @chosenfingers to participate.
Thanks for reading this post ❤️
---
---