LET THE CHILDREN COME: A VISIT TO TOPPERS SCHOOL
I've always admired little children, maybe because I feel they're pure in heart and most times they're really drawn to me. I remember growing up, I had the chance to carry little children that belonged to my aunt or the neighbors. Even though I was really skinny, I'll spend hours carrying them in my arms until they fell asleep. Always felt like an achievement especially because they ended up becoming really fond of me.
Anytime I see a little child with it's beautiful genuine smile and cheerful demeanor, I'm really impressed,and it'll take a lot of self discipline not to walk up to that child and say hello.
On Tuesday, I got a call from a friend of mine who's in Kaduna. She informed me pleading that her mom needed someone to teach kids in her school dance and I was the first person that came to her mind.
I was really impressed especially because someone could remember to recommend me when it was needed. Mixed with that feeling, I was a little scared because I haven't really had the opportunity to teach little kids dance.
It was a challenge and I really love challenges, so I agreed to do it. I wasn't really convinced with the level of my delivery yet, I guess I was really battling with my self esteem at first but I soon summoned courage.
Today came and I went to the school. Truthfully, it wasn't exactly like I expected, it was a little smaller than the picture I saw in my head but it didn't matter, I am already here, I said to myself.
I and the owner of the school spoke for a while and she intimated me that she hasn't actually paid for a dance instructor before, this was her first time, and she actually needed to see her school kids dance. With a smile on my face I told her I was up to the task and I was going to deliver. I could read from her expression that she wasn't really convinced.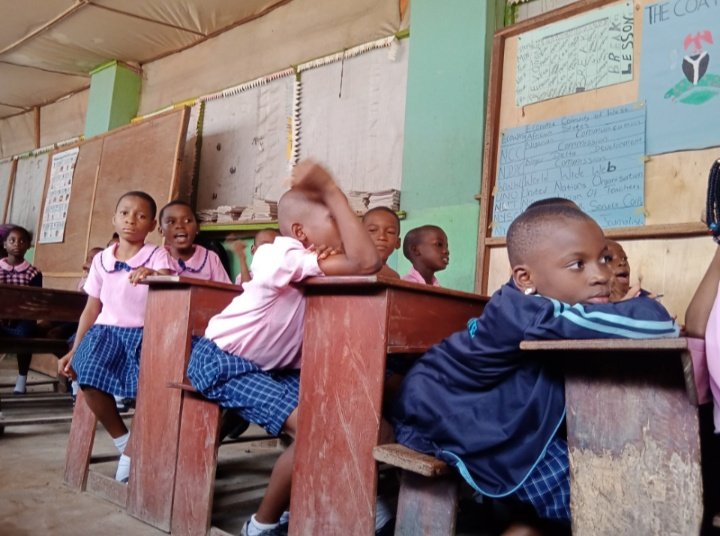 View of them in class
Then, after our brief talk she took me around the school to introduce me to the children. You need to see the happy smiles on their faces when they heard they were going to be dancing. One little girl ran up to me and even asked me for my name, I was speechless at first because I could see the happiness in her eyes.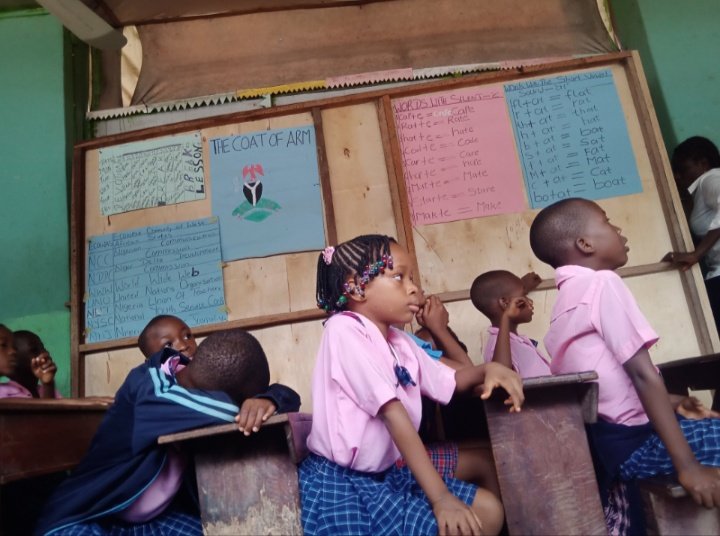 They couldn't wait to come out and see their new dance tutor
I haven't felt this warm feeling in me in a while and I was really glad to be around children since the last time. I just had the chance to introduce the dance to them while the teachers selected the children that were good enough to do the dance. I asked for their names, there were actually different names and different personalities, some were shy, very articulate, outspoken, the gossips, the uninterested, lol I easily study personalities.
After I addressed them for while, I told them I was going, then that same girl ran up to me held me by the hand and asked,
"Uncle chinco, where are you coming back?"
I smiled and told her that it was going to be soon, then she smiled and hugged me. I must say it really touched me how amazing kids can be.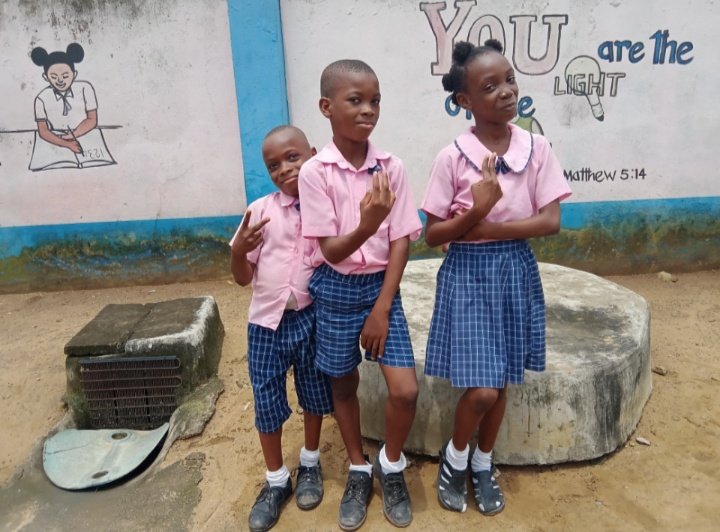 they were eager to take pictures after class
I really can't wait to go back there and really connect with those kids as I teach them dance. Don't worry I'm going to be sharing every bit of my experience with you!!
Thank you for reading this little write up, God bless you 🥺🥺
---
Posted via proofofbrain.io
---
---