How did you spend your Christmas??

After church today, I spoke to a friend of mine and during our conversation I noticed that one of her eye was a little swollen and red but it wasn't that obvious. I didn't even know when a broad smile drew across my face and immediately she asked what was funny. Still smiling, I said,
Happy boxing day!! 😊❤️❤️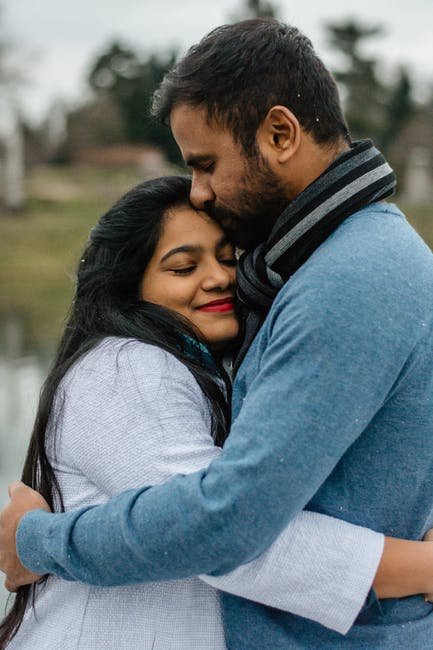 Source
She was embarrassed at first but then she just smiled and hugged me tightly like I had given her the best gift in the world. For me it was nothing, it was just me being naughty and joking around but for her it was me lighting up her day. I didn't know what had happened to her and I'm sure she didn't want to talk about it but then she didn't have to. Then she asked me about how my Christmas day went, and this is what I told her.....
---
Well, it started off a little on the high because I had been in church throughout the night of Christmas Eve to the early hours or Christmas day. It so happened that our pastor's birthday also falls on Christmas day so we had to wait till 12 am to wish her happy birthday and almost immediately the celebration started.
It was no small deal, we were fed till our stomachs were filled to the brim. We were give all sorts, from party rice, to porridge plantain, to hamburger, to native meals like eba and white soup with all sort of drinks and juices. Ómo, I don't even know how I managed to eat some of those meals and by 2 am I was already full and looking for ways to catch my breath.
After that we did a lot of singing and dancing, yeah, with the full stomachs some of us still managed to dance. Then we sang birthday songs for her and made her happy. After that she prayed for us and blessed all of us with a little token of appreciation. It wasn't like any day I'd experienced before, we were genuinely happy. Then we gisted and laughed till we fell asleep.
When it was 6am, we woke up and left for our various homes. I arrived home with all the enthusiasm in the world for more sleep so I just took off my top and jumped on the bed. To my surprise I just laid there without being able to sleep, after twisting and turning I got tired and started pressing my phone. I did that till around 9am or so, my phone just took my mind off time.
I ate by 10am, but I was surprised that I still hadn't gotten any calls from anyone, so I took up a book to read for a while. Around 11, my housemates got calls from their girlfriends, so they prepared and left me home alone. I became easily bored and decided to do the calling myself, so I took my phone again and dailed my mom's number. She was quite happy to hear my voice, we spoke for a while before I heard dad in the background sounding jealous so I asked mom to pass the phone to him.
We exchanged wishes, and talked boring talk then my elder sister got on the line and we also talked, it was good to hear their voices. After the call, I called my little sister who's in calabar by herself and we both exchange wishes and had a good chat. I didn't feel alright after the call ended, it felt like something was missing. I just didn't feel good that I couldn't afford to get them gifts so I ended up just sending all of them airtime so they'll also be able to call their loved ones.
It was around 12pm that I started to feel really lonely, my phone wasn't any help this time around, even the book I was reading didn't sync in. So I just laid on the bed, half sleeping and half thinking. A lot of thoughts started to cloud my mind, it became really toxic. All the problems I wasn't able to solve started to find their ways to my memory. I started to feel angry and depression was setting in.
When I tried to stand up I felt pain around my neck and on my head, I became really weak. So I laid there alone with my demons till 4pm. It was like I was already in a trance and I was slowly drowning. Something was pulling me in deeper and deeper and I just couldn't scream. I was already a long way down, when a call woke me from this strange trance.
I picked up my phone with no enthusiasm and pressed the receiver. It was my friend @nelson-george that was on the line. He told me about a small outing he was planning that he wanted me to be part of. He said he just wanted us to drink and dance away our sorrows. This talk actually sparked something in me so I told him I was going to grace his invitation.
With reluctance, I got up, took my bath and dressed up. Then I walked out of the house and headed for the road. I waited almost 20minutes to get a bus but I didn't see one. When I finally got one I noticed I had misplaced some of my money, how?, I had no idea!. Good thing I had left the house with extra cash. I reach the bar called tiger bar at around 7pm, walked up to the table George was. I was a little shaken by the whole atmosphere, it was a little quiet amidst loud music and the smell of roasted meat.
Without much talk, I was given a bottle of beer known as 33 pronounced three three. I'm not really a fan of beer but then 33 is one of the few beers I can take without feeling a little disgusted. Without wasting much time I immediately went to work drinking my beer and vibeing. I could see that George was also at the top of his game and was on his third bottle, I could see that he was slowly getting tipsy, our eyes locked and we laughed out loud because we were both thinking the same thing.
Before long I noticed every one was now feeling at ease. The mood was now a lot more hyper then before. We started to gist and joke around while we vibed to the jams the DJ was giving us. Solo, george's big belle uncle was easily the life of the party, and he wasted no time to start taking picture. Dude had his hands all over the lady by his side, another colleague of ours. George was busy playing love with his girlfriend on one side, they were hugging and sharing passionate kisses. I smiled, but then there was no girl with me to share this kind of passion with so I payed more attention to my beer.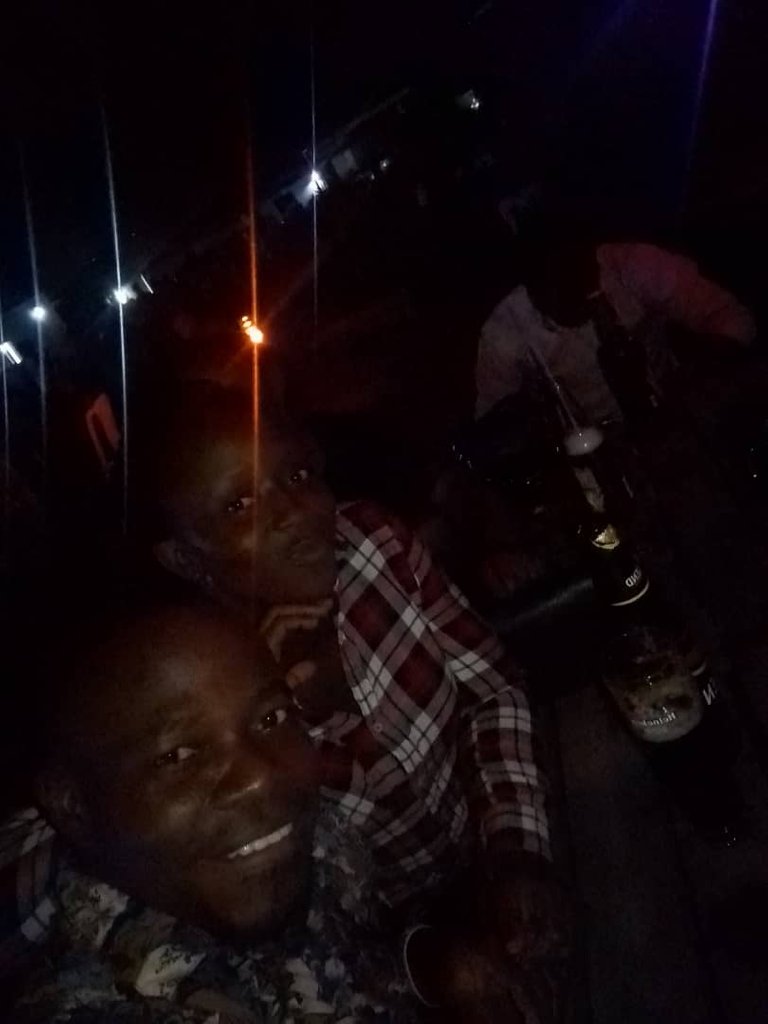 George's big belle uncle and the girl
I didn't know when I had even downed the whole bottle. I felt really good, didn't feel like the same guy that was lying on his bed thinking himself to sleep. As if the DJ knew how I was feeling, he started dropping some of my favorite jams and before I knew it, I was on my feet dropping some mad moves. I didn't even know when George stood up and started to vibe with me, next thing I noticed, he was already doing the happy feet dance, everyone cheered him.
I really must say we had the time of our lives. We danced and cheered to the point that we became the center of attraction and eyes from other tables were now fixed on us. Then I had another bottle and another which I shared with George who was already on his sixth bottle. He really has improved, just two bottles used to knock him really quiet and tipsy as hell. Now six bottles didn't even shake him, hehe, my friend has grown.
We partied, ate meat and partied the more. Some were dancing, others were twerking, some were cheering and some were making videos. This night was like no other and when it was around 10:30pm we all looked at ourselves and knew it was time to go. There was no way I was going back home at that state so I decided to spend the night at george's place.
The drinks were paid for, as we slowly walked our way out the bar, talking and laughing. We got a ride home and amused the driver with our crazy talks and jokes. We got home and to our excitement, there was light!. Solo didn't waste time to get some rice and chicken ready for us to munch. We are like hungry savages and finished the food in no time. After which we decided to play Fifa on the ps 4, we were playing but George was to drunk to carry on so he slept.
I was still wide eyed so I played till around 12:30 am when I eventually slept off.
Here are some of the pictures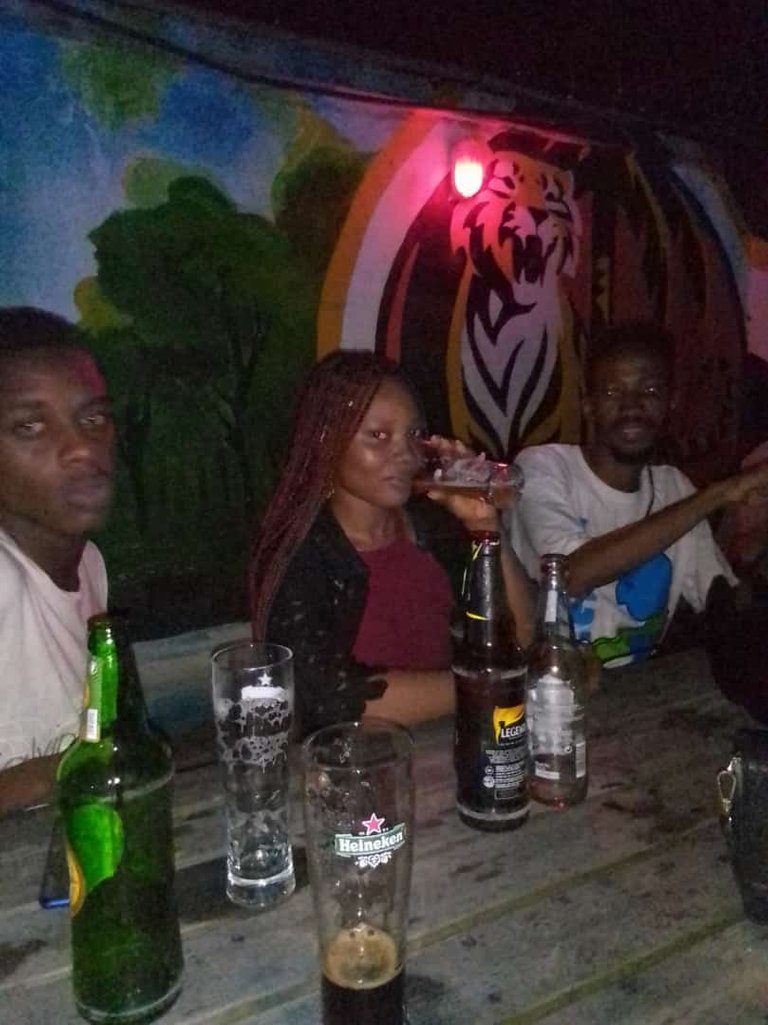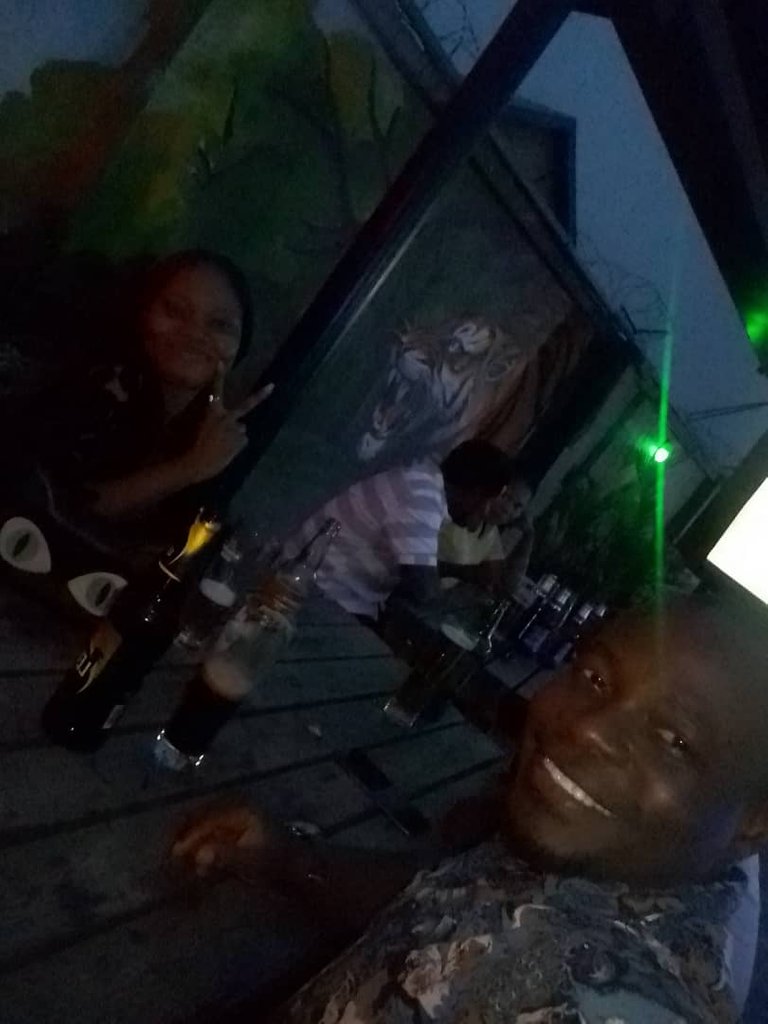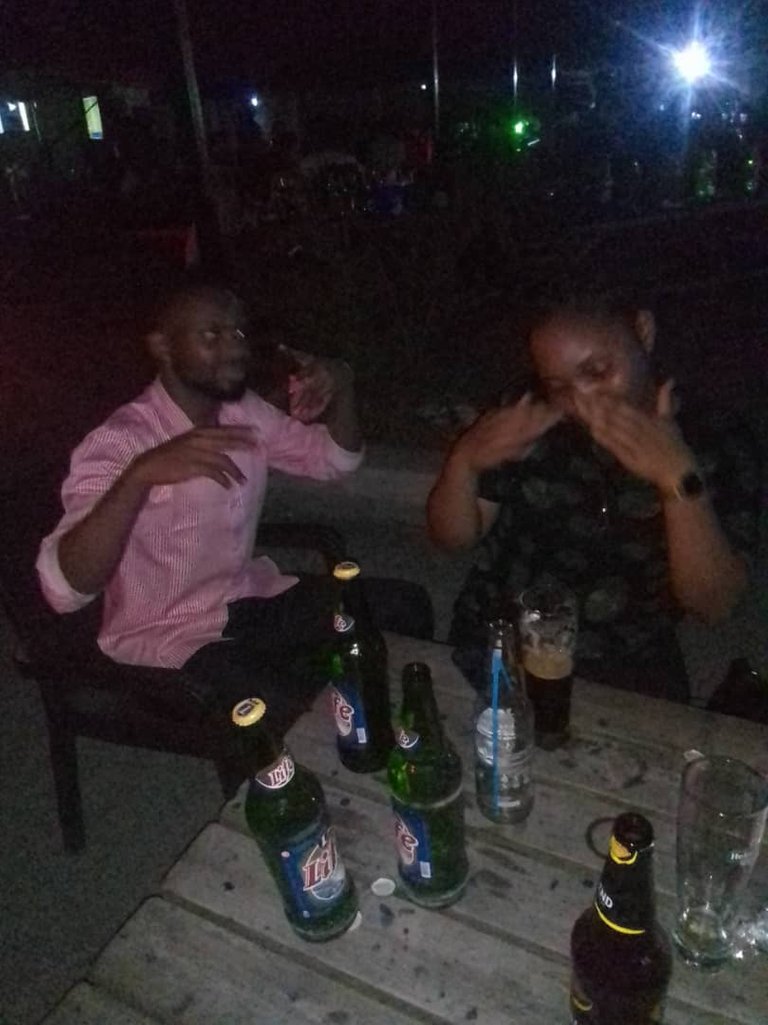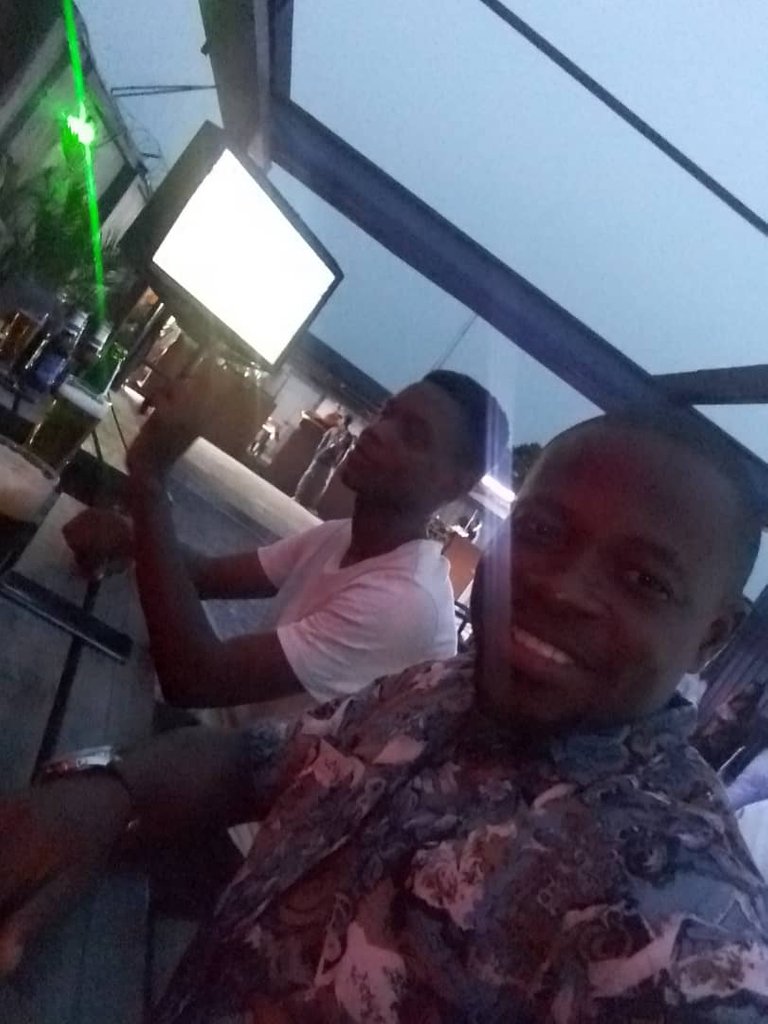 ---
I was still talking when she slapped my hand and said,
So you had fun without me abi??
Feeling amused, I just looked her straight in the eyes and hugged her. Don't worry, we didn't kiss or do anything of that sort, we just walked out the church premises holding hands, hehehe.
---
How did you spend your own christmas??, I'll be glad to hear your own story in the comment section.
All pictures were gotten from george's big belle uncle and he gave me permission to use them.
Thank you for reading this post ❤️😩.
---
---