Light Years Of You [SPA-ENG]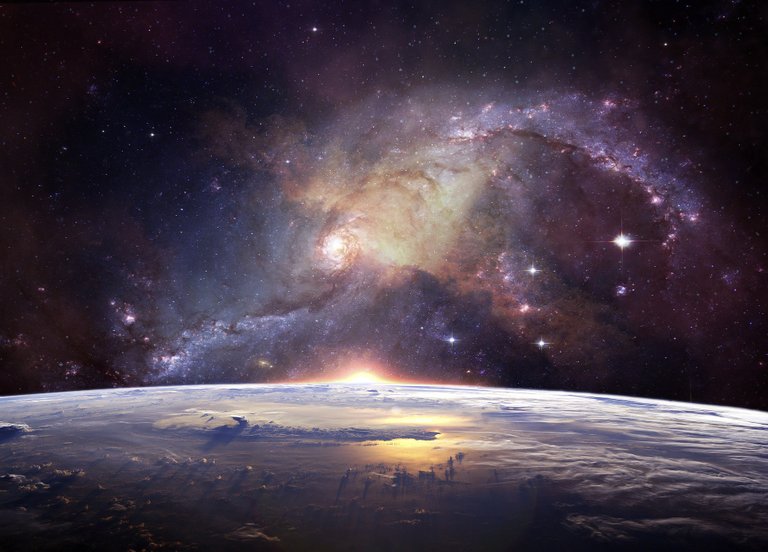 Source
---
Espero algún día volver a casa,
"Recuerdo el azul de las playas, la fría brisa de invierno y la libertad de las aves. Todos aquí recordamos con nostalgia, el regalo que teníamos y tiramos a la basura.
Los años pasan y los nuevos seres humanos ni tendrán idea de lo que realmente es vivir, más allá de lo que puedan aprender en la cátedra de educación espacial o ciencias de la tierra. Todos es tan inerte que ahora siento estar muerto en vida, vivimos para seguir explorando y encontrar un nuevo hogar, no niego que la aventura parecía todo un sueño; abordar un enorme crucero espacial y poder abrazar las estrellas en la inmensidad.
Qué egoísta he sido creyendo que obtendría más, las estrellas en la tierra eran mías cada noche, el sol en el alba que bailaba con la luna en el crepúsculo. No importa cuanto tengamos, siempre querremos más, estamos en la insaciable búsqueda de la nada, y es cuando te regalan el universo que te das cuenta de que ya lo tenías todo.
Debo admitir que salir de vez en cuando y tumbarme sobre el vacío a contemplar las galaxias, es una de las sensaciones más desconcertantemente placenteras que he tenido jamás, sentir que formo parte de ello, pero ¿es que antes del crucero ya no era parte de esto?.
El amor de mi vida murió en mis brazos un verano de abril, ese día morí a su lado y me entregué a esta causa diez años más tarde, aún la puedo sentir acariciándome el rostro con dedos de terciopelo color ámbar. Las noches descalzas sobre arena salada mirando el faro de nuestro universo era lo único que codiciábamos, su cuerpo era mío y el mío suyo en un danzar frente a la chispeante flama de robles. Cuánto te extraño, cuanto hubiera deseado poder dar pasos sobre la luna a vuestro lado, amada mía, el universo es demasiado grande sin ti.
Seguimos navegando entre las estrellas y de vez en cuando una que otra lluvia de asteroides, no es como la lluvia que nos daban las nubes entrando y saliendo de uno y otro planeta, no hay vida, parece que las opciones se acaban y aunque aprendimos a navegar entre galaxias por agujeros negros; allá y más allá solo queda silencio.
Han predicho que en mil años o más podríamos volver a casa, pero son más de diez mil años luz lejos de ella, cuando los poco que aún la recordamos no estemos, será en ese momento que ya nadie más la extrañará y la Tierra será solo parte de los libros digitales de historia."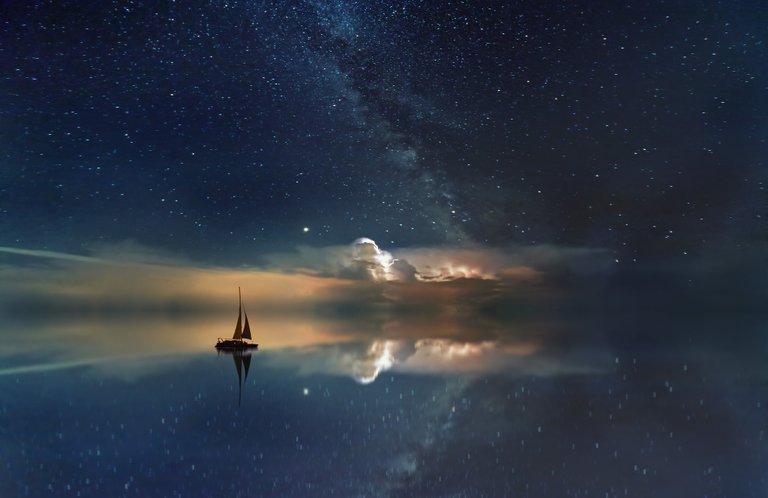 Source
I hope one day to return home,
"I remember the blue of the beaches, the cold winter breeze, and the freedom of the birds. All of us here remember, with nostalgia, the gift we had and threw away.
The years go by, and the new humans will have yet to learn what life is about beyond what they may learn in space education or earth science. Everyone is so lifeless that I now feel I am dead; we live to explore further and find a new home. I don't deny that the adventure seemed like a dream; to board a colossal space cruiser and embrace the stars in the vastness.
How selfish I have believed I would get more. The stars on Earth were mine every night, the sun at dawn dancing with the moon at twilight. No matter how much we have, we will always want more. We are in the insatiable search for nothing. You realize you already have it all when you are gifted the universe.
I must admit that going out from time to time and lying in the void to contemplate the galaxies is one of the most disconcertingly pleasurable sensations. I have always felt that I am part of it, but wasn't I part of it before the cruise?
The love of my life died in my arms one April summer; I passed by her side that day and gave myself to this cause ten years later. Yet, I can still feel her caressing my face with amber velvet fingers. Barefoot nights on salty sand looking at the lighthouse of our universe was the only thing. We coveted; her body was mine, and mine was hers in a dance in front of the sparkling flame of oak trees. I miss you and wish I could step on the moon beside you, my beloved; the universe is too big without you.
We continue to navigate between the stars, and now and then, an asteroid shower; it's not like the rain that gave us the clouds drifting in and out of one planet and another. But, unfortunately, there is no life; the options are running out. Although we learned to navigate between galaxies through black holes, there and beyond, there is only silence.
They have predicted that we could return home in a thousand years or more, but it is more than ten thousand light years away. When the few of us who still remember it is gone, it will be at that moment that no one will miss it anymore, and the Earth will only be part of the digital history books."
---

ESPAÑOL
No sabemos cuanto nos queda por vivir, estamos en una constante búsqueda de la felicidad. Cuando era niño era feliz, ahora soy más feliz porque comprendo de que trata la vida y lo hermoso que es poder respirar y mirar al cielo.
Quién alguna vez no ha buscado fortuna, muchos hemos llegado a pensar que eso nos haría más feliz. Por un lado, la felicidad es subjetiva, no depende de cuanto tengamos, no se trata de lo que nos den; la felicidad solo hay que desearla y vivirla.
La vida se hace corta, ¿alguna vez escuchaste del hombre que vivió más de doscientos años?, ¿crees que ese hombre era o no feliz?, lo que si es seguro es que debió ver morir a más seres queridos de lo que cualquiera de nosotros pueda tener en qué, ¿ochenta años a lo sumo?.
No hace falta nada más que la disposición para ser feliz, sin importar que evento pueda ceñirla por más complejo que este sea. Tenemos lo que necesitamos en este momento para estar vivos, lo demás no lo necesitas, solo lo deseas.
"...Respirar es lo único gratuito y lo que más necesitamos para vivir en armonía."
ENGLISH
We don't know how long we have left to live; we are in a constant search for happiness. When I was a child, I was happy. Now I am happier because I understand what life is about and how beautiful it is to be able to breathe and look at the sky.
Who hasn't ever sought fortune? Many of us have come to think that it would make us happier. On the one hand, happiness is subjective, and it does not depend on how much we have; it is not about what we are given; happiness is only to be desired and lived.
Life is short. Have you ever heard of the man who lived for over two hundred years? Do you think that man was happy or not? What is certain is that he must have seen more loved ones die than any of us can have in what, eighty years at most?
It takes nothing more than the willingness to be happy, no matter what event may gird it, however complex it may be. We have what we need at this moment to be alive. The rest you don't need; you just want.
"...Breathing is the only thing that is free, and what we need most to live in harmony."

---
✅Los separadores usados y muchos otros están disponible haciendo clic [aquí](Azul Png vectors by Lovepik.com) y su uso es de libre distribución, hay muchos que son realmente geniales, se los recomiendo.
---
✅The used separators and many others are available by clicking [here](Azul Png vectors by Lovepik.com)
---
---

Banner made in Canva ||| Banner realizado en Canva
---





---
---