My RisingStar Status Update - April 30, 2021

Hi fellow #risingstar fans!
I haven't been doing updates recently because I've been posting a daily Rising Star card giveaway under my gaming account @playbyhive.
But today I've decided I should do a weekly update just to make sure you all know I'm busily working to create the next MEGA STAR BAND (all be it an imaginary one , lol.) I hope you all are too (or that you already have!)
My Status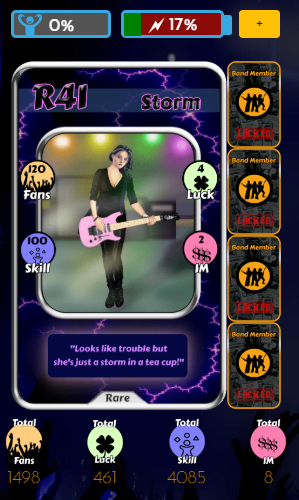 Day before yesterday I crossed over Level 50, and am now 1/2 way to level 51. I've still got a long way to go to make it where I can create my band and open up another portion of the map, but I will get there. Day by day, gig by gig, #starbit by #starbit.
Checking my rank, I see that I'm as high as I've ever seen myself. But I'm not much of a collector, so chances are I'm not going to be climbing the ranks much. Rankings are pretty heavily weighted towards the number of cards (especially unique cards) you own. But just look at those minutes played!
Recent Strategy
I'm somewhat torn between maximizing my earnings and maximizing my experience. I have to admit I flip flop more or less day by day. On days I'm trying to maximize my earnings I'm doing as many Acoustic Tent gigs as I can. But those gigs take a long time to do and as such I don't earn much experience.
On days I'm trying to maximize my experience I do a lot of Shopping Mall and Music Lessons. Those last 1 hour, and give a nice punch of experience. The Shopping Mall gigs actually don't pay to badly either if you have enough #pizza to get a bunch in per day. Normally, I will do a shopping mall gig, and if I'm a bit slow getting to the next gig I will have enough energy to do a music lesson too. If I'm Johnny On The Spot, I may do a Radio Interview or three and hope to snag another slice of pizza.
I'm not much of a "collector" but have recently taken to try and grow my fans (and thus my earning potential) by buying cards with fans. I've been getting enough Music Lessons in that I'm not as worried about buying cards with skill. The Cheap Car seems like a good deal at the moment with 10 fans for 600ish starbits.
Goal To Be A Starbits Millionaire
I've been kicking around the idea of going for the Millionaire's club for awhile and have decided to make that happen. It would be a very long time to get there based on my earnings (around 3000-4000 starbits per day) so I have started buying starbits. I don't like to spend my earned tokens (If I Make It, I Stake It!), so I have been using the HBD I earn since I have no loyalty to HBD.
I'm about 10% of the way there now, and expect to reach my goal by the end of next month if not sooner.
New Ways To Earn
I'm super impressed with the folks behind Rising Star and Music4Life. They keep adding new and interesting ways to earn cryptocurrency.
I've been sending most of my #starbits to VFTLab to earn #VFT while I'm building up my million #starbits. Yes, I'll lose about 30,000 starbits in the process but I've been very happy with the return on investment so far.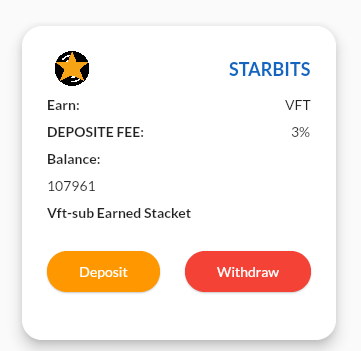 Any #VFT I earn goes right into the #VFT farm to earn even more #VFT.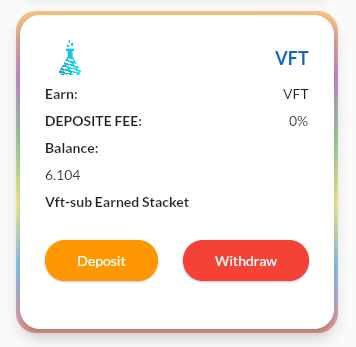 But if the VFTLab wasn't enough, the Rising Star devs had added a new way to earn #starbits - Staking VFTs. I decided to give that a shot too to test out the earning potential and put today's #starbit earnings and purchases to work by staking a number of VFTs.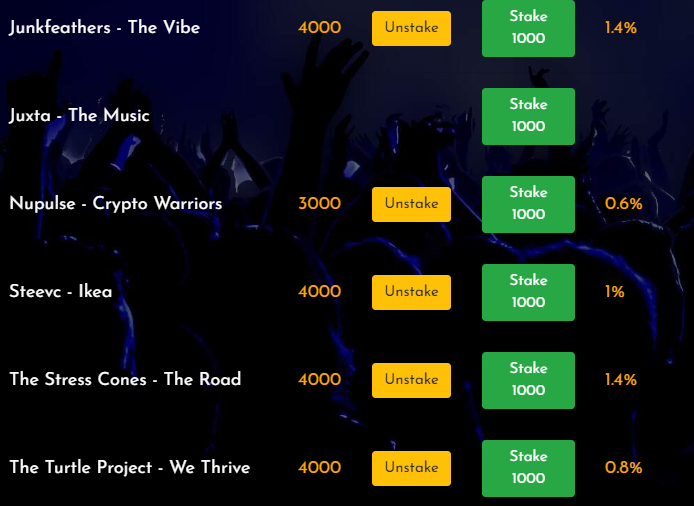 I'm not sure who record staking is going to work, so I decided to spread out my stakes among a few records. I do like that I don't lose any #starbits in the process (vs. the 3% fee @ VFTLab) but I'll have to see what the ROI is like to see if I want to continue that approach.
Giveaways
As I said, I've been running a daily giveaway under my @playbyhive account. Thanks to all who have been participating. It has been a fun way to give me something to post every day and lets me give back a little to the community.
If you are interested in free Rising Star Rising Star giveaways, be sure to follow @mimismarttypants as she is scouring the chain finding as many Rising Star giveaways as she can and posts them daily in her blog.
Sending You All Good Vibrations
Thanks for reading! As I said, I plan to do a status update post about once a week, till then, keep getting those gigs in and earning those #starbits
---
Posted via MusicForLife.io
---
---