Eureka! Three Easy Ways to Add Images To Your Posts!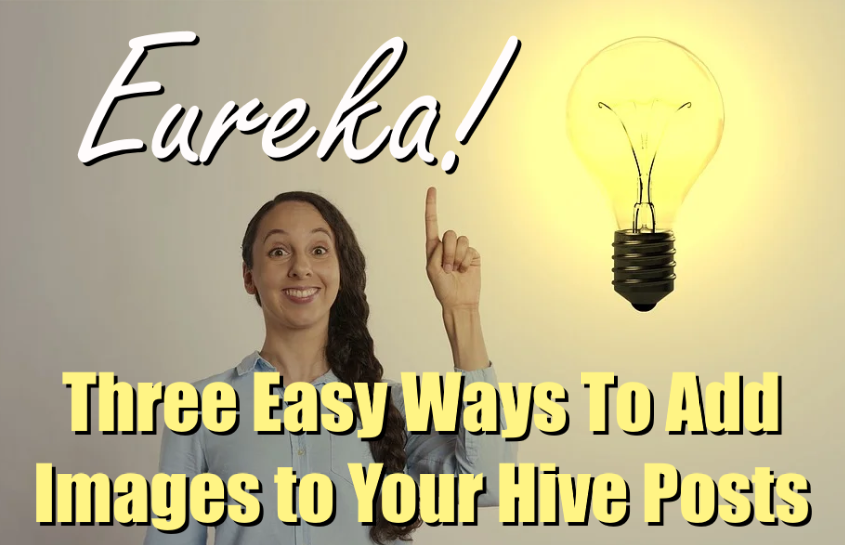 (starting source)
The first time I had to learn Markdown was when I first stumbled across Hive.
One of the most annoying things for me was adding images to my post. For example to add the cover image for this post by hand I would have to type out the following.
![some text if you want](https://images.hive.blog/DQmSkDw5x8AAxh1kPLnfWb6t9mEhBwsCV6RZQAZsJ6TUTB1/image.png)
Making sure I got the brackets right. Don't forget the ! at the start. Ugh... that was a lot of work. But things have gotten so much easier thanks due to improvements in the front ends.
Copy and Paste
I can remember the Eureka moment I had when I discovered I could just paste images in from the clipboard on LeoFinance. Wow... talk about easy.
All I need to do is find a cool free image from one of the many free image sources like Pixabay. Like a funny cat gif.... everyone likes funny cat gifs right?
Do a seach... pick the picture you want... right click the image, hit "Copy" ... come back to your post and hit "Control-V" (or right click and hit paste) and boom. Funny cat gif.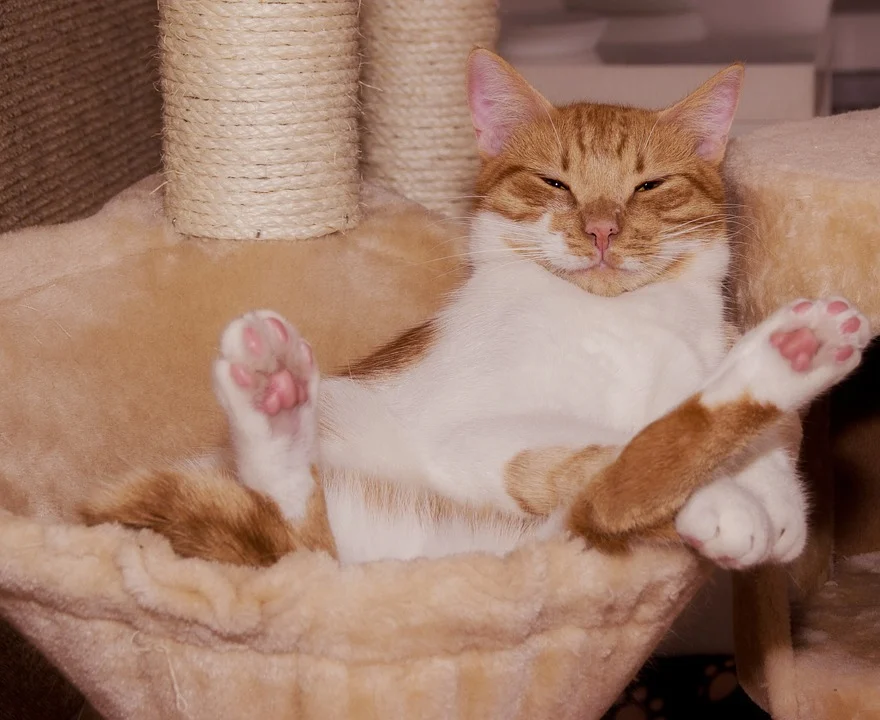 Dude, that was so easy. (source)
I now use the copy and paste method about 99% of the time.
It also works very well with the Snipper Tool that comes with Windows.
Now I can take quick snapshots of websites, like say the 1 year Bitcoin chart on CoinGecko, and with a snip and a paste add it to my post.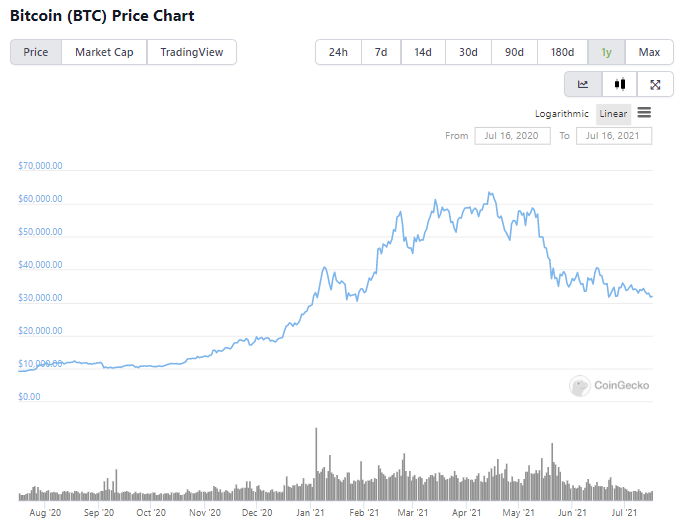 Now that is not a funny gif. :( (source)
Upload From Your Computer
Prior to my discovery of the copy-and-paste method, I was saving images to my hard drive, and then uploading them. This is still a good way to add images if you are creating and saving them on your computer.
On PeakD and Ecency you click on the upload image tool. But in the tribal front ends you click on "selecting them" link below the editting field. Click on the image you want and click open.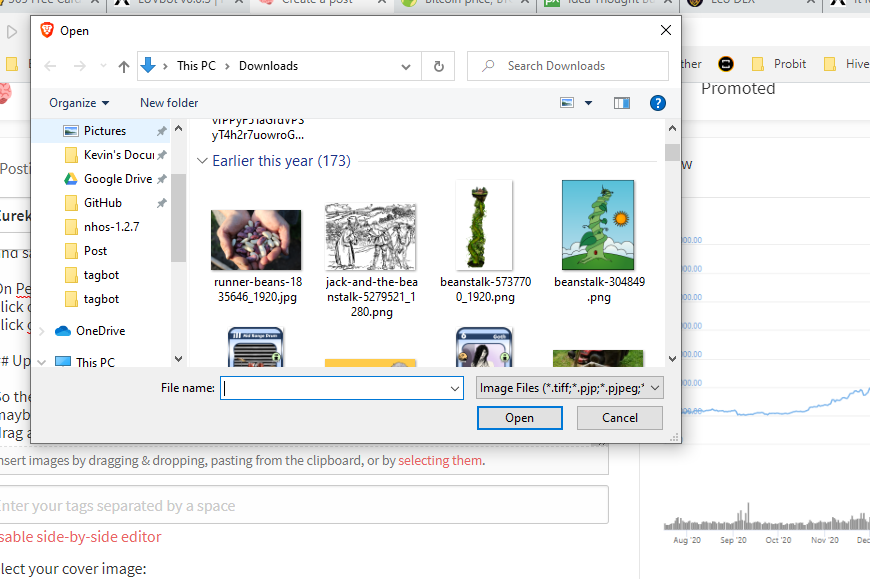 Upload Several Pictures Quickly
So the above two options work great if you just want to add one image at a time. Buy maybe you want to add all the pics from your recent trip. To do this, you can use the drag and drop feature on the tribal frontends.
To do this you put your browser in window (not full screen) mode, and open your file explorer in window mode too. Move them so that they are side by side and you can drag from the file explorer to the post area like so...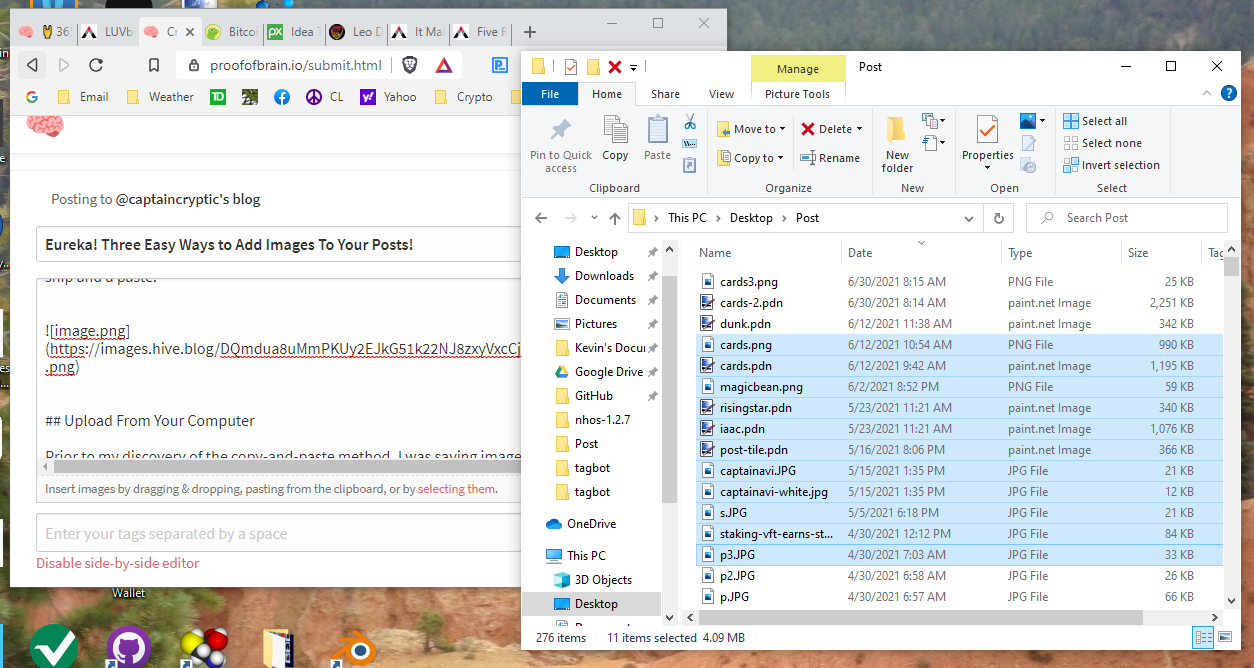 I Hope You Learned a Trick Or Two
Thanks for checking out my post. Hopefully you too had an Eureka! moment too and that I've helped make adding images to your posts a bit easier.
If so, please consider re-blogging so others can be helped, and an upvote is always much appreciated.
---
Posted via proofofbrain.io
---
---