How It Began - AskLeo - When and how did you become a monetized content creator?
I was introduced to crypto by @cryptoskate, I just finished working for him a year ago as a computer operator before going for my national service year. After service, I was literally jobless but was online sourcing for jobs and whiling away my time on facebook and other social media site.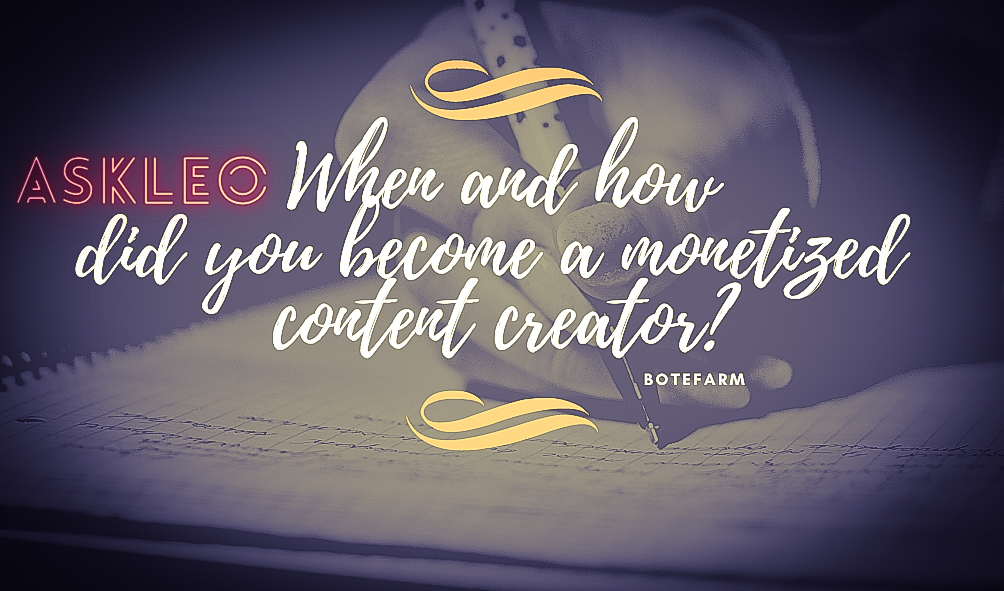 In no time, I was burning all my money to buy data because I was consuming data of 5GB in a week which cost more than $3 back then. The amount am spending was much more than what I'm making, in fact, I'm not making anything, just spending.
It was in lieu of this
@cryptoskate
told me of a new blogging site called Steemit then, I wasn't that impressed about it at first but after helping him to grammatically proofread and edit his content, I was tempted to create my own account. The first account created didn't last a month as I lost the password while trying to change it. Curiosity killed the cat. The new account created was
@botefarm
which still stand till date.
In no time, I became a blogger by accident, the whole idea was the money. But along the line after knowing or falling into the hands of some people, like @dante31 who still write till date and @ponmile then of Steemnaira. Steemit gradually became a place that brood writers, content developers and many more under one single crypto roof. The like of @wafrica and @steemjet were very instrumental.
I think I starts to see myself as a monetized content writer when @originalcontent came out with various topics and theme every week. Rewarding content creators each week with Steem, ranking the contents submitted to them in position and awarding to that too. I fully gave myself to content creation since that time. The passion to bring out the best in me came up and I was happy seeing this.
I've come to find out that nothing last forever. As was Steem, so might Hive. I decided to sharpen my writing skills and also set myself on a journey of having a constant value attach to my content on Steemit and Hive, which came in the form of @steembasicincome, there upvote really have me the much daily needed encouragement to forge ahead and write each day, posting daily in the Freewrite circle, entering contest, writing poetry, articles, stories in series and winning many of them, from 50 Words Contest by @jayna to poetry, not to talk of Haiku. I've been there and done that.
Content writing has become a big thing to me these days, I still remember early this month that I write 7,500 words content for two different project and they came out well. I still want to do more for myself by entering more circle where content writing is very well rewarded.

.....
The above is an entry into the question AskLeo - When and how did you become a monetized content creator?
by @acesontop
Posted Using LeoFinance Beta
---
---