Wednesday Walk - A WALK ALONG THE EDGE OF THE CITY
I had to do some stuff in that part of the city, buy some things, then waiting for some things to be done ... and so ...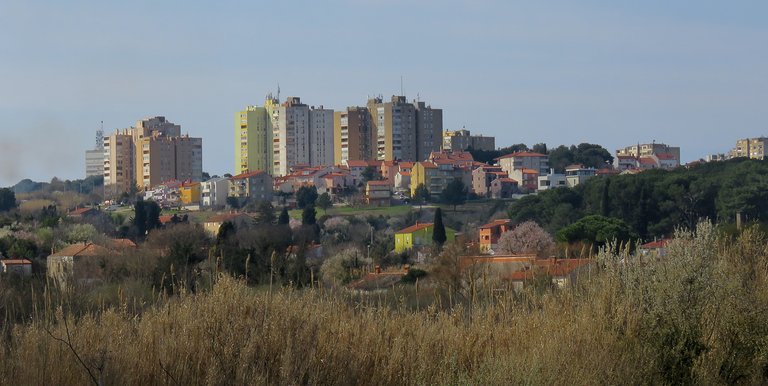 ... I went for a long walk ...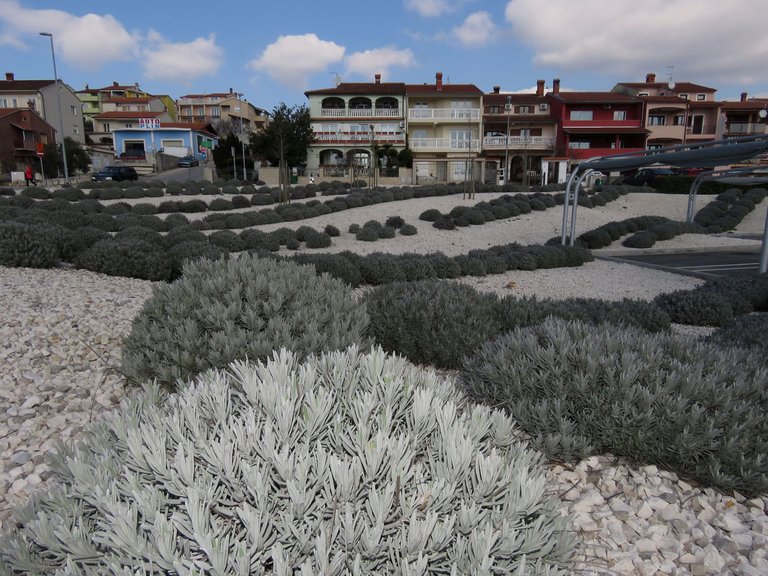 (Enlargeable)
... through a nice variety of suburban environments ...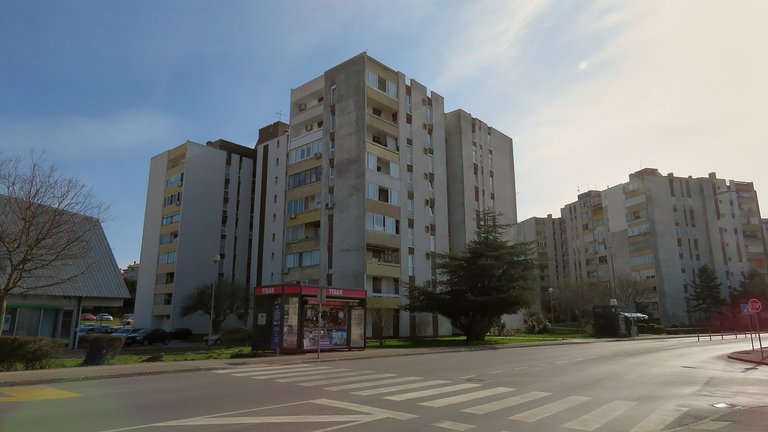 ... from neighborhoods with some relatively tall buildings built in the early 70'' ...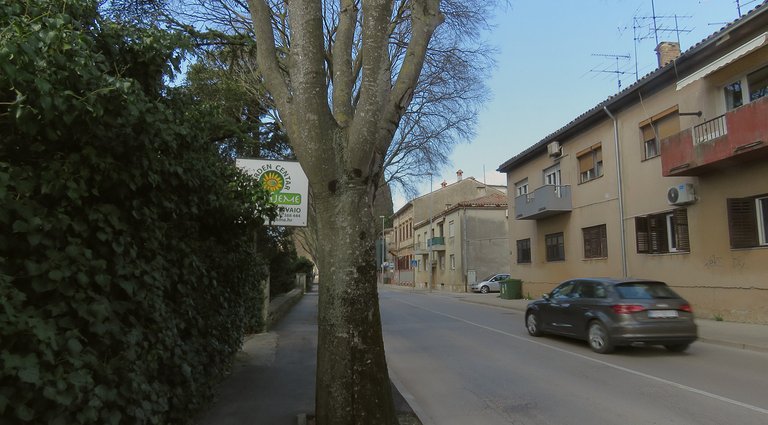 ... to some smaller houses along the roads closer to the old town ...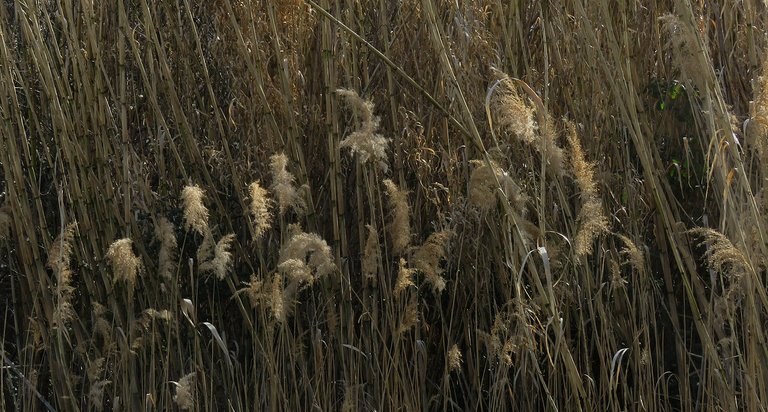 ... through fields of reeds ...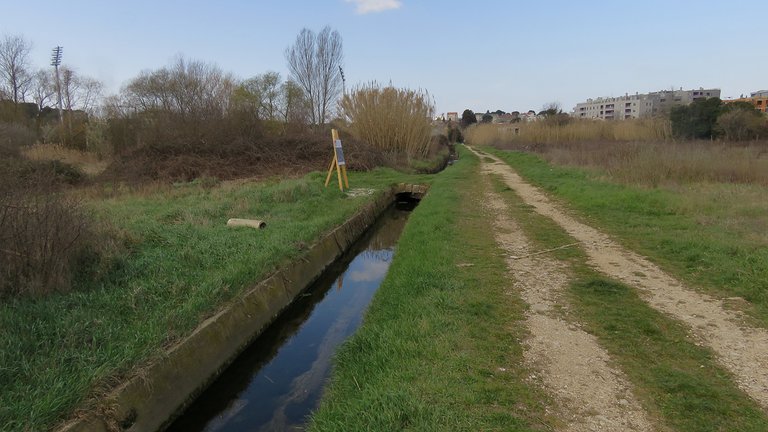 ... relatively large green areas ...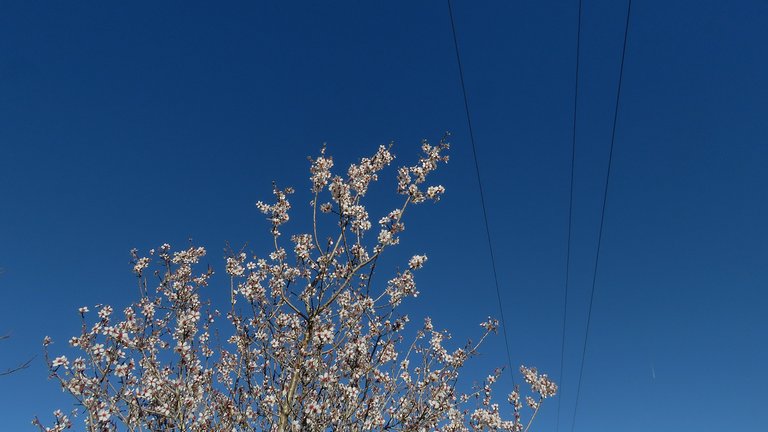 ... with trees in bloom ...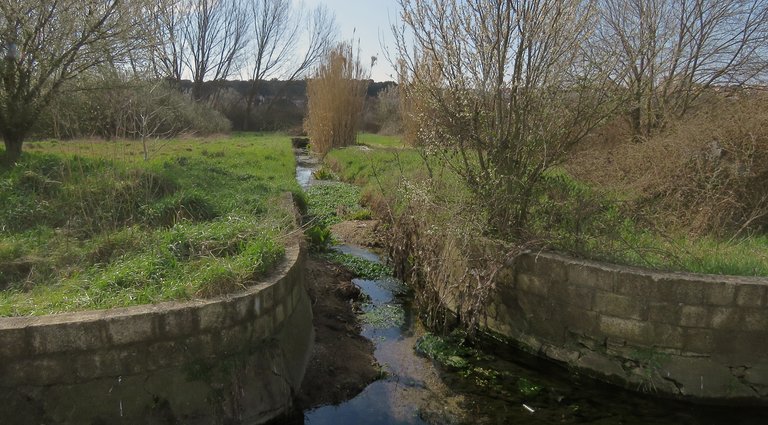 ... and small canals ...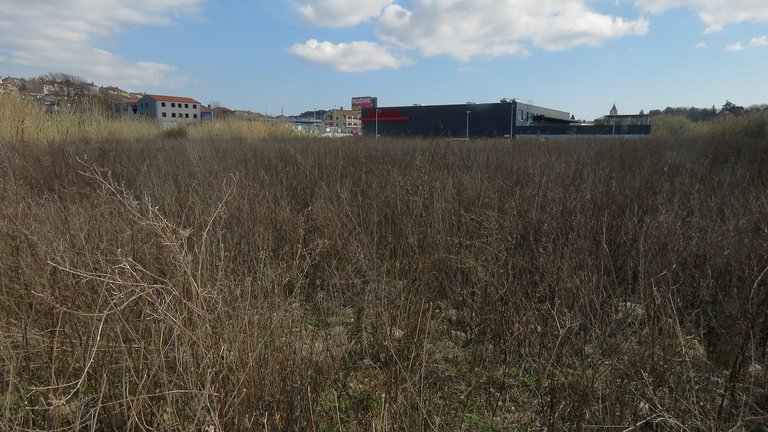 ... through open meadows ...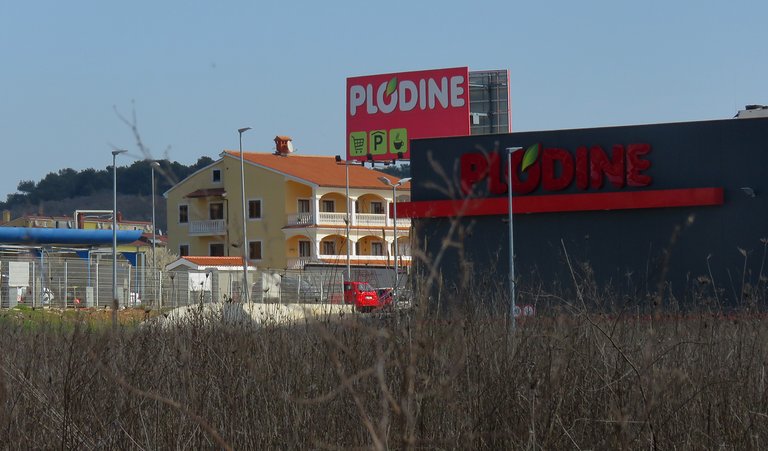 ... that lead to supermarket areas ...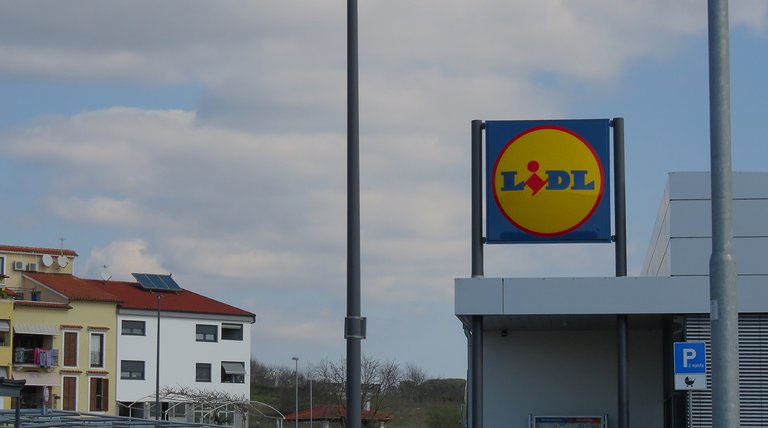 ... and supermarket areas ...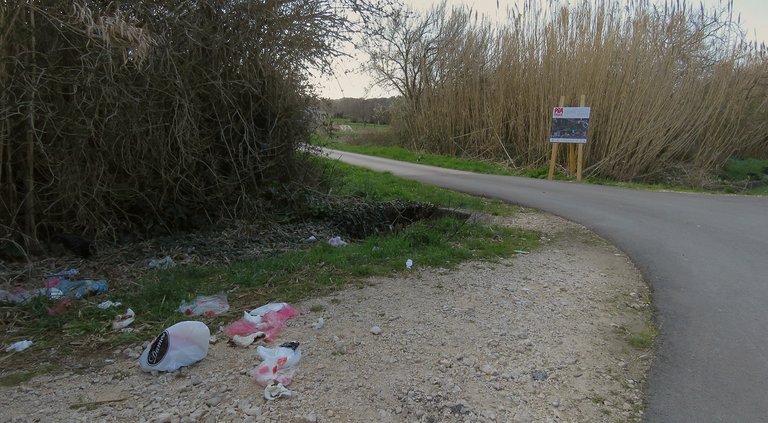 ... that lead out of the city.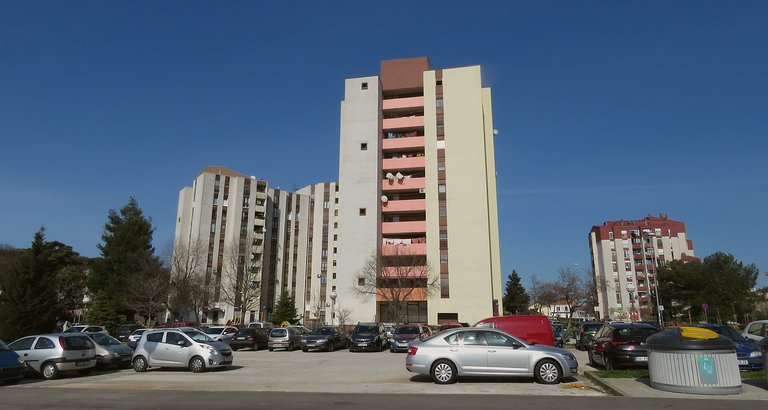 Here, among these residential complexes ...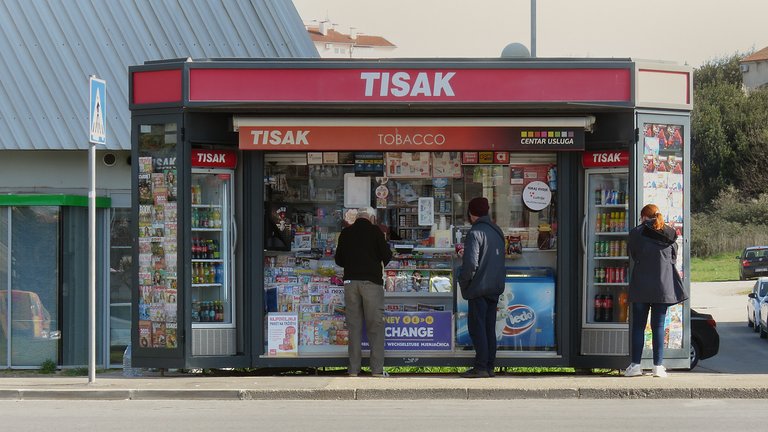 ... I bought newspaper and cigarettes ... for my father ... I quit smoking more than a decade ago ... and I never cared much about newspaper.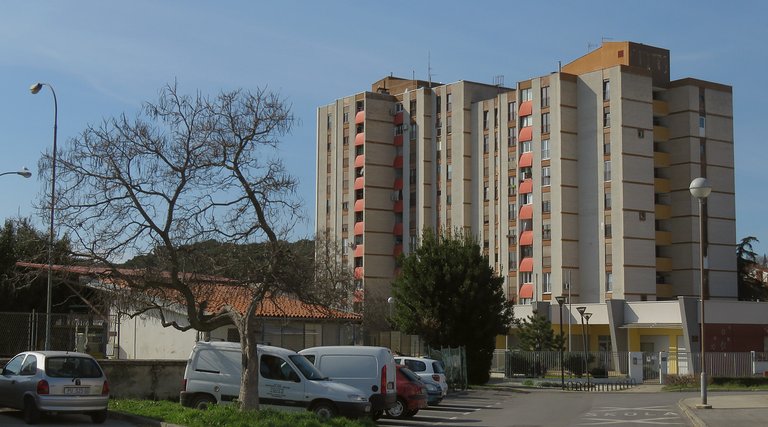 The neighborhood was surreally quiet ... just a few living creatures around ... not more than five, I guess ...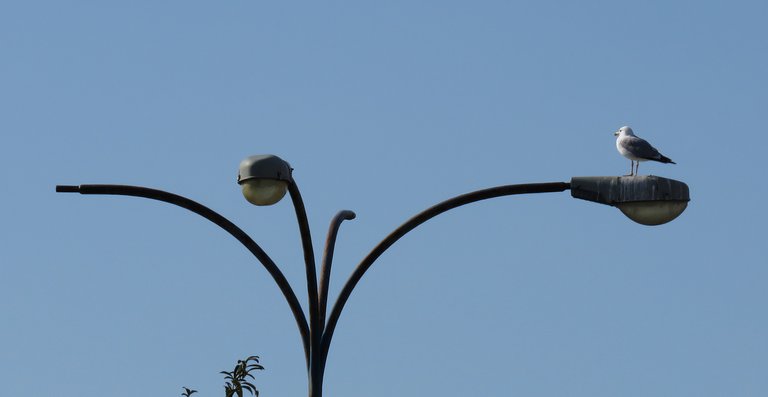 ... including the seagull ...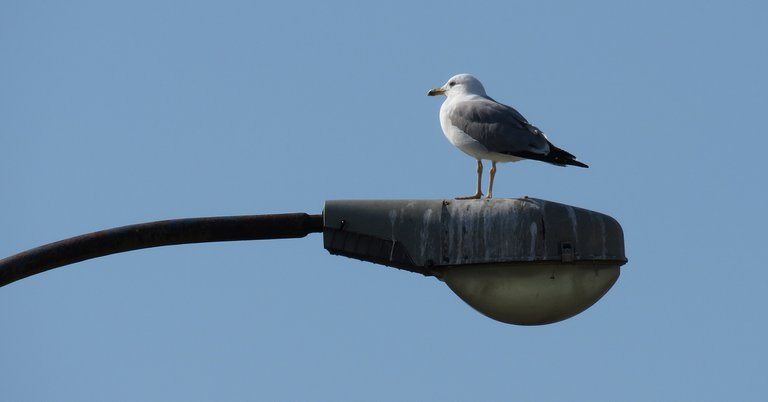 ... high on the streetlamp ...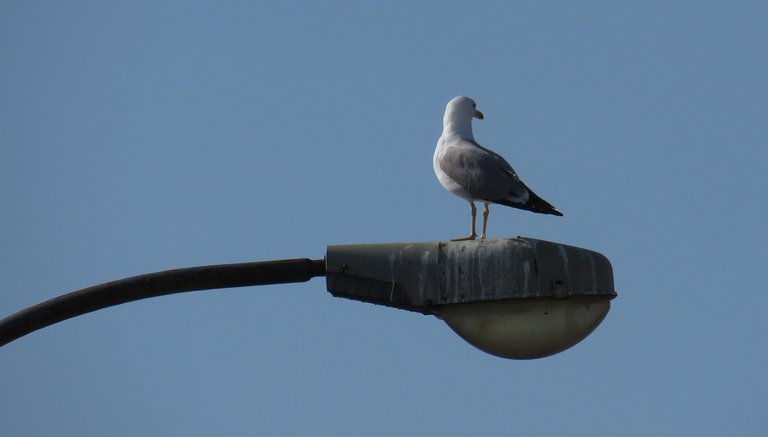 ... watching over the empty streets ... like some serious sentinel.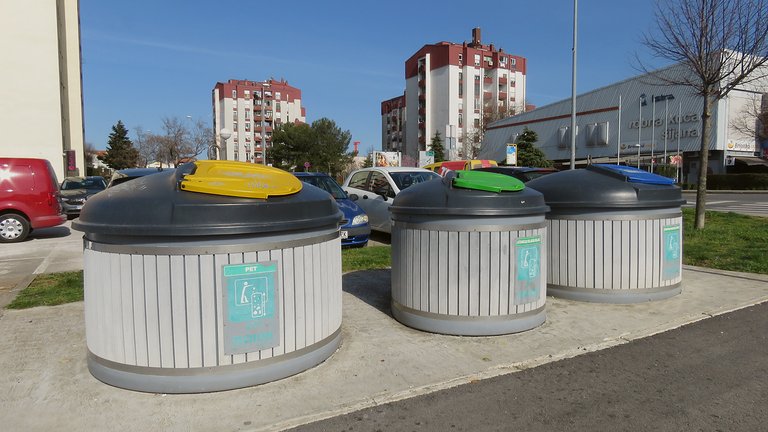 I never noticed before these nicely designed garbage containers ...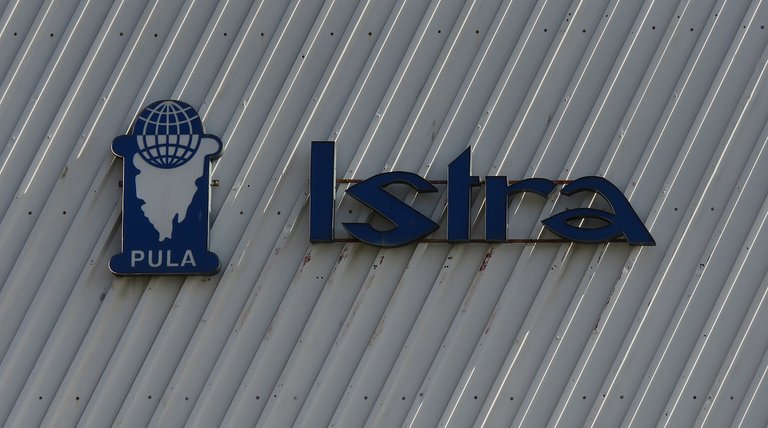 ... nor this ancient logo, of the department store chain shut down some decades ago ...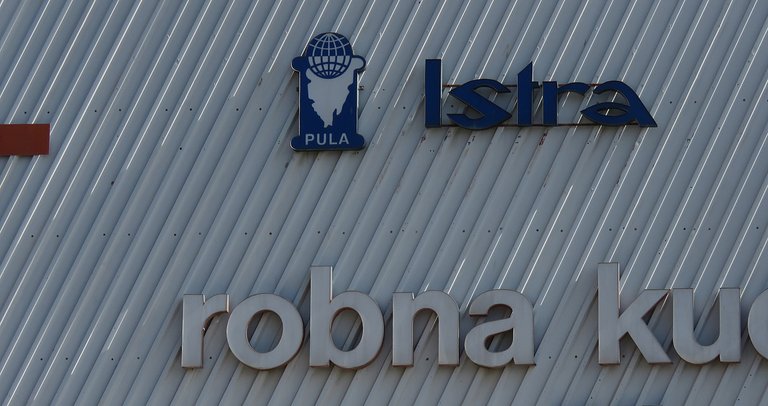 ... there is something else in this large building now, but the old logo somehow remained.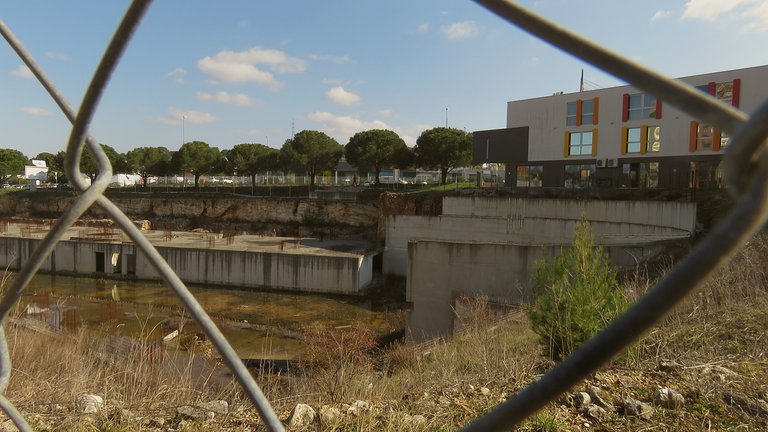 Behind some large and high fence, I noticed an interesting hole in the ground ...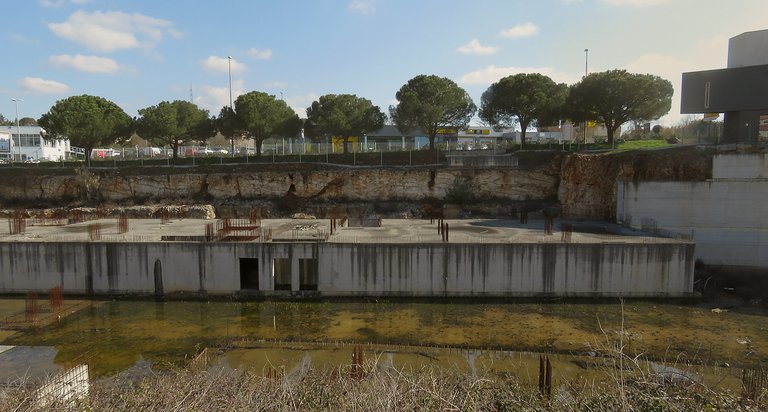 ... some temporarily abandoned construction site ...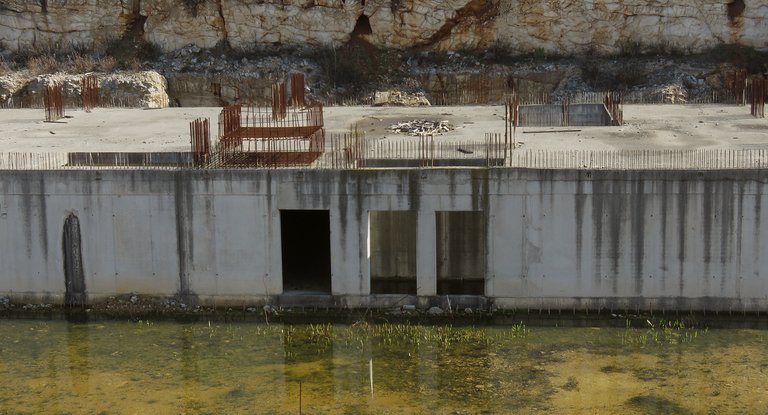 ... this temporarily it's at least a decade old now, if I remember correctly ... and I do remember correctly ... well, maybe not precisely - but correctly enough.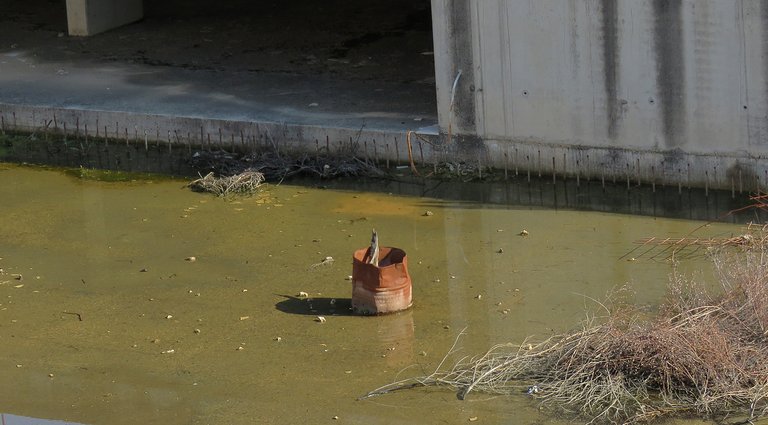 Because of its position, this place gets regularly flooded ... and I often think : " If I could only somehow pass through this damn fence, maybe I could go down and find some urban frogs there!"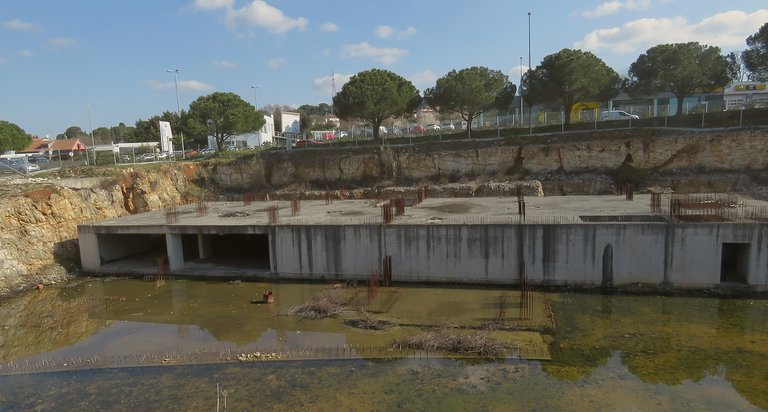 Meanwhile ...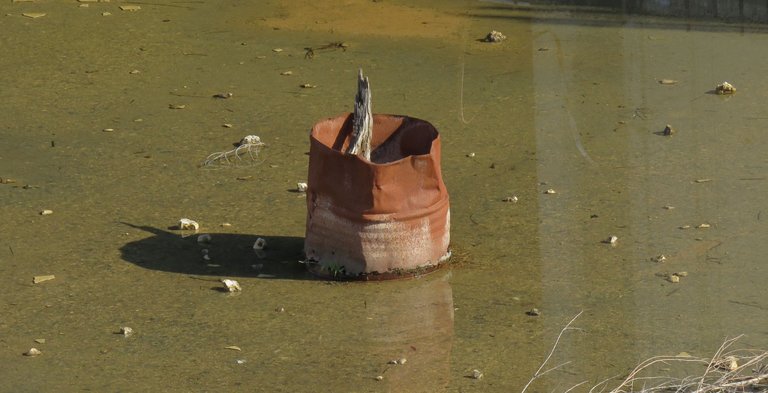 (Enlargeable)
... I'm limited to some distant zooming ... in search of slightly poetic details ... like this rusted tin barrel.
I found plenty of very different motifs along the small canals ...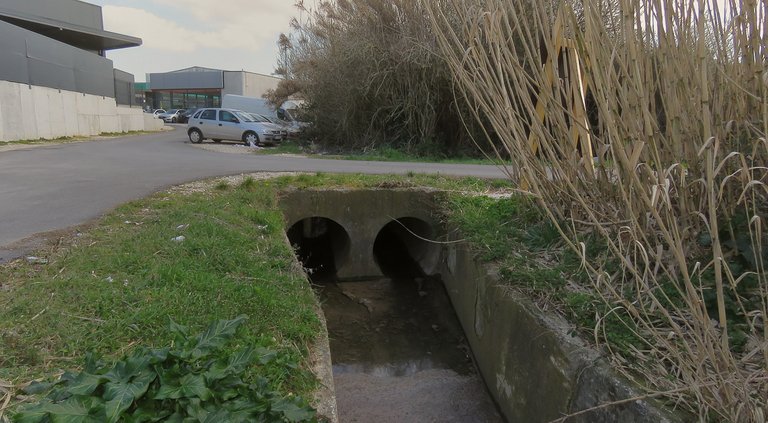 ... that end near the supermarket ... one of quite a few supermarkets in that area ... I mean, it's not that they just end ... the canals only change their look and continue to flow mysteriously under the surface.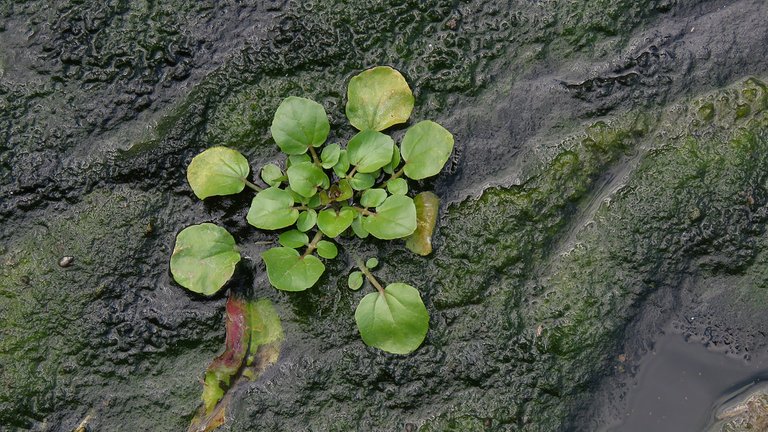 Some plants were forming lovely green islands ...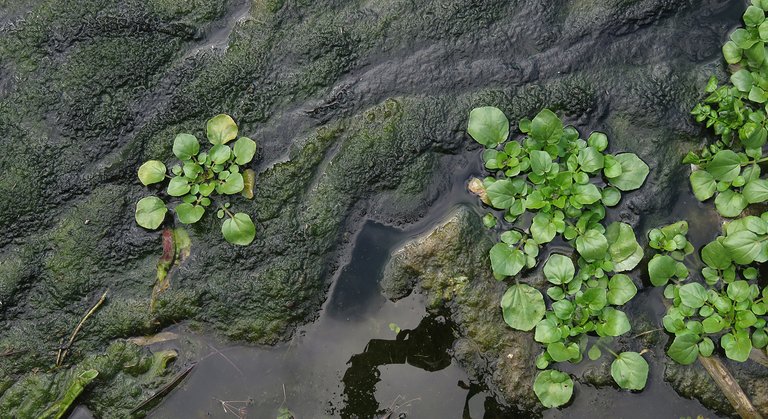 ... of various shapes and sizes ...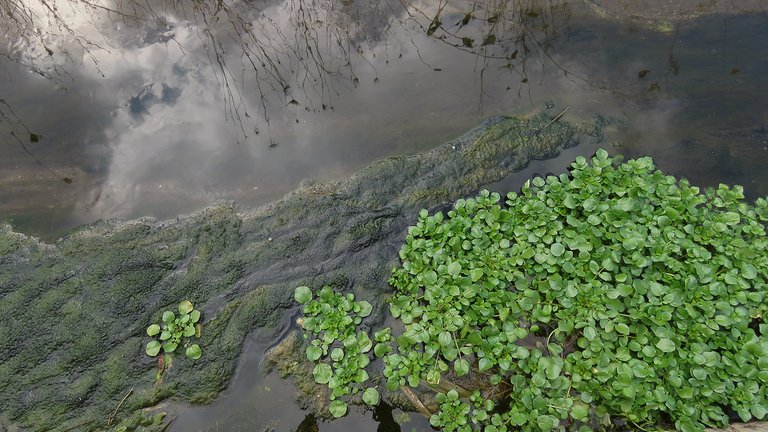 ... these are all Nasturtium officinale plants ... that grow abundantly in these shallow waters ...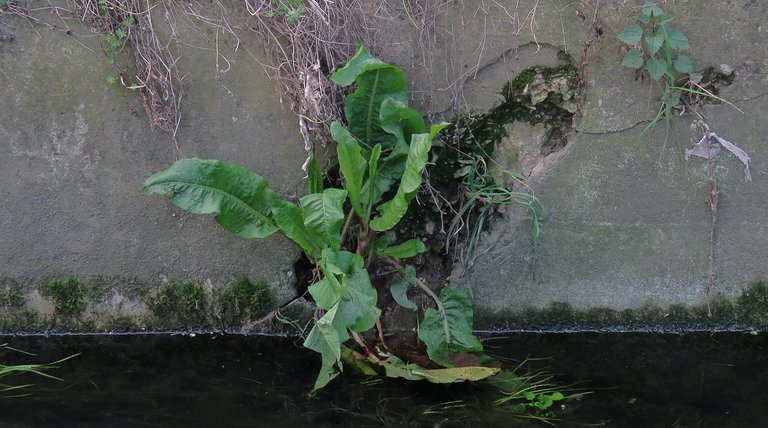 ... here you can see the Rumex hydrolapathum ... and on the following shot ...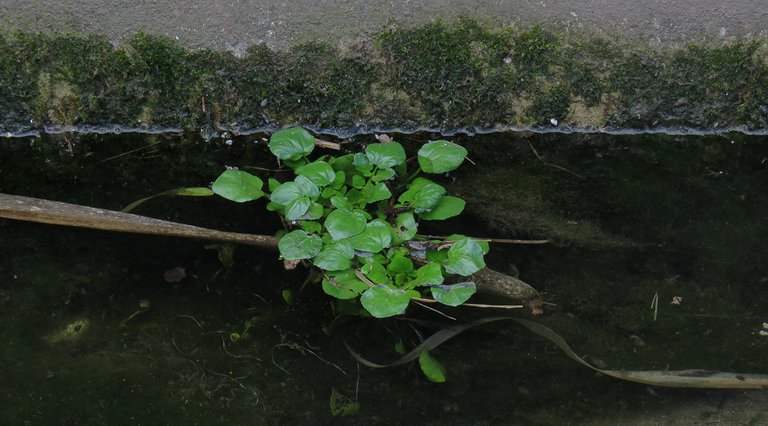 ... it's the Nasturtium officinale again.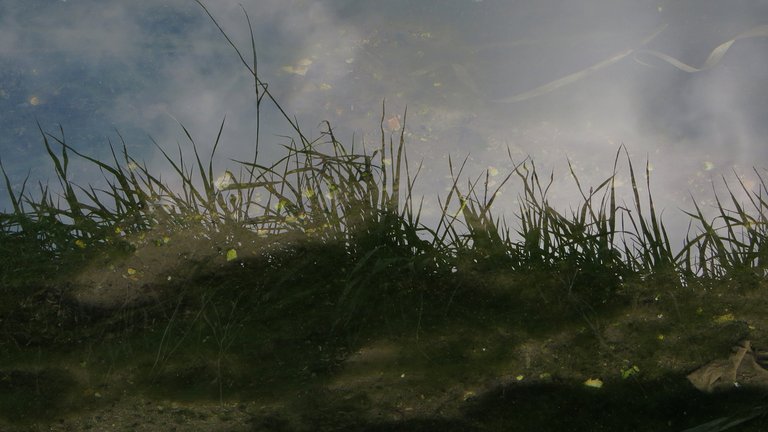 I caught also some reflections here ...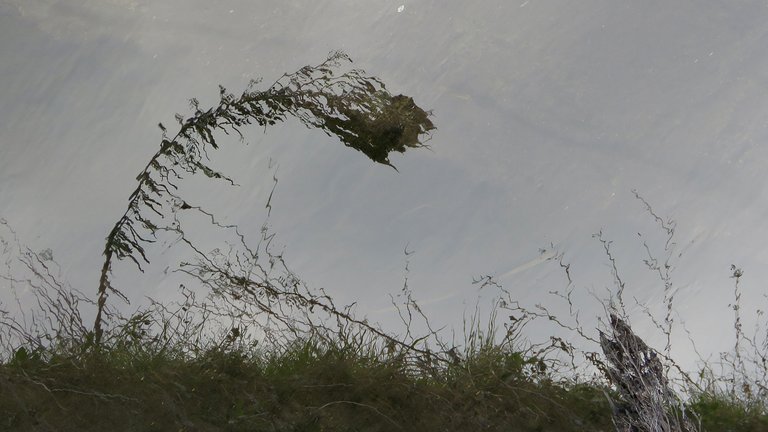 ... some ordinary stuff becomes considerably more interesting when seen on the shifting surface of the flowing water ...
... so I presented this mix of plants along the canal, in that way.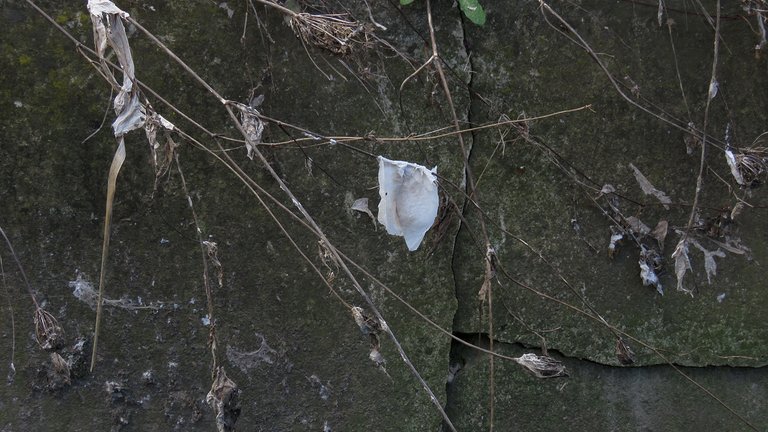 I found not only beautiful plants, but also some decorative garbage pieces along the way ...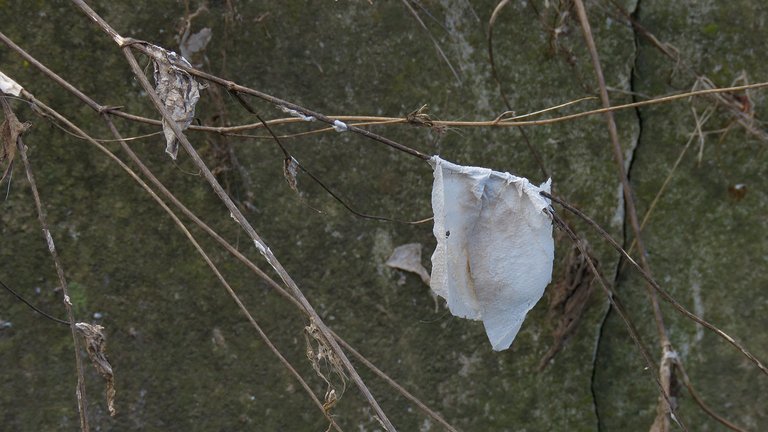 ... this little toilet paper flag ...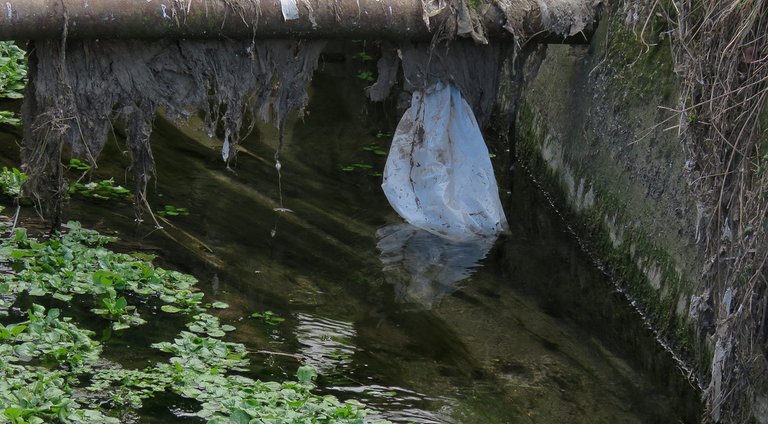 ... a nylon bag ...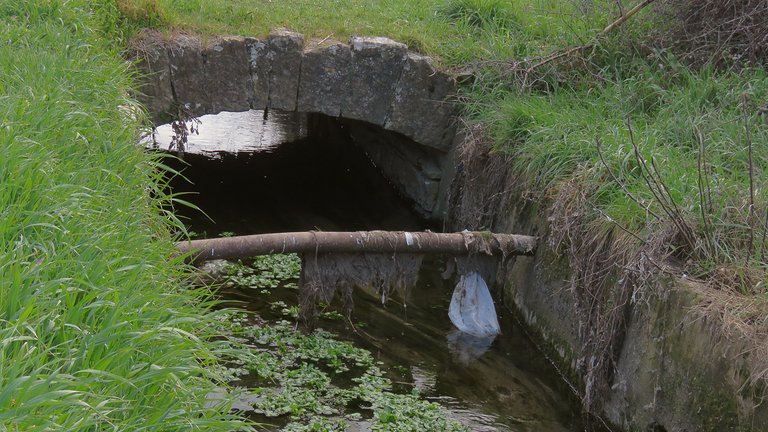 ... caught on a tube near some little bridge ...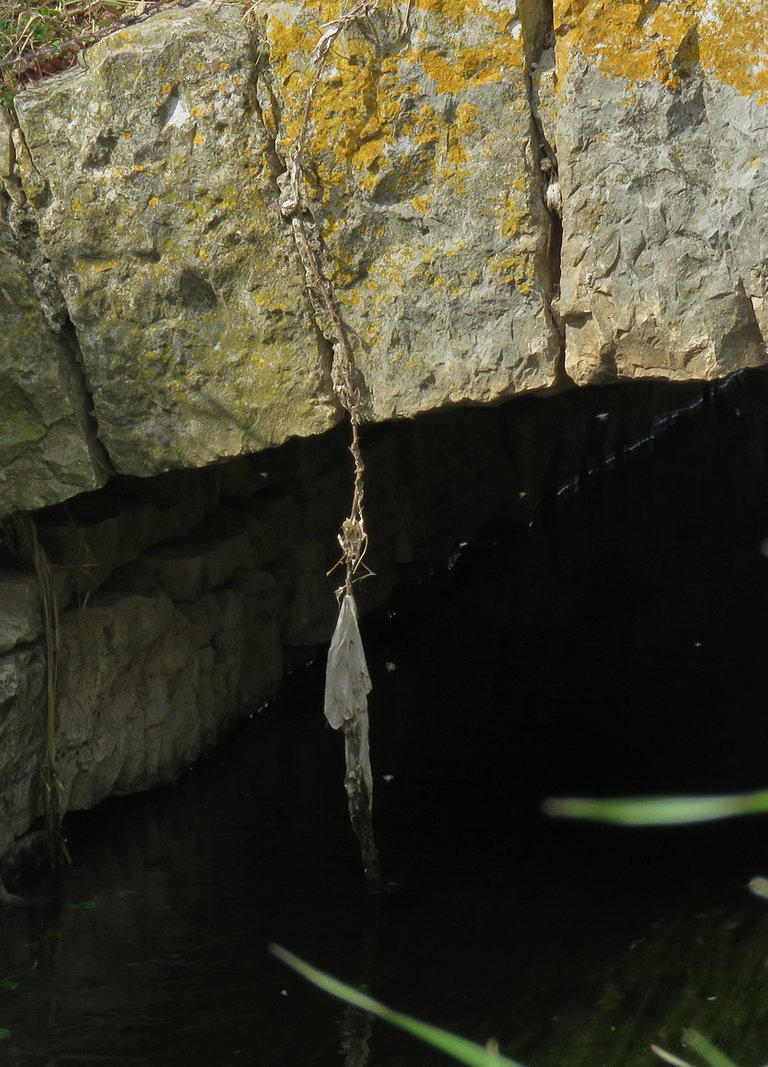 ... and a small nylon tatter caught on some chain hanging from the mini - bridge.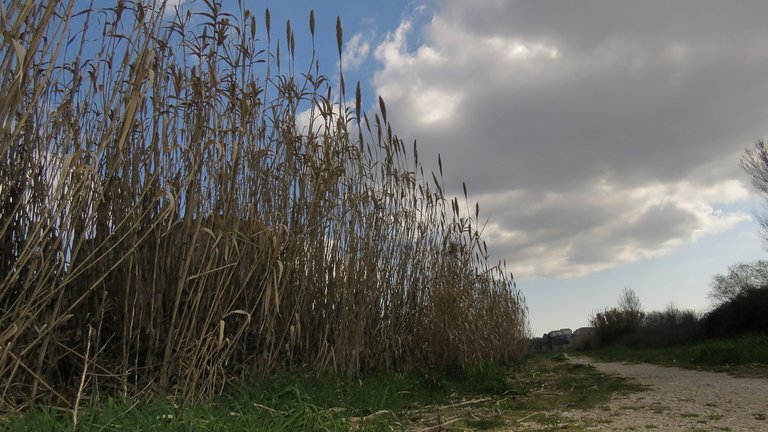 Then I walked along the small unpaved road surrounded by reeds ...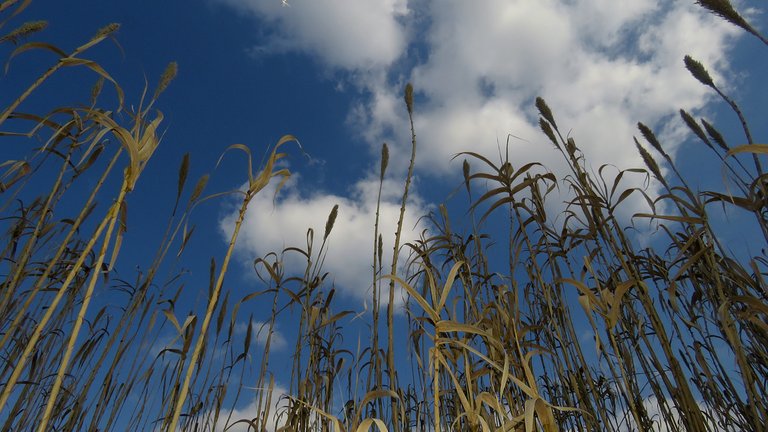 ... took a few shots of those reeds ...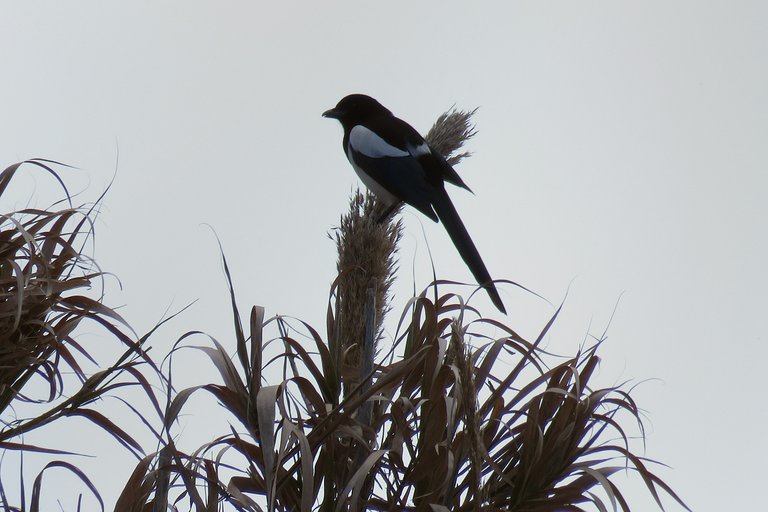 ... and the magpie on them.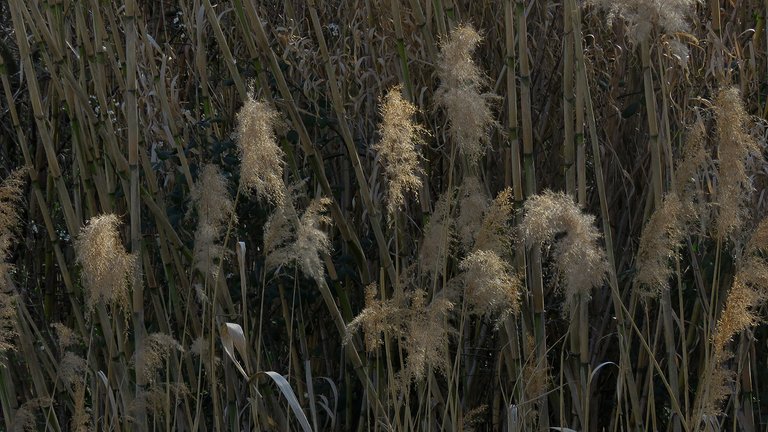 That little road through the reeds ...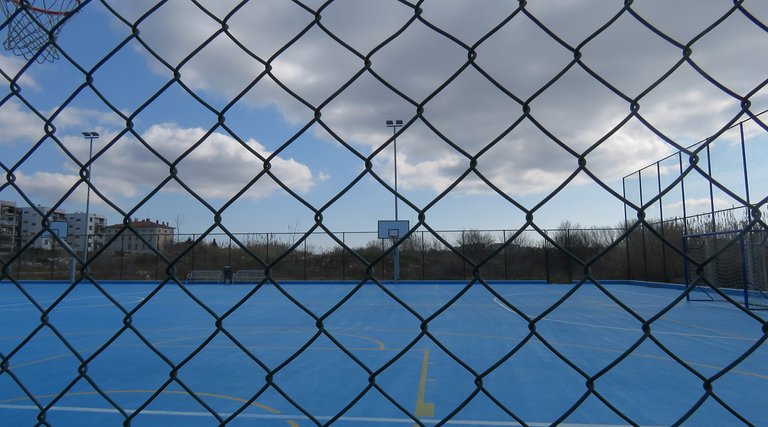 ... led me to a fence ...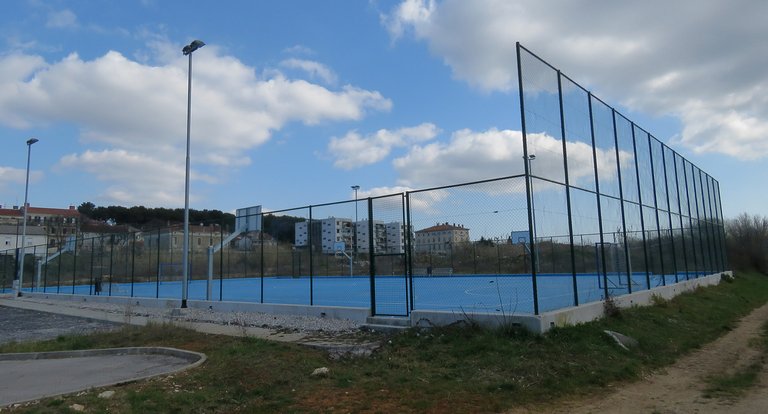 ... around a blue recreational field ...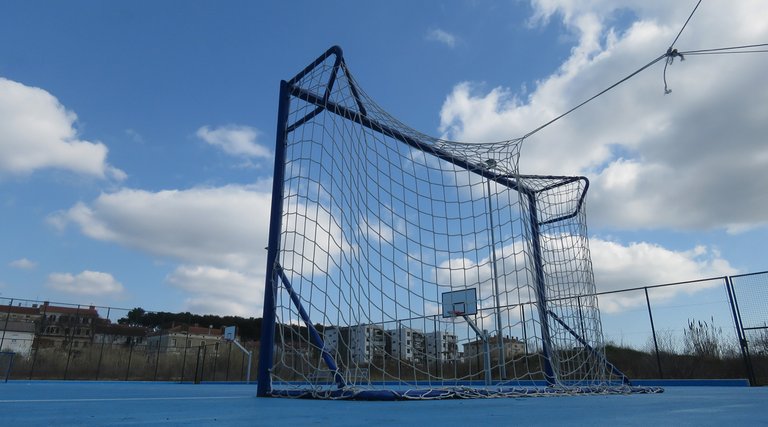 ... equipped for small scale football ...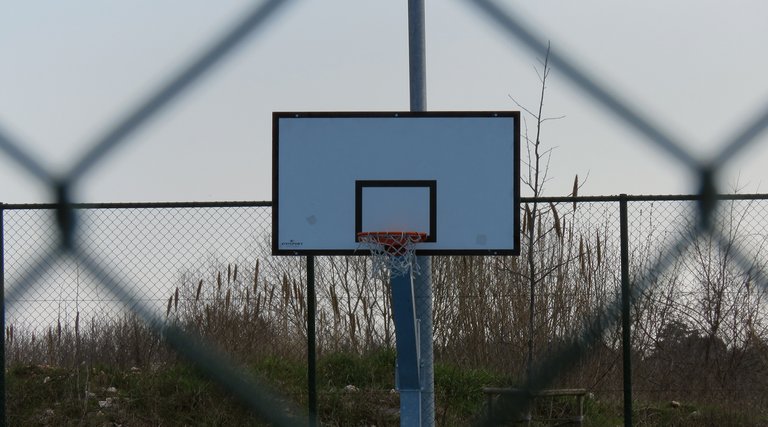 ... and basket ...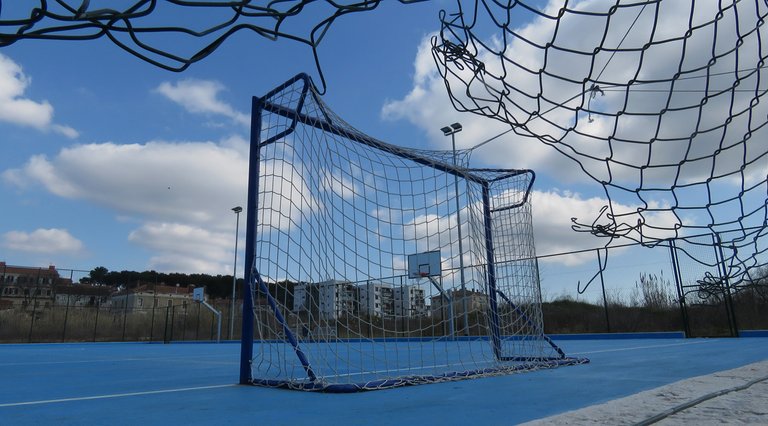 ... there was a large hole in the fence ... and the view through it looked pretty cool on the photograph ...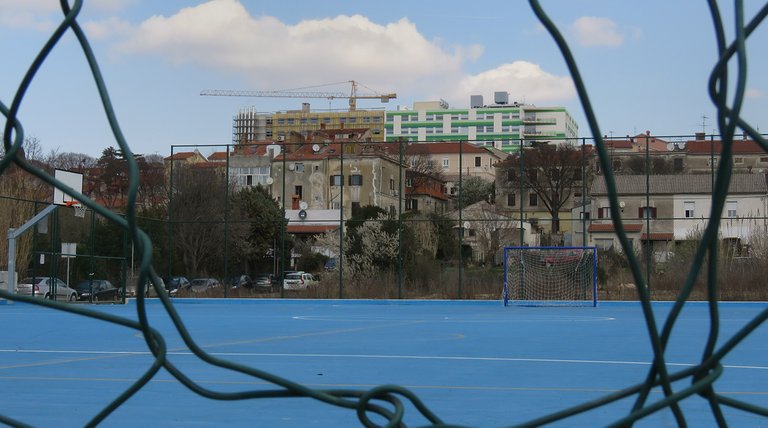 ... then I found several small holes while walking around the field ... they were also nice frames for the scenery ...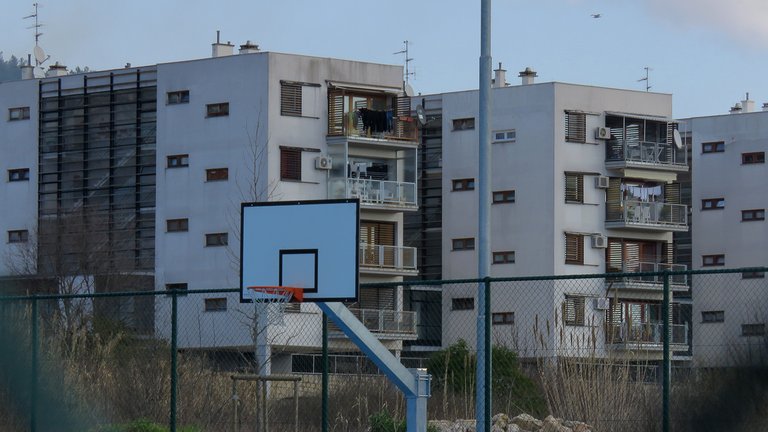 ... this place ended up being surprisingly inspiring ...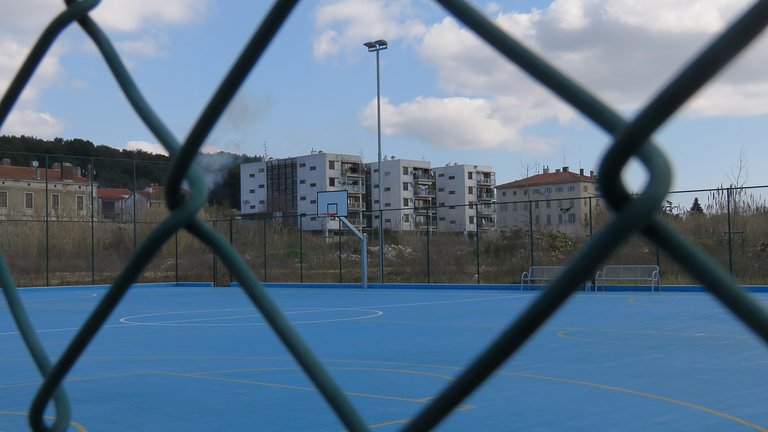 ... I definitely took more photographs than I expected.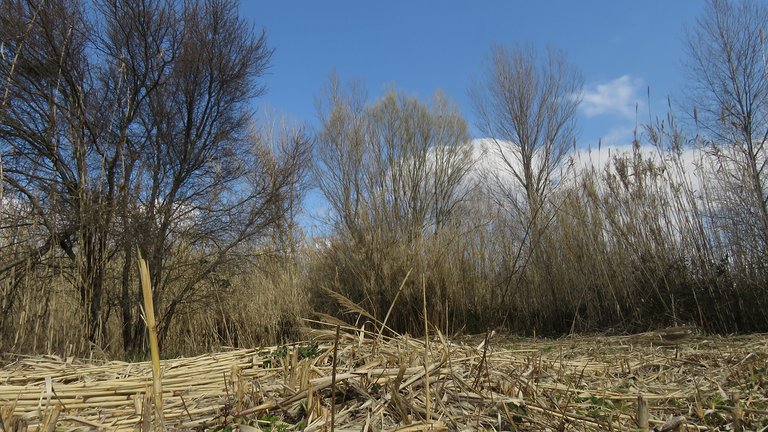 After that I passed through an area where the reeds were cut off ...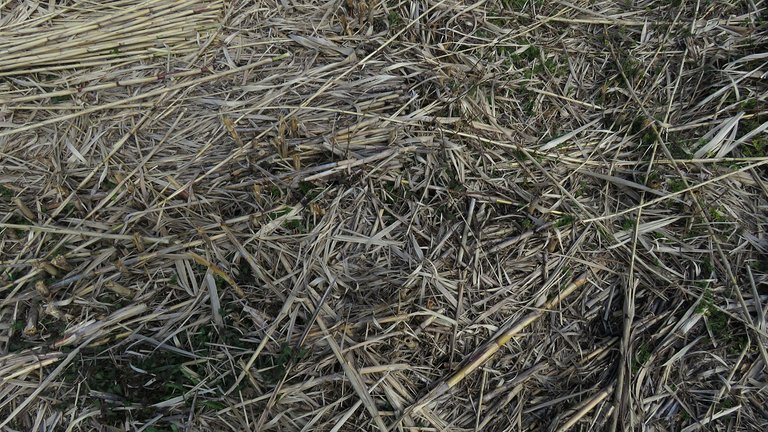 ... probably recently ...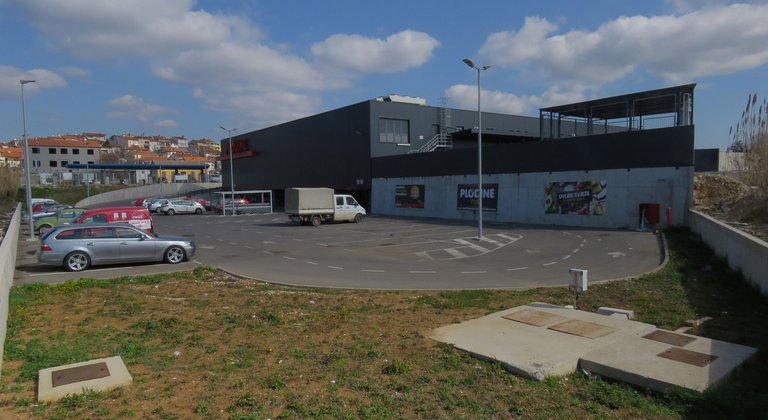 (Enlargeable)
... and arrived to the supermarket when a friend of mine works ... I agreed to pick him out after the work because his car is still broken ...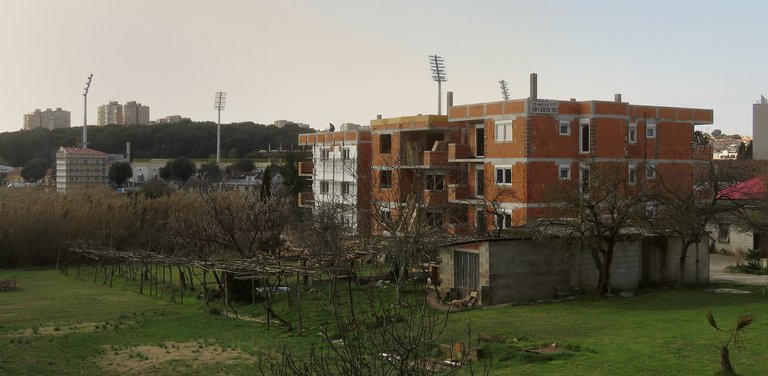 ... but it was too early ...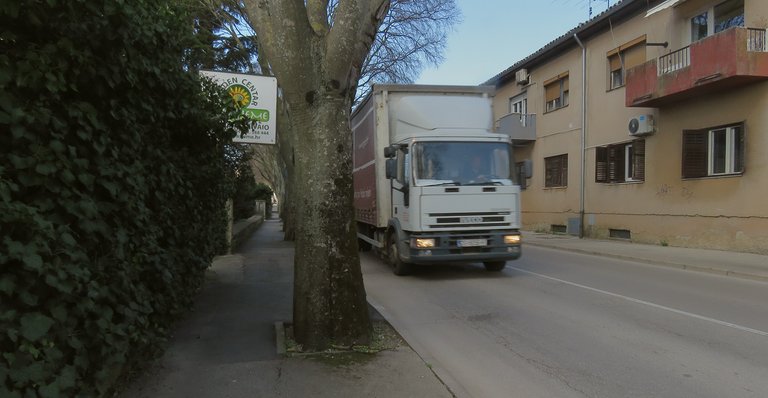 ... so I continued walking ...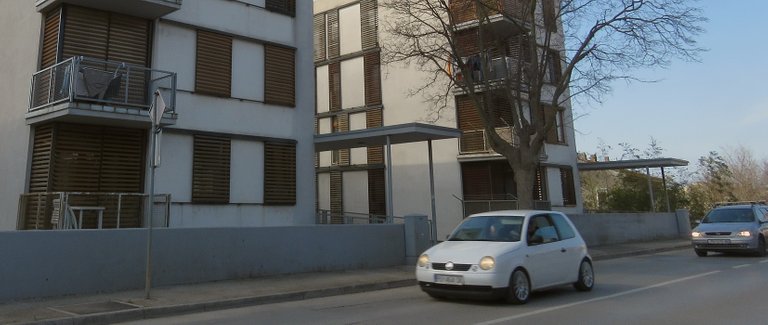 ... and exploring that seemingly boring area ...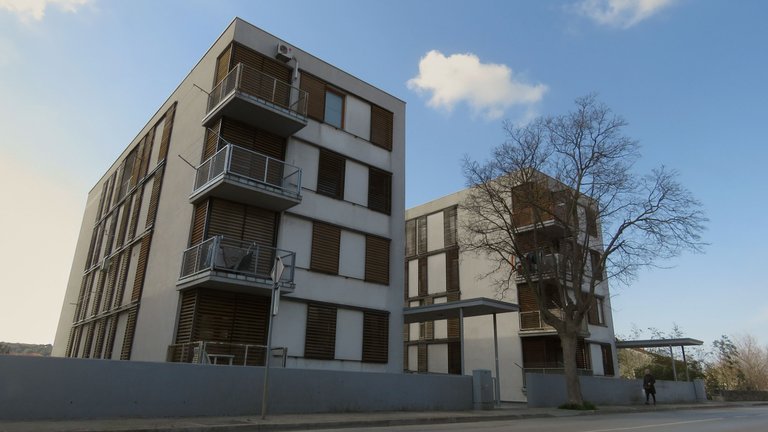 (Enlargeable)
... that I couldn't recognize today ...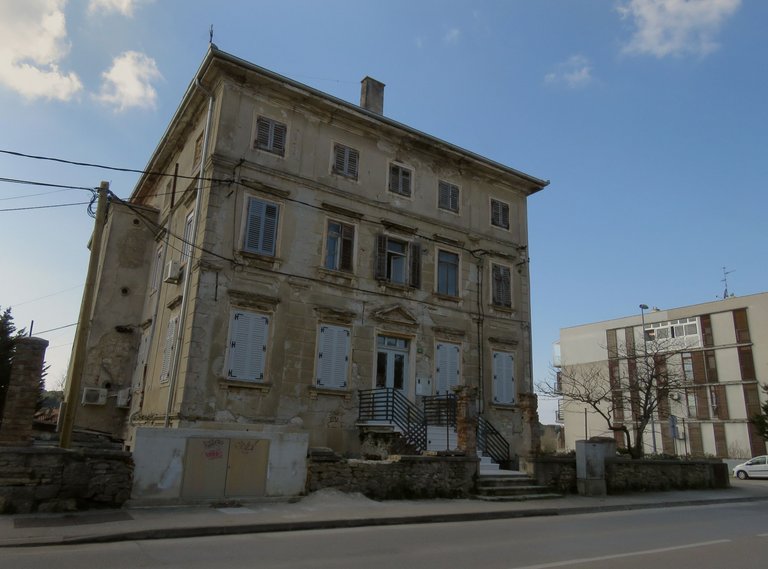 (Enlargeable)
... everything looked so visualy interesting.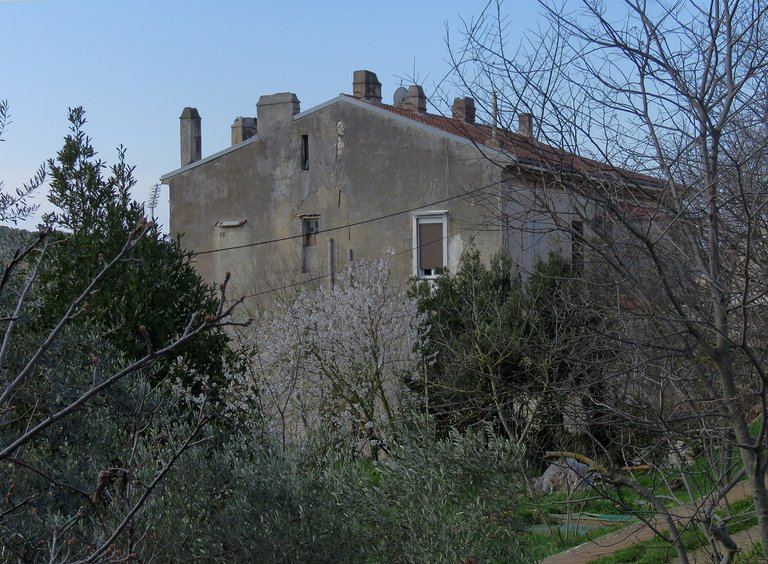 I was photographing this big old house ...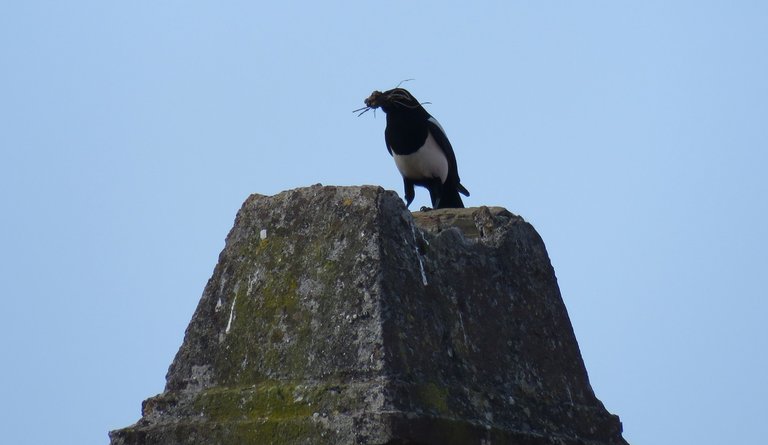 (Enlargeable)
... when I noticed a magpie on one of its chimneys ... the bird was caring some branches ... it's time to build a nest for these birds.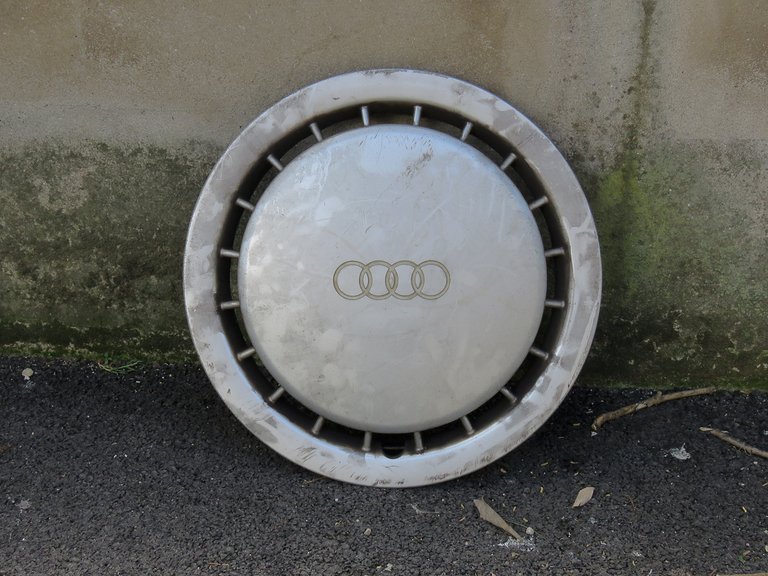 I passed by the perfect circle ...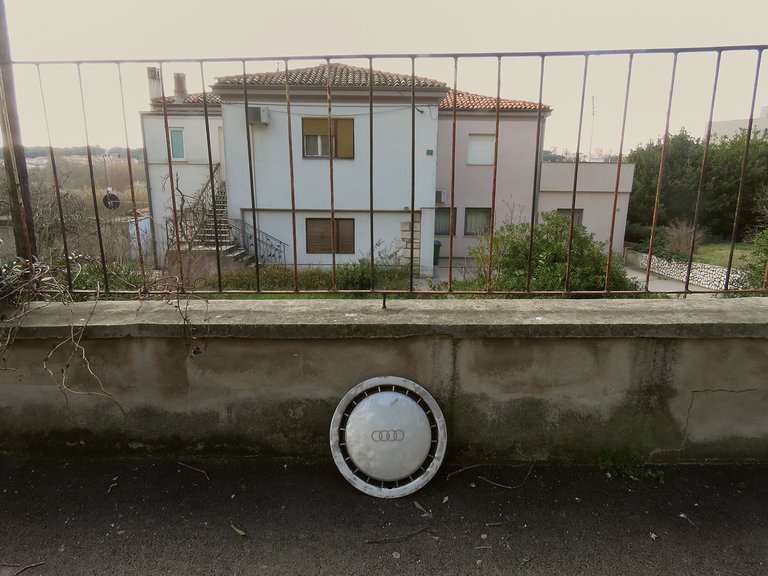 ... leaned against the wall along the road that leads to the center of the city.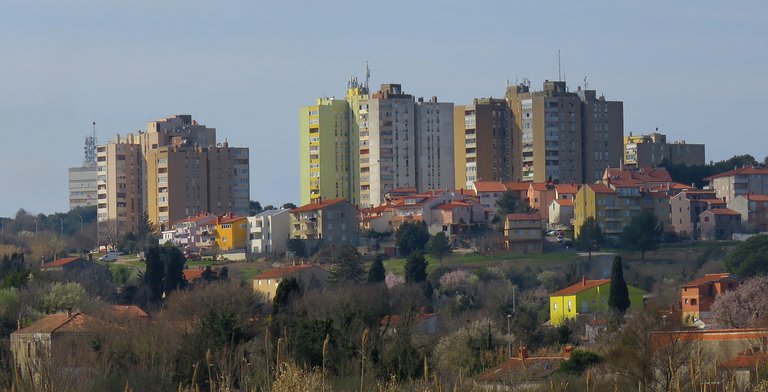 I caught some nice vistas ...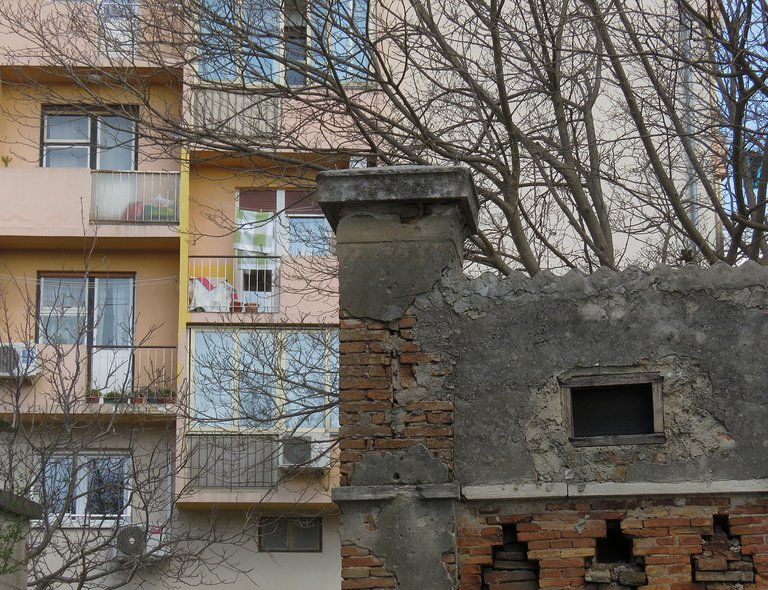 ... and architectural contrasts ...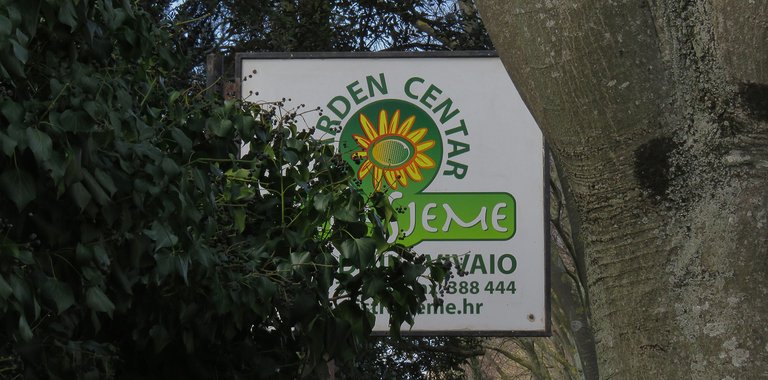 ... there was something very ordinary, yet inspiring, on every step.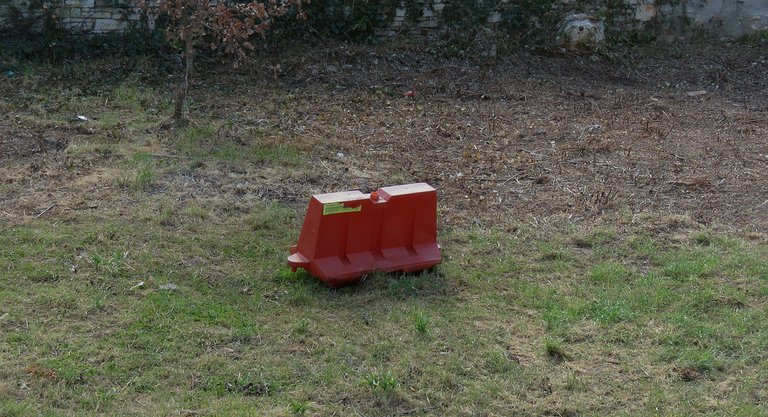 This is one of those plastic things to put on the road when there is a need to close it for traffic ... I don't know how to call it ...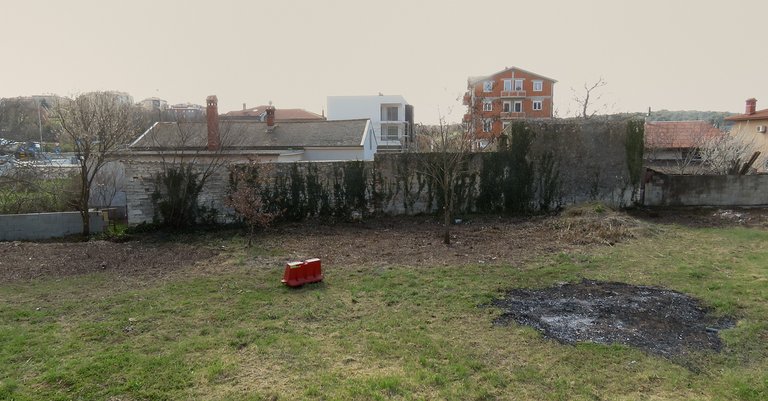 ... it was laying in some recently cleared area ... probably a future construction site.
There was a nice neighborhood across the road ...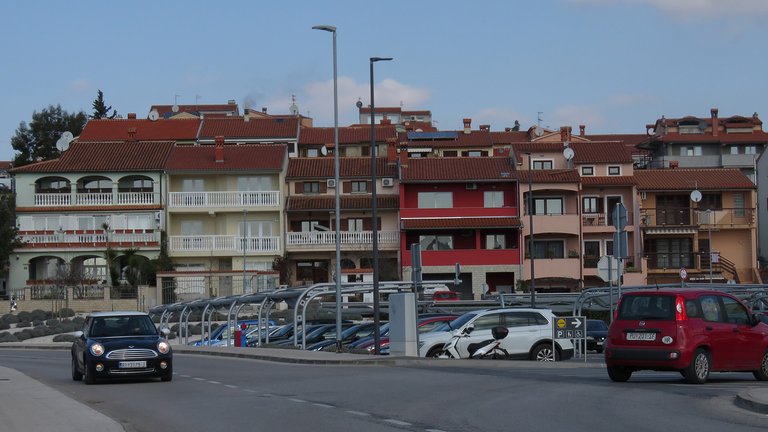 ... and a nice little car was passing by ... enhancing the same kind of shot considerably ...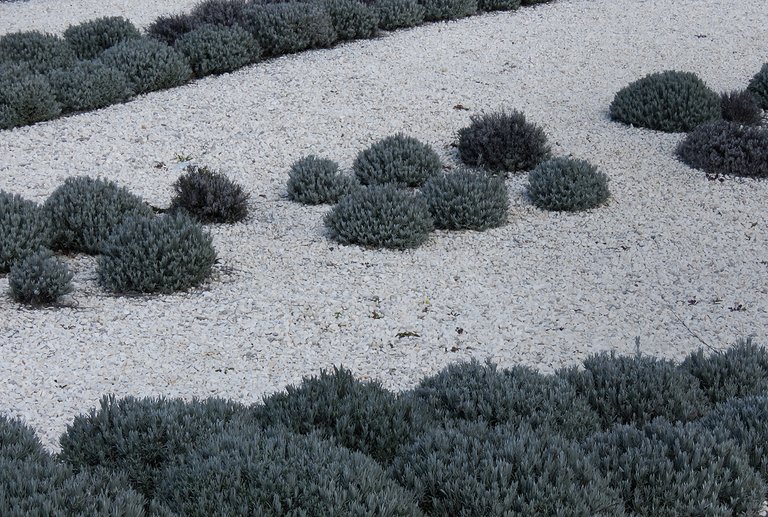 ... I noticed some photogenic vegetation ...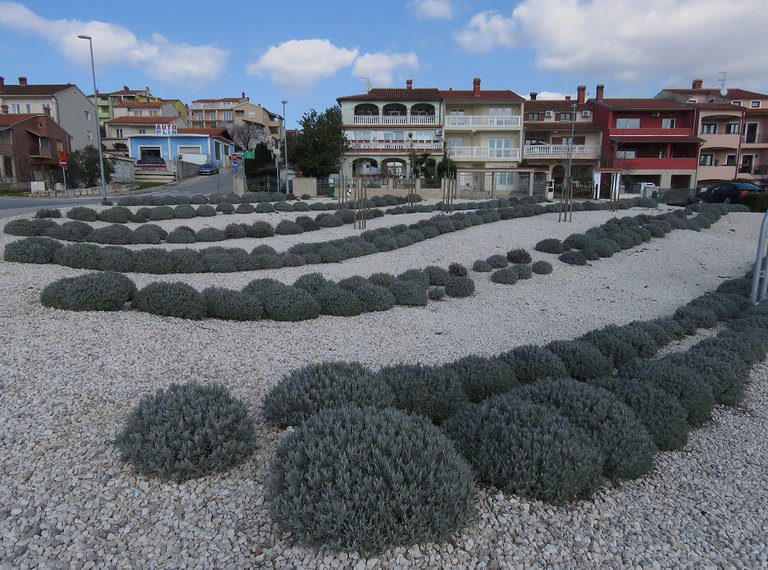 ... around the parking lot of the nearby Lidl supermarket ... I passed by that supermarket hundreds of time since it was opened a few years ago ... and only today I noticed how these lines of plants look very cool from a certain angle, and can make the scene look much deeper than it really is.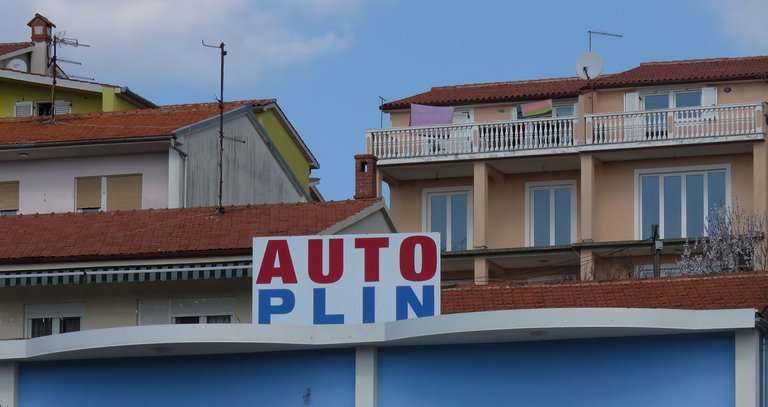 There was an interesting advert board on one of the houses there ...
... I mean it wasn't interesting for its content, only because of it design, it was very basic and simple, very unlike the contemporary boards ... no ornaments, no illustration of any kind, just text written in some ultra - basic font ... more like many advert boards once upon a time ... when I was a kid.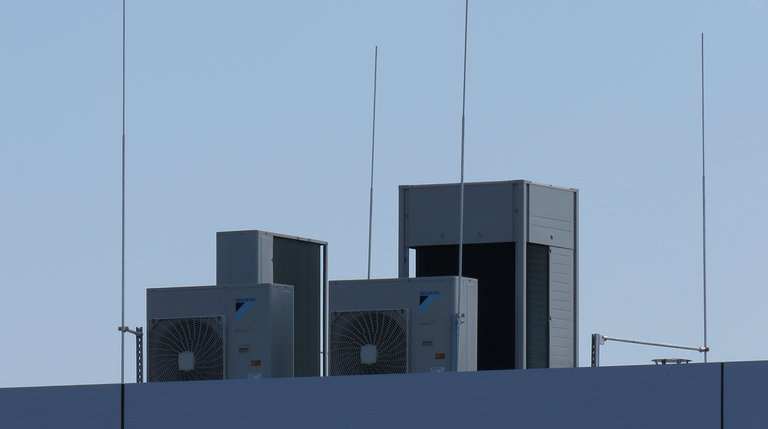 This is a detail from the supermarket's rooftop.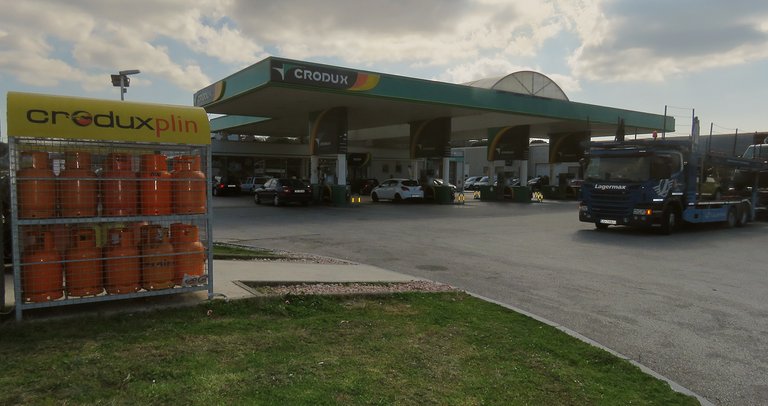 When I arrived to the gas station near the Plodine supermarket where my friends works ...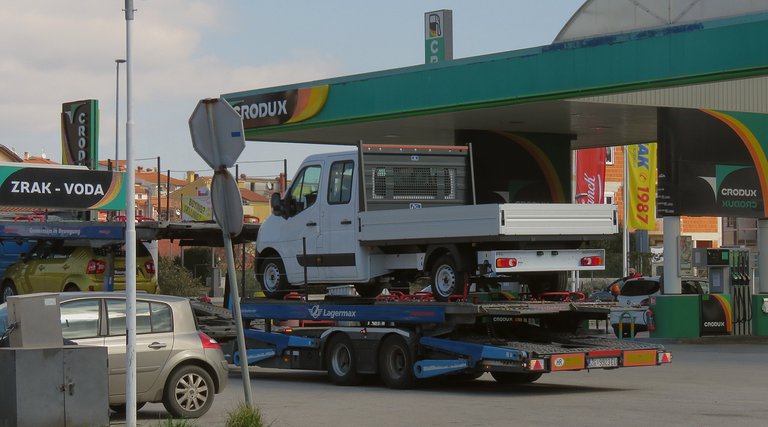 ... I saw this truck that transports other, smaller cars ...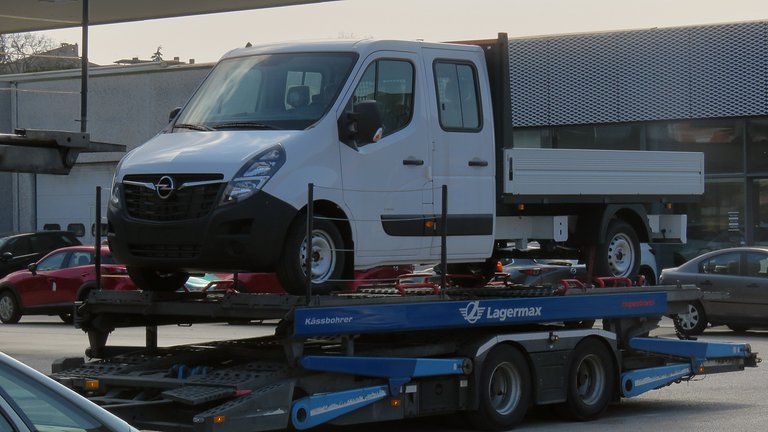 ... the cars looked like big toys mounted up there ...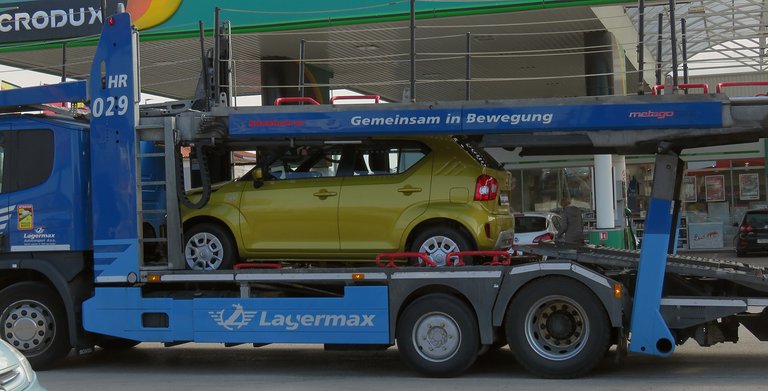 ... soon my friend's shift was over, and we were driving back home, to our small seaside town ... so this walk has to end here.
As always in these walks on HIVE, the photographs are my work.
---
---