Ray Arcel| One Of The Best Boxing Trainer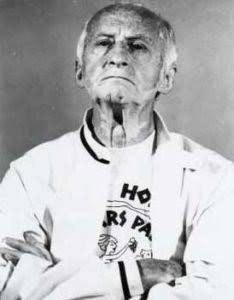 Source
Hi guys, Today am going to speak about a boxing trainer for the first time and that's because many needs to know the Best who trains the Beast.
Will be talking about Ray Arcel and he was truly a remarkable coach, he was considered by many as the best coach ever and he is often regarded as the Goat Coach who has trained some boxing bests, Ray was born into a Jewish family that had just arrived in the United States in search of a better life than the one they had in Romania. From a young age, Arcel began to connect with boxing because in Harlem, the rough neighborhood in which he lived, the boys fought to see who was the best.
At 18, Arcel was sure that his future lay in boxing and that his passion was preparing boxers. He started his career at Stillman's Gym. For many years, Arcel trained top-of-the-line boxers, in fact by 1950, Ray already had 16 boxers trained by him who had been world champions, several of them on multiple occasions.
In the late 1940s and early 1950s the mob ran boxing in the United States. On a bad day in 1953, Arcel was walking through the streets of New York on his way to work, everything seemed normal until he saw a man who approached him to ask something and suddenly three more men appeared.
They cornered him and took him to a closed street, gave him a tremendous beating as a warning that he would retire from boxing, to collaborate with them or they would kill him. This is how Arcel decided to withdraw before being part of the fraudulent system.
In 1972, a former promoter contacted an old Ray to ask him to train a boxer who had all the talent in the world, yet no one had been able to center him. When he saw Roberto Durán, Arcel was shocked and decided to train him for free so he would not have problems with the mafia.
The mob found out that Arcel was training him and they followed him again. After they found him, Ray told them that he was training him for free, that he didn't charge, that it was as a favor, and that he was still retired.
After discussions and lawsuits, the new gangsters decided to let the old Arcel stay with Durán and not have another boxer anymore. Thanks to this arrangement, Arcel became Roberto Durán's official trainer and "El Manos de Piedra" became one of the best boxers in boxing history.
After a long career, for 1985, Ray decided to retire and would remain as Durán's advisor, with whom he had a great friendship after this decision.
In 1991, Arcel was selected to be a part of the International Boxing Hall of Fame and in 1992 he was selected to be a part of the International Hall of Fame of Judaism in the sport.
In 1994, after a great life, Arcel passed away quietly. To date, Arcel holds the world record for having trained 20 world champion boxers.
Their champions were: Benny Leonard, Ezzard Charles, Jim Braddock, Barney Ross, Bob Olin, Tony Zale, Billy Soose, Ceferino Garcia, Lou Brouillard, Teddy Yarosz, Freddie Steele, Jackie Kid Berg, Alfonso Frazier, Abe Goldstein, Frankie Genaro, Tony Marino, Sixto Escobar, Charley Phil Rosenberg, Roberto Durán and Larry Holmes.
---
---