This has to be it for Solana and Uniswap...
I'm sure we all are very familiar with the two projects mentioned, they've both grown reputably, Solana being the most recently recognized blockchain which offers cross chain bridges with low costs. Having faced some difficulties scaling up, due to some ICOs, it has however grown out of those weaknesses and is still rallying upwards. Recent discussions have had a lot of people speaking on this topic on how well Solana can stay competitive in this current market. Judging from how Ethereum has taken shape in the past months, though there's been some buzz on institutional interest flowing in on Ethereum, that's quite understandable cause it tends to dance to the rhythm of major techs. That said, from price actions based, the underlying effects of rapidly growing alternatives on scalability and low cost blockchains have had most of the funds which should be flowing into Ethereum, pushed to other networks.
Uniswap being built on Ethereum has however managed to stay competitive, regardless of many cheaper alternatives. The DeFi protocol which brought some amount of relevance to airdrops and has since grown firm, happens to be on the list of Grayscale rebalancing sheets, surprised? Maybe the image is a sell off, as usual…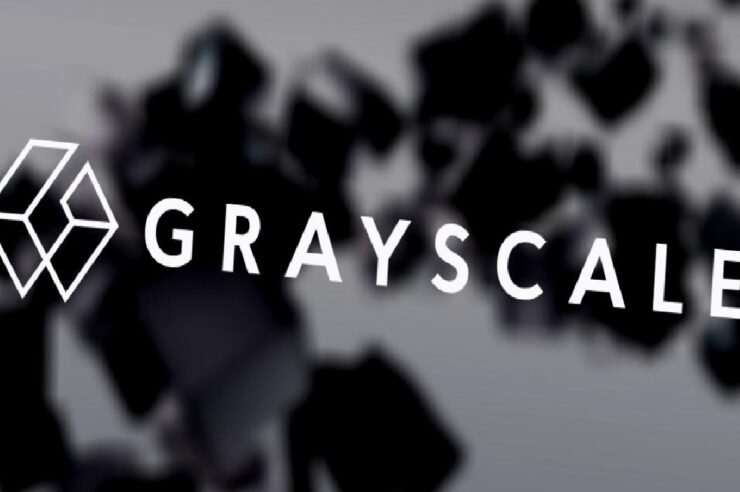 I must admit that I've been really, really, really, restraining myself from buying into any hype as it never goes down well. I could say that I've managed to avoid losses on the Solana case, because I was almost compelled to buy in when it was trading above $200 a unit. Currently it's trading around $170 according to coingecko. Generally, the crypto market is seeing some great numbers, and the market cap is up above $2 trillion once again. That said, Grayscale adding these two crypto favorites to its funds store could expose the networks, protocols and projects therein to a wide range of investors.
"In accordance with the Digital Large Cap Fund's construction criteria, Grayscale has adjusted the Digital Large Cap Fund's portfolio by selling certain amounts of the existing Fund Components in proportion to their respective weightings and using the cash proceeds to purchase Solana (SOL) and Uniswap (UNI)."
Yea, the report did carry this piece of information, some bitcoins were however affected since last rebalancing to add new cryptos to the list.
Currently, the list is as follows :
Bitcoin (BTC), 62.19%
Ethereum (ETH), 26.08%
Cardano (ADA), 5.11%
Solana (SOL), 3.24%
Uniswap (UNI), 1.06%
Chainlink (LINK), 0.82%
Litecoin (LTC), 0.77%
Bitcoin Cash (BCH), 0.73%
Uniswap however stands to lead in the Grayscale DEFI fund with a share of 45.20% of the fund. Followed by Aave [14.11%], MakerDAO [7.84%], SushiSwap [7.18%], Compound [6.773%], Synthetix [6.29%], Yearn Finance [3.92%], Curve [3.35%], Bancor Network Token [3.04%], and UMA protocol [2.16%] as reported here
Added to this, well, in Solana's favor, rival Osprey Funds is also one reported to had launched a product for private placement, this is perceived to expose the blockchain to a wider audience in search of acknowledgments for its full potentials.
In conclusion, this has to be it for Solana and Uniswap, yes, I know it may sound a bit weird to say, but every little push adds up. Solana most especially, is looking sexier than ever, and the question on everyone's mind is likely "when will it flip BNB in price?" or possibly Ethereum (which isn't so realistic right now). We could be seeing a wild run up more like the surprising push observed today by Axie Infinity.
October be nice?
Posted Using LeoFinance Beta
---
---