The Often Ignored Effects Of Crypto And Blockchain Technology
As crypto awareness begins to leave pleasurable marks on the global economy, the network's effects have rather been cheated when it comes to acknowledging its full contributions to the world of finance and technology. Recent conversations surrounding CBDCs have been rather fucked up to look at. In an attempt to give the roll outs of this government issued digital currencies, some atom of potentials, BIS( Bank Of International Settlements) was indirectly stating the benefits of utilizing crypto for payments rather than its copycat "CBDC"
Currently, the economy and financial set up of the world is highly limited, the costs itself is top place hindrance to intercountry transactions. This system of stiffen cross-country interactions is obviously in place to aid easy government watch over on money movement across the world. However, the system isn't entirely watched over if transactions are placed by the watchdogs, the system can however get it's way across funds movement without keeping records, this is the advantage aiding in-system fraudulent activities. Crypto and blockchain technology being built to oppose this system of difficulty in money transfer across countries, insane charges and manipulated in-system records are often ignored. The report by BIS is a pretty great one, basically showcases the beauty of crypto and blockchain tech while accrediting CBDCs in the process, you can download the pdf above.
The costs of cross border operations may see a 50% reduction, according to the report. This is typically derived through weighing the impact of blockchain powered currency or is it? However, the scalability and cost-curbed nature of the network would basically help the government save up 50% on their previous spendings. These percentage figures are way higher when it comes to crypto, potentially speaking. The CBDCs will pose a great threat to crypto investors, but it will lose out for two important reasons. CBDCs are not designed to profit the investors, they are designed to feed the government bodies. This not being the set up of crypto, will give it severage edges over CBDCs.
If we look up some metrics surrounding cryptocurrency investments, we'd notice that the world engaged have come to blindly believe in it. The network has seen great interest, people see the long-term value of it, and this is something CBDCs cannot just expect to acquire in a short period of time.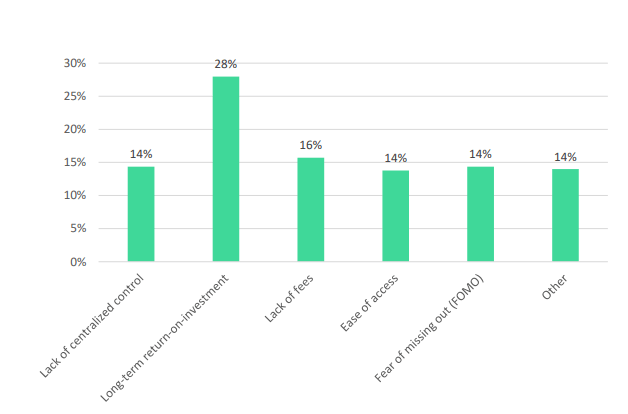 This was however a shocking revelation, to me at least. A survey was carried out by Bakkt "an online tool that enables its users to manage all digital assets in one unit" showing that 28% surveyed voted on "long-term returns on investment" being the reason for it earning traction, and 16% voted on ease of access while lack of centralized control and lack of fees was pooled at 14%. Credits to DeFi because it fuels most of this traction, even though a huge number of people invested in crypto have abstained from its protocols, it still pretty much holds a lot of value. This is something CBDCs won't offer in like forever, the biggest turn off is the fact that they are pegged to the fiat currencies, making it equal to the same old shit. However, 70% of surveyed users also commented on the fact that they know very little about cryptocurrency. This is the blind trust I was talking about, I do not actually see a problem with it as though we've been living in an economy where the people have been ignorant of how the nations of the world's currency markets have been runned, specifically manipulated. However, people having found a better financial lean on Cryptocurrencies, it's become a trustworthy network compared to the fiat system.
Coupled with this, the network is taking more steps forward to creating a bridge to every monetary sector. The recently stumbled upon is the Bacon Protocol launching a decentralized mortgage platform. This will have a lot rolling in, including a new Stablecoin to be introduced to the system, called bHome if I'm not mistaken. This is expected to revolutionize and better shape the sector. Though the stablecoin will inevitably be backed by USD, there are better things to be excited about including NFTs of physical properties and some Defi hints, probably.
The most often ignored value of crypto and blockchain technology is that it's not a single phase implementation, it has the ability to spread through, distributing more value at every new bridge and its competitors are doomed even before seeing a launch(tell CBDCs they are dead lab rats).
Posted Using LeoFinance Beta
---
---