Looks Like Solana Wasn't Compatible Afterall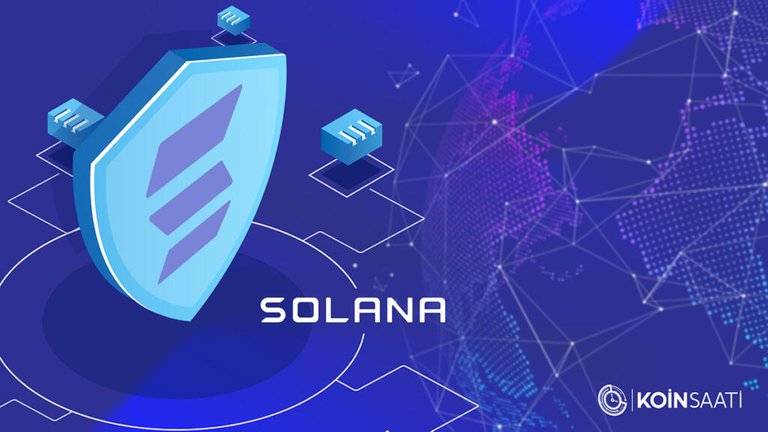 One of the scariest experiences any project shouldn't wish to face is system failures or technical setbacks. The world of businesses is full of impatient participants, so as such, they always expect scalable options with utmost compatibility. The Solana chain, being one of the most recent "talked of" networks, faced a system cluster which may have cost them investors.
Solana is said to be a high performance blockchain. Scalability seems to be its grand focus as though it is reported of a capability to expand as users on the network grows. However, this doesn't seem to be the case recently. With 745 validators, Solana runs over 400 projects spanning through Defi, NFTs and more. The biggest selling point of the Solana ecosystem has been NFTs projects. The network has seen quite a number of usages as a result of this, therein lots of buying pressure which skyrocketed the token price to an All Time High of $213.47, placing it at a rank of #7 on coingecko, with a market cap of $48,252,782,412 which is a 2.17% dominance of the entire crypto market.
Some have termed Solana an "Ethereum Killer" which is kinda funny, while some have just acknowledged its potential. However, I do not see it to be a competition so far. To prove it's inability to handle mass adoption, the network clustered yesterday, causing forks.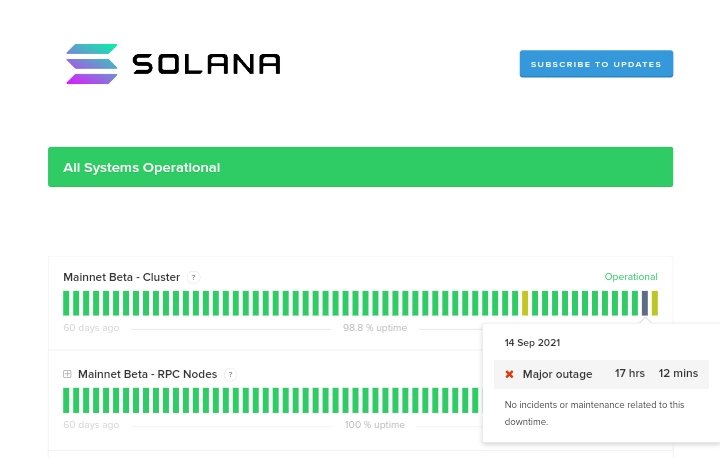 This is a screenshot of the Solana network status as of yesterday. It had a downtime of over 17hrs due to increased network operations. According to the Solana team twitter update account, on Solana network status, the Solana Mainnet Beta encountered a large increase in transaction load which peaked at 400,000 TPS. Transactions were reported to flood the transaction processing queue, and the lack of prioritization of network-critical messaging caused the network to start forking. The team also brought to the public that the forking led to excessive memory consumption, causing some nodes to go offline. Engineers across the ecosystem however attempted to stabilize the network, but the operation wasn't successful. Nonetheless, the validators did come to a consensus to restart the network. The restart of the Mainnet Beta after an upgrade to 1.6.25. DApps was reported in session 2hrs ago. Block explorers, and supporting systems are expected to rebound over the next several hours, at which point full functionality should be restored.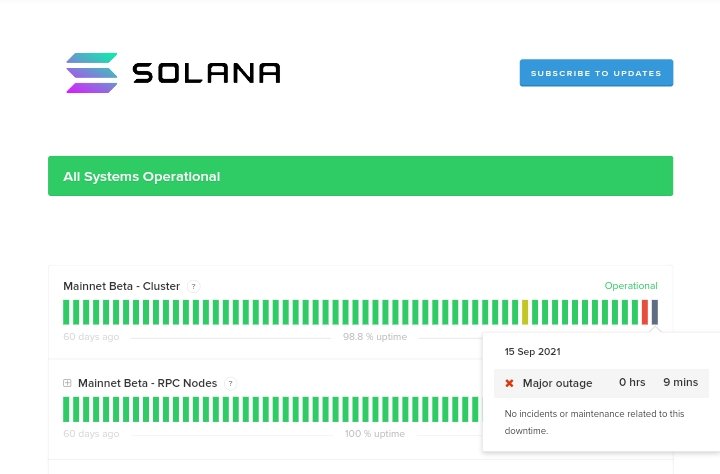 That said, at the time of writing, an outage is also recorded today, but giving it a few hours, we could determine whether or not the network will progress flexibly. However, due to the system break down, a great influence was incurred by investors, the Solana token prices saw a 15% drop taking the price value to $145. A great number of short term investors may just be dominating the token market and it is advisable to trade with care. I know a couple of people who may have FOMOed into this while it was flaming above $200 per token, believing it was going to flip BNB soon. The network failure just made way for a correction which no one is certain how well it will be handled in the short term. But if these failures persist, then there's a chance the token will see further downtrends in the coming days.
This is only for research and educational purposes, not financial advice
Posted Using LeoFinance Beta
---
---