Axie Infinity Economic boom is proof that NFTs are Investments choices

I feel the latter end of NFTs would be the destruction of the stock markets. In a way, when I look at how secure the design of NFTs are, it becomes clearer that these are more like better versions of Cryptocurrencies. Non fungible tokens are still ideas left by the wayside, but people that understand its potential and how advertising it crowns projects, are taking the lead in this game. Numerous characters that have not been players, whether part time or full time in this crypto sphere have seemingly hopped on to take a bite off this cake and it could only keep expanding. I could still recall the largest NFTs sales ever made, where there was some sort of hate speech coming from the supposed beneficiary that went home with thousands of dollars paid in ETH which was immediately exchanged.
However, most people (that's including myself) have been contemplating over the actual value of NFTs and whether or not to own one. The fear there was the fact that, fine, I could purchase an NFT easily, but how the fuck do I earn from it? The stock market is one of, if not the top riskiest internet investment industry. It doesn't matter whether these assets put up as stocks have physical properties. The fact that we don't directly own these shares is still a set off, any company could go down in a blink and it all goes boom, so it's then a biased consideration when people term crypto risky and then the stock market rather safe, it's all a gamble.
But unlike stocks, where we buy shares, with NFTs there are lower risks. Why? An NFT cannot be cloned. Once you buy one, you own it. However, that doesn't make it sound less risky does it?
Here's what may interest you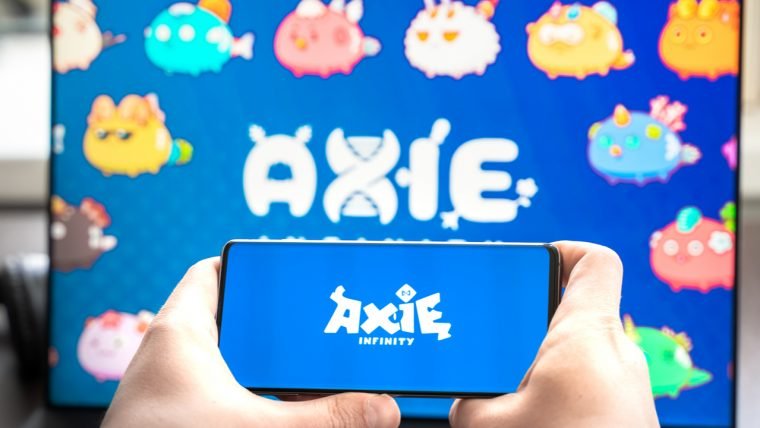 Axie Infinity, an Ethereum based game, is now one of the biggest successes of the play-to-earn model. Featuring NFT's like the game characters, the game monetizes breeding these characters and selling them. As a result, there is now a growing demand for Axies, whose stats can make them reach high prices in markets. This has incited a bit of an economic boom, generating more revenue than other known protocols last week.
Well, this is actually my first time hearing of Axie Infinity. The biggest adoption of NFTs has been in these three sectors, Art, Music and gaming industries. The big players till date still come from these three. I can't quite determine whether Art stands first, though it's likely because the biggest sale made was an artwork and in the gaming field NFTs are still a form of Art, so, pretty close there.
However,
Axie Infinity, a battling/breeding game in the style of Pokemon, is creating a booming economy that has started to outshine other financially focused protocols. According to Axie Infinity is now the biggest NFT market in crypto. With 50k traders involved in moving more than $80 million throughout the last week, it has surpassed OpenSea and CryptoPunks.
This is quoted from news.bitcoin.com and to verify the information, I hopped over to DappRadar and here's what I found :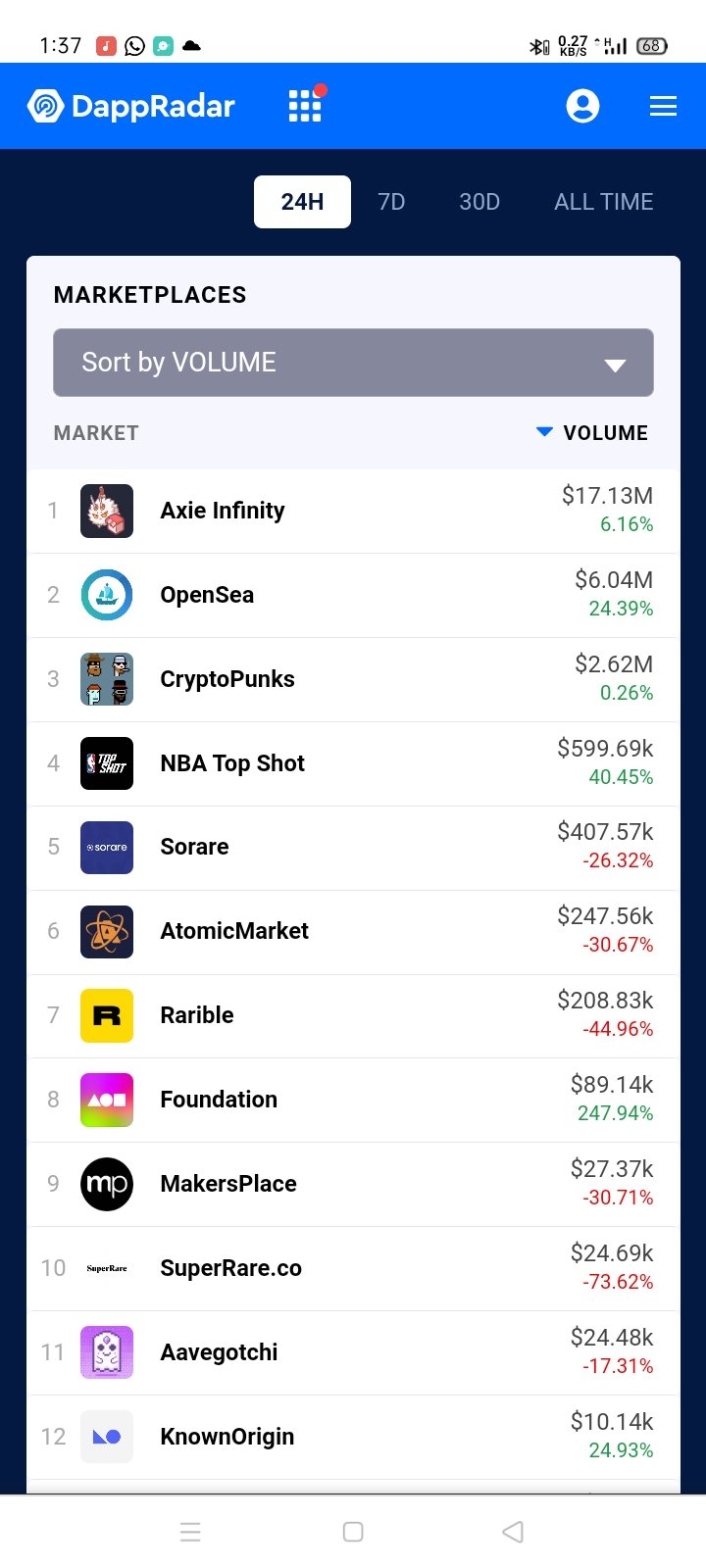 I could recall NBA TOP SHOT Being a hype some time back, but it looks like Axie Infinity is making some movement up the charts, keeping a rather wide gap in the process.
The demand for Axies is reported to be growing rapidly, making the prices in the market rise. 600 dollars assets turned 900 dollars in a blink, and some other mystic characters cost a fortune I'd say. I believe Axie Infinity has done just enough to create value in the markets and this is supposed to keep investors coming. It's proof that NFTs can be investment choices because the more the demand raises, the prices go up accordingly, it's a simple law of demand in economics and right here, Axie Infinity has managed to create a part that most companies are likely to copy sooner.
What are your thoughts on NFTs?
Posted Using LeoFinance Beta
---
---