A tale of two subs
I want to talk about two different Sub movies from opposite ends of the spectrum. While both were products of Hollywood, I believe one was more accurate and true to life than the second.
Movie 1 Run Silent Run Deep. Runtime 1H 33 Min.
While not based on a true story, it was based on a book written by Edward Beach. Beach was a Navy Captain. He wrote the book after he had departed the USS Trigger, a WWII submarine that was sank by the Japanese in 1944, all hands were lost.
Watching the movie, I could feel that I was almost a part of the crew. Part of that was obviously due to the cast; starring such big names as Burt Lancaster & Clark Gable as the obsessed captain. It also starred a young Don Rickles who had a small but memorable role.
As I said, it was Hollywood but, in my not so humble bubblehead opinion, seemingly true to the spirit of WWII submariners. I had the privilege to talk to a guy that served on subs back then. They were an entirely different breed of guys. It's intense and action packed at times. Are there gaffes, of course, it is a movie after all. But, the bubblehead community as a whole, holds this movie in high esteem and we list it as one of the very best Sub movies out there.
The story centers around a Captain played by Gable. He is obsessed with getting revenge on a Japanese Destroyer Captain who had sunk 4 US Subs, one being his previous command. He trains his crew non stop, preparing them for a rematch with the enemy captain nick named Bungo Pete. He got the moniker based on where he operated, in the Bungo Straits off of Japan. No spoilers, you'll have to watch the movie. It's available online for free.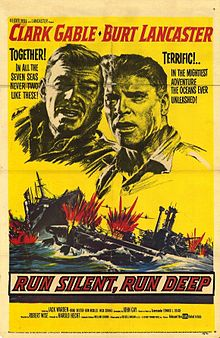 Theatrical release poster by Reynold Brown Photo credits Wikipediahttps://en.wikipedia.org/wiki/Run_Silent,Run_Deep(film)
Movie number two: Crimson Tide 1995 1 H 56 M Starring Gene Hackman and Denzel Washington.
This movie, as I said is at the opposite end of the Sub movie spectrum. Most of the bubbleheads I've spoken to about this, concur it's laughable and so much is wrong with it, it can never be taken seriously.
It takes place near the end of the Cold War. Hackman as Capt Frank Ramsey is a trigger happy, shoot first, ask questions later kind of guy. His command , the USS Alabama(an Ohio class Ballistic Submarine) is on patrol. His XO is more level headed. He has an extensive knowledge of miltary history and tactics but no combat experience. The movie starts off with the captain bringing his dog on board... really?
There are a few incidents that set the scene for what's to come. A fire in the galley, which leads to a death and the Capt that decides to run a weapons drill at the same time.
I'm not saying it doesn't happen, but it is highly unlikely that it would. The last thing you want is 150 pissed off enlisted guys stuck in a crimped off sewer pipe.
There are other clashes with the CO, the XO and crew at large. It all comes to a head when the sub receives what's called an EAM or Emergency Action Message. This is something they would send to subs on patrol alerting them of a bad situation and or, in this case, ordering them to launch their missiles at a Russian Target.
The XO disagrees and a stand off occurs. It is a very tense part of the movie. I'm not taking anything away from the cast. Most do a great job and to the uninitiated eye, all seem appropriate actions. So much is wrong with this movie that it leaves one wondering if the writers et al actually ever even saw a submarine.
I get it, Hollywood needs to make exciting, thrilling movies and are often not worried about accuracy. Overall, it's a good movie. Just don't watch it with a bubblehead. Otherwise, you might be treated to some rather colorful language and questions about the writers lineage.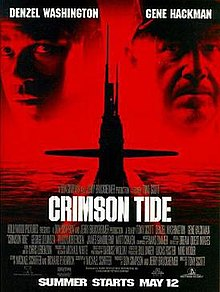 Photo courtesy Wikipedia.https://en.wikipedia.org/wiki/Crimson_Tide_(film)
---
---