[Bilingual] Dario Sarmiento, A new Lionel Messi that hunted by Manchester City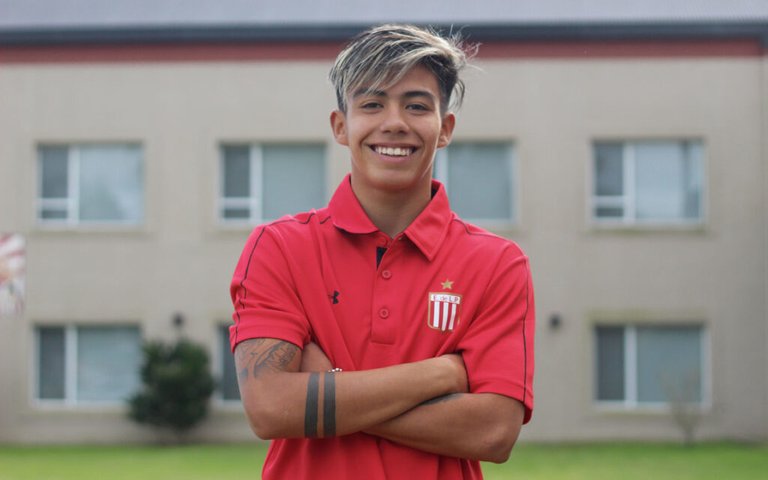 .
Nowadays there are so many young footballers with great skills in the world. Most of them are in Europe and South America. In fact, some of the young players who are still 17 years old are already playing at big clubs in Europe. I can say some names such as Ansu Fati from Spain who plays at FC Barcelona right now, Jamal Musiala from England who is a part of Bayern Munich's squad, Takefusa Kubo from Japan played for Real Madrid, Jadon Sancho from England that had been a superstar at Borussia Dortmund, and Ilaix Moriba from Guinea and playing for FC Barcelona as well.
The names of players I mentioned above already played for some biggest clubs in Europe. And there are some of young players who still play for some clubs in their country. Argentina, Brazil, and Uruguay are the countries that always able to provide the most talented young footballers in the world. You already got some famous names like Lionel Messi, Neymar Jr., Luis Suarez, Sergio Aguero, and many other names of players from South America. And indeed they were some young players who were not familiar yet in the world, and now they have the biggest names in football and almost all football's fans got them.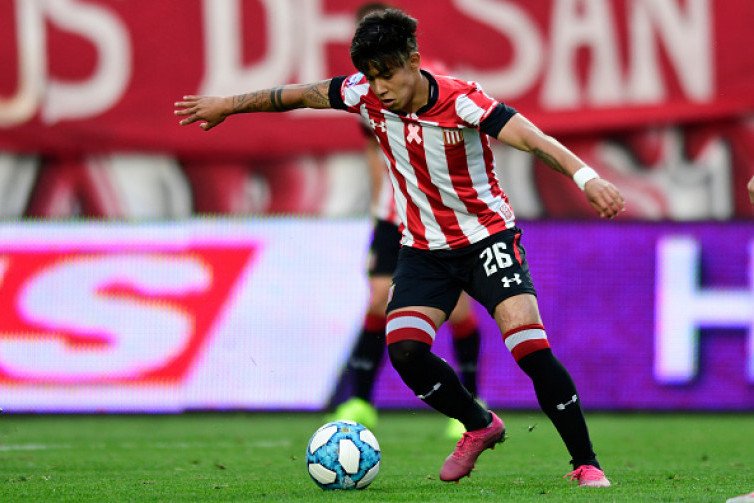 .
Currently, there are several young players from both Argentina and Brazil those are predicted to reach success like Messi and Neymar. In Argentina, there are Thiago Almada, Pedro De La Vega, Matias Zaracho, and Dario Sarmiento. And Brazil have Talles Magno, Kaio Jorge, Brenner, and Marcos Paulo. I'm sure everyone who love football as a famous sports in the world will get to know them in the near future.
This post will introduce to you a talented young player from Argentina. He is Dario Sarmiento. He is still 17 years old and in March 2021 the young man who now plays for Estudientes will be 18 years old. His skill with the ball is indeed very good because I have read so many articles of sports media I browsed from here about Dario Sarmiento. I watched some videos about him on Youtube as well. In my opinion, he is a great player and he deserves to play in one of the biggest clubs in the Europe soon.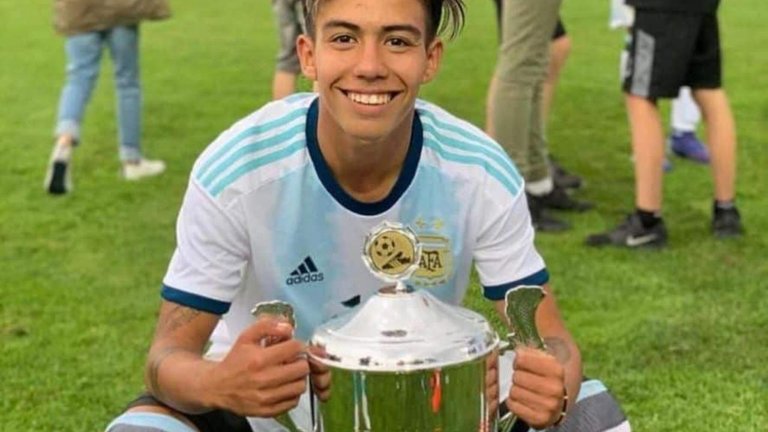 .
I read about Dario Sarmiento from Indonesian sports media such as Bola Net, Bola, and Goal that he is being hunted by Manchester City. This is a great opportunity for him. There have so many people said that his skills are like Lionel Messi. He will be able to improve his skill better and better if he plays for a big club like Manchester City in the English Premier League. And it could be a proof that he is a great player like Messi I think.
So, what makes Manchester City want to sign Dario Sarmiento to be a part of their main squad next season?
---
Here are the data that I read from Transfermark, you can read too why and there will be some of points that made great value for Dario Sarmiento. All of them made Manchester City want to sign him.
---
His full name is Dario Ariel Sarmiento who was born on March 29, 2003 in Florencio Varela. His position is the striker on the right side or the right winger. Apart from this position, Dario Sarmiento is also able to play well when he was placed behind the main striker. He can become a good player as a Second Striker. His current club is Estudiantes de La Plata who plays in the Primera Division or the Argentine Premier League.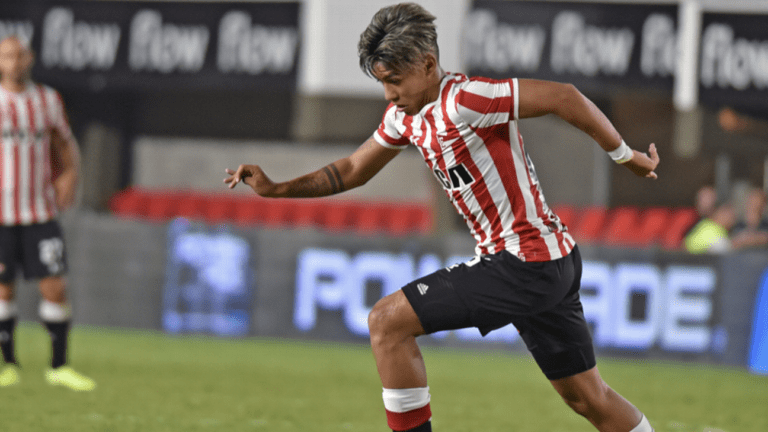 .
He is still young but he was able to work well with his teammate Javier Mascherano and Federico Gonzalez. You must know both of players had many experiaces in Europe. His dribbling is very similar to the way of Lionel Messi did at FC Barcelona. Yeah, it is a nutmeg. The movement of Dario Sarmiento is very fast when he passes theball againt opponent players. He moved swiftly to try to outwit opposing players and he was able to approach the penalty box quickly. Dario Sarmiento's vision of playing did resemble Lionel Messi's. His left footing was excellent with great dribbling when the ball was at his left feet. Dario has an excellent passes like Lionel Messi did. His great skill were make him called a new nickname in Argentina; The Next Lionel Messi!
He has scored 4 goals in his 6 games for the Argentina U-16 national team so far. He became one of the youngest players to break into the first team at the age of 16 at Estudiantes.
Manchester City had approached him even though one of the richest club in English Premier League won't be able to sign Dario Sarmiento in January 2021. That is because the player is not yet 18 years old. In March 2021 Dario Sarmiento will be 18 years old and it was predicted that Manchester City talent scout team will bring him to the Etihad Stadium in the windows transfer from July to August 2021 on winter,
If you want to know more how good Dario Sarmiento is, I suggest you to watch him on Youtube uploaded by Sport Moment Cannel.
I N D O N E S I A
---
---
Saat ini ada banyak pesebakbola muda yang memiliki keahlian hebat di dunia. Kebanyakan dari mereka ada di Eropa dan Amerika Selatan. Malahan, beberapa pemain muda yang masih berusia 17 tahun itu sudah bermain di klub besar di Eropa. Sebut saja nama-nama seperti Ansu Fati dari Spanyol yang kini bermain di FC Barcelona, Jamal Musiala asal Inggris yang sudah ada di Bayern Muenchen, Takefusa Kubo dari Jepang bermain untuk Real Madrid, Jadon Sancho dari Inggris yang bersinar di Borussia Dortmund, dan Ilaix Moriba dari Guinea yang bermain untuk Barcelona.
Selain mereka yang sudah ada di Liga Eropa, ada beberapa nama pemain muda yang masih tinggal di Amerika Selatan. Argentina dan Brazil adalah dua Negara yang paling banyak mencetak pesepakbola muda hebat di dunia. Anda tentu sudah kenal siapa Lionel Messi, Neymar Jr., Luis Suarez, Sergio Aguero, dan banyak nama lainnya. Mereka adalah para pemain yang awalnya tidak dikenal oleh dunia dan kini mereka sudah memiliki nama besar di sepakbola.
Saat ini ada beberapa pemain muda dari kedua Negara yang menjadi penerus Messi dan Neymar. Di Argentina, ada nama Thiago Almada, Pedro De La Vega, Matias Zaracho, dan Dario Sarmiento. Di Brazil ada Talles Magno, Kaio Jorge, Brenner, dan Marcos Paulo. Saya yakin semua orang yang senang sepakbola akan mengenal mereka dalam waktu dekat.
Dan, dalam postingan ini, saya akan memperkenalkan kepada Anda seorang pemain muda hebat dari Argentina. Dia adalah Dario Sarmiento dari Argentina. Dia masih berusia 17 Tahun dan pada Maret 2021 nanti pemuda yang kini bermain untuk Estudientes itu akan genap 18 Tahun. Kemampuannya mengolah bola memang sangat hebat karena saya sudah membaca begitu banyak artikel di media olahraga online tentang Dario Sarmiento. Juga, saya menonton video-videonya di Youtube. Menurut saya, dia sudah menjadi pemain yang hebat dan pantas berada di salah satu klub besar di Liga Eropa.
Baru-baru ini saya mengetahui dari media-media olahraga Indonesia seperti Bola Net, Bola, dan Goal Indonesia bahwa Dario Sarmiento sedang diinginkan oleh Manchester City. Ini kesempatan besar bagi pemain yang sering disebut sebagai pemain yang benar-benar mirip dengan cara bermain dari Lionel Messi tersebut. Bermain di klub besar seperti Manchester City di Liga Utama Inggris adalah sebuah pembuktian bahwa dia itu pemain hebat.
Lalu, apa yang membuat Manajer Manchester City, Pep Guardiola, sangat menginginkan Dario Sarmiento menjadi bagian dari timnya?
Berikut adalah beberapa data yang saya dapat dari Transfermark, inilah beberapa keunggulan dari Dario Sarmiento yang membuat Manchester City ingin mengontraknya.
Nama lengkapnya adalah Darío Ariel Sarmiento yang lahir pada 29 Maret 2003 di Florencio Varela. Posisinya di atas lapangan adalah Penyerang di saying kanan atau Winger Kanan. Selain posisi tersebut, Dario Sarmiento juga mampu bermain dengan baik bila ditempatkan dibelakang Striker utama. Dia bisa menjadi andalan sebagai Second Striker. Klubnya saat ini adalah Estudiantes de La Plata yang bermain di Primera Division atau Liga Utama Argentina.
Dia masih muda tetapi mampu bekerjasama dengan para pemain senior seperti Javier Mascherano dan Federico Gonzalez. Driblingnya mirip sekali dengan cara yang sering dilakukan Lionel Messi di FC Barcelona yaitu nutmeg. Pergerakannya sangat cepat ketika melewati lawan. Dia bergerak lincah berusaha mengecoh pemain lawan dan mampu mendekati kotak penalty dengan cepat. Visi bermain Dario Sarmiento memang menyerupai Lionel Messi. Kemampuan kaki kirinya sangat bagus dengan dribbling yang luar biasa bila bola sedang ada di kakinya. Dario memiliki umpan-umpan yang sangat baik seperti yang Lionel Messi lakukan. Kemampuannya yang hebat itulah yang membuatnya dijuluki dengan The Next Lionel Messi di Argentina.
Sejauh ini, dia sudah mengemas 4 gol dalam 6 permainannya untuk tim nasional Argentina U-16. Di Estudiantes, dia menjadi salah satu pemain paling muda yang mampu menembus tim utama yaitu pada usia 16 Tahun.
Manchester City sudah mendekatinya walaupun klub kaya dari Inggris itu tidak akan bisa merektur Dario Sarmiento pada Januari 2021 ini. Itu disebabkan oleh usia sang pemain belum genap 18 Tahun. Bulan Maret 2021 Dario Sarmiento akan berusia 18 Tahun dan pihak Manchester City diprediksi para pengamat sepakbola akan membawanyat ke Etihad Stadium pada transfer musim dingin pada bulan Juli hingga Agustus 2021.
Jika Anda ingin mengetahui bagaimana kemampuan Dario Sarmiento, saya menyarakan Anda untuk melihatnya di Youtube yang diunggah oleh Chanel Sport Moment.
---
---