Splinterlands: My entry into the Art competition - Legendary FINA! This is probably the most time I have spent on an Art contest. Check it out!

Hello Community
---
Okay, so this is probably an artwork that I have spent the most amount of time on. I drew this drawing over several days. It has taken several hours upon hours .... maybe 10 hours? I dont know. However, I enjoyed the drawing process.
---
Character - FINA VOXOM
I have chosen to draw the Legendary Gladiator - FINA VOXOM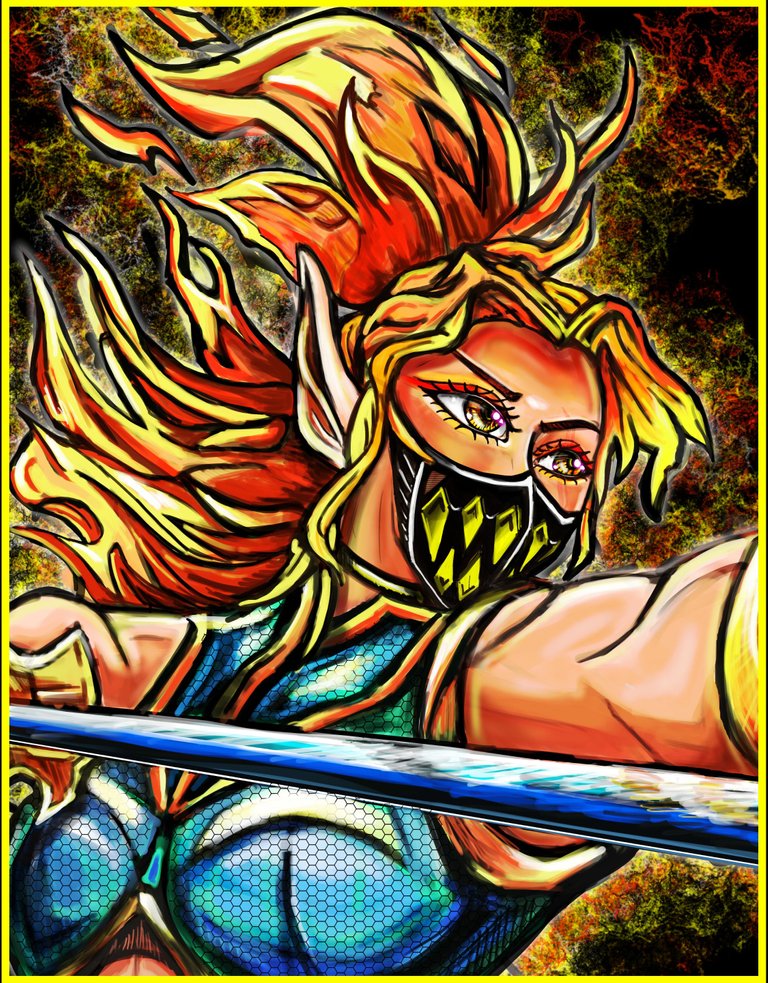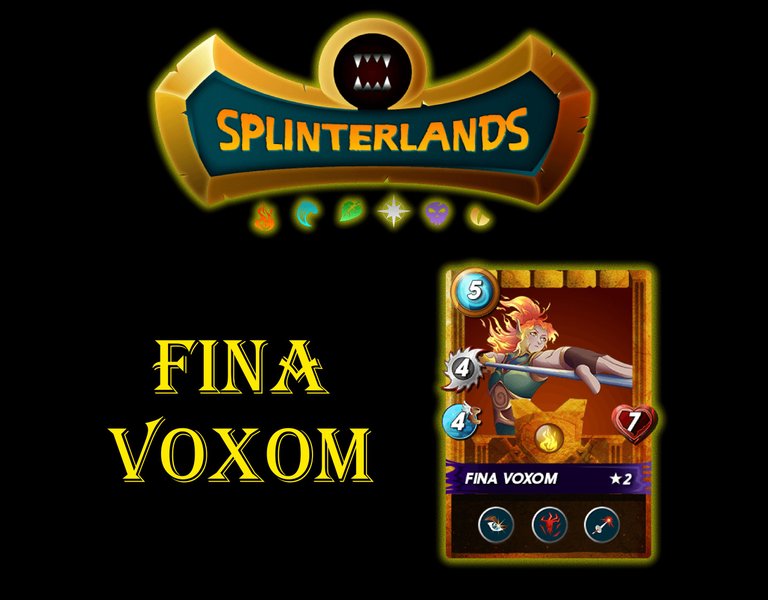 One of the awesome captain I know @palasatenea has pulled this insane card from a Gladius pack without the Blood stone or the Power Stone, it was a truly insane pull. If I recall correctly he also pulled a Epic along with it in a 5-card pack.
And that is why I decided to draw a fan art of FINA and enter it into the Week 165 Art Contest.

Final Drawing - FINA VOXOM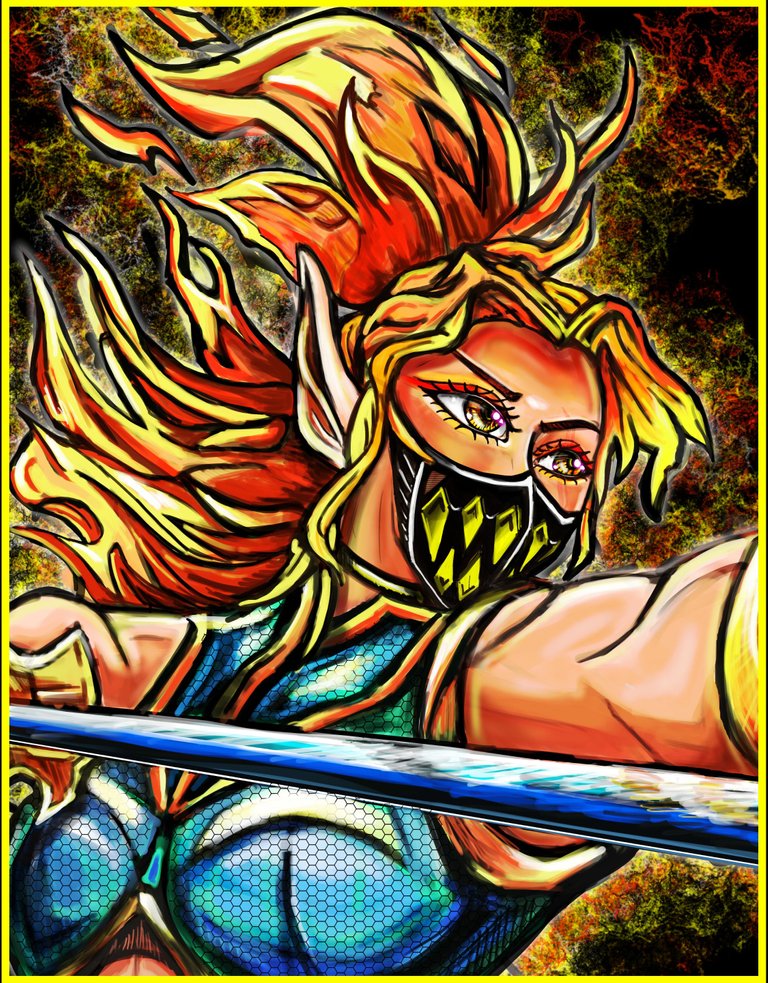 Here is a version with the @Splinterlands Logo on it...

Youtube Timelapse video
I have recorded the drawing process, and posted it on Youtube. It took a lot of time to edit the drawing as the recording took several hours and I had to use software to speed the video up or else people will be looking a very very long video.
Here is the link:
https://www.youtube.com/channel/UCss2ZVNXJSRGFKTvPaWomBQ
I have been trying to grow my Youtube video, and I have just reached 250 Subscribers. So please Subscribe if you like the type of art content that I create

GIF - FINA VOXOM

Now I will go into detail of how I created the drawing:

Process - FINA

Step 1: Rough Sketch
I started with a rough sketch to get the proportions right.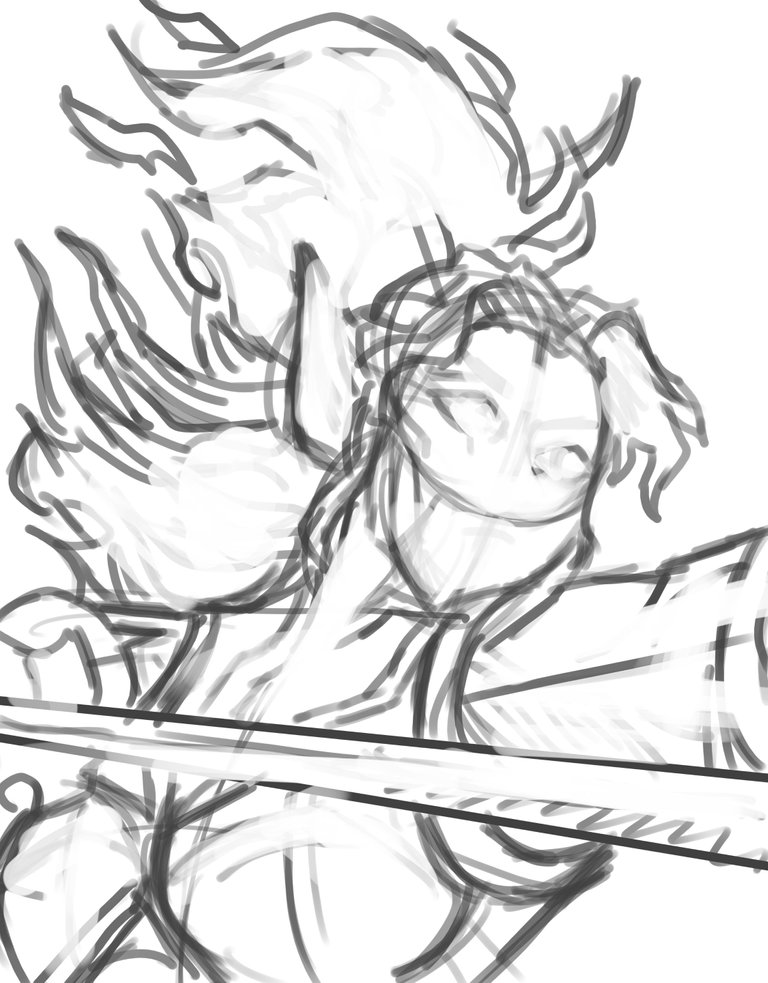 This is where I choose what portion of the card will I be drawing. I create a rough sketch of the drawing. Once I am okay with the general shape, then I outline it with a darker color.

Step 2: Outline Sketch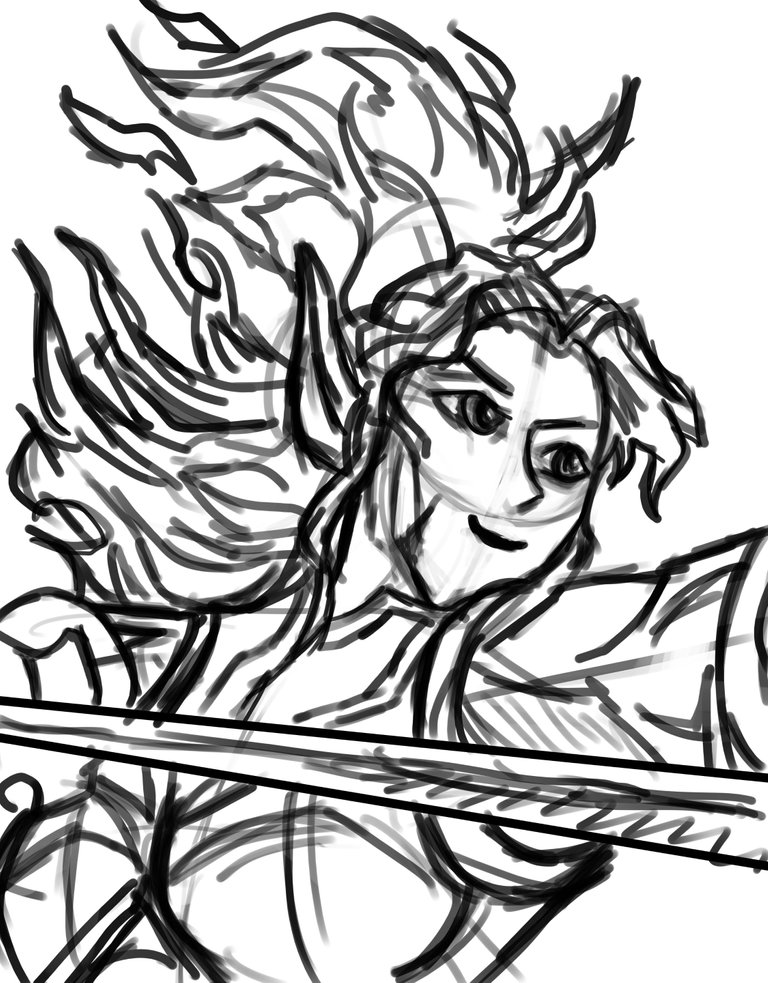 Even with the outline, it is really just the beginning of the sketch, but the lines are slightly clearer and cleaner compared to rough sketch, so that I can proceed with the colouring.
Also, you would notice I placed a smile on FINA, she was not smiling in the card art, so I decided to change that, but later on I think I changed it again lol

Step 3: Add Basic Colors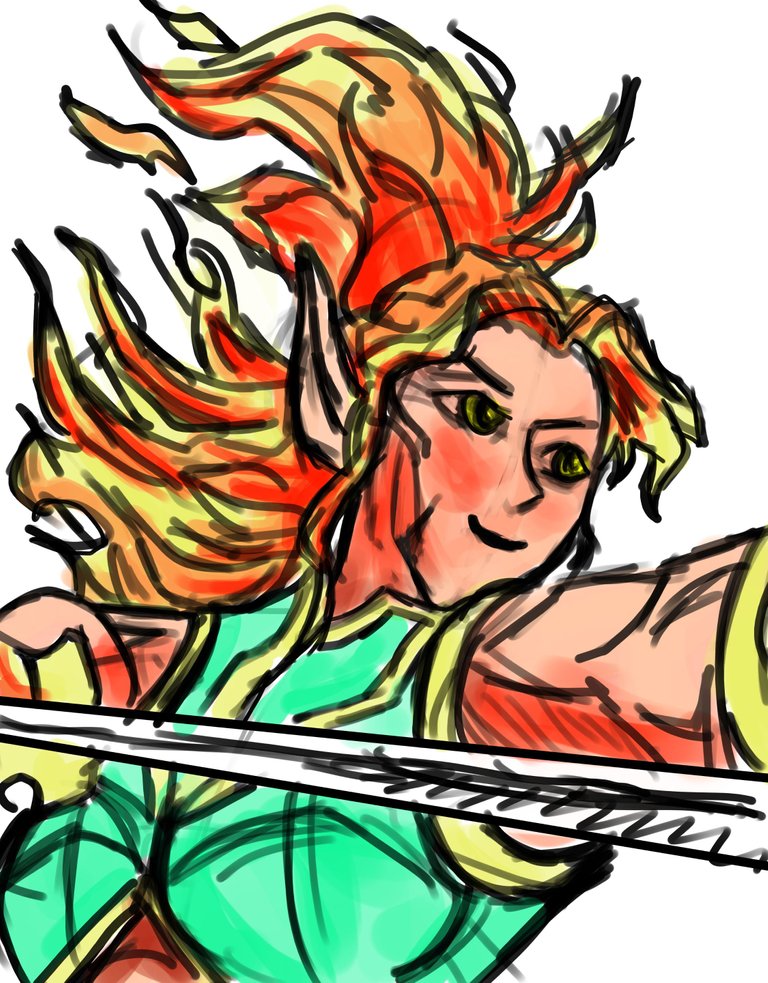 This step simply requires filling in the general colour. It does not need to be too detailed as I will be enhancing the drawing part by part later on. This is really to get a feel of how the drawing would look like.

Step 4: Detail Face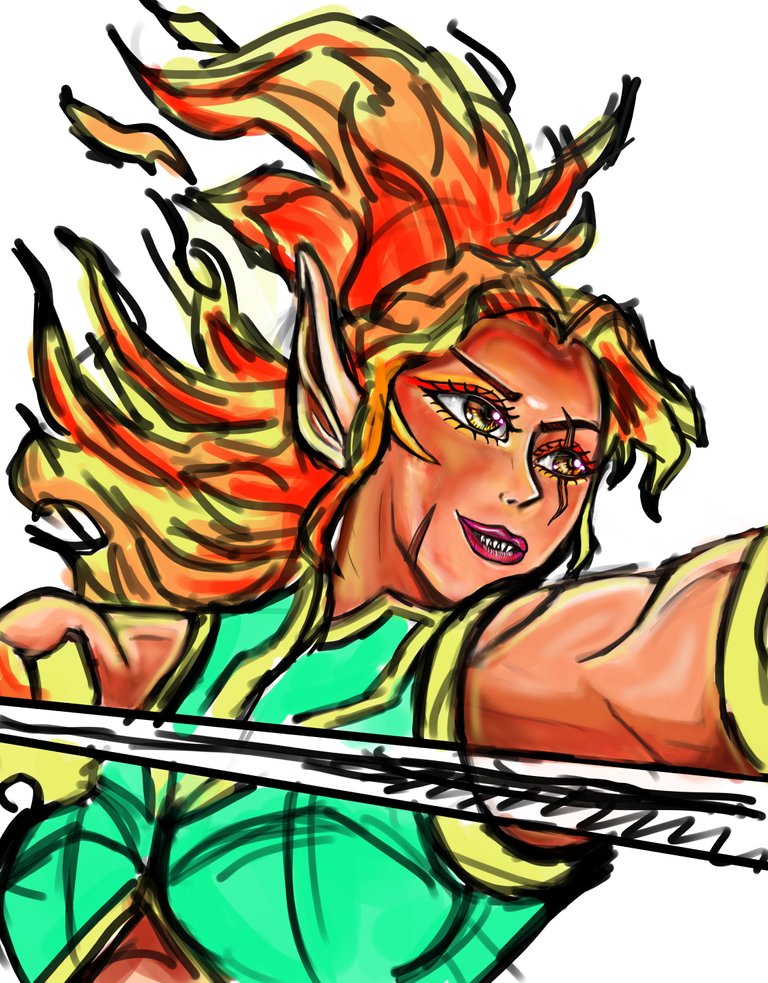 After the Basic Colour, I prefer to start detailing the face. I think the face is generally the more important aspect of a character drawing. Hence, if I can get the face right then it gives me more confidence to enhance the other areas of the drawing.
I decided to give her sharp teeth like a vampire, but not really sure if it works. I also added a scar on her right eye. These are just ideas at the moment and I may change them again later.

Step 5: Detail Hair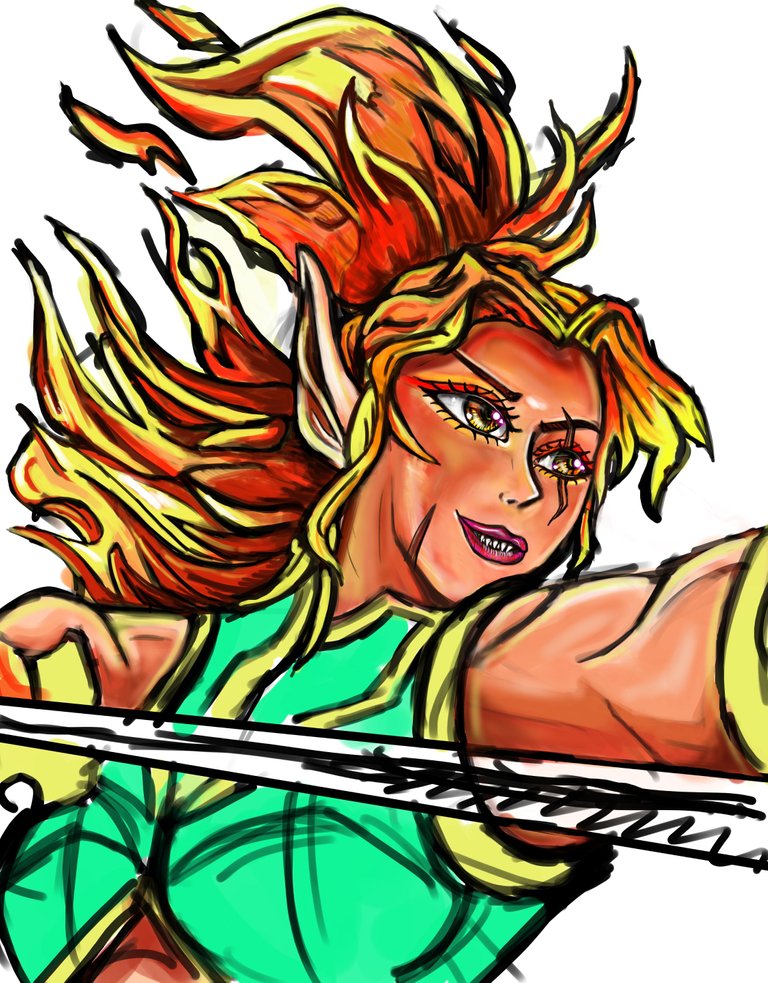 After the face, I went to enhance the hair. This is the typical order that I go with in a Character drawing. The Hair is not relatively detailed so now I move onto the clothing/Armour.

Step 6: Detail Clothing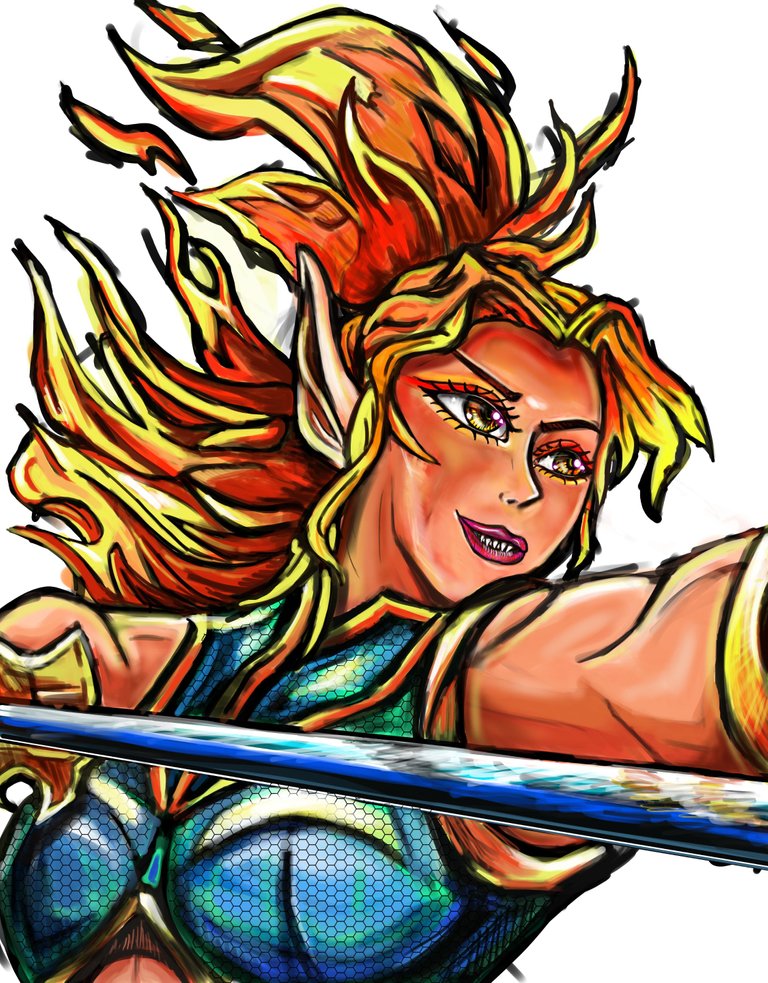 I was experimenting with different colours on the clothing and armour, and went with this in the end. I also worked on her weapon. The card art also captured the reflections and I wanted to include that too in the fan art.

Step 7: Add Mask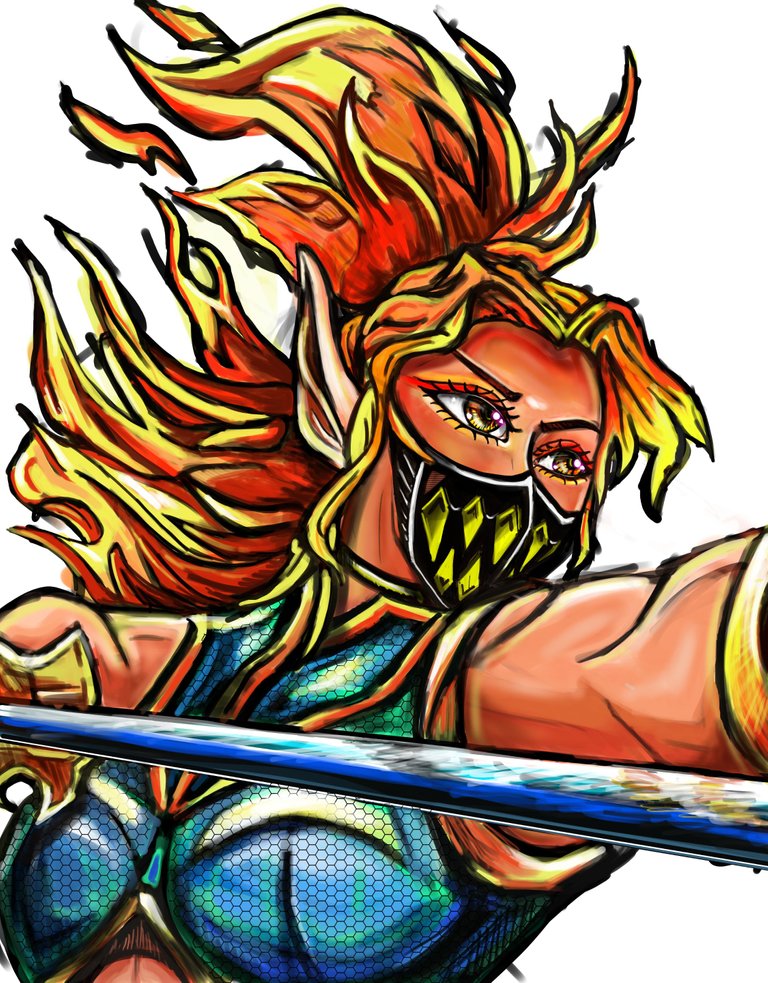 This was kinda of a random decision I made towards the middle of the drawing. Given the Covid story that is happening, I wanted to include something that is reflective on the current situation in the world, so I included a face fask and tried to make it work with the image.
Remember I placed a smile on her initially, now the face mask covers it so it does not really matter now lol
I then experimented a bit with the lighting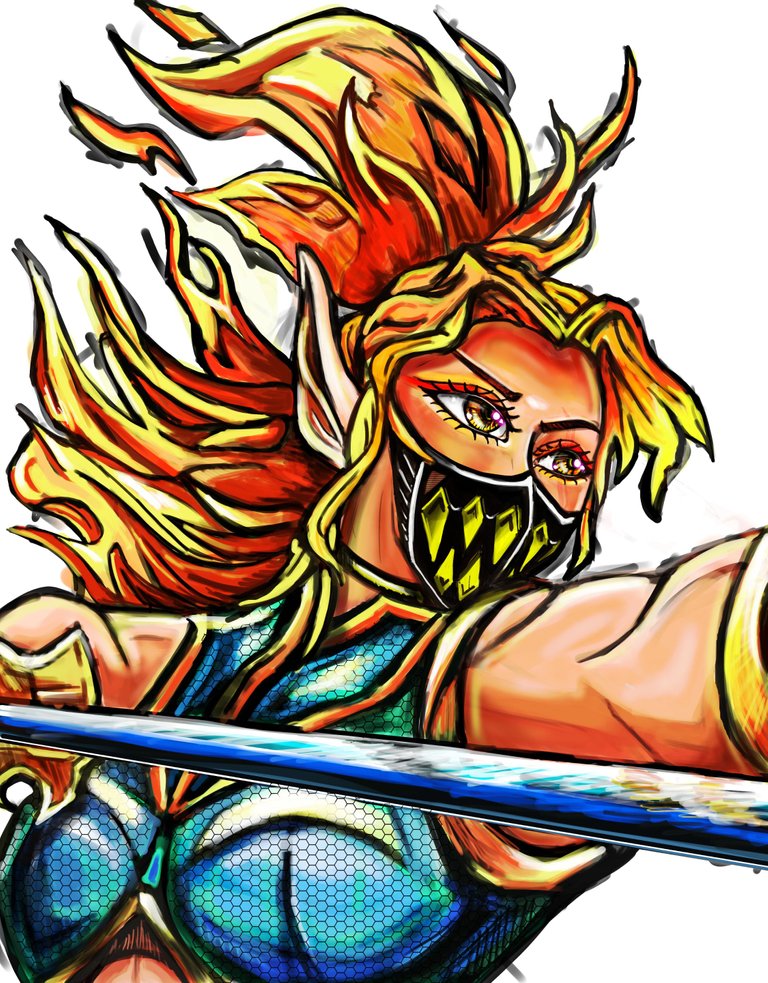 Not much of a difference, but it will come out when the background is added

Step 8: Add Background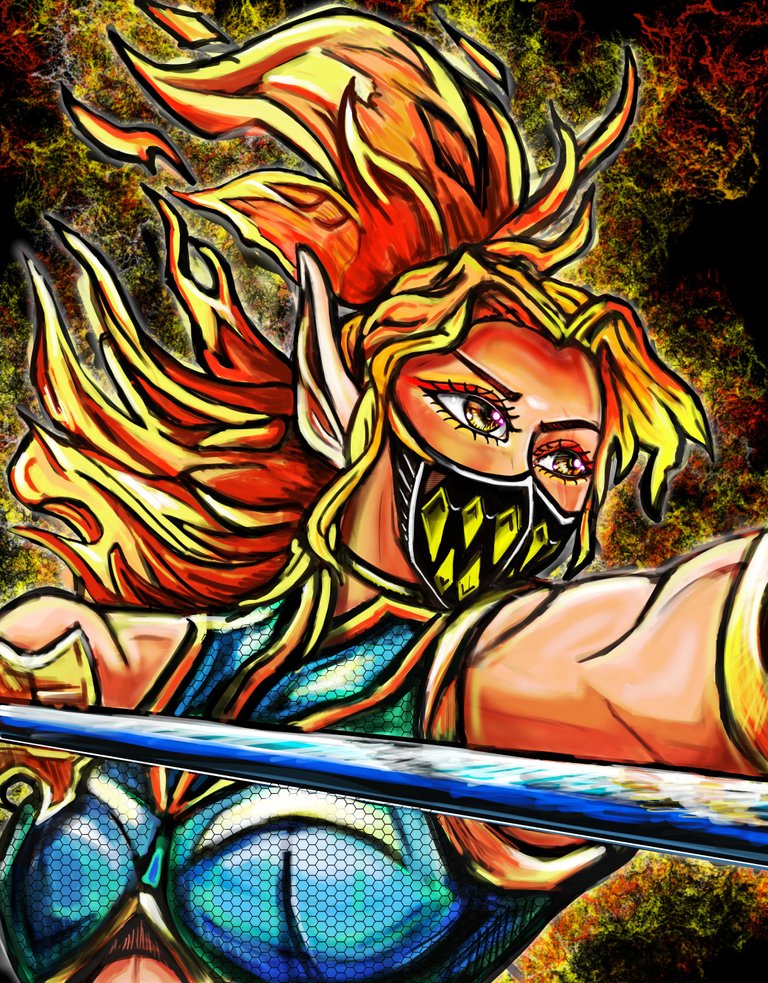 I wanted to add a Flame/Fire related background as Fina is a Fire Character. The background did take some time and I was happy with how it turned out.

Step 9: Add Border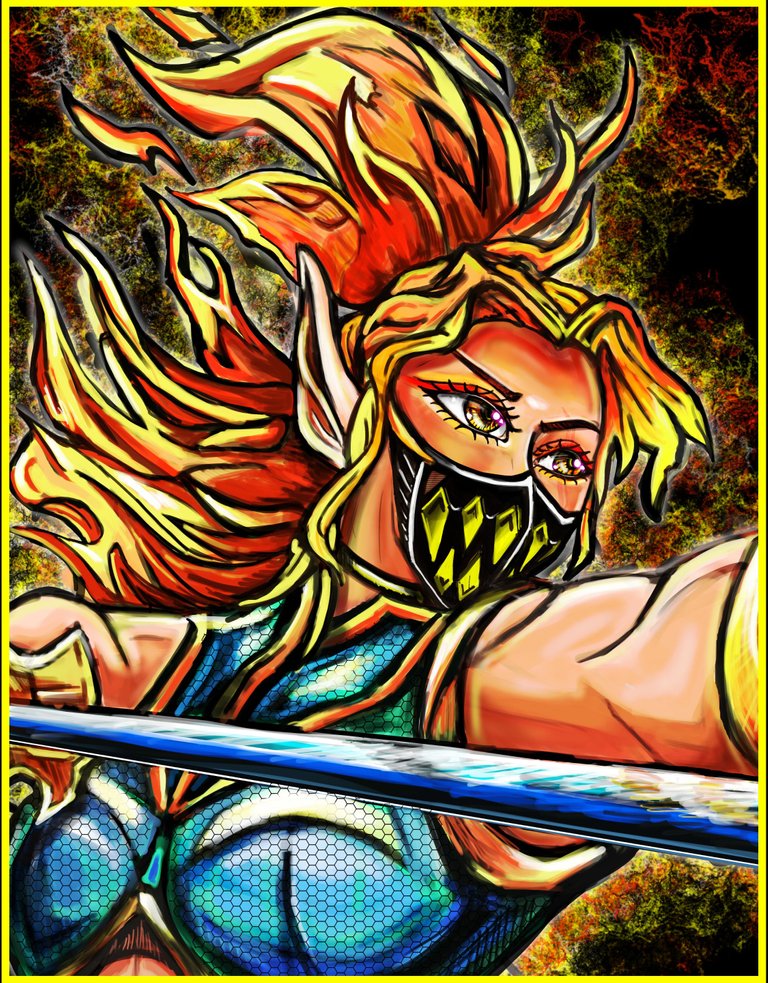 I wanted to add some card template border, but it may take off too much of the artwork, and I also dont know where I can find card templates so I just went with a normal Yellow Gold Simple border.

Step 10: Enhancements - Final
I wanted to include the Splinterlands Logo in the drawing. Lastly I experimented with other things for example the eye colour. I tried blue but in the end I think yellow still suited her better.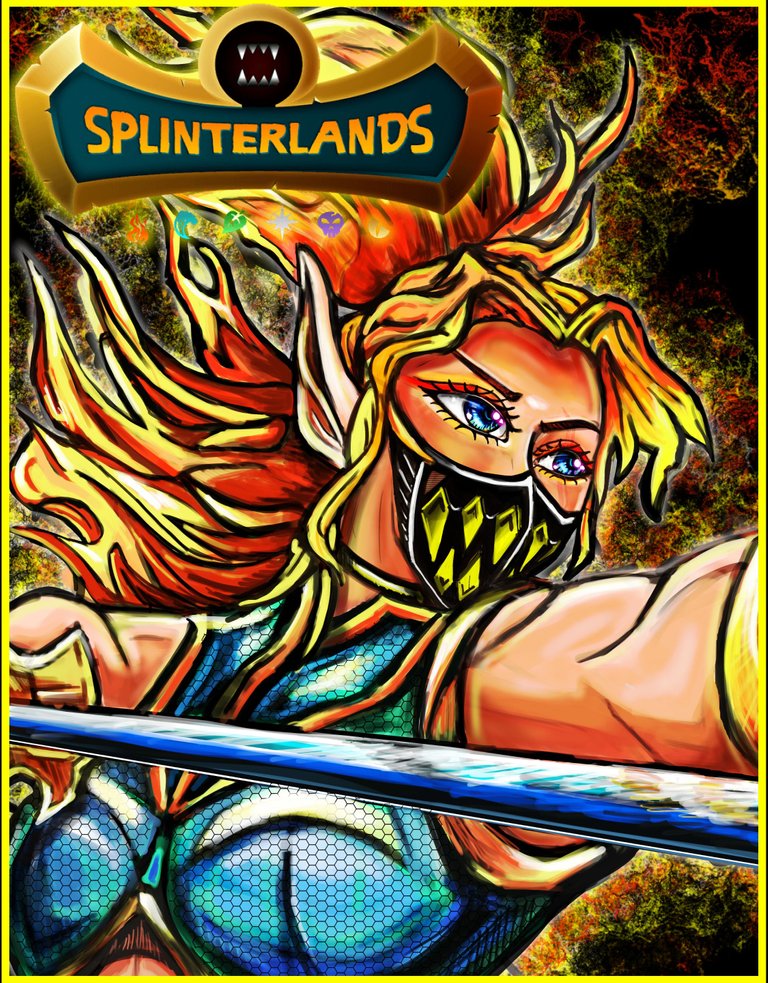 This can maybe be like her initial eye color, and when she is attacking and using her powers, her eyes become yellow.
Anyways, that is it for the Process. Hope you enjoyed the Post.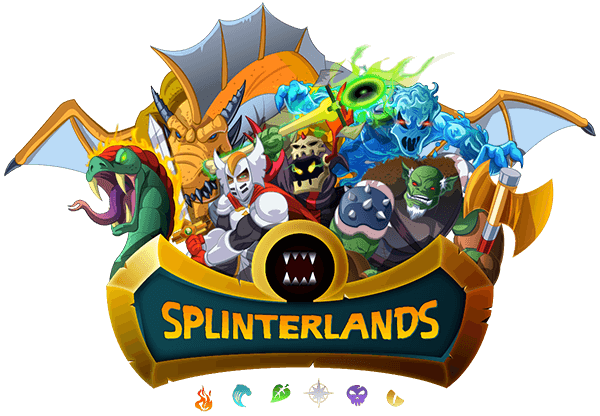 ---
The card images and banners/dividers are from @splinterlands and @flauwy. They are awesome and lightens up a Post.

REFERRAL LINK
If you want to give the game a try, here is my referral link.
Always do your own research before you put money into a game
https://splinterlands.com?ref=apprentice001
---
Hope that you enjoyed go through the post.
Would appreciate it if you like, comment and follow
Have an Awesome day

---
---