I started playing a new Hive game - dCrops, what is dCrops + Referral link + Giveaway - Check it out

Hello Community
---
---
I have enjoyed playing hive games,and when new ones come out, I give it a try. However, there have been a few that have come out hence I stopped for a while. Then with the rise of Splinterlands, I have decided to look at new ones which have come out.
This post will be going through a game called dCrops
---
What is dCrops
If you go to the website, you will see the following:
Built on the HIVE blockchain, dCrops is a cryptocollectible game where you are put in the shoes of a farmer. You have complete control of your farm where you can grow various crops.
Climb the leaderboard and get rewarded with CROP tokens.
Hodl your assets and increase your CROP power to get daily hive rewards. Complete quests to earn mystery seeds and other items!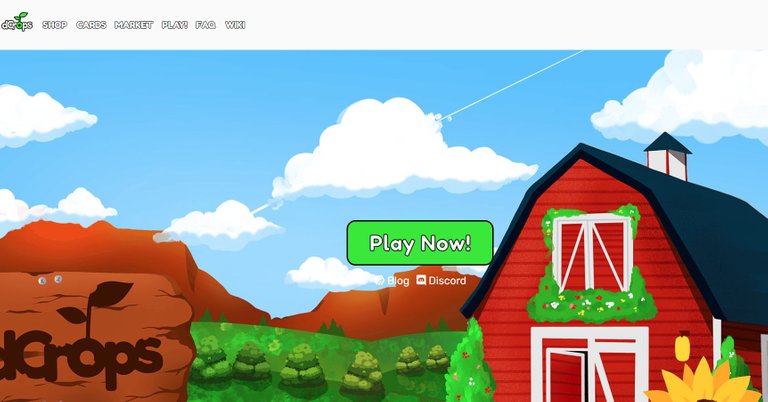 ---
Alpha Packs
There was a presale done on Alpha packs some months ago where 10k packs were sold. It sold out quite quickly.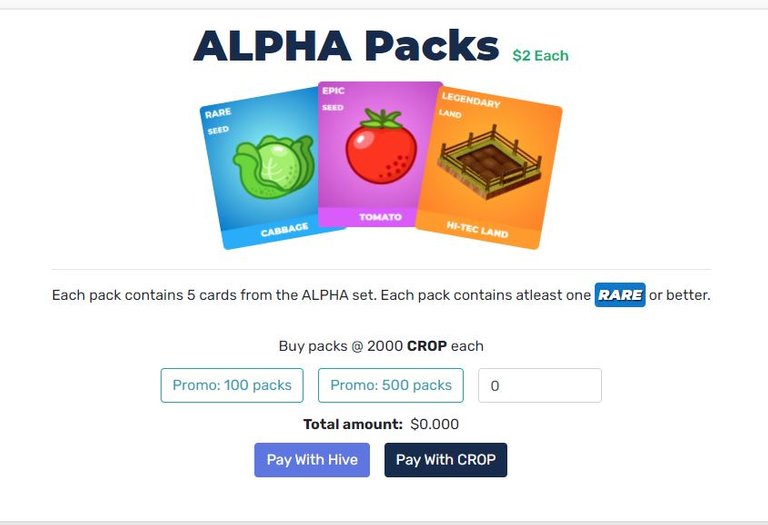 Now that the game has launched, there are 40k additional alpha packs on sale. There are currently around 31k packs left. Each pack cost 2$ or 2000 CROP. However, at the moment 2$ is cheaper than buying it with CROP token.
You get 10% bonus if you buy 100 packs at once, and 15% bonus if you buy 500 packs at once.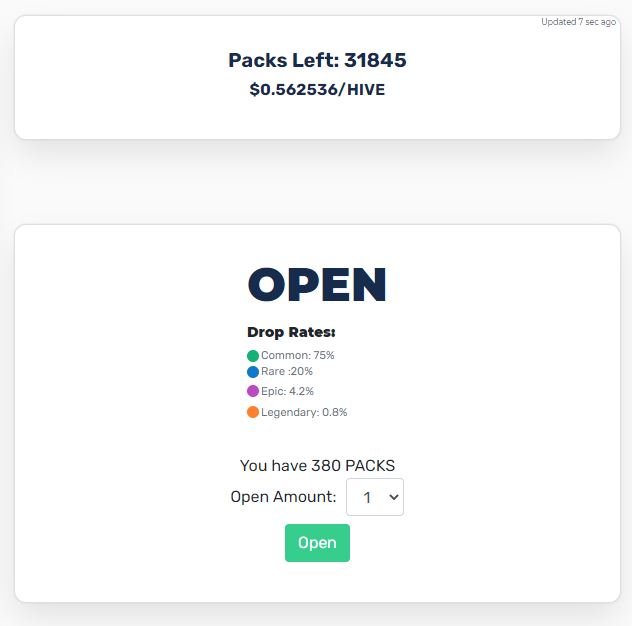 I wanted to try out the game, so I went for the 500 packs, and decided to open a couple of the packs.
---
How to play
From the Alpha packs, you get land cards and seed cards of different rarity. Basically you need to plant the seed in your land cards, such as what I have done below.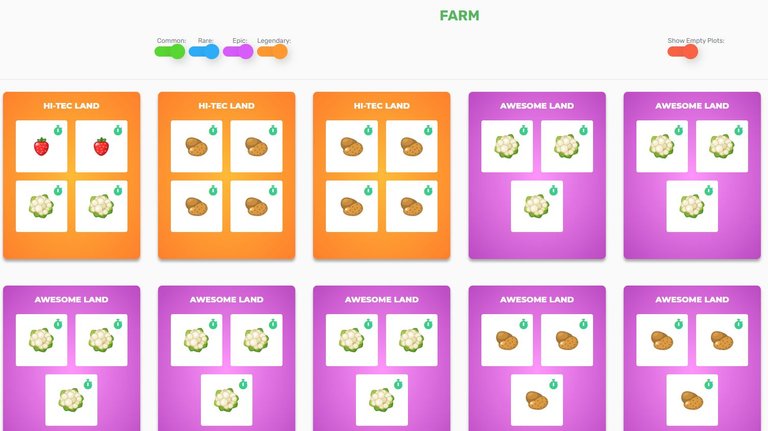 The orange squares are my legendary land plots. The purple ones are my epic land plots. You can see I then planted some seeds into the lands. Legendary can hold four different seeds, and epic can hold 3. Rares can hold 2 and common land only holds 1.
You then wait for your seed to grow into a crop, you can then harvest and sell the crop.
Once you sell the crop, you can then get a share of the season rewards. Lets take a look at the leaderboard
---
Leaderboard: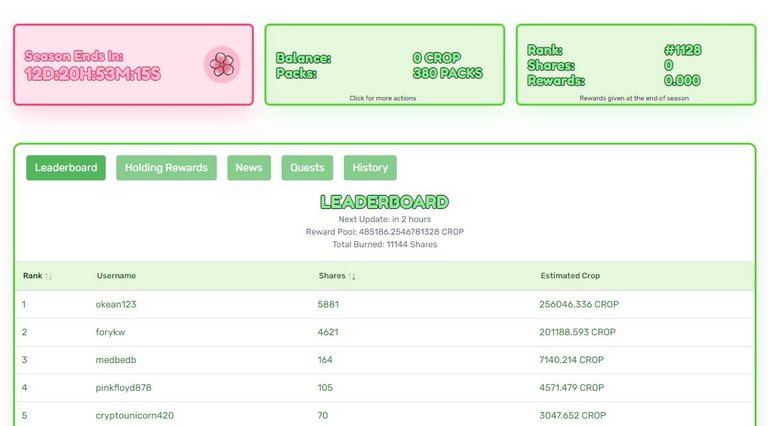 As you can see the top players have sold some crops for this season and are going to get that amount of crops at end of season. That is an estimate as other users will be selling crops too during the season, hence the estimate crops will change on a daily basis until the end of the season and distributed based on user's shares.
If you feel that is a pain, you can go for holding rewards, lets go through it quickly...
---
Holding Reward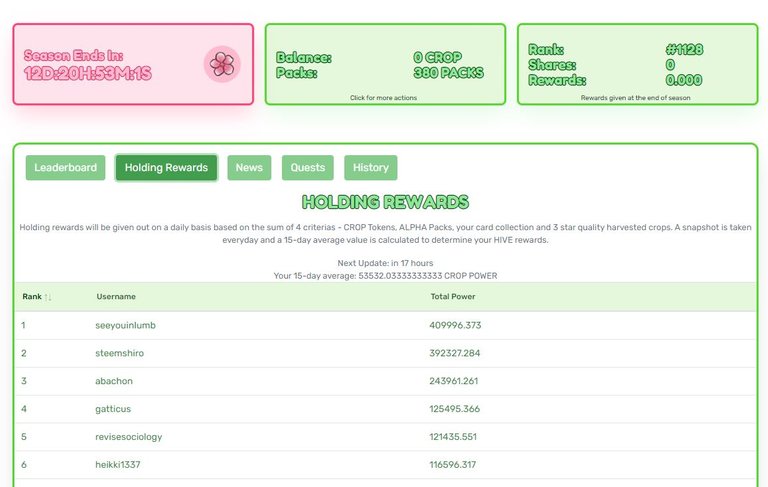 In essense, your holding power is calculated on 4 criteria:
CROP TOKENS
ALPHA PACKS
your card collection
3 star quality harvested crops
A snapshot is taken every day and a 15 day average is calculated. You will then be distributed some Hive based on your power. Do note that only users with a mininum of 20k power will be able to get holding rewards.
Check out this post for more information:
https://leofinance.io/@dcrops/earn-hive-by-holding-dcrops-assets-211-apy-details-inside
If you are interested in trying out the game, consider using my referral link before.
---
Disclaimer: Always do your own research before you put anything into the game. This is a risky market so make sure you are aware of the risks.
---
REFERRAL LINK + Giveaway
---
If you have done your research and are comfortable with the risk, here is the referral link:
https://www.dcrops.com/?ref=apprentice001
If this is your first time playing the game and you used my referral link (and log in for the first time to the site), please comment your username below in the comment section below. I will check that you are listed as a referred user and send you 1 common land card.
If you used my referral link, and also purchased at least one alpha pack I will then put your name in a draw with the chance of winning 1 epic land plot. I will be able to check it on the site and confirm.
Note: The promotion above will only last until 10 September 2021. The giveaway event will only happen for the first 50 users who use my referral link. The draw for the epic land will also occur on the 10th of September.
---
Hope that you enjoyed going through the post.
Would appreciate it if you like, comment and follow
Have an Awesome day
---
---
---