[ESP-ENG] La soledad me acompaña y el silencio me escucha- Haciendo catarsis con un poema
Amigos, tengan un lindo día. Hoy me complace traerles un poema que nace de lo más profundo de mis sentimientos.
A lo largo de la vida son muchos los sentimientos y emociones que experimentamos; unos más que otros, todo depende de las vivencias y de la manera que quedamos anclados a los sentimientos.
Friends, have a nice day. Today I am pleased to bring you a poem that comes from the deepest of my feelings.
Throughout life there are many feelings and emotions that we experience; some more than others, it all depends on the experiences and the way we are anchored to the feelings.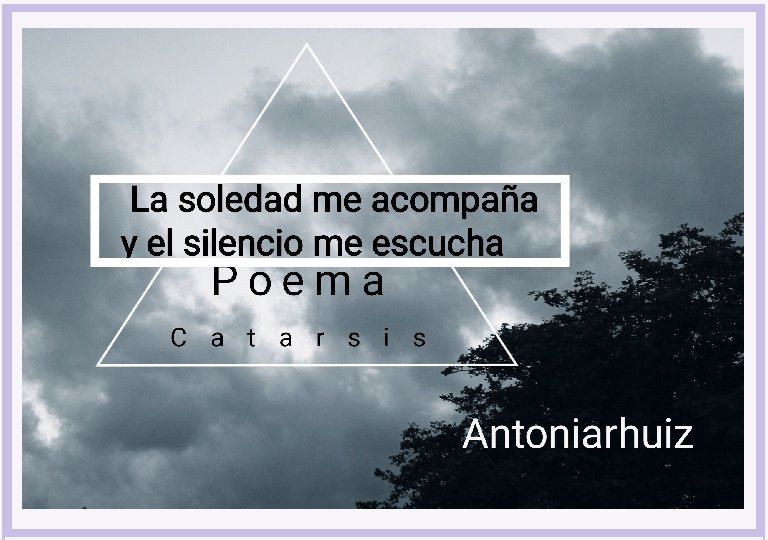 ESPAÑOL
La soledad me acompaña y el silencio me escucha.
Cuando siento tu ausencia, me falta la respiración y hay un vacío en mi corazón.
¡Dios porque permitiste su partida!
¿Qué hago con tanta tristeza?
Mi alma no soporta tanto dolor;
Las nubes de los recuerdos invaden mi cielo hasta hacerlo llorar.
Su sonrisa y su inocencia quedaron impresos en el lienzo de mi soledad.
Todo está oscuro cuando mis pensamientos vuelan hacia ti .
¡Cuánto daño me hace recordar!
Quisiera viajar en el tiempo para volver a tenerte entre mis brazos.
Mi torrente vibra por la pesadumbre de no tenerte;
Y mis lágrimas se deslizan por su cauce sin parar.
¡Cuánto te extraño mi amor angelical!
Quiebro mi fragilidad y me rompo en pedazos.
¡Lloro y la soledad me abraza!
¡Lloro y el silencio me escucha!
La melancolía me viste de nostalgia .
Me duele perderte y duele que me olvides,
¡Dios porque permitiste que lo arrancaran de mi raíz!
Envejezco y la planta de mi amor se deshoja lentamente.
En la soledad estoy ausente ,
sola con los bellos recuerdos que me golpean, hasta dejarme inconsciente.
La realidad me llama; no quiero regresar,
hipnotizada por las añoranzas,
decido continuar mi camino,
hasta que el tiempo termine de tejer mi moño con hilos de plata.
No sé si eres feliz, no sé si me recuerdas.
Tu risa y tus palabras hacen eco en mis oídos,
y solamente lo escuchan la soledad y el silencio.
Estoy al borde del abismo,
ruedo hasta el fondo,
y en la soledad le hablo al silencio.
La oscuridad se desvanece con la esperanza de que mis ojos brillen otra vez.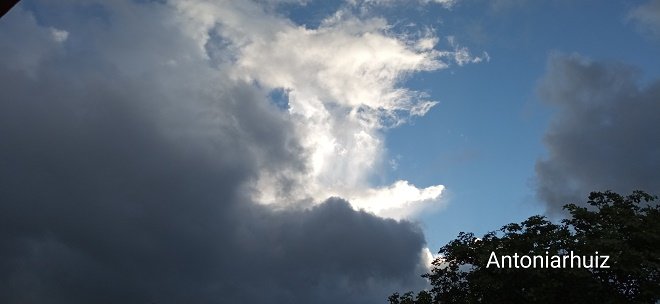 ENGLISH
Loneliness accompanies me and silence listens to me.
When I feel your absence, I am short of breath
and there is an emptiness in my heart.
God because you allowed her to leave!
What do I do with so much sadness?
My soul cannot bear so much pain;
The clouds of memories invade my sky until it weeps.
Her smile and her innocence are imprinted on the canvas of my loneliness.
Everything is dark when my thoughts fly to you .
How much it hurts me to remember!
I would like to travel back in time to hold you in my arms again .
My torrent vibrates from the sorrow of not having you ;
And my tears slide down its channel without stopping.
How much I miss you my angelic love!
I break my fragility and I break into pieces.
I cry and loneliness embraces me!
I cry and silence listens to me!
Melancholy dresses me with nostalgia.
It hurts to lose you and it hurts to be forgotten,
God, because you allowed it to be torn from my root!
I grow old and the plant of my love is slowly shedding its leaves.
In loneliness I am absent ,
alone with the beautiful memories that strike me, until they knock me unconscious.
Reality calls me; I don't want to return,
hypnotized by longing,
I decide to continue on my way,
until time finishes weaving my hair bun with silver threads.
I don't know if you are happy, I don't know if you remember me.
Your laughter and your words echo in my ears,
and only loneliness and silence hear it.
I'm on the edge of the abyss,
I roll to the bottom,
and in solitude I speak to silence.
The darkness fades with the hope that my eyes will shine again.
---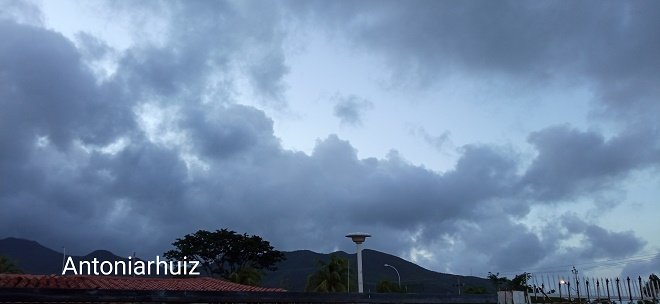 Ese poema me sirvió para aliviar un sentimiento de tristeza y nostalgia que me aquejaba en ese momento. No pretendo ser poeta pero es lo que brotó de mi corazón.
Hay situaciones directas, de las que somos responsables y otras que son generadas por terceros pero que igual nos afectan. Sin embargo, tenemos la opción de decidir si nos quedamos en el fondo o salimos a flote mostrando otra actitud que nos ayude a sobrellevar la situación.
That poem served to relieve a feeling of sadness and nostalgia that afflicted me at the time. I don't pretend to be a poet but it is what came from my heart.
There are direct situations for which we are responsible and others that are generated by third parties but that affect us just the same. However, we have the option to decide whether we stay in the background or we come out showing another attitude that helps us to cope with the situation.
---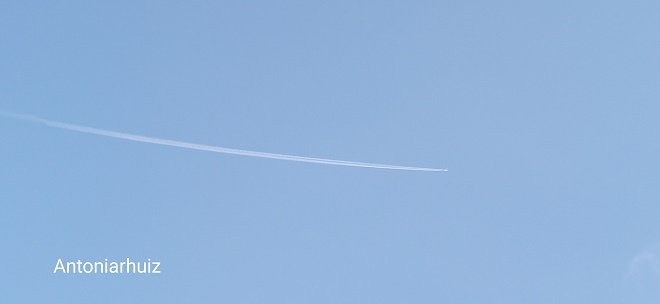 Todo se vive; el despecho, el duelo, la tristeza, la rabia, el rencor, la desilusión pero es nuestra decisión hasta dónde permitir que ciertas situaciones nos afecten.
Plasmar los sentimientos en forma de poesía, dibujo o simplemente escribir lo que sientes es una forma de hacer catarsis y drenar esa carga negativa que te deja suspendido en el tiempo y el espacio. En estos días aprendí que hacer un mandala es otra manera de liberar cargas.
Existe un diversidad de opciones cuya finalidad es desprenderse de cargas emocionales y estrés, tales como la meditación, yoga y cualquier otra forma que te haga sentir bienestar.
Everything is experienced; grief, mourning, sadness, anger, resentment, disappointment, but it is our decision how far to allow certain situations to affect us.
Expressing feelings in the form of poetry, drawing or simply writing what you feel is a way to catharsis and drain that negative charge that leaves you suspended in time and space. In these days I learned that making a mandala is another way of releasing burdens.
There are a variety of options whose purpose is to let go of emotional burdens and stress, such as meditation, yoga and any other way that makes you feel good.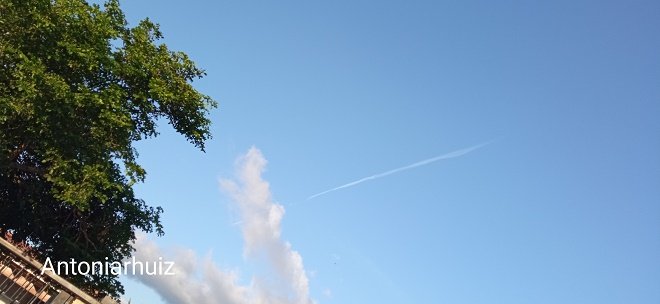 Vivir es la meta!! / Living is the goal.
---

Las fotos son de mi autoría, tomadas con un Redmi 9. / Photos are my own, taken with a Redmi 9. Translation done with the free version of the translator www.DeepL.com/Translator

---
---