HIVE is down 29.93 % within the last 30 days!! Time to buy?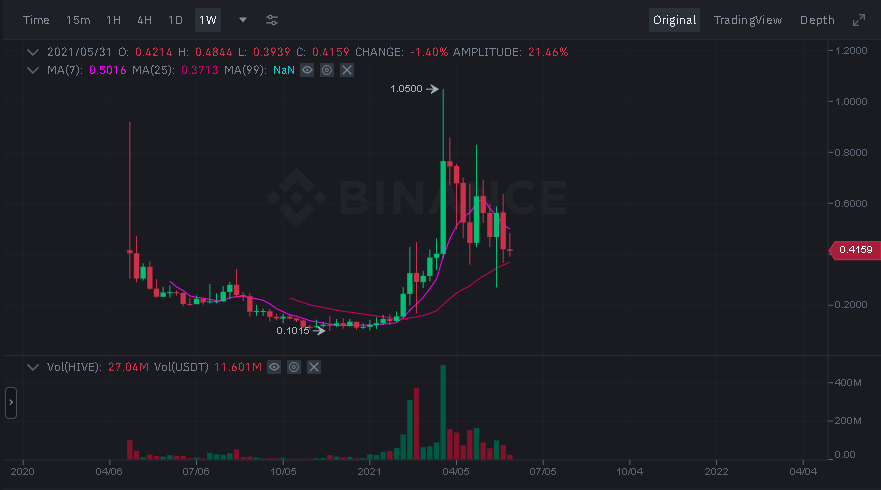 Is it a good time to buy some HIVE while its relative cheap?
Should you sell it before you lose your money??
Or maybe HODL (keep) your cryptocurrency and wait for the right time to sell and make money, not lose them.
(But the risk of losing is always there)
The price of HIVE is down 29.93 % over the past 30 days according to Binance so it might be a good investment right now for the longer run or maybe only for a week or two. Who knows? I must have some of them for that price. It can only go better.
I really hope so. And lets hope the community grows even bigger and better and you should tell those you know about the HIVE-ENGINE and recommend it for them if you think it would be something for them. Im beginning to really like the HIVE-ENGINE, Lassecash.com Weedcash.network and Peakd because of the friendly, understanding, and smart people using and maintaining the services. The founder of Lassecash (Lasse) helped me getting started with blogging for the first time in my life and im getting better day for day. Back when i was still confused about this kind of secure social media with a reward system, and i can call it a success in my eyes and people are blind these days or just dont care. Please give those who created the HIVE-ENGINE, the developers behind Lassecash and Lasse himself some props for their amazing work. All the time i have spend on this kind of a social media are worth it. Posting on a social media like lassecash.com or weedcash.network is a lot more fun when you dont get tracked with almost every move like Facebook do, and there are crypto-currency rewards for your posts instead of Facebook making money of you almost for free. Facebook is tracking you like crazy and is stealing data from you they can use for marketing.
They are stalking you daily and they make you watch comercials and advertisements at the same time so they can make a lot of money. They can make you pay more for the same products from the stolen data they got from your browser or otherwise. They simply analyse you and your behavior for example when you spend money, where you spend them and on what.
---
---