(EN endTR) EN/ Snow: the wedding dress of the night TR/Kar: Gecenin gelinliği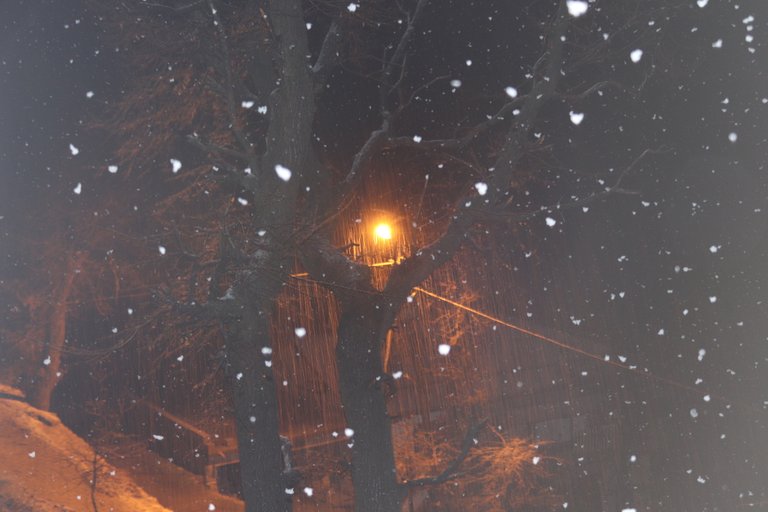 EN
Hello, good evening everyone. I hope you are fine. I am very happy that the snowfall that I have been waiting for a long time has started. I happily took my camera and rushed outside. I took my umbrella with me to protect my snow machine. I had a difficult experience with a machine in one hand and an umbrella in the other. I realized late that I went out in slippers because my brain is still accustomed to normal weather. I don't know when I would have noticed if my feet weren't wet :)
While I was looking for a title for the photos, I thought of the wedding dress of the night. The snow that turns the pitch black night white...
TR
Merhaba, herkese iyi akşamlar. umarım iyisinizdir. uzun zamandır beklediğim kar yağışı başladığı için çok mutluyum. o sevinçle fotoğraf makinemi alıp dışarıya fırladım. Kardan makinemi korumak için şemsiyemi de aldım yanıma. Bir elimde makine öteki elimde şemsiye ile zorlu bir deneyim yaşadım. Beynim halen normal havalara alışkın olduğu için terliklerle dışarı çıktığımı geç fark ettim. Ayaklarım ıslanmış olmasa ne zaman fark ederdim bilmiyorum :)
Fotoğraflar için başlık ararken aklıma gecenin gelinliği geldi. Simsiyah geceyi beyaza bürüyen kar...
---
---