Rising star - 1,000 Total Missions Completed! | Rising Star - Total de 1000 Missões Completadas! | EN/PT
English version (versão em Português mais abaixo)
Rising Star is a game here on the HIVE blockchain, in which we have to try to become a famous rock star. By doing gig missions, we can earn crypto in the form of the game's token called Starbits that can be traded for other cryptocurrencies on Hive Engine.
I'm trying to see where I can get without spending money on any cards, and without spending or selling the Starbits I earn in the game. It's taking a while, but I'm making progress, slowly but surely... it's been two months since my previous post about the game, when I had completed 500 missions and was around level 32. Last weekend, at level 53 and with around 62k Starbits, I reached 1,000 total completed missions, and got a free pack with 3 cards! The cards inside the pack were:
R50 Ali: gives 100 Fans, 3 Luck, 150 Skill and 1 IM.
i34 Cheap Kettle Drum: gives 5 Luck, and increases Skill rewards from percussion lesson missions.
17 Moon Child: gives 8 Fans, 1 Luck and 3 Skill.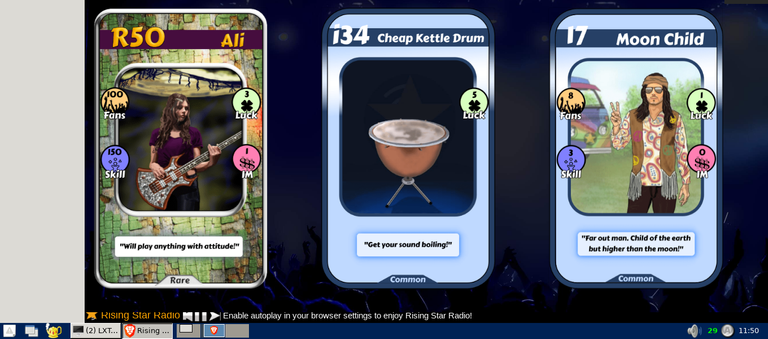 Image source: screenshot from risingstargame.com
These cards got me to 238 permanent fans, and now I can go straight to the "Saturday Support" mission without needing to grind for temporary (drunk) fans. I got enough temporary fans to do the "Saturday Headline" mission once and was able to access the next zone, but this is as far as I've gotten because the other zone's missions require more fans. Also, both the "Saturday Support" and "Saturday Headline" missions consume almost all of the energy bar, and I think I need more Pizza Boxes (to carry energy restoring pizza). I hope to get more permanent fans and, who knows, maybe another Pizza Box from the next free card pack I manage to get. Before that, though, my next goal is to reach 100k Starbits (and resist the temptation of spending them all on the "12 card packs for the price of 10" promotion! :P ).
---
---
Versão em Português
Rising Star é um jogo aqui na blockchain do HIVE, em que temos que tentar nos tornar um famoso astro do roque. Ao completar missões de shows, podemos ganhar criptomoedas na forma de Starbits, o token do jogo, que pode ser trocado por outras criptos na Hive Engine.
Estou tentando ver até onde posso chegar sem gastar dinheiro com cartas, e sem gastar ou vender os starbits que ganhei no jogo. Demora um tempo, mas estou progredindo, devagar e sempre... já faz dois meses desde o meu post anterior sobre o jogo, quando eu tinha completado 500 missões e estava lá pelo level 32. No último fim de semana, no level 53 e com cerca de 62 mil Starbits, cheguei à marca de mil missões totais completadas e ganhei um pacote com três cartas! As cartas de dentro do pacote eram:
R50 Ali: dá 100 Fans, 3 Luck, 150 Skill e 1 IM.
i34 Cheap Kettle Drum: dá 5 Luck e aumenta as recompensas de Skill que podemos ganhar em missões de aula de percussão.
17 Moon Child: dá 8 Fans, 1 Luck e 3 Skill.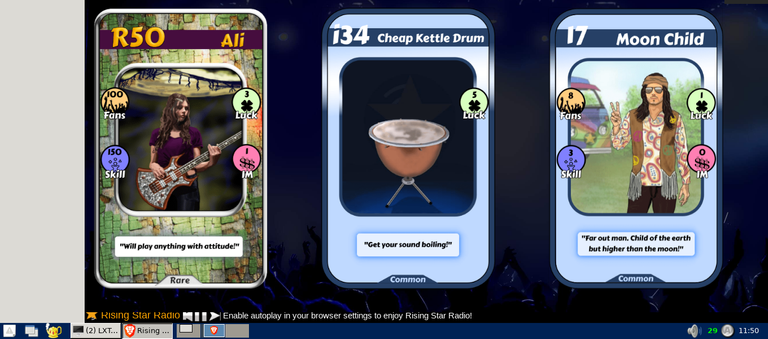 Fonte da imagem: captura de tela do site risingstargame.com
Com a adição destas cartas, fiquei com 238 fãs permanentes, e agora posso ir direto para a missão "Saturday Support" sem precisar ficar repetindo missões anteriores para conseguir fãs temporários (bêbados). Consegui fãs temporários suficientes para ir na missão "Saturday Headline" uma vez e obtive acesso à próxima zona, mas isso foi o mais longe que cheguei porque as missões da outra zona exigem mais fãs. Além disso, tanto as missões "Saturday Support" quanto a "Saturday Headline" consomem quase toda a barra de energia, e acho que preciso de mais Pizza Boxes (caixas de pizza para armazenar as pizzas que restauram energia). Espero conseguir mais fãs permanentes e, quem sabe, talvez outra Pizza Box no próximo pacote de cartas que eu ganhar. Mas antes disso, meu próximo objetivo é chegar em 100 mil Starbits (e resistir à tentação de gastar tudo na promoção de "pague 10 pacotes de cartas e leve 12"! :P ).
---
---