Allu Arjun's Pushpa shows Telugu films have pan-India audience. Step aside, Bollywood
![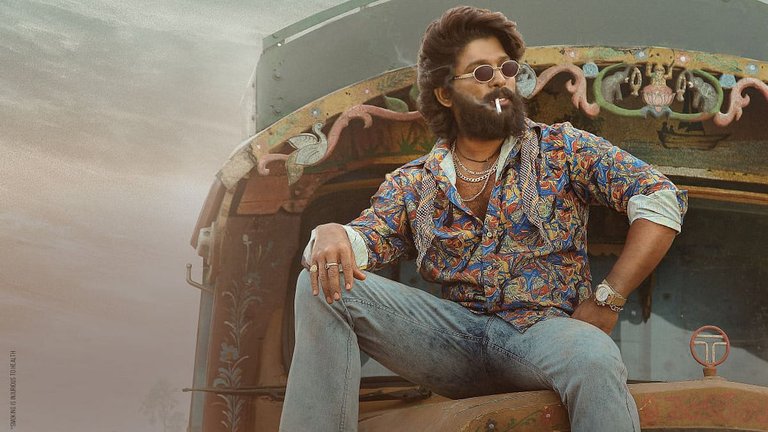 magazine a typical Salman Khan blockbuster but with competitive story-telling and the commendable supporting cast — that pretty much sums up the first installment of the two-part film series Pushpa: The Rise for you. Forget logic, the Allu Arjun starrer has enough star power and masala to qualify as a mainstream theatrical powerhouse.
Such was the magnitude of the Telugu film that it was able to not just compete, but mark a significant dent in the collections of Spider-Man: No Way Home, Marvel's legacy franchise, when it was released in theatres on 17 December 2021. And that success percolated into OTT when the film's Hindi version was released on Amazon Prime Video on 14 January 2022.
The film chronicles the rise of its hero — Allu Arjun's titular character, as he goes on to become the head of a smuggling syndicate of red sanders from a coolie. Red sandalwood is found exclusively in the forests of the Seshachalam Hills of the Rayalaseema region in Andhra Pradesh.
Struggles with dubbing in Hindi version
The hero of the Sukumar-directed film, Pushpa Raj, looks like any ordinary man (no flat board abs to appreciate, sorry) with a tragic backstory. Pushpa, time and again, emphasizes his routine struggle with having no surname because he was born out of wedlock. However, with all his ordinariness, Pushpa seems to also have a superpower — getting out of any tricky situation unharmed. To be fair, there are some superficial attempts to make him look stuck, albeit for two-three scenes. It seems the hero is omnipresent, well aware of all his adversaries' plans. There is absolutely nothing that can bring him down!
The Hindi version tries to recapture the magic and nuances of the rags-to-riches Telugu saga but falters. In the dubbed version, the introductory scene of Allu Arjun is a play on Shah Rukh Khan's famous dialogue 'Rahul, Naam toh suna hoga'. A police officer asks Pushpa Raj who he is, to which he responds, "Pushpa, Naam yad mat rakhna (Pushpa, don't remember my name)". This is diametrically opposite to what Pushpa said in Telugu! In the original version, the cop asks him his name and enquires if he is Tamilian, to which the character introduces himself as a 'hardcore Telugu'.
Even the superb Fahadh Faasil's Telugu debut as SP Bhanwar Singh Shekhawat seems caricature-ish and forced in the Haryanvi dialect.
Either the audience needs to adapt to what South Korean film director Bong Joon-ho suggested at the Oscars ("Once you overcome the one-inch tall barrier of subtitles, you will be introduced to so many more amazing films") or the filmmakers and streaming platform need to do a better job at capturing the authenticity of a film via subtitles and dubbing.
Rashmika Mandanna's Srivalli has a promising introduction in the nearly three-hour-long film, but gradually, the character follows the template of a 'heroine' from masala films of the '90s. To give Mandanna credit, she plays her part to the T, but there isn't much for her to do besides being a reason for Pushpa Raj to showcase action that defies the laws of physics. Such projection of leading ladies in films may seem dated in today's day and age, but Pushpa: The Rise unabashedly uses it to promote its hero's 'charm'. Telugu actor Samantha Ruth Prabhu also has a cameo, or what is often described as an 'item song', that is a cliche in a masala entertainer.
How South Indian films have decoded the pan-India formula
The Covid pandemic has gently nudged the Indian audience into the world of regional movies, diversifying their cinematic appetite. OTT platforms like Netflix, Mubi, Prime Video, and Hotstar have aided this. A conversation with cinephiles about new films can prove that (looking at The Great Indian Kitchen, Drushyam 2, and RRR).
Shot in Telugu, Pushpa: The Rise has been dubbed in Malayalam, Tamil, Kannada, and Hindi with its pan-Indian intention. The film garnered Rs 173 crores worldwide on its opening weekend. It was also the highest-grossing Indian movie in 2021.
A pan-India trend in movies, which is often credited to S. S. Rajamouli's epic saga Baahubali, is not some overnight success formula but has been in the making for over 20 years now. As Bollywood producer-director Karan Johar pointed out in a Film Companion adda, the "real impact" has come in from satellites. Many South films, dubbed in Hindi, have graced our television screens for several years (along with Tarzan: The Wonder Car and Sooryavansham). That is, perhaps, the reason why a south megastar like Allu Arjun was able to bring in people to the theatres or watch his film on the web because he had been luring them from the small screen for years.
"Pan-India is a phenomenon we cannot diminish or dilute," Johar said during a roundtable discussion of the Hindi film industry's producers.
And that's not just it, many films from the South are also exploring the model of sequels and multi-part movies. The theatrical popularity of KGF Chapter 1 (2018), Baahubali (2015), and Baahubali 2 (2017) are classic examples. Pushpa: The Rise also happens to be the first in a two-part series, with Pushpa: The Rule being next in line.
It appears that the South, unlike Bollywood, has cracked the new recipe of commercial cinema — the grandeur, larger-than-life hero/anti-hero, and the old trope of good-vs-evil. Gone are the days of Rs 100, 200 crore single-hero films, a big-scale ensemble cast with the story as the hero is the way to get the box office going now. Language no bar.
---
---