UFC 275 was MADNESS!
When it comes to UFC pay-per-view events, UFC 275 on paper looked a tiny bit underwhelming compared to past events.
Boy, was I wrong! I only got a chance to watch most of the main card, and man I am extremely happy I caught them!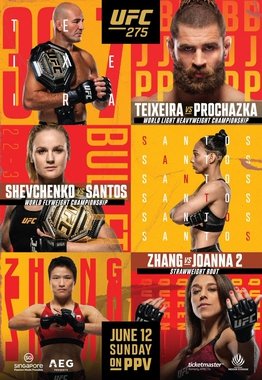 Zhang Weili knocks out Joanna Jedrzejczyk in their re-match, Joanna retires!
This fight was fun while it lasted! These ladies went back and forth as though it was an extension of their first thrilling battle in 2020.

The fight was competitive, but it was slowly becoming clearer as the fight went on that Zhang was not only the better fighter, but she also had a great game plan going into this one. Zhang implemented wrestling with some significant success, and while Jonna did hang in there and compete the best she could, Zhang's well rounded game plan and skills just seemed to keep Joanna guessing until Zhang found the mark with a lethal spinning backfist that landed on the money and knocked Joanna out.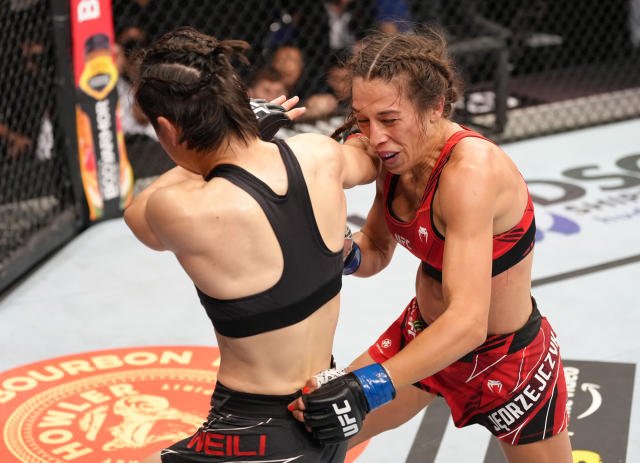 The fight was short and sweet and pretty entertaining, but what made the fight more sort of memorable was the fact that Joanna retired after the bout!

While it is kind of sad to see Joanna retire after a pretty devastating knockout, it kind of just is what it is. I don't think MMA fans really judge Joanna's legacy or skills to harshly after retiring after a loss. I'd say it's nearly impossible to never lose in MMA. If a fighter keeps fighting, they will lose eventually. Perhaps due to injury or age, but still.
Joanna's career ended with a fair amount of losses towards the end, but I don't actually think her career ended all that ungracefully. Yes there were a fair amount of losses, and she was knocked out twice but it was also against very high level competition and the majority of the time it was for a championship belt.
Joanna was really just a solid champion. She was dominant and for a time it seemed like she was almost unbeatable. She was a champion that defended her belt FIVE times! She is a straight up legend and OG of woman's MMA and of MMA period. She absolutely helped carry women's MMA for a number of years, just by being so dominant and fun to watch.
Women's MMA wouldn't be the same without Joanna, congrats on a great career!
When Joanna became Strawweight Champion! UFC 185, Dallas Texas, March 14, 2015.


A lot of these are of crap quality, it is what it is LOL. Here's a nicer, more general video on the highlights of her great career. Joanna will certainly be in the Hall of Fame!

---
Valentina Shevchenko defends her title in a RAZOR thin split-decision victory over Talia Santos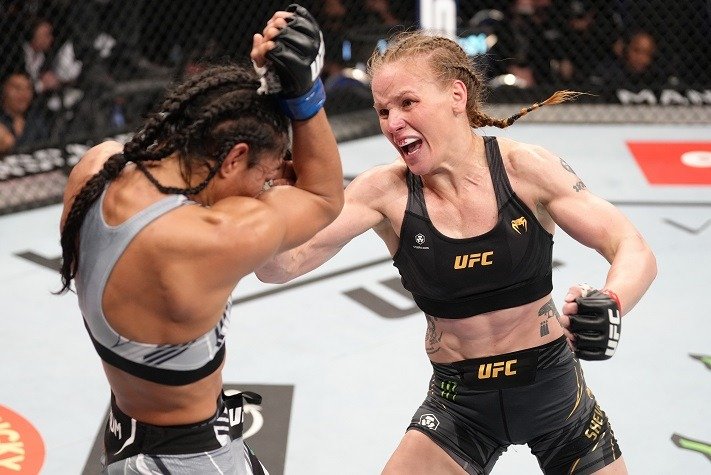 This championship fight was INTENSE. I'm a big fan of Valentina. I love watching her just dominate her competition as she's been doing for many years now. I was expecting more of the same tonight, but that's not at ALL what I witnessed.
What I did witness, frankly, was a tense, very even matchup. If I'm being honest I'm unsure if Valentina actually truly won! Talia Santos seriously made a statement this evening. Santos was a shade better than Valentina in the grappling department and even took Valentina's back I believe several times, and was quite eerily close to a rear naked on multiple occasions!
Valentina did seem to stabilize the fight a bit though and started to score herself. Valentina one way or another, scratched and clawed her way to making the fight more even.
The fight got gritty and dirtier over time and that's where Valentina seemed to thrive. Santos MAYBE won, but I truly believe this was one of those fights where it wasn't an obvious enough win for Santos. For a challenger to defeat a champion, and a dominant champion like Valentina has been, it's never a good thing to force the judges to squint and turn their head when making a decision. You've gotta win clearly as the challenger. Perhaps that's unfair to the challenger, perhaps that's nice little perk of being a great champ.
No matter what though, Talia made a real statement. No other strawweight has fought Valentina as well as she has. It's kinda not even close. I actually always had a gut feeling that Talia could be a problem. Her stock as a fighter went way up after a performance like that. Perhaps this is a preview of what's to come, or perhaps Valentina has been sitting too pretty as champ and became complacent?
Maybe some other strawweights are feeling confident tonight... This division just got a little more interesting!
Talia was very very humble and gracious after the fight. I am becoming a fan! Still love Valentina too of course LOL.
---
Glover Teixeira loses his belt in heartbreaking fashion to Jiří Procházka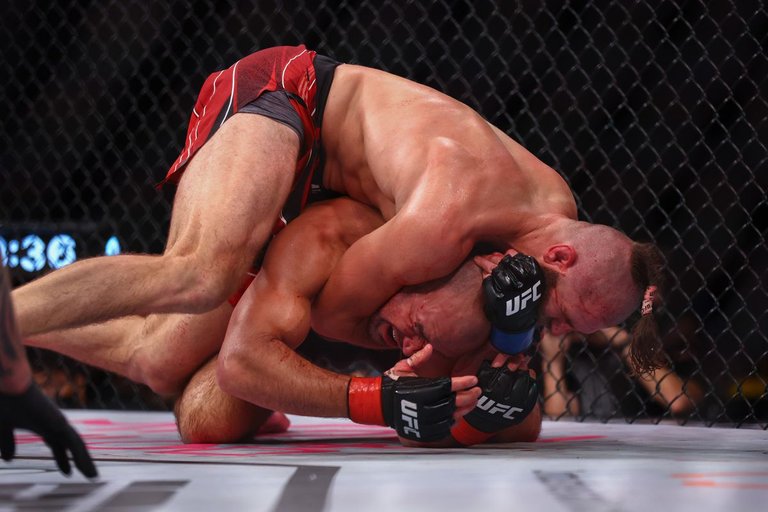 Man, I was so ready to make an epic post about Glover. He was SOOOO close to winning this thrilling fight, but it wasn't meant to be. Perhaps this make's Glover's story more romantic. The old vet who finally got his belt loses the belt to a young ABSOLUTE DAWG in Jiri whose home country in the Czech Republic, is currently literally at war with Russia.
I was definitely kinda heartbroken when Glover lost in the very last round, but nevertheless, what I watched between Jiri and Glover was pure entertainment, non-stop adrenaline, back and forth, Rocky Balboa reminiscent, legendary vet versus fiery young stud hand to hand combat.
That paragraph may not have made sense, but this fight I just watched also made no sense. Both fighters nearly were finished like eight different times. Both of these men came from different parts of the world, born in different decades and somehow fate brought them to Singapore to put on an unforgettable fight. Might be a top five fight. Might be a Hall of Fame fight.
Glover seems to have found the fountain of youth, while Jiri probably learned a lot in this extremely hard fought victory.
Glover almost won, but in MMA there are countless 'almost' victories. Glover fought valiantly, and obviously still has it even though he's in his forties.
What a great attitude by Glover. Inspirational and wholesome LOL. For real though. Legend.

Jiri seems like a prideful guy and he probably wouldn't admit it, but I imagine this is the deepest he's ever had to dig to get a win.
Jiri is a champ just three fights into his UFC career. Wild. I feel like I barely know the kid as an MMA fan LOL.
This was simply an instant classic, that left me speechless afterwards. There's really no words that I can find, that would do this fight justice. So amazing. Both fighters' legacies grew tremendously this evening.
Congrats to the new champ!

---
---