Thanks, Big Papi. David Ortiz, Red Sox and MLB Legend, gets inducted into the Hall of Fame!!
My goodness. What a week full of nostalgia. First, that new Spiderman movie (SPOILERS) blew my mind, and now Big Papi is officially a Hall of Famer? I'm simply getting too old. What is going on? LOL.
When I first heard the news that David 'Big Papi' Ortiz was being elected into the Hall of Fame, I got many of the exact same feelings that Spiderman: No Way Home gave me. Nostalgia, happiness, a tiny bit of sadness at my forever gone childhood. A lifetime of memories flooded back into my mind, just like what the Spiderman movie did. Unbelievable.
In 2003, I was eight years old, and that spring I joined baseball for the first time. Then a few months later, during that summer I visited my papou (Greek for grandfather) up in Connecticut. It was a two week trip and I can honestly say those may have been the two most impactful weeks of my life. I didn't realize it at the time, but those two weeks were the closest resemblance of me having a father I've ever had. It was such a great trip, that I think about maybe almost everyday. At least super often.
I learned so much from my papou. Simply from his demeanor. I got used to the YES television network that was the local TV station in Connecticut and I believe much of the New England area. I learned about how to read the standings in the newspaper thanks to my papou. I learned to respect the newspaper. I learned about baseball from my papou. So much about baseball. Watching baseball with my papou will be something I never ever forget. Just perfect memories. That trip was nineteen years ago. I remember much of it like it was yesterday.
His favorite team is still the Red Sox of course and during that trip in 2003 I watched plenty of Red Sox games with him, along with Oakland A's games, who were my team. I was a bit of a fan of the Red Sox too at times simply because my papou liked them. I knew the 2003 Red Sox lineup really well. Pretty sure Jason Varitek was there, Johnny Damon, perhaps Youkilis? Curt Schilling perhaps? Manny Ramirez.
But of course, how could I forget the big slugger with the big smile and personality, DAVID ORTIZ. That iconic batting stance, his short looking, quick, aggressive swing. That's how I describe it anyway.
That 2003 season, was David Ortiz's first big season. It was his first as a Red Sock too!! In 2003, he hit his, at the time, career high in homeruns. I knew none of these things at the time of course. Maybe I can figure out which weeks in that 2003 summer I was in Connecticut.
Even after that amazing life-changing trip of mine came to an end in 2003, David Ortiz would go on to play for thirteen more seasons and he was productive in every single one of those seasons. Sadly, I stopped playing and watching baseball for awhile. Loosely of course I kept track and many years past like, 2012, I was shocked this guy was still playing pro baseball. My perspective of time was so limited that it felt like Big Papi was too old to keep playing, but as the years passed he kept trucking away. Impressive.
Now, so many years later it all comes full circle and eight year old me comes roaring back to life in my brain because of this news.
It almost feels like those two weeks of my childhood up in Connecticut are now in the Hall of Fame too, with David Ortiz. Big Papi.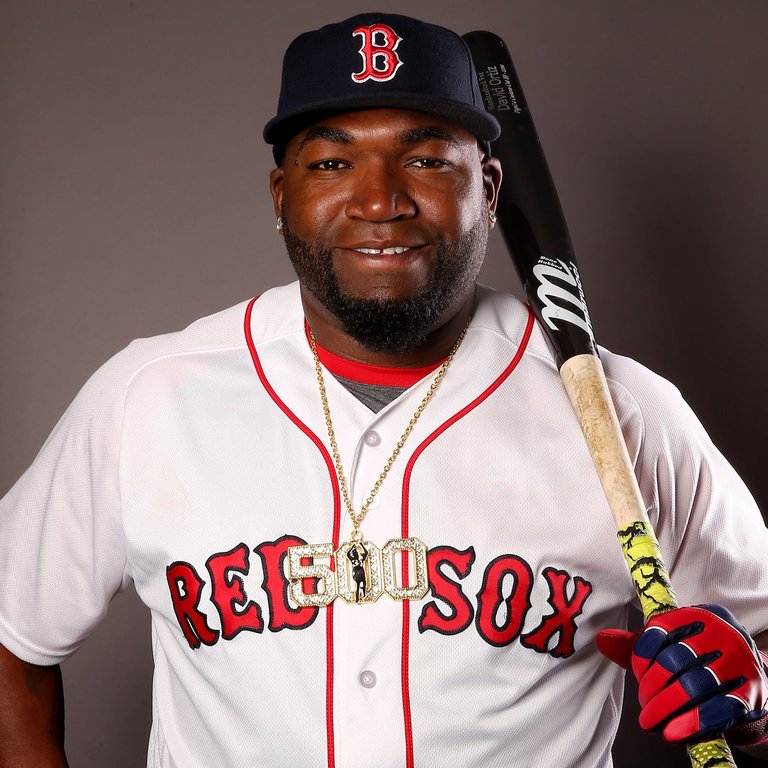 Funny thing is, I used to call my other grandfather-figure papi, since he was Columbian.
---
Why exactly is David Ortiz a Hall of Famer though? Simple. He was easily one of the best and most consistent hitters ever. All around this guy was simply born to hit a baseball. He was clutch too. He is a champion several times over.
GOOSEBUMPS. The freaking nostalgia is kind of borderline unbearable LOL.

Here are some of David Ortiz's best stats and awards from his amazing career TWENTY year CAREER:
541 Homeruns
2,472 Hits
632 Doubles
1,768 RBIs
.286 Batting Average
3x World Series Champion
2013 World Series MVP
10x All-Star
2004 ALCS MVP
7x Silver Slugger
2x AL Hank Aaron Award
Roberto Clemente Award
3x AL RBI leader
RED SOX LEGEND
Amazing. In 2016, his final season as a pro, he was still elite. He got MVP votes!!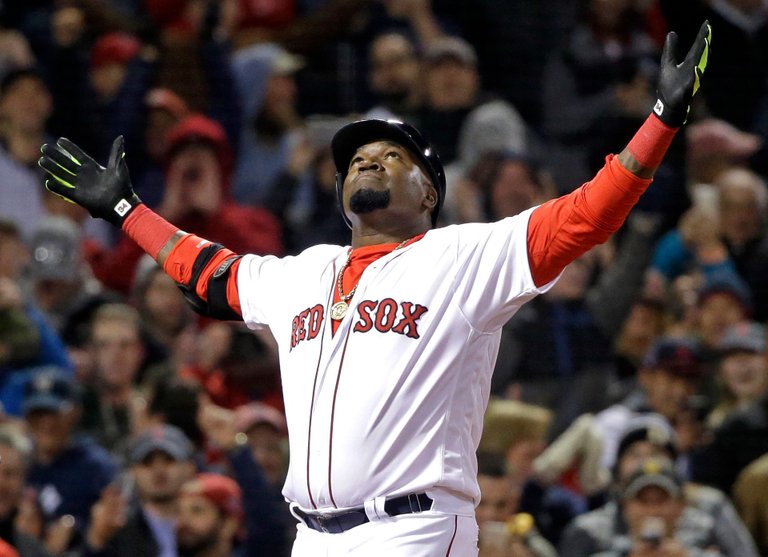 It's sad for me to see the decline in baseball. I still love the sport, I should get back into it again. Baseball requires patience to watch. Unlike football or other instant gratification sports.
Baseball was the most important thing in my life for a few years.
But anyway, David Ortiz is like a permanent fixture in my brain. This is why I love sports. I know for a fact that many millions of other people are happy to see David Ortiz in the Hall of Fame, just like me.
Not only were his skills elite, but everyone just seemed to love Big Papi. Just a positive vibe about him always.
Of all the players that were around in the steroid era, it is so beautiful to see a deserving guy like him make it to the Hall.
I want to play an MLB video game, I want to buy an Ortiz jersey but I'm broke. UGH.
In a matter of two days, I have felt old as hell man!!!!
I'm rethinking my whole life now LOL.
Thanks for all the unforgettable memories I will always cherish, Big Papi.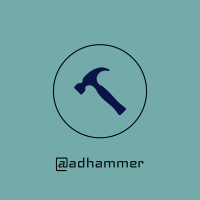 ---
---