Reacting to the Titans First Unofficial Depth Chart for 2022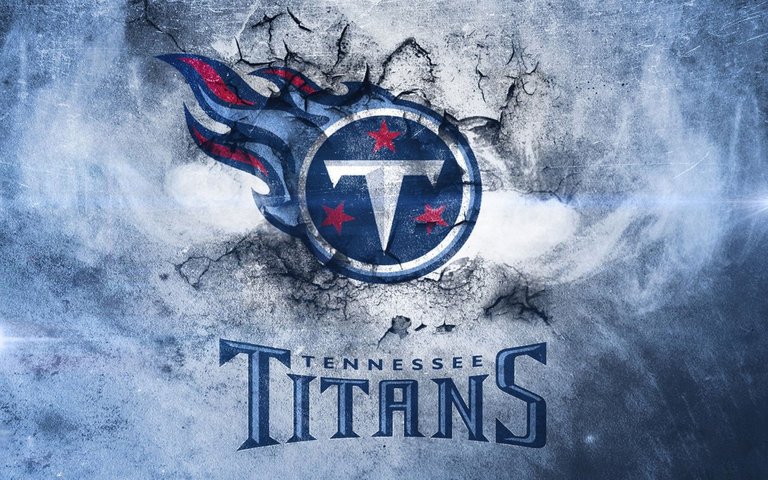 After writing about the Titans receiving core, it's interesting to see the team's unofficial depth chart be released. How much does the off-season hype about certain players match up to the actual first depth chart? These types of charts will often look dramatically different even by week one. But I would still say that this chart gives a good idea of what the starters will look like. I feel like this chart is 75-80 percent accurate in that regard.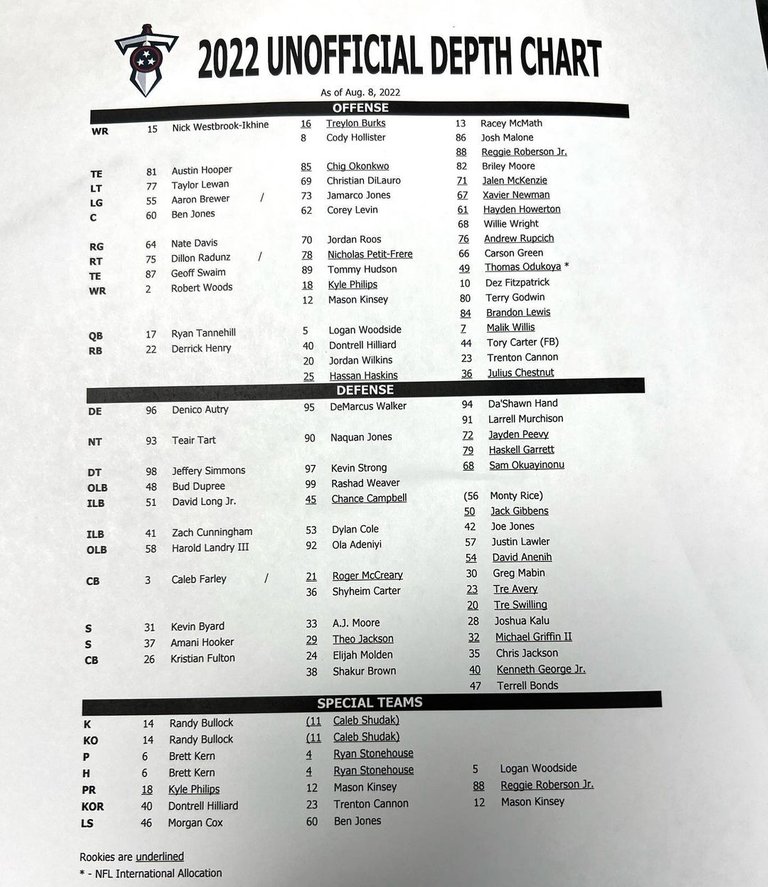 This depth chart from Titans writer Jim Wyatt appears ever so slightly different than the depth chart found on the Titans official website. The minor differences are a bit interesting and worth pointing out at times.
Off the bat, it's interesting to see but not overly surprising that third round draft selection, QB Malik Willis, sits at third on the depth chart. He's still a rookie and learning how to be a pro, let alone a whole new pro system. Current QB2 Logan Woodside has been in this system and QB2 for what has to be at least three seasons, perhaps even longer.
I would not be surprised to see Willis and Woodside eventually have a proper competition for QB2. The pre-season will be interesting.
Malik Willis in red and number seven, Woodside number five.


It feels like the Titans' right tackle position has been up in the air since the departure of Jack Conklin after the 2019 season.
Heading into the 2022 season, it seems that there is a battle between 2021 second round draft pick Dillon Radunz and this past year's third round draft pick Nicolas Petit-Frere for the starting right tackle spot. It's cool to see two draft picks go at it at least. Just kind of satisfying. In the image shared above, Radunz is in the starting lineup, but on the Titans website both Radunz and Petit Frere are listed at RT1. Clearly decisions will have to be made.
Radunz has been a mixed bag so far as a prospect. Petit-Frere has shown promise from what I can tell, he's a Ohio State guy too which is always a plus for Head Coach Mike Vrabel.
This will be interesting!

It's a bit interesting to see late round draft pick inside linebacker Chance Campbell be as high as he is on the depth chart. His college tape seemed pretty intense, but not going to lie it's pretty surprising!
At cornerback, there's some intrigue when it comes to locking up that CB2 position and I think it's a healthy competitive battle. Both Caleb Farley and Roger McCreary are Titans draft picks competing well. Caleb is the Titans first round pick from last year who has been pretty injury riddled and Roger McCreary is very arguably a first round type of talent himself and he's been a training camp star so far.
It seems the Titans have some solid young depth at cornerback this year, and I'm all for it!

When it comes to the receivers well, that might overall be the most interesting position group as I pointed out the other day. Interestingly, the Kyle Phillips hype seems to be somewhat legit as he seems to have earned his way as a top four receiver on the squad.
NWI is in a solid spot as the team's WR2 for right now. I'd say Treylon Burks is breathing down his neck a bit to be that WR2 soon. But it's great to see Treylon is at least pretty high up on the depth chart right before the pre-season begins.
Another notable good sign in my opinion is seeing OLB Rashad Weaver get some love on the depth chart. He seems like another rookie from last season that got hit with the injury bug. I had and still have high hopes for him. The Titans d-line has become a strength over the past two-three seasons, Rashad Weaver could be a serious ace up the Titans sleeve and make the d-line way more deadly.

As a rookie, it's good to see Chigoziem Okonkwo find a decent spot at TE3. I wouldn't be shocked to see him be the TE2, or perhaps even more as the season progresses!

---
Every minute of every day I can feel the season getting closer. I am more than ready for some Titans football!!! Can't wait to watch some of these players play for the first time. Many questions will begin getting answered. This team has so much potential!
---
---