Pat Burrell 2008 Topps Baseball Card - Philadelphia Phillies Left Fielder
Pat Burrell is a player that I remember from my very early childhood. Might be the first pro player I learned of and knew was 'good' if that makes sense. Like, Pat Burrell is sort of a 'core memory' type of player for me personally. I knew of this guy before my papou helped teach me a lot about baseball in the summer of 2003. It's oddly trippy to think about. Sometimes I forget I was a fan of baseball before my papou helped me sorta 'level up' in terms of my knowledge of the game way back nearly twenty years ago now.
Looking back on Burrell's career, I suppose it makes sense that I knew of his career as a whole at a very early age. I was born in '95 and in June of 1998 Pat Burrell was drafted by the Philles with the number one overall pick. The hype around him must have been real. While the MLB draft can sometimes feel unpredictable when comparing it to other pro drafts, high draft picks, certainly #1 overall picks, still have a lot of pressure I'd say.
Burrell then went on to basically live up to the hype, at least for the most part. The guy is certainly a Pennsylvania baseball legend. He'd end up going through the Phillies minor league system with relative ease, including playing 117 games for my hometown minor league squad, the Reading Phillies, in 1999. It must have been a treat to watch the Phillies number one pick just do work here in Reading. During that 1999 season, Burrell hit 28 home runs, had a .333 batting average, and drove in 90 R.B.I.'s. This AA minor league stop would actually be the longest time he'd spend with a Phillies minor league team. In 2000, after a forty game stint with the AAA Scranton/Wilkes Barre Red Barons, the Phillies would call up Burrell to the big leagues, and that's where Burrell would stay for virtually the remainder of his career.
Burrell did not go on to have like a sure fire hall of fame jaw dropping career, but this guy was nice! Certainly above average and at times great. Top twenty Phillie of all time I'd say, some may argue even higher, some lower, but undoubtedly this guy is pretty respected and liked among all Phillies fans.
Burrell was a solid power hitter year in and year out for the Phillies. He averaged about 28 home runs a season, with a career high of 37 in 2002. Burrell's 251 home runs in a Phillies uniform places him #4 all time in the franchise's history behind Del Ennis (259), Ryan Howard (382), and Mike Schmidt (548). Burrell is also number five in the team's history in walks, with 785.
Pat Burrell was also Mr. Reliable for the most part! In Burrell's nine seasons with the Phillies, he appeared in an average of 145 games (out of a possible 162) a season!
It's actually nuts to me Burrell didn't make at least ONE stinkin' All-Star team during his career. I think this may be due to the fact that Burrell didn't make the post season until eighth season. But I don't know. Some players just sort of get overlooked. It also didn't help that the Phillies started to develop a lot of other good players, like Utley, Rollins and Howard just to name a few.
Despite never being an All-Star, Burrell finished fourth in NL Rookie of the Year voting in 2000. He also finished 14th in NL MVP voting in 2002 as well as 7th in 2005.
It was really great to see Burrell win a World Series with the Phillies in 2008. He was on the team throughout the entire development of that championship roster, and capped it all off with a ring. Beautiful.
Burrell would win another World Series with the Giants in 2010!
Burrell retired as a Phillie in 2012, and in 2015 he became the 37th player to be inducted to the prestigious Phillies Wall of Fame.
Burrell's final career stats in 12 years as a pro:
2x World Series Champion
1,393 Hits

292 Home Runs
299 Doubles
16 Triples

.253 Batting Average
976 R.B.I.'s
What a legend! Glad to have this Phillies championship era card for sure.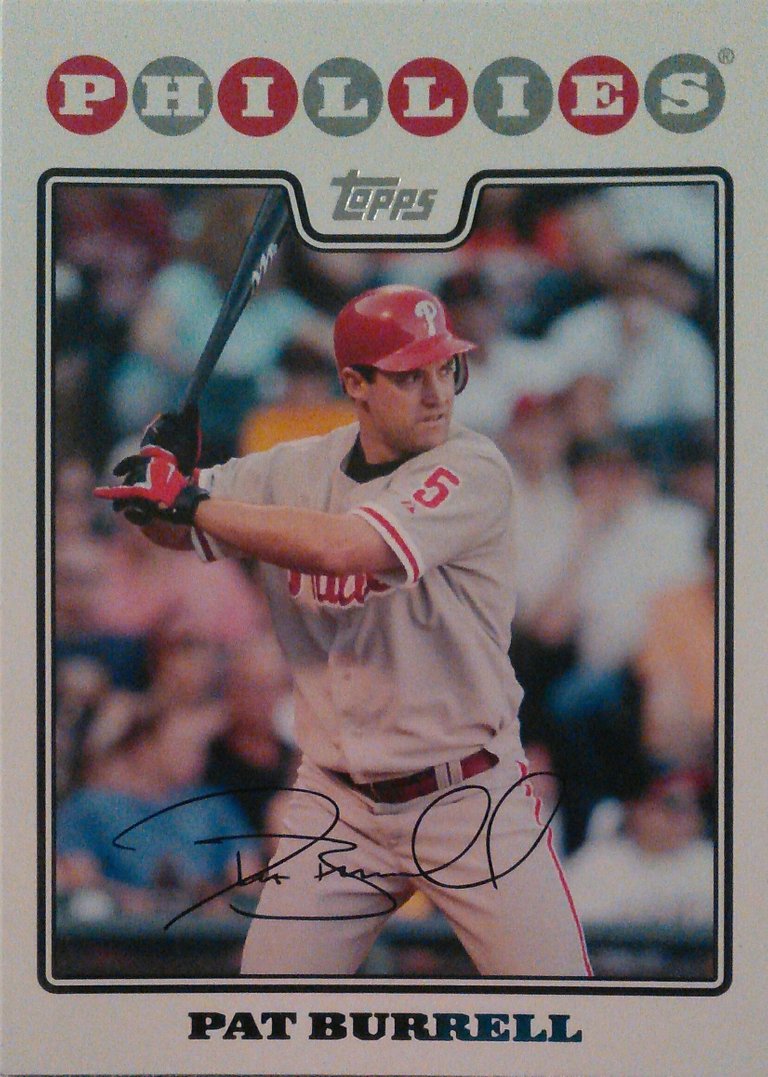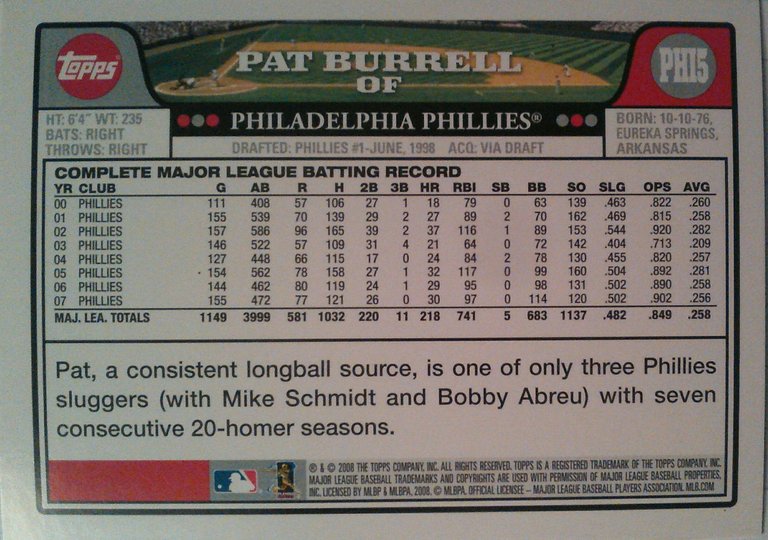 Burrell being speaking on being inducted to the READING Phillies Hall of Fame! That one 1999 season, made a big impact. Pretty nice guy too.

PHILADELPHIA Phillies Wall of Fame speech.

---
---