Julio Jones 2021 Rookies & Stars Panini NFL Card - Tennessee Titans Wide Receiver
It's pretty undeniable that legendary wide receiver Julio Jones's time in Tennessee was ultimately pretty disappointing. Just by reading the back of this card, you can see how high the expectations were for Julio and fellow former Titan A.J. Brown.
Julio dealt with a nagging hamstring throughout 2021. While Julio surely did not have a great year by his standards, his time in Tennessee did have some flashes of brilliance here and there. Perhaps I am biased, but there really were a few kernels of decent Julio moments while the legend was in two-tone blue. You can read about them by clicking my link in the first paragraph of this post.
Also, despite how heartbreaking the loss was, Julio did enter and play in the Titans playoff game in 2022. The legend deserves a taste of the post season.
I actually LOVE this card for so many reasons. For one, there can only be so many Julio Jones Titans cards in circulation since he only played with the team for one season. Also, this card just looks cool! Rather simple, but it does have a nice distinct style. The solid action shot of him clutching a reception is just fun.
I also love that there is very little writing on the card, just that sweet Titans logo and a few words in the corner.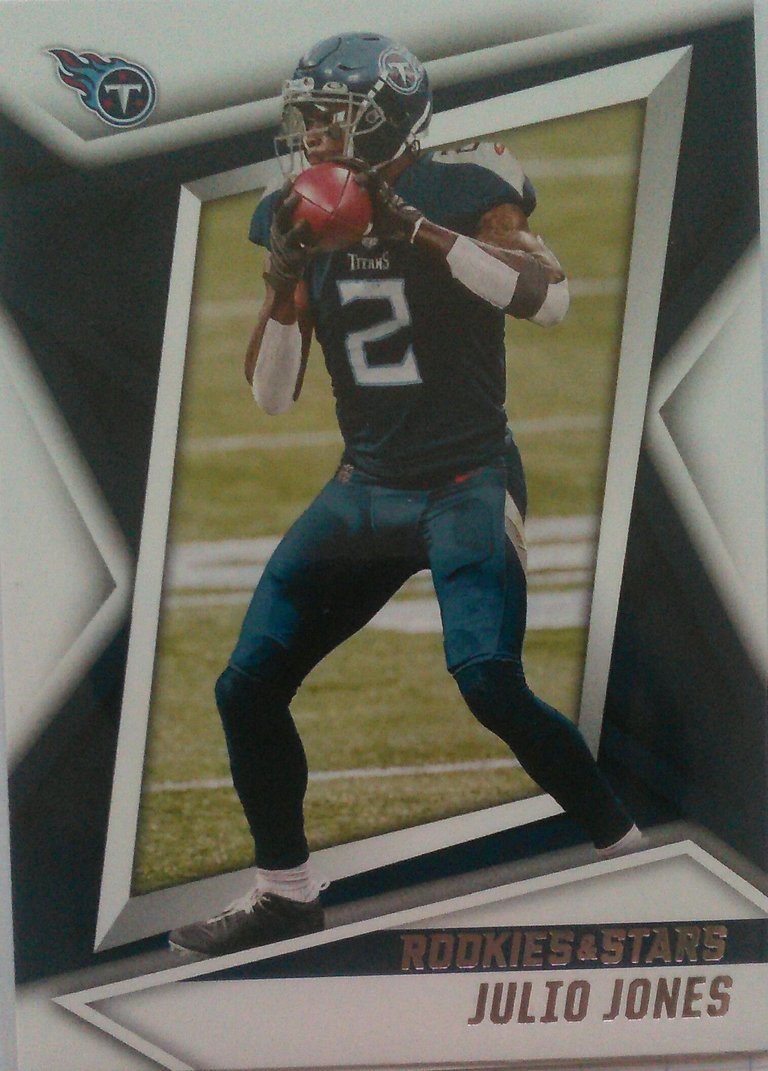 I like this little paragraph written on the back. Mentions some great Titans, and really captures this point in Titans' history well in such a short piece of writing. Already sort of nostalgic since A.J. is gone too!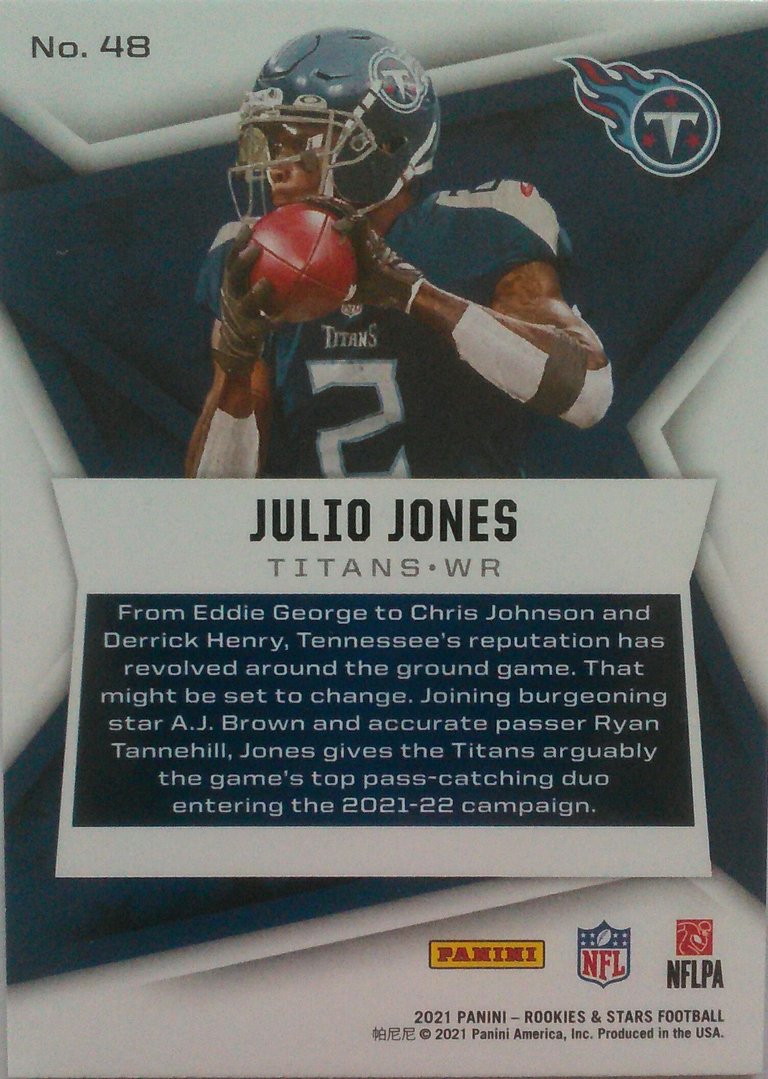 Julio Jones's legendary stats over his eleven year NFL career:
2x First-Team NFL All-Pro
3x Second-Team NFL All-Pro
7x Pro Bowls
NFL All-2010's Team
879 Receptions - 25th ALL-TIME in NFL History
13,330 Receiving Yards - 17th ALL-TIME in NFL History
61 Touchdown Receptions
At the end of the day though, Julio Jones will always be remembered as an Atlanta Falcon, the franchise he spent a DECADE with. Falcons fans MUST appreciate this guy. Countless memories down south in that dome catching bombs from QB Matt Ryan.
Somewhat surprisingly, Jones is still a free agent. Jones is aging a bit, but being just thirty-three, Jones can still add really nice value to a team as long as he is healthy of course. He could be as good as prime Julio I imagine.
I hope to see at least a few more years of Julio play, heck, the Titans could pick him up if he's not too costly LOL.
Anyone have any favorite memories of Julio over the years?
HALL OF FAMER!
---
---