EPIC QB Marcus Mariota, TE Delanie Walker, WR Dorial Green-Beckham 2016 Absolute Football Team Trios NFL Card - Game Worn/Player Worn Materials - Tennessee Titans
This is probably one of the coolest cards I own! I love it!!!
Two of these three players on this card are surely Titans legends! The only pretty irrelevant player is unfortunately Green-Beckham, but hey he was still a Titan and Mariota and Walker are awesome!!
QB Marcus Mariota's time in Tennessee ended a little bit on a sad note, but personally I definitely have a lot of respect and admiration for Marcus's time in two-tone blue. A lot of great memories!! A mostly fun half-decade where Mariota helped the Titans become relevant again after years of depressing football. It's such a cool thing knowing I have this card with a piece of a jersey that Mr. Mariota wore himself. It is sort of like a decent happy ending to the Mariota era for me.
TE Delanie Walker is arguably the greatest tight end in Titans' history! Pure on-field talent wise, Delanie is likely the best receiving tight end in Titans history. He's absolutely a Titans' great and really one of the best tight ends ever. He's gotta be like top 50 or something LOL. Holding this card, knowing that a piece of this card was at one point in a TITANS game worn by Walker himself, is such an amazing feeling. I can't even explain it.
What a legendary, great card. At one point in time, Mariota and Walker were like the entire Titans offense it felt like. TIME FLIES!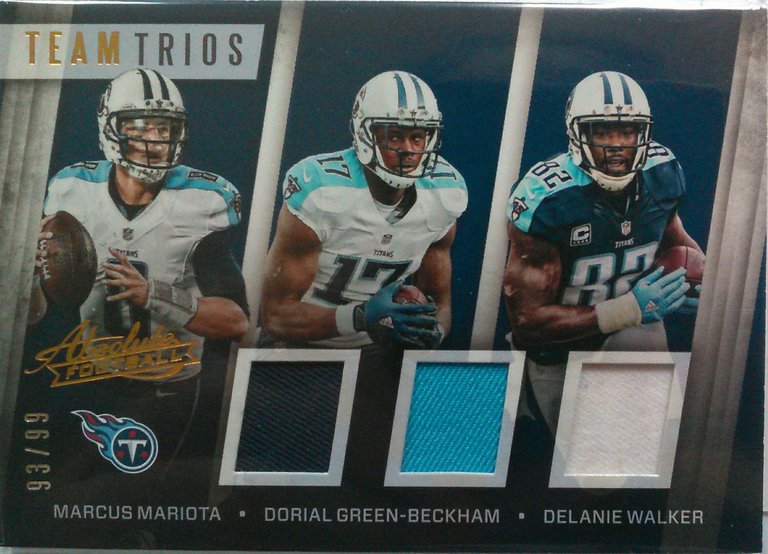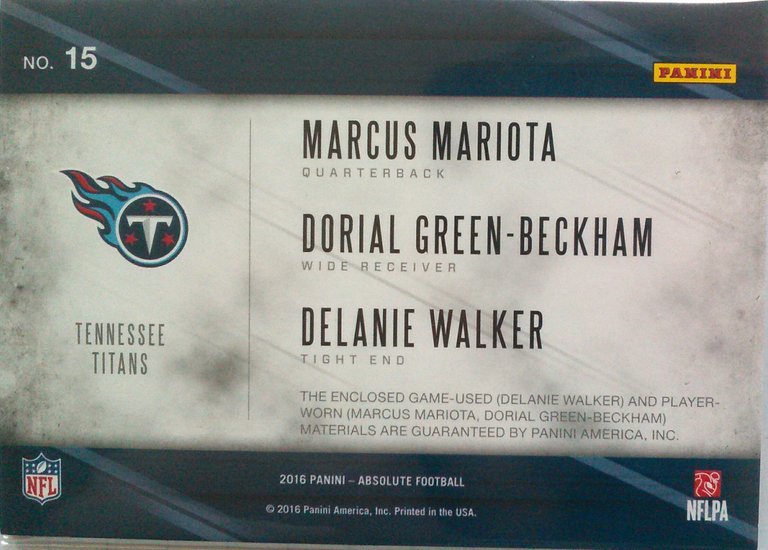 As this card ages, this card becomes more and more historical! I love it!!
Green-Beckham is out of the league due to pretty much blowing his career before it got started. Walker is out of the league due to age, but actually is not officially retired. Mariota is actually set to have a second chance at being a starting QB with the Atlanta Falcons after spending two seasons as the backup for the Raiders. I wish him nothing but the best as long as it's not against the Titans! It will be weird to see him start for another team, but I am actually kinda intrigued to see how this next phase of his career goes!
An interesting video about DGB's mostly sad pro career.

Marcus's second chance in the ATL!

I could go on for days about how much Delanie and Mariota meant to the Titans, I'm just really glad I get to own this sweet card!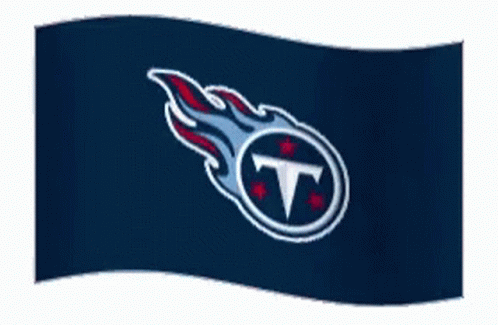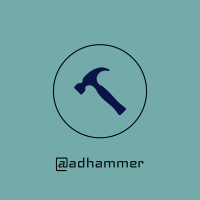 ---
---