Derek Brunson looked fantastic in his victory vs Darren Till! Blonde Brunson is undefeated
What a fantastic fight, I was highly entertained! Both fighters gave their all, and it was great to see.
This fight went just like I thought, I couldn't decide a victor before this fight happened, but the fight played out very much like I thought it would.
Till was as a shade better on the feet, and Brunson was better on the ground. These guys were going at it! They both knew how much was on the line. Till was fast and explosive, and Brunson was game. But once, Brunson took Darren down, it was bad news for Till. Brunson was strong and heavy on top of Till, landing fantastic and efficient ground and pound. Doing real damage.
Later in the fight, Darren would show great effort in defending several takedowns after that. Darren had good moments on the feet, no doubt. Brunson stayed threatening and sticky for Darren though. Clinch work, more takedown attempts, landing some shots. This really was a dog fight!
Later in the fight Darren actually was starting to hurt Brunson, but in that moment Brunson intelligently executed a great takedown. This takedown would prove to be the end. Till was already exhausted and he REALLY tried hard to defend this last takedown. But once Brunson did succeed in taking him down, Brunson took Darren's back and put in a rear naked choke. It didn't take much pressure or effort for Brunson to choke the already out of breath and exhausted Till.
What a fight!
I am honestly incredibly impressed by this new and improved Derek Brunson. Blonde Brunson is undefeated.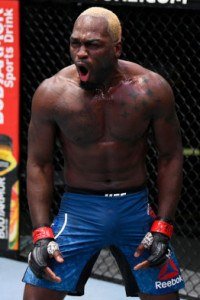 Src
Older Derek Brunson sort of looked like he never had a plan. He seemed like a regular wrestler with a powerful punch. He was kinda just out there.
This new Derek Brunson looks more focused. He is mixing his skills together like I have never seen him do before. His IQ is as good as I've ever seen it.
This resurrection of his career, is pretty unexpected. Brunson is now on a five fight win streak.
Brunson is the Hype Train De-railer. I absolutely believe that the UFC was trying to use Brunson as a 'gatekeeper'. He was given young guys that the UFC wanted to push as potential title challengers or stars. Brunson said 'pause' and used these fights to his advantage.
Four of Brunson's five victories during this win streak, Brunson has defeated four young talented prospects:
Ian Heinisch
Edmen Shahbazyan
Kevin Holland
Darren Till
I believe that Brunson could be the most difficult challenge for the champion, Israel Adesanya.
Brunson did lose to Izzy before, but that was about three years ago. Brunson looks like a new and improved fighter. Also, stylistically, this would be challenging for Izzy. When Izzy fought and lost to the 205 pound UFC Champion, Jan Błachowicz, Izzy struggled with Jan's wrestling.
I know Brunson wants that win back, and he wants the title.
Man, I am a serious fan of this new and improved and focused Derek Brunson!
Would love to see him get a title shot. It would be a hard fight for Brunson still, Izzy is the champ for a reason. But I don't know, I've got a feeling about Brunson, and he's been doubted a lot already!
He was the betting underdog going into each fight during this win streak of his.
No matter what, Brunson is doing great, and it's great to see it happen to a UFC vet like him.
I look forward to seeing what's next for Brunson!
---
I think that when Darren Till licks his wounds, he still has an awesome career ahead of him. He's been fighting nothing but the cream of the crop the past 3-4 years. He really did well tonight in a lot of ways too.
Derek Brunson's wrestling is high level, like for anyone, and Brunson is the best wrestler Till has faced yet. Perhaps Woodley is up there, but if you do consider them similar Brunson is heavier, and Till did better against Brunson in the wrestling than he did vs Woodley anyway, so there is improvement in my opinion. Darren really did not do all that bad overall considering all of that.
I think if Darren just keeps his head down, and keeps working he will be fine. He's still only 28 as well.
---
Who do you think Brunson should face next? What about Till?
---
---