Carlos Ruiz 2008 Topps MLB Card - Philadelphia Phillies Catcher
Once again, another fun trip down memory lane for me. I really don't take enough time to enjoy these cards sometimes. That's why I make these posts I guess. Cards are just so great, just that initial glance instantly takes me back to a carefree time in life. When I watch sports, I'm generally care free, having fun. These cards are just like snapshots of those times. A movie or series where the cast is always changing.
Anyway, Carlos Ruiz is a legendary former catcher for the Philadelphia Phillies, and he held that title for over a decade. When I think of a Phillies catcher, I think of CHOOCH!
Carlos was/is legendary for so many reasons. He was a great and highly trusted catcher for many great Phillies teams in the late 2000's and early 2010's. Some baseball fans may be unaware, but Carlos actually received NL MVP votes for three straight years from 2010 to 2012. He was not super close to winning the award, but that's still a pretty impressive stat that I bet would surprise some people!
The Phillies had numerous fantastic pitchers during those years. Roy Halladay, Cole Hamels, Cliff Lee, just to name a few. Practically all, if not all, of the Phillies pitchers in that era give a lot of credit to Chooch for being a calming, intelligent leader as a catcher.
A catcher is a really important part of a baseball team. Considering a pitcher can't pitch everyday, the catcher is involved in pretty much every part of the game, every game. The catcher must know the vibe of his pitcher and the opposing batter. The catcher helps the pitcher select which kind of pitch to throw, and the location of the pitch. Defensively, the catcher's responsibilities are pretty endless.
A huge job for a catcher is throwing base stealers OUT, and boy, Carlos could absolutely do that well.

Carlos not only was an excellent catcher, but he was also an excellent batter. Chooch was CLUTCH. I remember him always getting a hit when the Phils needed it most. Automatic.
Frankly, Carlos was elite at times. After helping the Phillies win the 2008 World Series, Carlos actually seemed to get better as a player.
Carlos is one of my favorite players ever. He had a smooth, but also somewhat urgent and serious demeanor about him. It's so cool to know he went through and played in the Phillies farm system. He played in the very city I am typing this post from! A true Phillies GOAT.
As a kid, I always found it annoying when baseball cards included the player's minor league stats. Now I think it's actually really cool to see the minor league small towns on the back of cards. I wish cards had complete stats like this nowadays.
I love this shot of him on the card. It's like I'm on my couch at home again as a kid.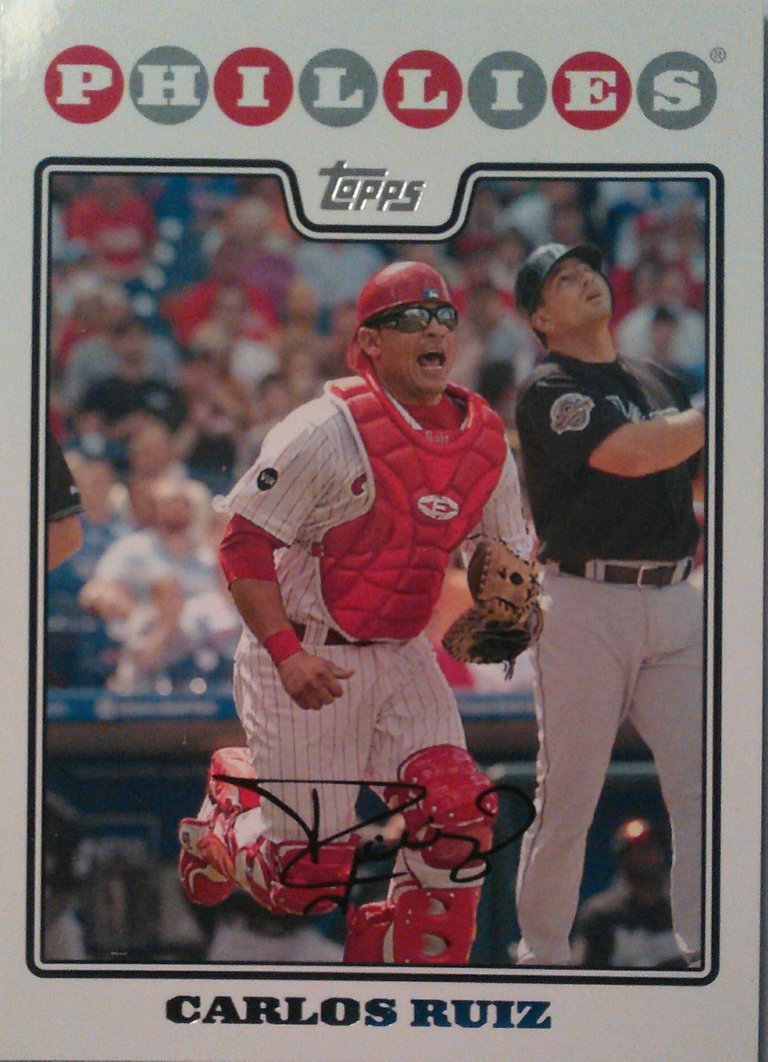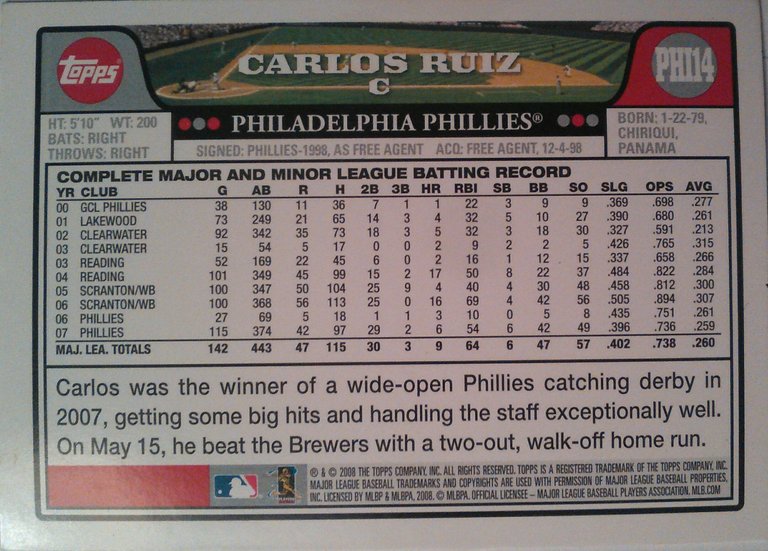 Carlos's career stats in 12 MLB seasons:
1x World Series Champion
1x All-Star
.264 Batting Average
935 Hits

71 Home Runs
223 Doubles
7 Triples

415 RBI's
What a beast! Phils nation will never forget ya CHOOCH!!

---
---