1996 Chris Sanders WR Houston Oilers Fleer Card
Cards like this make me feel nostalgic for a time that I was not even aware of. I was a baby when this card was initially released. In the area I live there is a comic shop that sells mostly comics and comic memorabilia and Pokemon and Yu-Gi-Oh! cards. Stuff like that.
Still, in the back of the shop there is a very small collection of SPORTS cards. Every now and then I try to go through them and find some Titans cards. In this case it's an Oilers card, but you know what I mean, Oilers/Titans are the same franchise.
For a whopping ten cents I got this really cool Chris Sanders card. It's from 1996 and that simple fact is super cool to me. In 25 years this card was just owned by some comic shop owner. The card probably had no value to the owner of the store, it was just some sports card. Maybe he's owned since '96 and the card was just sitting there collecting dust in his stash. Then I come around in 2020 (when I bought the card) and buy it. To me this card is special and I'll likely own it till I die.
The card is 25 years old and in really good condition especially since it was not in any sort of protective sleeve or cover. These cards are simply made of cardboard or card stock or whatever. Not indestructible by any means. In 25 years since '96 it survived not getting wet, it survived not getting bent or smashed or squished. I'm gonna make sure it stays in good condition for the next 25 years and hopefully beyond.
Chris Sanders himself wasn't exactly a Hall of Famer. Not really even close honestly. But he had a respectable career and he was on Oiler and a Titan, which is great.
His rookie season was actually the year I was born, 1995. He spent his entire seven year career with the Oilers/Titans franchise. I vaguely remember him growing up, mostly from references because he retired around the time I started following the Titans. His rookie year in 1995 was one of his best statistical years as a pro.
In his seven seasons with the franchise he compiled:
3,285 receiving yards (average of 469 receiving yards per season)
17 receiving touchdowns
Was a member of the 1999 AFC Champion Titans team.
Like I said he didn't have a jaw-dropping or spectacular career, but it was a solid one. Careers like this get forgotten because he didn't have mega stats or accolades but the NFL has a bunch of guys with careers like this one and he shouldn't be forgotten. He was a pro with some awesome moments.
The card itself looks pretty sweet too if I do say so myself.
Let me know what ya think!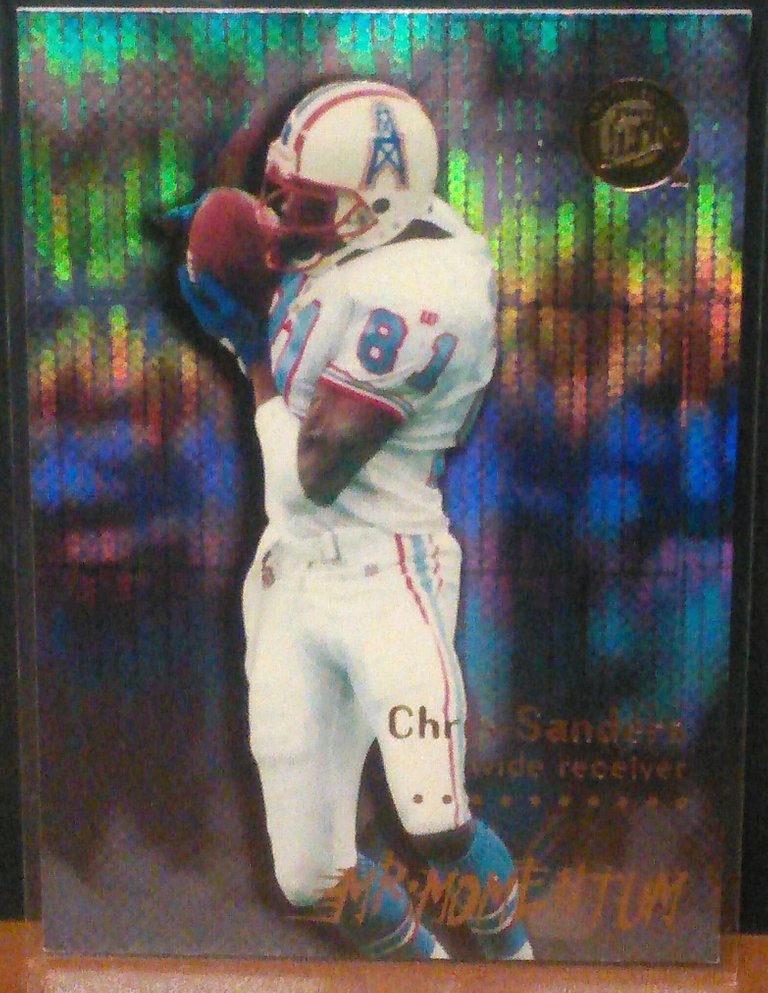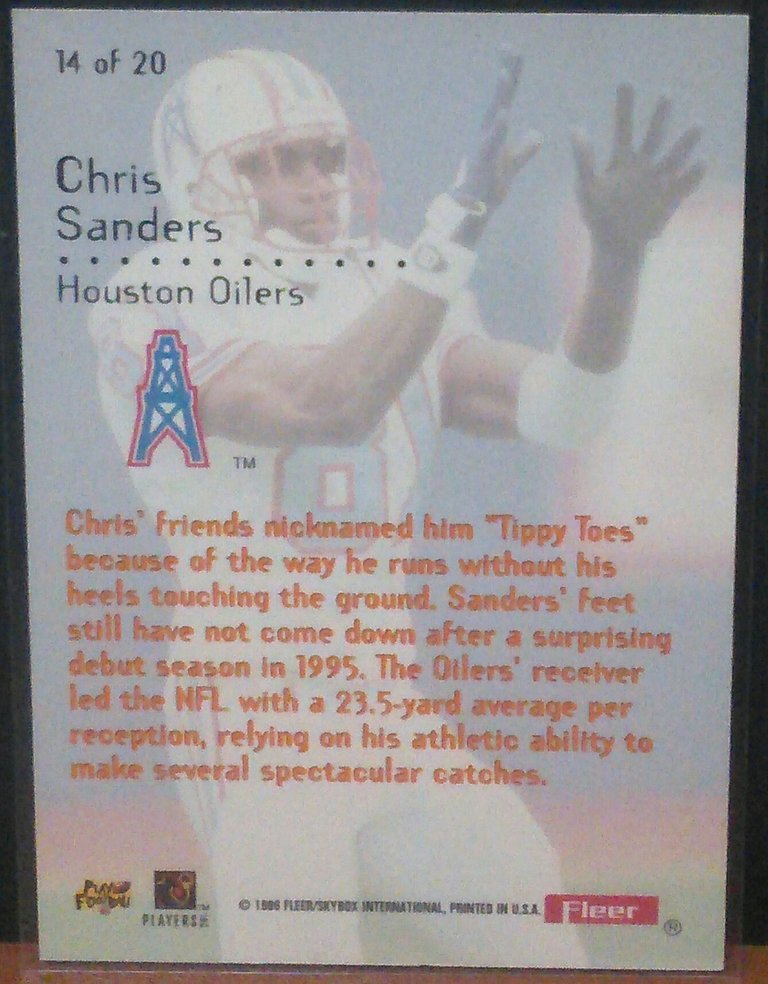 Keep sharing those cards.
---
---