Small Armored, Armadillo 💖🤍 /Pequeño con Armadura, Armadillo 💖🤍 (ENG/ESP)
I was a child and I remember that my mother had a folder full of pink sheets with words written with a typewriter, those pages for me were magical, the reason, they were stories written by her, I loved how she took those sheets and read me one or two of those stories, they were happy moments, I remember that my favorite of those stories was one about a Cachicamo, the name we give in Venezuela to armadillos, these cute little animals that are so unique and have inspired humans so much, one about a Cachicamo, the name we give in Venezuela to the armadillos, these cute little animals that are so unique and have inspired humans so much, so this cute animal has its international day, August 13, to be known and also to remember its importance and thus be saved as it is in danger of extinction.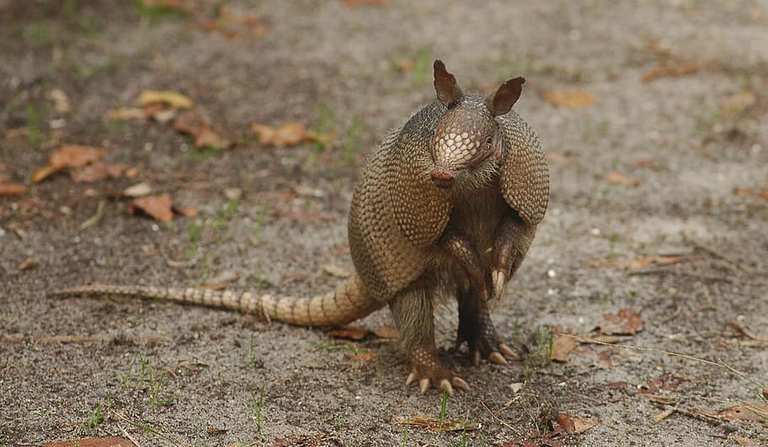 Source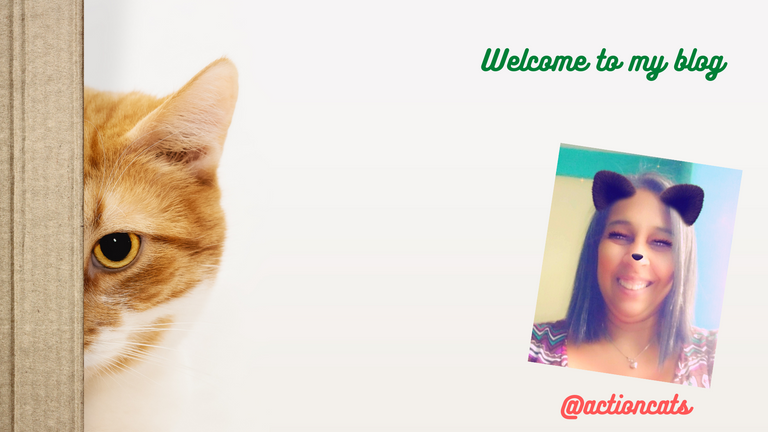 Armadillos are cute animals that are admired by everyone thanks to their ability to roll up like little balls, this to this day amazes us among the most admired characteristics of the armadillos we have the following:
...an armor and this is due to the fact that its entire body is covered by bony plates, which, in turn, form horny shields. It is considered a true walking fossil.
Another interesting aspect of their appearance is that they have a large number of teeth. Depending on the species and their size, they can have between 50 and 100 teeth, composed of canines, incisors, premolars and molars.
Source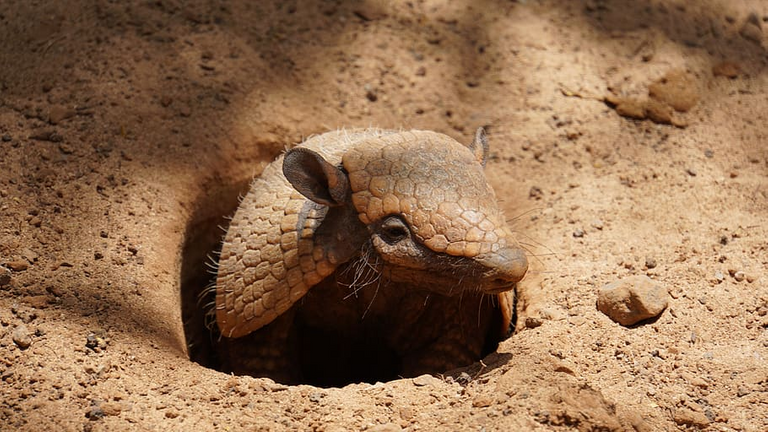 Source
For those who do not know, including me, there are 20 species of armadillos, 19 of them live in Latin America, only the 9-banded armadillo lives in the U.S., also literally its name means "small with armor", that name sounds very tender.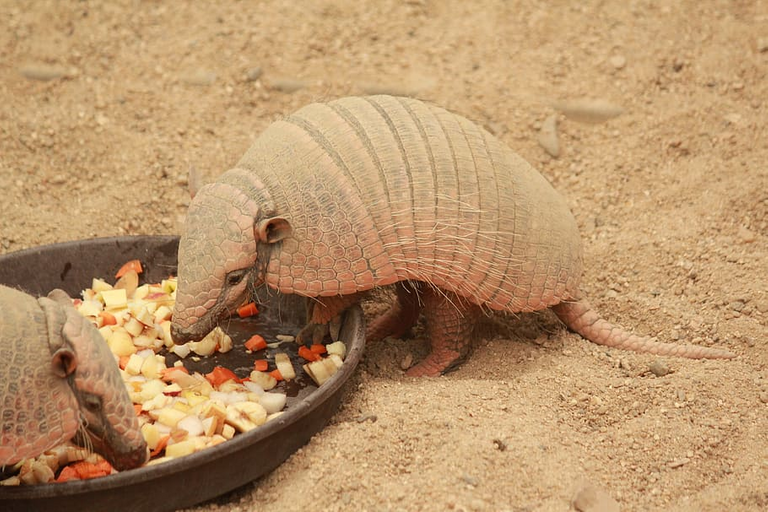 Source
They are so varied among themselves, there are from 15 centimeters to one and a half meters, also these beautiful specimens are related to sloths and anteaters, as a curious fact of these 20 species only the three-banded armadillo is the one that manages to enclose itself completely in its shell.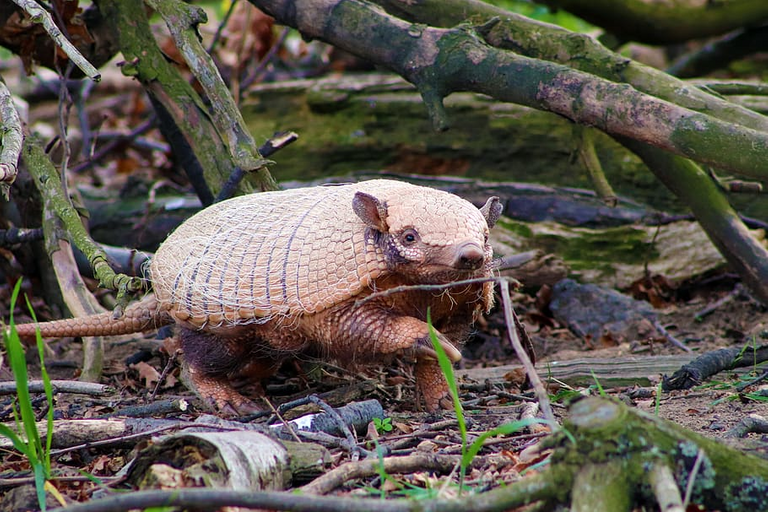 Source
On the other hand, these animals are insectivores, or what is the same as they hunt and eat insects, ants, beetles, termites, larvae, but also include in their diet, some fruits, plants, as well as carrion from time to time, they also prefer to live at night so they sleep many hours in their burrows and come out at night in search of food using their keenest sense for it, smell, since sight is not their best weapon. Another curious fact is that armadillos are the only land animals that can last six minutes without breathing.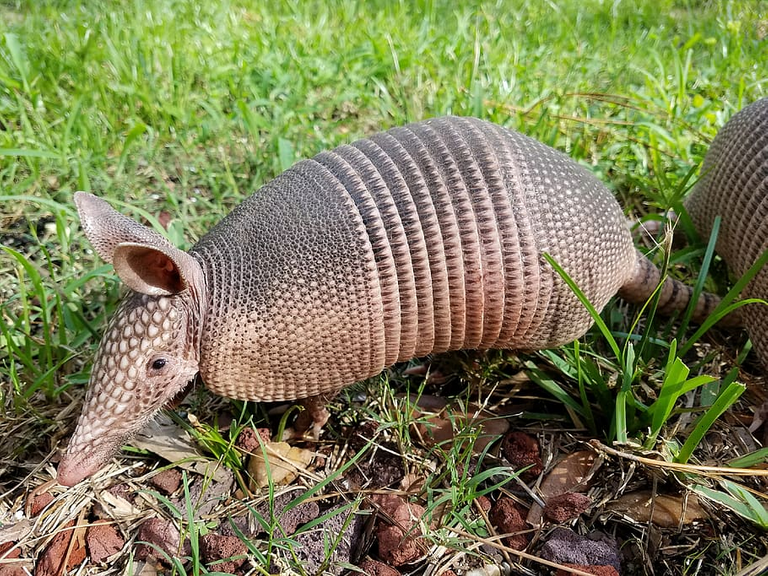 Source
Now then, the loss of their habitat and hunting for food, although their hunting has been banned, for some it is simply a matter of habit to hunt and eat them, which has caused a fatal decline in the numbers of these animals in recent years. Another interesting fact is that armadillos live in temperate climates because the cold collides with their metabolism in such a way that it can cause their death.

Finally, I hope that by sharing a few facts about these animals with small eyes and elongated snout, I allow you to share what you have learned and above all, to see them as important and valuable, since their appearance is considered living fossils, so I leave wishing that my publication has inspired you to leave a comment.



Era un niña y recuerdo que mi madre tenia una carpeta llena de hojas color rosa con palabras escritas con una máquina de escribir esas páginas para mí eran mágicas, la razón, eran cuentos escritos por ella, a mi me encantaba como ella tomaba esas hojas y me leía uno o dos de esos cuentos, eran momentos felices, recuerdo que de esos cuentos mi favorito era, uno referente a un Cachicamo, nombre que damos en Venezuela a los armadillos, estos simpáticos animalitos que son tan singulares y han inspirado tanto a los seres humanos, así este simpático animal tiene su día internacional, los 13 de agosto, para ser conocido y además para recordar su importancia y así ser salvado ya que se encuentra en peligro de extinción.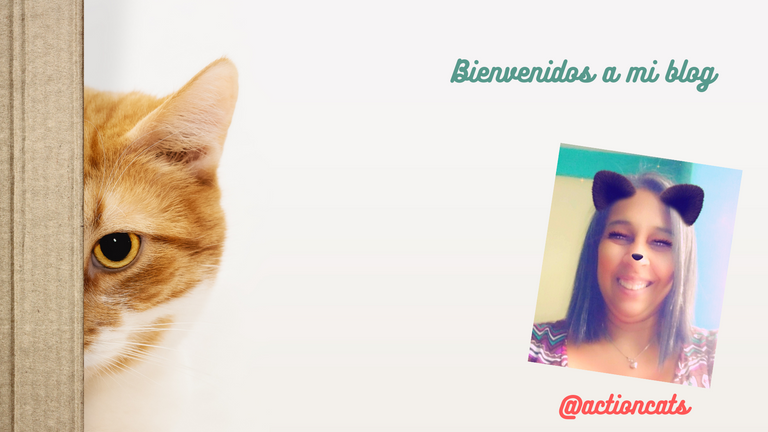 Los armadillos, son unos simpáticos animales que son admirados por todos gracias a su capacidad para enrollarse como unas bolitas, esto hasta el sol de hoy nos asombra entre las características más admiradas de los armadillos tenemos las siguientes:
…una armadura y esto se debe a que todo su cuerpo está cubierto por placas óseas, que, a su vez, forman escudos córneos. Es considerado un verdadero fósil andante.
Otro aspecto interesante de su apariencia es que poseen un gran número de dientes. Dependiendo de la especie y su tamaño, pueden llegar a tener entre 50 y 100 dientes, compuestos por caninos, incisivos, premolares y molares.
Fuente
Para los que lo desconocen, entre ellos yo, existen 20 especies de armadillos, 19 de ellos viven en américa latina, solo el armadillo de 9 bandas vive en EEUU, además literalmente su nombre significa "pequeño con armadura", ese nombre suena muy tierno.
Son tan variados entre si, que los hay desde 15 centímetros, hasta de metro y medio, además estos bellos ejemplares, están emparentados con las perezas y los osos hormigueros, como un dato curioso de estas 20 especies solo el armadillo de tres bandas es el que logra encerrarse en su caparazón por completo.
Por otro lado, su alimentación estos animales son insectívoros, o lo que es lo mismo a que cazan y comen insectos, hormigas, escarabajos, termitas, larvas, pero también incluyen en su dieta, algunas frutas, plantas, así como la carroña de vez en cuando, además prefieren a la vida nocturna por lo que duermen muchas horas 16 aproximadamente en sus madrigueras y salen en la noche en busca de su alimento usando su sentido más agudo para ello, el olfato, ya que la vista no es su mejor arma. Otro dato curioso es que los armadillos son los únicos animales terrestres que pueden durar seis minutos sin respirar.
Ahora bien, que amanezca a los armadillos o cachicamos, la pérdida de su hábitat y la caza para consumirlo como alimento, aunque su caza se ha prohibido, para algunos es simplemente cuestión de costumbre el cazarlos y comerlos lo que ha ocasionado un fatal descenso de los números de estos animales en los últimos años, otro dato interesante es que los armadillos viven en climas templados ya que el frio choca con su metabolismo de tal manera que puede llegar a causar su muerte.

Finalmente, espero que al dar a conocer unos pocos datos de estos animales de ojitos pequeños y hocico alargado, les permita compartir lo que aprendieron y sobre todo, verlos como importantes y valiosos, ya que por su aspecto se les considera fósiles vivientes, así me retiro deseando que mi publicación te haya inspirado para dejar un comentario.

Pages Consulted/ Paginas Consultadas
https://www.nationalgeographic.es/animales/armadillo
https://www.pmaver.gob.mx/dia-internacional-del-armadillo/
https://www.diainternacionalde.com/ficha/dia-internacional-armadillo

Translat with www.DeepL.com/Translator (free version)
Comunidades y proyectos que me apoyan / Communities and projects that support me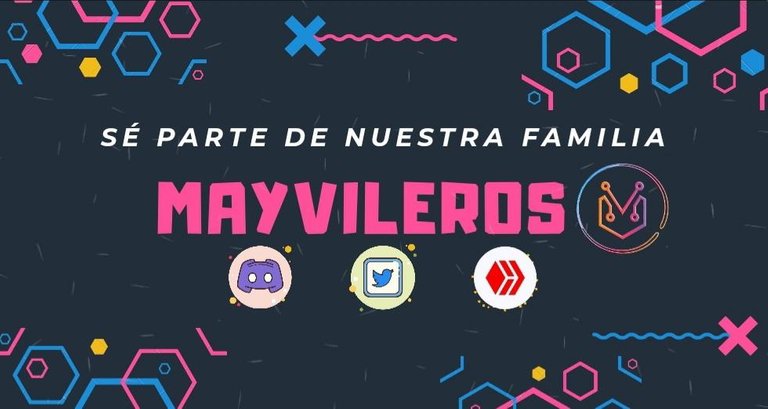 Click on the banner to get redirect to the server. Art made by @tripode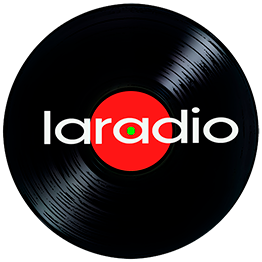 Art made by @oscarps

@aliento initiative by @eddiespino and @grisvisa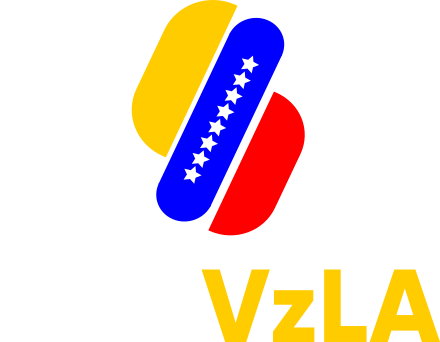 ---
---