Feelings. Small steps to big goals. Hive savings. My Actifit Report Card: June 19 2022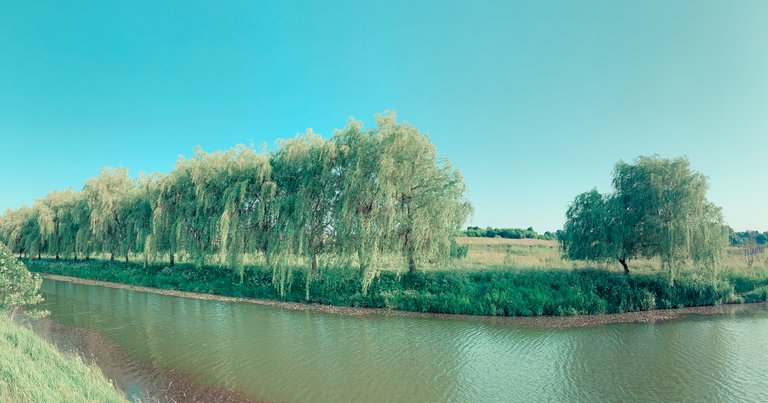 The depth of this summer

Hey there!
I love to think about feelings. And talking about them even more. Each of us understands this or that feeling differently. Rather, everyone even feels it differently. Most arguments arise precisely because one person thinks someone else is wrong. I'm not talking about those cases where everything is obvious. Although in many cases we don't know what state of mind a person is in and for what reasons. Paintings, music, nature, or just ordinary things: you can't be an expert on that. You either feel the beauty, the depth, the atmosphere or something else. Or you don't. I think that's why the phrase "there's no arguing about tastes." Indeed, why argue if something is obvious to you! And it doesn't matter what others think about it. You can just listen and try to understand. Try. That's all we can do... That's all that's important to do...
RU: Я люблю размышлять о чувствах. А разговаривать о них ещё больше. Каждый из нас понимает то или иное чувство по-своему. Скорее даже каждый чувствует это по-своему. Большинство споров возникает именно по поводу того, что один человек считает, что кто-то другой не прав. Я не о тех случаях, когда всё очевидно. Хотя во многих случаях мы не знаем в каком душевном состоянии находится человек и по каким причинам. Картины, музыка, природа или просто обычные вещи: в этом нельзя быть экспертом. Ты либо чувствуешь красоту, глубину, атмосферу... или ещё что-то. Либо этого нет. Думаю поэтому появилась фраза: "О вкусах не спорят". Действительно, зачем спорить, если для тебя что-то очевидно! И неважно, что об этом думают другие. Можно просто выслушать и попытаться понять. Попытаться. Это всё что мы можем... Это всё что важно сделать...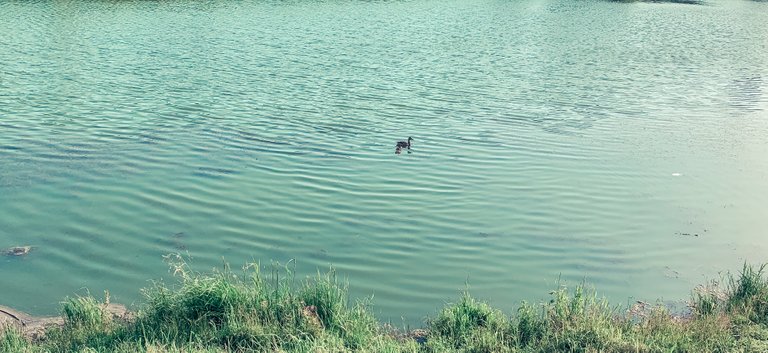 Hive savings report
I will continue to play the game in the numbers of my achievements on Hive. Below is a table of my daily accumulation of Hive, HP, and layer 2 tokens:
RU: Продолжу игру в числа моих достижений на Hive. Ниже таблица моих ежедневных накоплений Hive, HP и токенов второго уровня: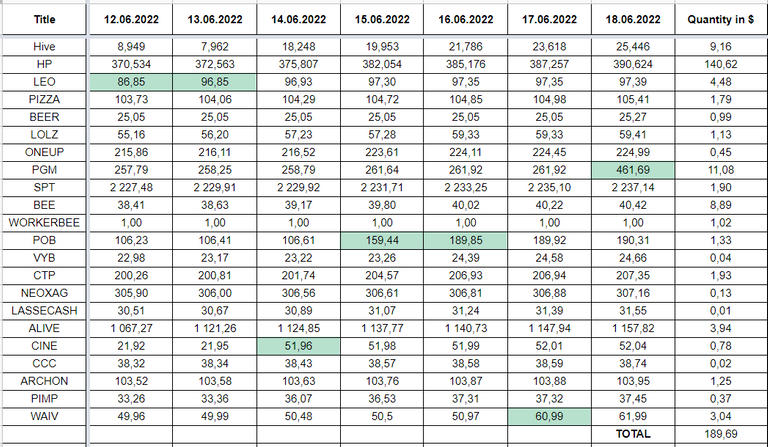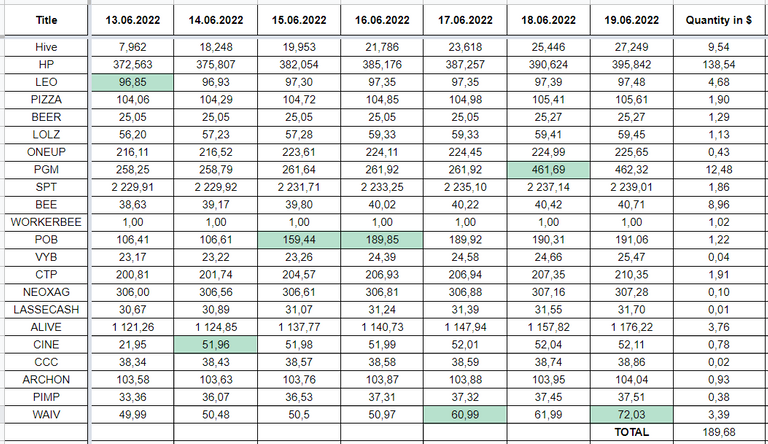 I bought 10 WAIV today. This second-layer token has hardly lost any value during this whole bear market. I can't figure out what its peculiarity is yet, but I like it.
Meanwhile, my savings stayed at the same level, $189. That's the first time I've ever done that. lol.
Many are predicting that we have already hit bottom. But just as many are saying the bottom will be at $10,000. I'm somewhere in the middle. I think we may touch 15000. I don't believe bitcoin will be allowed to fall to 10000.
RU: Сегодня докупил 10 WAIV. Этот токен второго слоя почти не потерял в цене за всё это время медвежьего рынка. Пока не могу понять в чём его особенность, но мне это нравится.
Тем временем мои сбережения остались на том же уровне, 189$. Это впервые за всё время. lol.
Многие прогнозируют, что мы уже достигли дна. Но так же много кто говорит, что дно будет на 10000. Я где-то посередине. Думаю мы можем коснуться 15000. Не верю, что биткоину дадут упасть до 10000.
That's all for now, the next reports will be more and more voluminous and interesting thoughts and plans, I'm already doing it).
RU: На этом пока всё, следующие отчёты будут всё объёмнее и интереснее по мыслям и планам, я уже это делаю.)

Photo: Belarus, Gomel, June 2022



This report was published via Actifit app (Android | iOS). Check out the original version here on actifit.io




19/06/2022

22339

---
---