GREEDINESS OF INHERITANCE DEVIDE MANKIND
Have a nice day my fellow Steemians!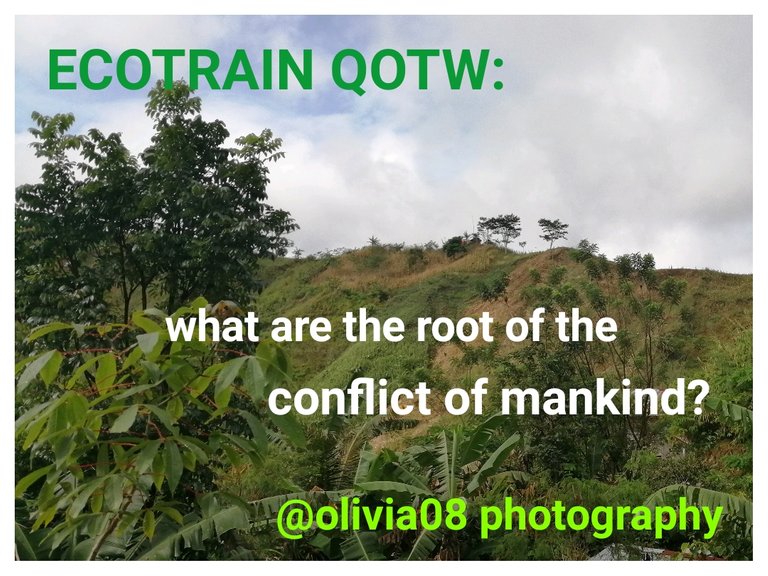 The question of this week really matter to what had happened to the inheritance of my grandparent from their parent . The beautiful fruitful and abundance of the land made the family into troublesome.
My grandmother had six siblings. They inherited a land which has no title under their name. When their parent was still alive, they were a happy family without any argument with siblings. All of them owned a family so it became a huge family. Nobody was aware of what happened to the treasure of their parent when their parent would die.
Unknowingly, their parent died at the same year. After losing their parent was the beginning of uncertainty. The root of conflict arises when they divided the land without proper designation. Overflowing ego and greediness empowered the eldest among siblings. He wanted the best part of the land. Some of my grandmother siblings didn't agree until they became unhappy and unity were gone.
My grandmother didn't like arguments and leave her siblings decides for those inheritance. But still the hate to each other heated like burning fire. My granny cried owing for unity that was built and educate them by their parent.
To stop the conflict, they agreed the greediness of their eldest sibling. They tried coupling up the grudges but the old happiness with their parent when they were alive was not the same thing. It has a very big difference.
We the new generation didn't knew how it was until my grandmother told me being the eldest grandchild. I make friends with my cousins living in the island where the inheritance were located. We ignored the differences before but sad to say, one of the cousin of my father sold out the land to a British national. They gave a small portion of the money from the land to my grandmother. Later on the same year my grandmother died last 2014. The land until now didn't have title. I don't know how and what should we do.
What lesson to learn?
Parent should divide equally their property before they die. Make a testament that bear all necessary detail to avoid conflict with the family members. It was a very sad experienced when their parent tried doing their best but because of the certain ego and greediness, it really happened in this worlds of changes.
For now, I have my own land and I don't need the land I supposed to be inherited.
Thank you @ecotrain for this amazing question weekly that challenged me to open what I had experienced.
*I would like to invite everyone to join mhttps://steemit.com/@team-ccce in @team-ccc, @atongis contest @zephalexia's upgaged, @ecotrain @mrnightmare89's riddle, @tggr's snapfeed @travelcontest by @lightcaptured, @axeman @worldcapture 's peoplephotography and @melinda010100 shadowphoto
Note:
This is an Invitation to join #ccc for Guaranteed 👍= 👍 Daily Income 💵 = 💵 and Payout 💸 = 💸 for Newbies (2.0) 🐟 🐟 🐜 = 🐜 🐛 = 🐛 in #ccc 👣 = 👣 and Follow 👣 = 👣 the Honor Code 🏅= 🏅 - the Creed (Conditions and Limits Inside)
AND
the latest update <<< please click to read.`
STEEM ON #NEWSTEEM
It's me,
@olivia08



Gif credit to @gerber and @plankton.token
---
---