Czechoslovak Commemorative Coins 1945 - 1953
In 1945, the Nazi occupation of my country ended. And with freedom came a new currency. In 1948, the Communists seized power in a coup d'état. They managed our economy so disastrously that "monetary reform" came in 1953.
Which was the cancellation of the existing currency and the introduction of a new currency. The population was robbed of about 60% of its purchasing power.
During the years 1947 to 1951, 8 types of commemorative coins were minted. Three fiftycrowns and five onehundred crowns. I introduced all of them one by one, today I have the last one left.


"Thirty years of the existence of the Communist Party of Czechoslovakia", 1 million pieces minted, silver, weight 14 g, fineness 500/1000.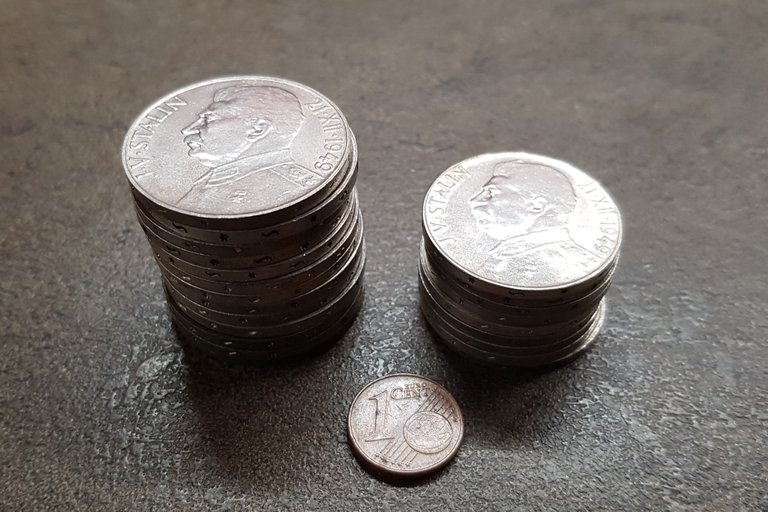 This tag is about stacking... I have 22 of these coins at home. Total 272 g of metal. Half of it is silver, 136 g. Just over four ounces... That's not much.
Fortunately, I have other silver and gold coins at home that I can show here, quite a few kilograms...


Československé pamětní mince 1945 - 1953
V roce 1945 skončila nacistická okupace naší země. A se svobodou přišla i nová měna. V roce 1948 uchvátili státním převratem moc komunisté. Ti spravovali naše hospodářství tak katastrofálně, že v roce 1953 přišla "měnová reforma".
Což bylo zrušení platnosti dosavadní měny a zavedení měny nové. Obyvatelstvo bylo okradeno asi o 60% své kupní síly.
Během let 1947 až 1951 bylo postupně vyraženo 8 typů pamětních mincí. Tři padesátikoruny a pět stokorun. Postupně jsem všechny představil, dnes mi zbývá poslední.


Třicet let komunistické strany Československa, ražen 1 milion kusů, stříbro, váha 14 g, ryzost 500/1000.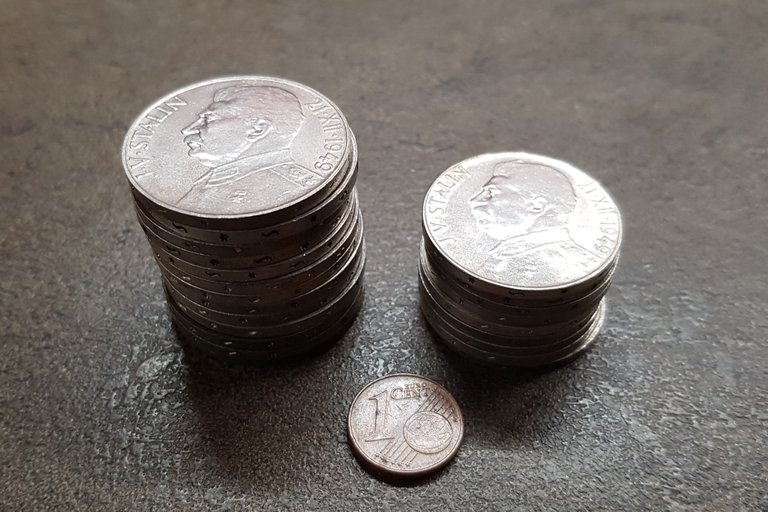 Tento tag je ale o stackování... Mám doma 22 těchto mincí. Celkem 272 g kovu. Polovina z toho je stříbrná, 136g. Něco málo přes čtyři unce... To není mnoho.
Naštěstí mám doma i další stříbrné a zlaté mince, o které se zde mohu "podělit", a to pěkných pár kilogramů.


---
---