Quant Analyst | Bitcoin Accumulation Flashes A New Bottom Signal
Bitcoin should be a trending word in the crypto space, with the current crypto winter it's been really difficult for the primary digital asset to find it's balance as regards market price and also coupled with the agitation of these assets being regulated.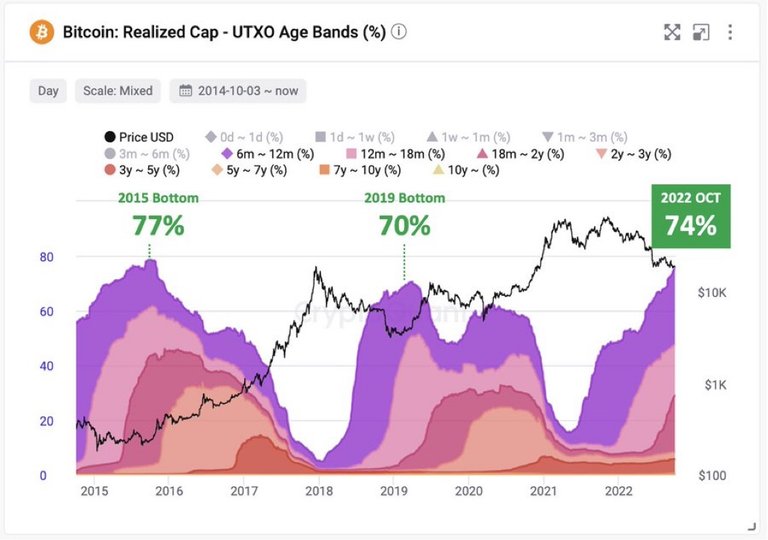 source
In a tweet from chief executive officer of crypto-quant, says that;
" $BTC accumulation level reached a 7-year high.
Over 6-month-old Bitcoins now take 74% of the realized cap. It was 70%, and 77% at the last bottoms in 2019, and 2015 respectively. Imagine you buy Bitcoins and do nothing over six months. You know how hard it is…"
He clearly notes that he's not trying to proved that Bitcoin supply hasn't changed or moved in the last six months. Which from he's tweet he clearly states that;
"It's not just about Bitcoin supply but realized capitalization. I meant 'over six-month-old Bitcoins take 74% of the realized cap, which means over six-month-old unmoved Bitcoins take 74% of market cap in terms of PnL realization.'"
If you seen this post on a Web2 ecosystem and you have no clue about what Leofinance is here is a brief definition;
LeoFinance is a blockchain-based Web3 community that builds innovative applications on the Hive, BSC, ETH and Polygon blockchains. Our flagship application: LeoFinance.io allows users and creators to engage and share content on the blockchain while earning cryptocurrency rewards.
Over here we refer to users as lions, so are you ready to be a lion here is my referral link
Also don't forget in contributing to the pHBD-USDC pool, and from statistics it looks like we will be able to archive the set target in a few months, let's do our own part in growing the pHBD-USDC liquidity and also take out time to participate in the Leo power up challenge which happens every 15th of each month.
Let's also connect on some of the web2 platform.
Twitter:Hironakamura
Posted Using LeoFinance Beta
---
---