I took away my mum's life with a pistol
I have always believed that everyone should be contented with the little they have while working hard to reach greater heights. A lot of people get broken or lose their lives while chasing money, affluence and fame.
Some people, however, get lucky with their dirty deeds, we can say that God knows why that happens.
For Peter, he wasn't that lucky.
Peter began joining the neighbourhood boys to smoke before he was fifteen. His parents warned him, scolded him, flogged him and sometimes even starved him, but all to no avail.
Peter got worse by the day.
His mother would wake up very early and head to the market to buy goods for her small scale foodstuff business just so they could have that to eat, his father, a retiree, sat at home depending on his monthly pension.
At fifteen he had joined a gang, they would hide at the junction and snatch people's bags, phones, goods and other items.
They would break into peoples shops at night and steal their wares.
Since Peter had a small stature, he was the one that would be pushed through any window or narrow opening into shops and houses. One time they went into a church and stole the carpet on the altar.
.
On daily basis, they exhibited worse criminal tendencies, so much that they quickly became a thing of concern to the community.
At eighteen, Peter had already been in and out of police custody more than five times. Every time he went back to the group.
One time by the time he came out, his gang had graduated from petty stealing to armed robbery and rape.
They would ambush trucks and cars transporting goods on the highway and rob them, sometimes if the girls appealed to them, they would go as far as raping them.
When he came back to join them, they told him he could only join them if he could prove to them how heartless he was.
Peter had never held a gun before, let alone shoot one, by this time, he had left home, he hung around the street and would sometimes follow his gang members to their hideout.
One day, Peter made up his mind, he needed to get his spot in the gang, he had to prove that he was tough and heartless as the rest of the gang members.
He agreed to follow them for an early morning operation, it was a big market day, so people would leave early for the market.
Cars, trucks, pedestrians, bicycles snd motorbikes, it was on days like that that they cashed out, sometimes killing stubborn victims of their attack.
Peter was assigned to be the lookout.
From afar, he could signal them and tell them someone was coming by calling them via phone, they had just robbed a vehicle on the first street and gone on to another one.
Peter sighted a pedestrian and called them.
They laid ambush and waited, the moment she got close they pounced on her and took everything she had. Then they began to rape her, covering her face so that she doesn't recognize them.
It was still dark, the fog of the morning was still thick and one could barely see someone's face except they looked closely.
Peter had run down from where he was to partake in the rape to prove that he too was tough.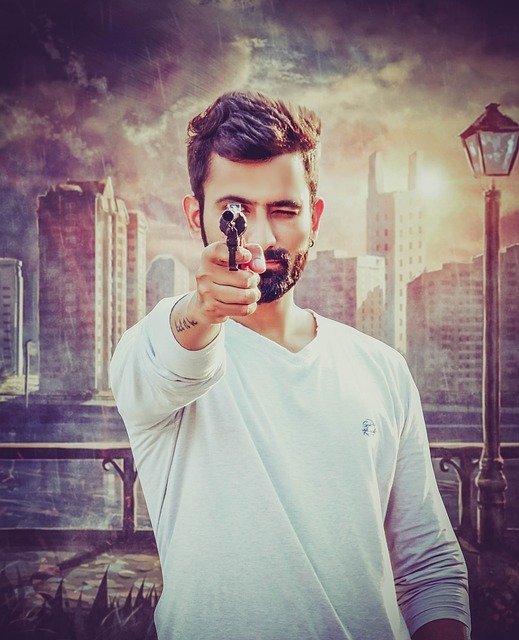 Source
When it got to his turn,he heard the voice begging for mercy, the voice sounded familiar, when he uncovered the face, it was his mother.
There and then, his gang leader handed him a gun and told him to finish her off since she had seen his face.
He got the gun, stood for minutes, looked away and shot his mother. They all believed he was truly tough.
They shared the loot of that day.
The following morning, Peter was seen hanging from a tree, he had committed suicide.
---
---