For someone who doesn't care about Bitcoin, he sure is passionate about "fudding" it! 😂😂😂

The only thing worthless here is J.P. Morgan's credibility! 🤓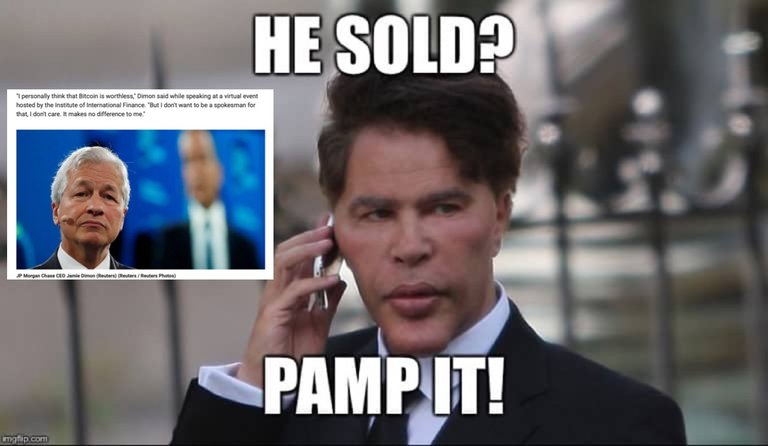 I think Jamie Dimon only cares about manipulating Bitcoin, to line his pockets! 🤣
https://www.cnn.com/2021/10/12/investing/jamie-dimon-bitcoin/index.html
J.P.Morgan waffles on Bitcoin, Leggo my Bitcoin?
J.P. Morgan can you please just leave Bitcoin Alone? Or...instead why don't you do me a favor and start talking about HIVE...since we all know it's better than BTC, and ETH for that matter?? haha!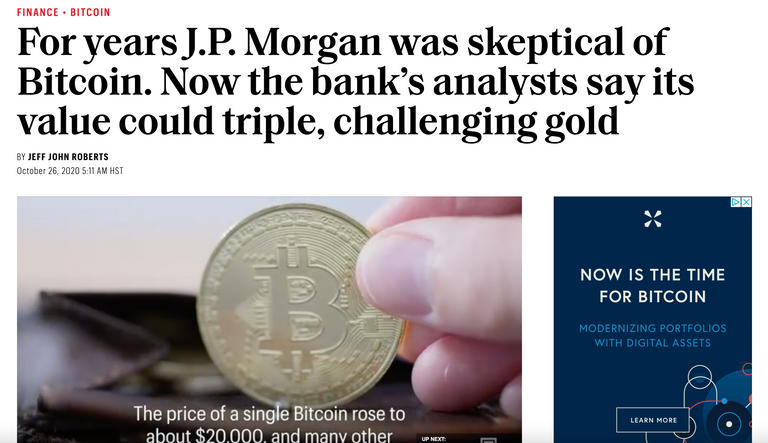 If Bitcoin's so worthless, then why did J.P. Morgan become the first big bank to give retail clients access to it?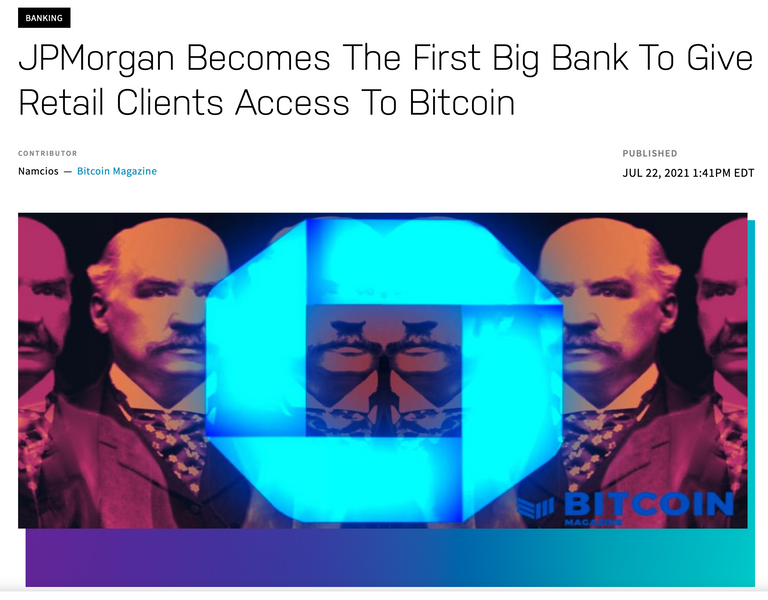 https://www.nasdaq.com/articles/jpmorgan-becomes-the-first-big-bank-to-give-retail-clients-access-to-bitcoin-2021-07-22
Coinbase Stock Gets a Boost from J.P. Morgan!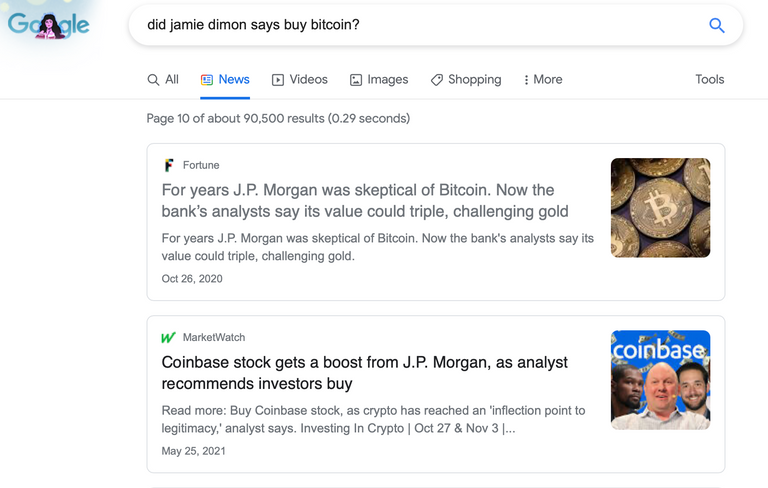 https://fortune.com/2020/10/26/jp-morgan-chase-bitcoin-predictions-analyst-jpm-cryptocurrency/
I guess Jamie likes Ethereum though? Eth to the moon!
Her likes the one network all bogged down in ridiculously highfees, boy is this guy behind the times, or just a Shyster, you decide.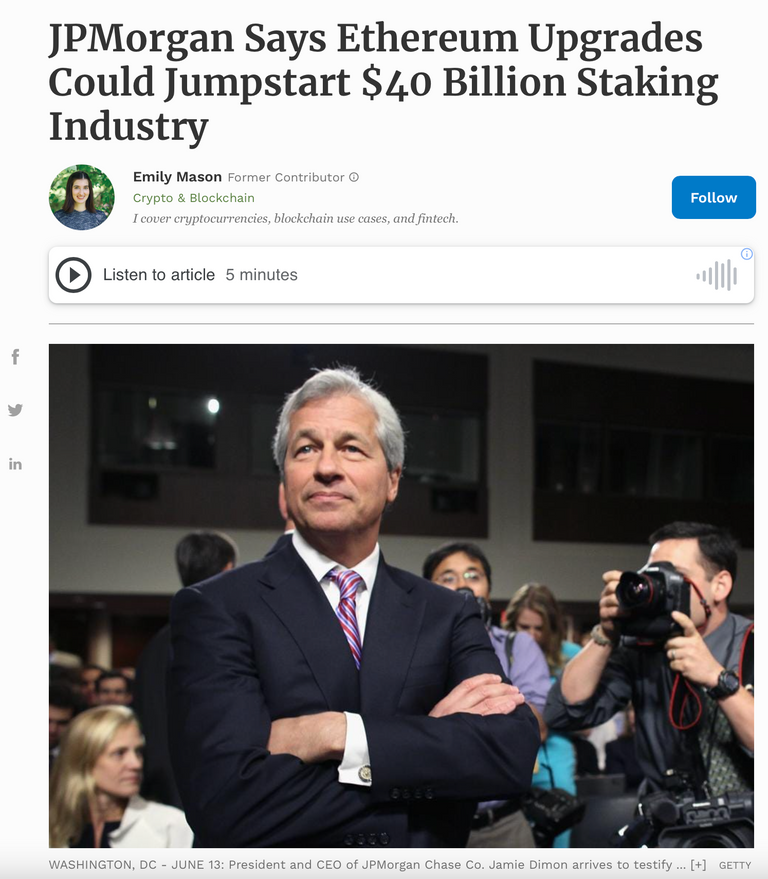 https://www.forbes.com/sites/emilymason/2021/07/01/jpmorgan-says-ethereum-upgrades-could-jumpstart-40-billion-staking-industry/?sh=17f861621512
I don't know about you, but I'm starting to dislike Jamie Diamon and J.P. Morgan more and more!
I thought after the past few positive articles coming out of J.P. Morgan about Bitcoin that they were finally coming around to their senses, looks like I thought wrong. After the today's shenanigans coming straight from the horses mouth, I'm beginning to see Jamie Diamons true colors and they're 💩💩. J.P. Morgan doesn't really like Bitcoin at all, they never did. Now that BTC is rocketing to the moon, they're backpedaling on it because it's dwarfing their empire of fiat dollars. However maybe instead of Trolling the world, and making a fool out of yourself and your company time and time again, you'd be better off just saying zip🤐. Instead of dispensing energy on the the negative BTC FUD, why not do something positive to show the world how good old Fiat can beat Bitcoin with some proof? If Bitcoin is so worthless, then that must mean Fiat is now "Worth More"? So let's see it Jamie, show us how that unlimited, untraceable, dirty, devaluing money is going to Spurr the next revolution in finance? Too bad you can't, because it's impossible. The truth is Jamie Diamon cannot stop Bitcoin, their customers demand it so they offer it. All they can do is resort back to their manipulative tricks again, to try to lower the price of Bitcoin, so they can try to buy back what they sold to their customers that are getting a one up over them. If J.P. Morgan can't tell the truth any more about BTC, then I hope it backfires on them and the price shoots up to one million dollars a coin instead, and maybe if we're lucky, this last little rant by "The Man - JP" really means he sold his Bitcoin, so we can "Pamp it" to the moon!
HE SOLD?...PAMP IT!!!!
---
---